Corn Bread with Basil (Pão de Milho com Manjericão) — that's all I want… Just its aroma baking in the oven is enough to make me happy.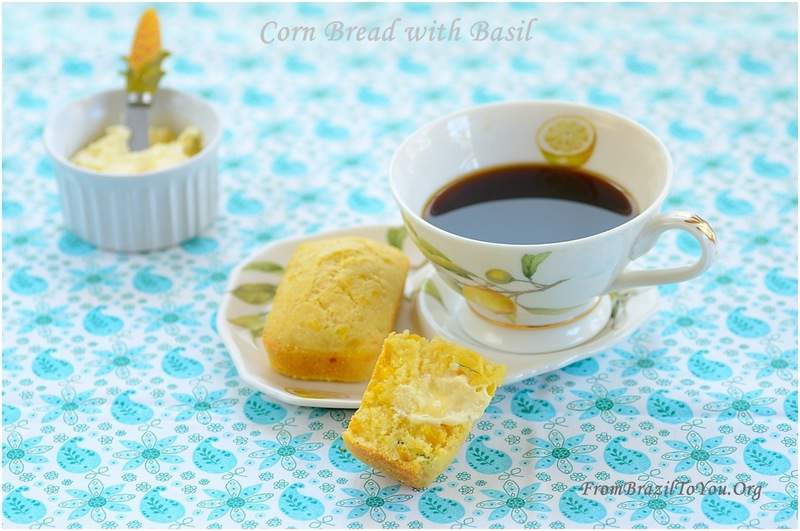 But this corn bread with basil is not exactly like the corn bread that you might be familiar with. Brazilian corn bread looks more like a bread loaf rather than a cake. Moreover, the corn bread recipe that you are making today has a twist… instead of a plain corn bread, it incorporates both Parmesan and provolone cheeses and basil, which make the bread even more aromatic and flavorful.
Yes, it is an Italian-style corn bread with basil on account of its ingredients and also due to its origin. This type of corn bread (pão de milho com ervas finas) is very popular in the countryside of Rio Grande do Sul State, where there are many corn plantations belonging to descendents of Italian immigrants to Brazil. The milled corn is used to make other dishes than just polenta– like this tasty bread, for example…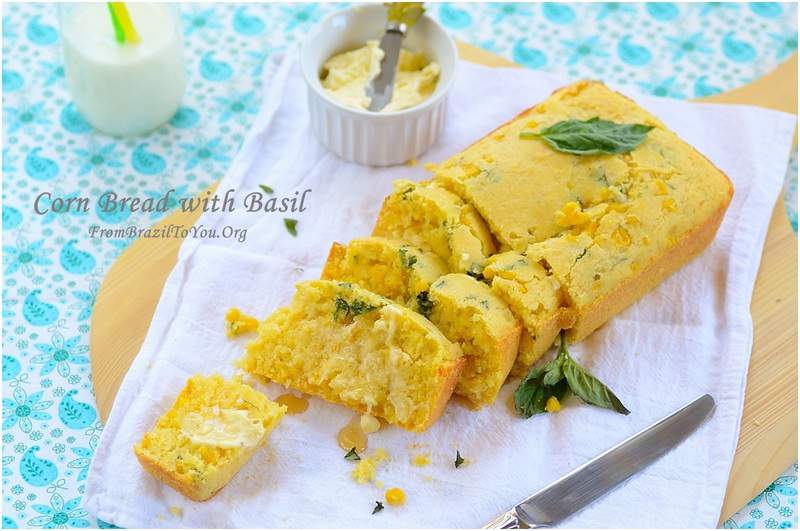 Pão de milho (loosely pronounced similar to this: POWM jee MEEL-yoo ) or corn bread is ideal for breakfast or as a snack, accompanied by a good cup of coffee. I also think that it would be interesting if eaten as a side dish with a hearty stew, like picadinho, on top. It's all up to you…
Now if you will please excuse me, my loaf of corn bread with basil (pão de milho com manjericão) is hot from the oven and calling my name… 😉
xx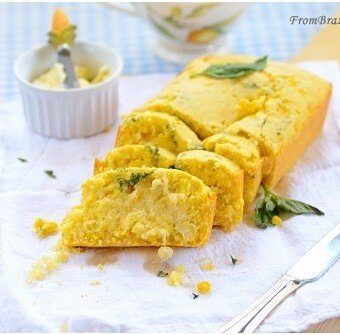 Corn Bread with Basil
Italian-style corn bread with basil -- super easy to make and quite aromatic.
Ingredients
2

large eggs

at room temperature

1/4

cup

unsalted butter

melted

1

cup

milk

1

cup

all-purpose flour

sifted

1

cup

cornmeal

2

teaspoons

baking powder

1/2

teaspoon

salt

1/4

cup

granulated sugar

3/4

cup

grated provolone cheese

1/4

cup

grated Parmesan cheese

1-1/3

cup

fresh or frozen corn

cooked

1/4

cup

chopped fresh basil

or 2 tablespoons dried
Instructions
Preheat oven to 350º F (180º C). Grease a retangular bread pan and sprinkle with cornmeal. Reserve.

Beat eggs slightly and stir in the butter and milk. Reserve. In a separate, large bowl, mix the dry ingredients together: flour, cornmeal, baking powder, salt and sugar. Then, add the beaten egg mixture and stir with a wooden spoon. Add the cheeses and corn and mix well.

Pour the batter into the prepared pan. Bake in the oven for 30 minutes or until a toothpick inserted in the center of bread comes out clean. Unmold bread onto a rack and let cool slightly until warm. Serve corn bread warm with butter and /or honey, or as an accompaniment for picadinho. Serves: 8 people