Grilled Peach S'mores Sticks make a quick and scrumptious dessert or snack, perfect for summer, and a great way to combine fruit with a beloved classic.
Disclosure: This is a compensated campaign in collaboration with Cavit and Honest Cooking Magazine. Thank you for supporting the brands that I work with and love.
Summer has finally arrived. Yay! And along with it, this twist on a beloved American classic: 5-Ingredient Grilled Peach S'mores Sticks, which can be prepared in less than 30 minutes. They make the perfect backyard BBQ or campfire dessert or snack for the warmer months of the year... and a great way to incorporate fruit and a touch of acidity to balance out the sweetness of S'mores. A real feast for the eyes and palate!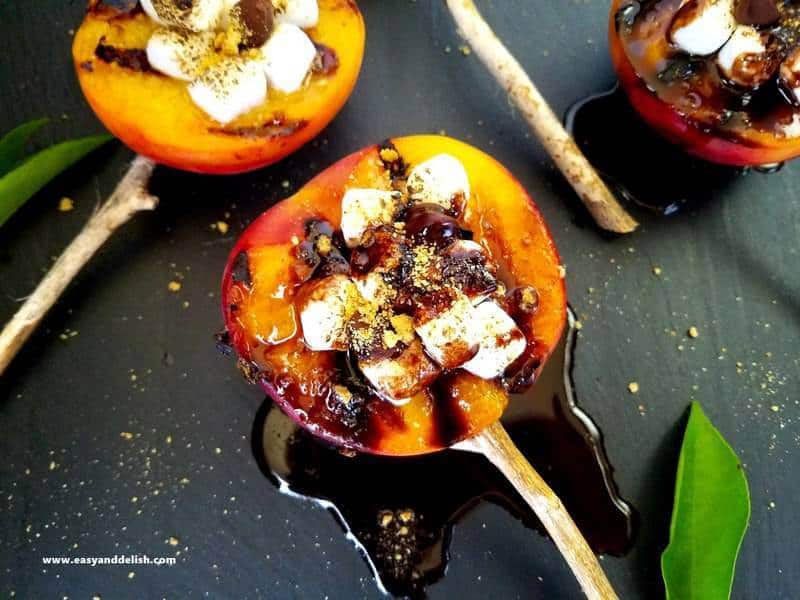 Yep, yep, yep... they are super, super simple to make. These are basically made with just 5 ingredients: vegetable oil, peaches, chocolate chips, mini marshmallows, and graham cracker crumbs.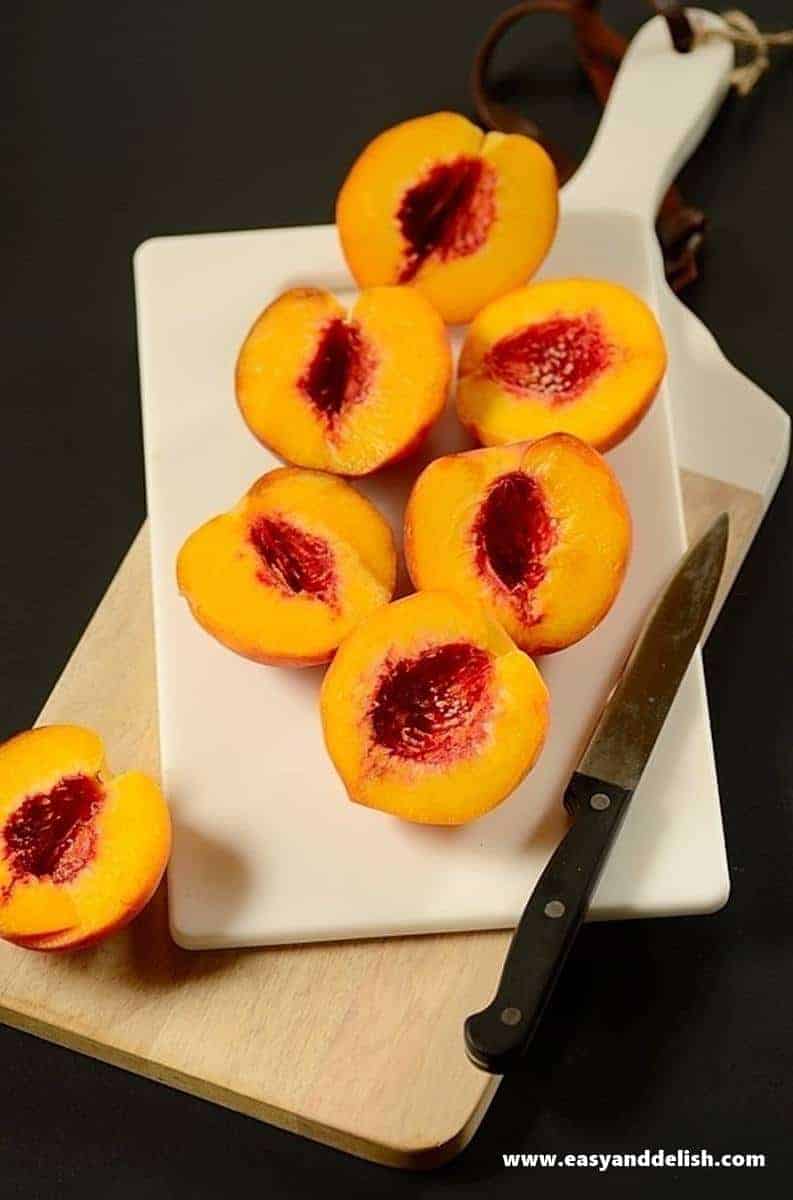 All it takes to make these is to slice peaches in half and remove the pit, brush on a bit of oil, grill in either a grill pan or on the grill, stuff the center with a bit of chocolate chips and mini marshmallows, and let them melt a bit. Then, insert a tree stick or popsicle stick in each halved peach, and top with graham cracker crumbs. Voila!
Our Grilled Peach S'mores Sticks are ready to be devoured warm... with all the ooey gooey yumminess of the s'mores. This way you get the best of two worlds: the deliciousness of grilling and all the charm and allure of the campfire. 😉
They make the perfect pair for Cavit Moscato, a white wine from Italy made from 100% Moscato grapes. Cavit Moscato delivers delicious fruity notes with a wonderful sweetness and a refreshing quality. It's quite affordable too!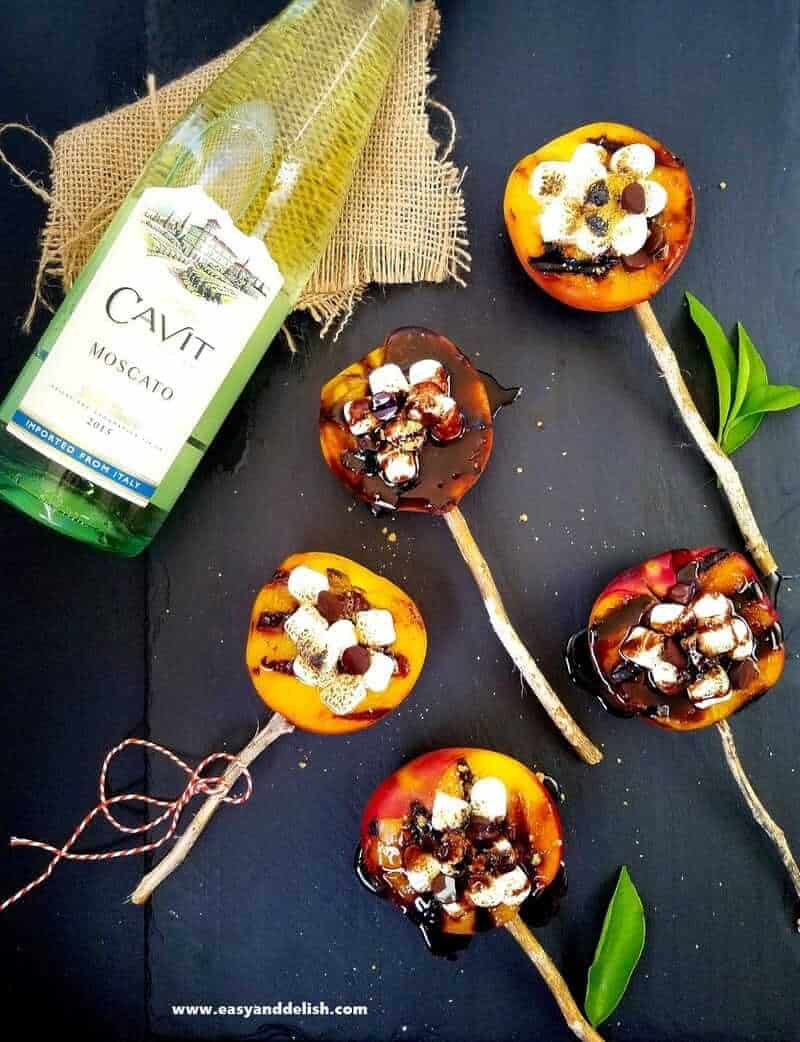 Serve our Grilled Peach S'mores Sticks warm with chilled Moscato wine... and get the outdoor party started!
Well, keep cool... and cheers to a delicious and happy summer!
TO PIN TILL YOU DROP: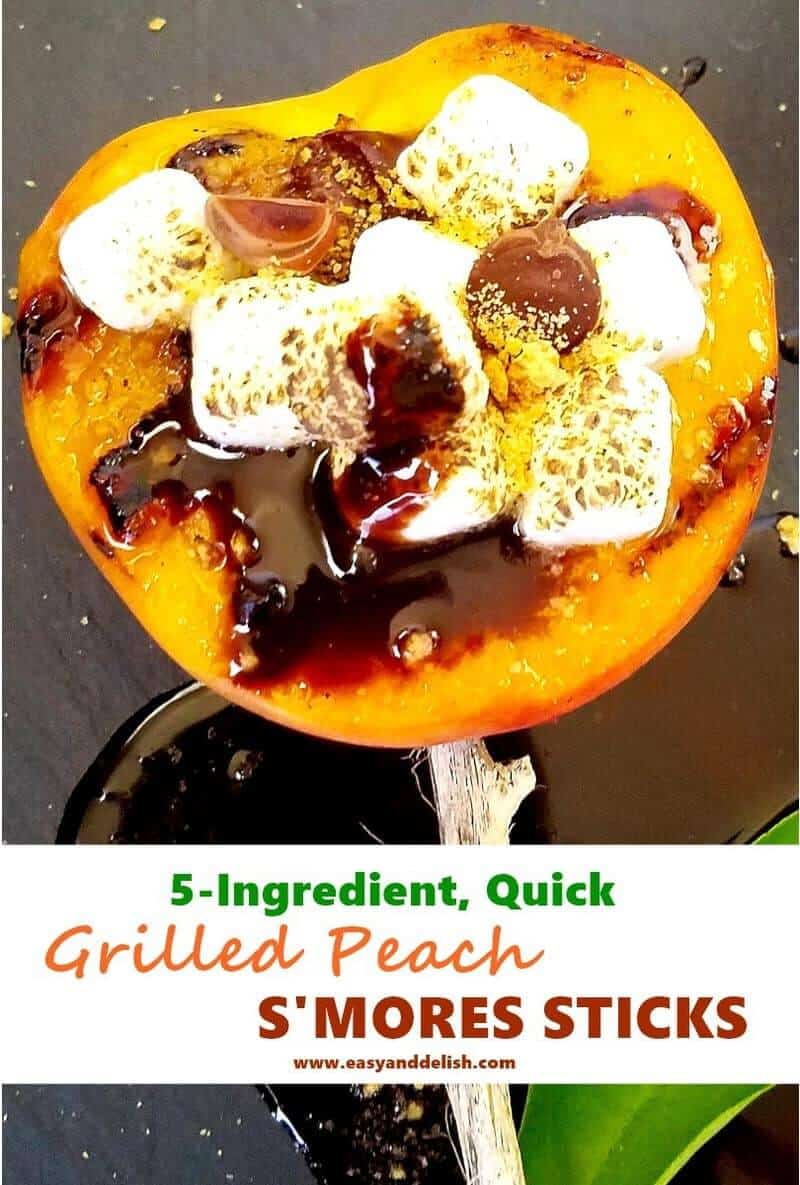 Grilled Peach Smores Sticks
Grilled Peach Smores Sticks are a quick and scrumptious dessert/snack, perfect for summer and a great way to combine fruit with a beloved classic.
Ingredients
4

large peaches, halved and pit removed

1-2

Tablespoons

vegetable oil

4

Tablespoons

chocolate chips

56

mini marshmallows

1

graham cracker, crumbed
Instructions
Slice each peach in half. Remove pit and carve out a bit of the center using a spoon or a melon baller. Brush peach half with a bit of oil. Grill on medium (gas grill or grill pan) or on the edges of a charcoal grill (coolest area) until marks appear, about 3-5 minutes.

While peaches are still hot, stuff cavity of each peach with ½ Tablespoon of chocolate chips and about 7 mini marshmallows per peach half. Let melt a bit (place peach halves in a platter and cover with foil if necessary). Then insert stick in one of the ends of each peach. Sprinkle a dash of graham cracker crumbs and enjoy!
** Nutrition labels on easyanddelish.com are for educational purposes only. This info is provided as a courtesy and is only an estimate, since the nutrition content of recipes can vary based on ingredient brand or source, portion sizes, recipe changes/variations, and other factors. We suggest making your own calculations using your preferred calculator, based on which ingredients you use, or consulting with a registered dietitian to determine nutritional values more precisely.
Please note that health-focused and diet information provided on easyanddelish.com is for educational purposes and does not constitute medical advice, nor is it intended to diagnose, treat, cure, or prevent disease. Consult with your doctor or other qualified health professional prior to initiating any significant change in your diet or exercise regimen, or for any other issue necessitating medical advice.
DID YOU MAKE THIS RECIPE?
Comment and rate the recipe. Also follow us on Pinterest at @easyanddelish for more delish recipes.