It's time for a dessert that is popular the whole world wide: the timeless, creamy, smooth flan or pudim. Since sweet potatoes are in season, and Thanksgiving is coming up next month, today we'll be preparing an easy and delish No Bake Eggless Sweet Potato Flan, known in Brazil as Pudim de Batata Doce... and highly esteemed in my home state of Pernambuco. Is your mouth watering yet? Well, mine is-- big time!!!!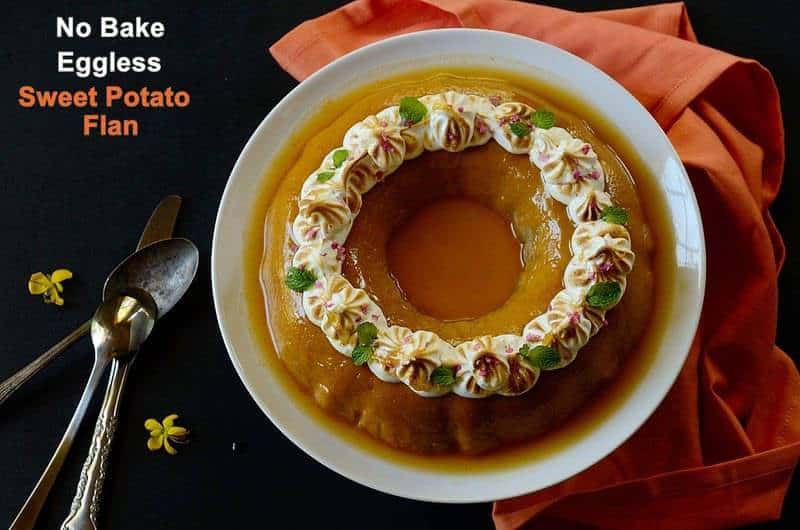 I get super excited just thinking about this sweet potato flan. This is just one of those treats that has the power to transport me home -- just like our pumpkin pie flan... It is all that one could ever hope for from a treat and more... It's rich and super comforting! Although this flan is served chilled, it carries all the warmth of the spices that are inside!!!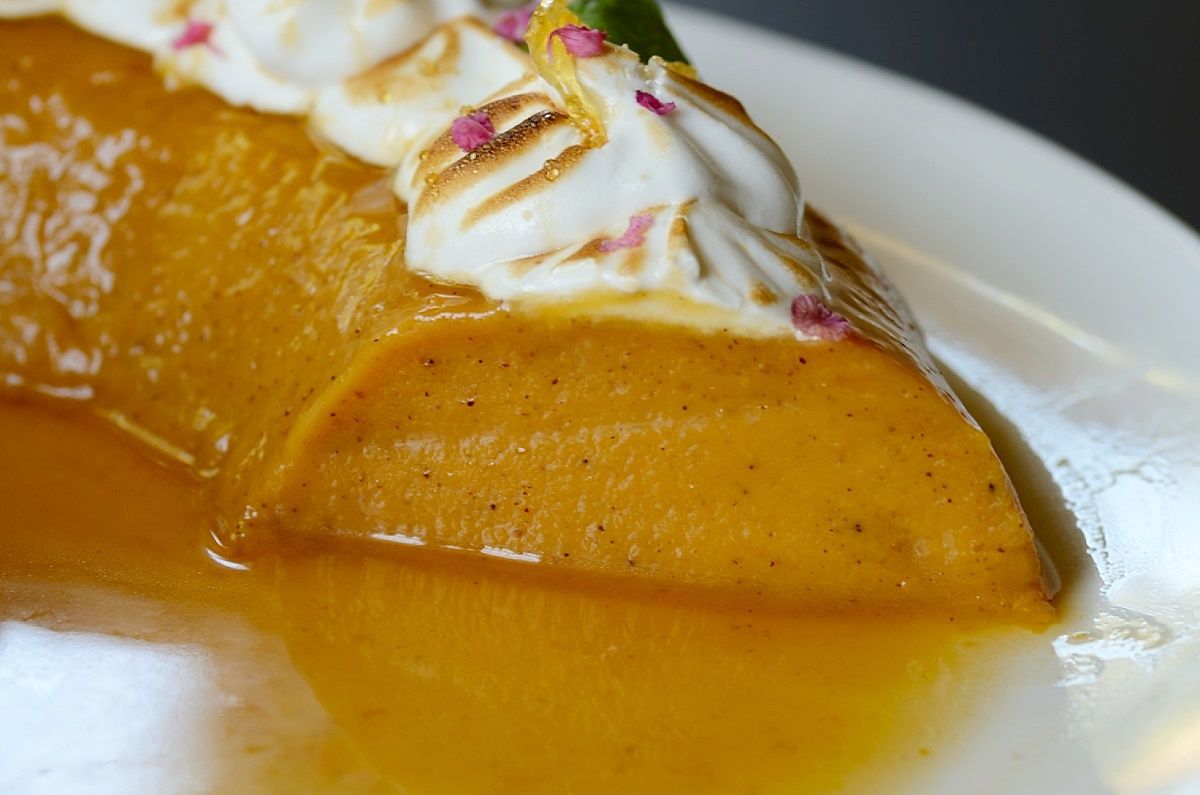 The only difference between our recipe and the one we prepare down in Brazil is that this one doesn't incorporate any eggs but gelatin instead. Because of this, it is refrigerated instead of being baked.
 I am telling you, this is a great autumn dessert, and also a happy surprise for Thanksgiving. It is a great alternative to sweet potato pie -- and by the way, perfect for those who are gluten-intolerant or need to be on an egg-free diet.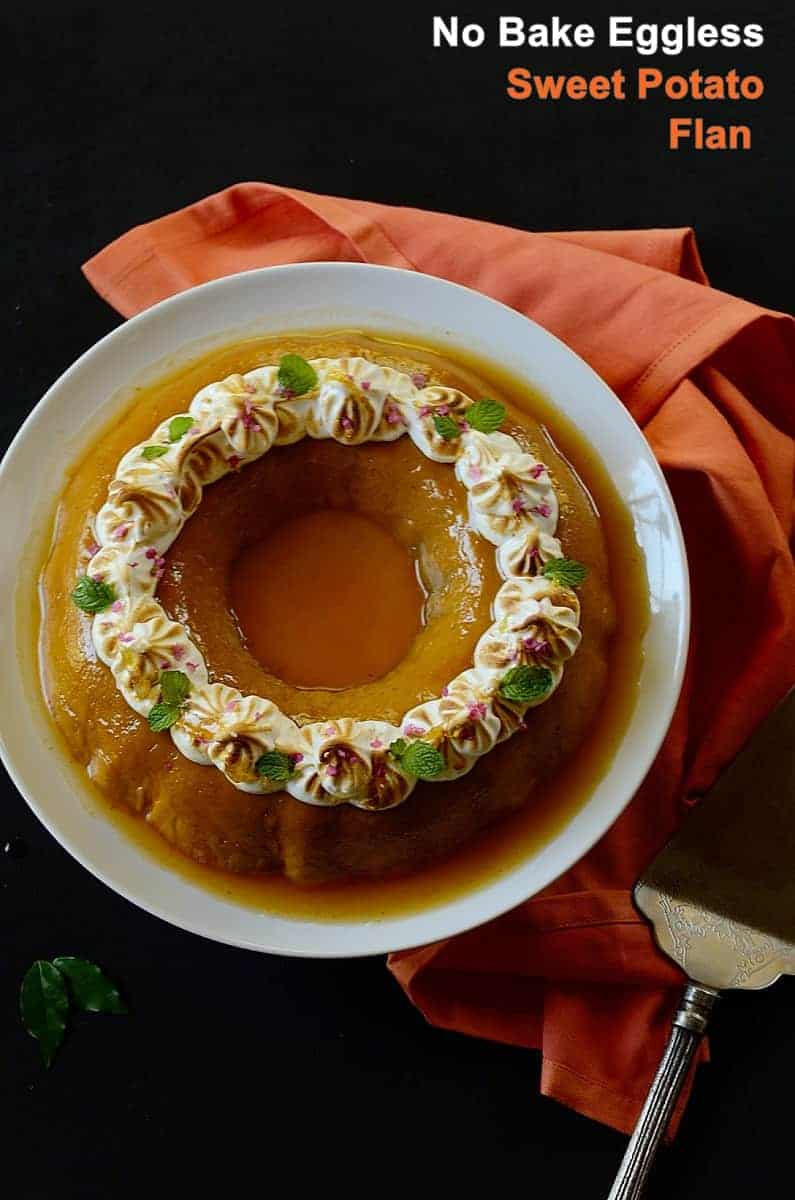 One of the main advantages of this sweet potato flan is that it doesn't require any baking, always guaranteeing that wonderful smooth texture typical of a well-prepared flan. All you have to do is prepare the caramel sauce (place ingredients in a pan and let them take on color), blend all the flan ingredients in a blender, and refrigerate. There is no mystery to it!!!
If desired, it can be served decoratively with a meringue on top. See? Easy peasy!!!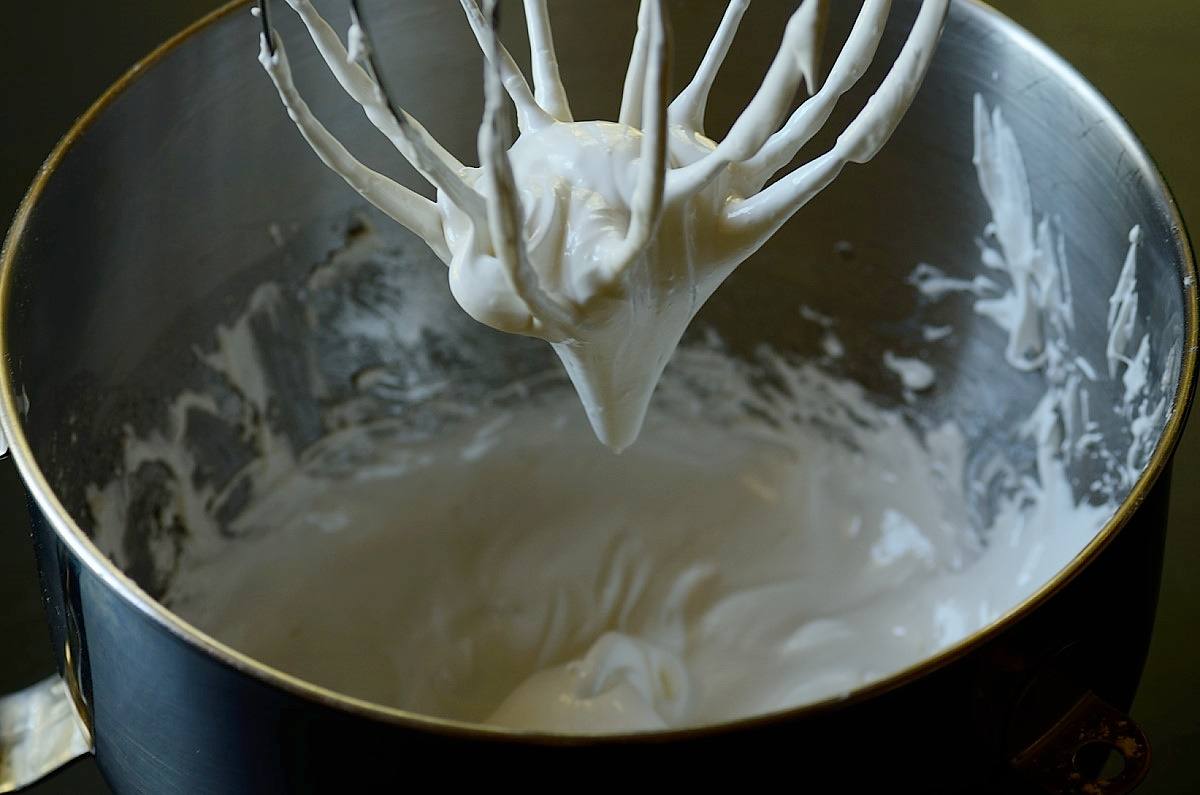 For now, enjoy our sweet potato flan... I sure will!!!!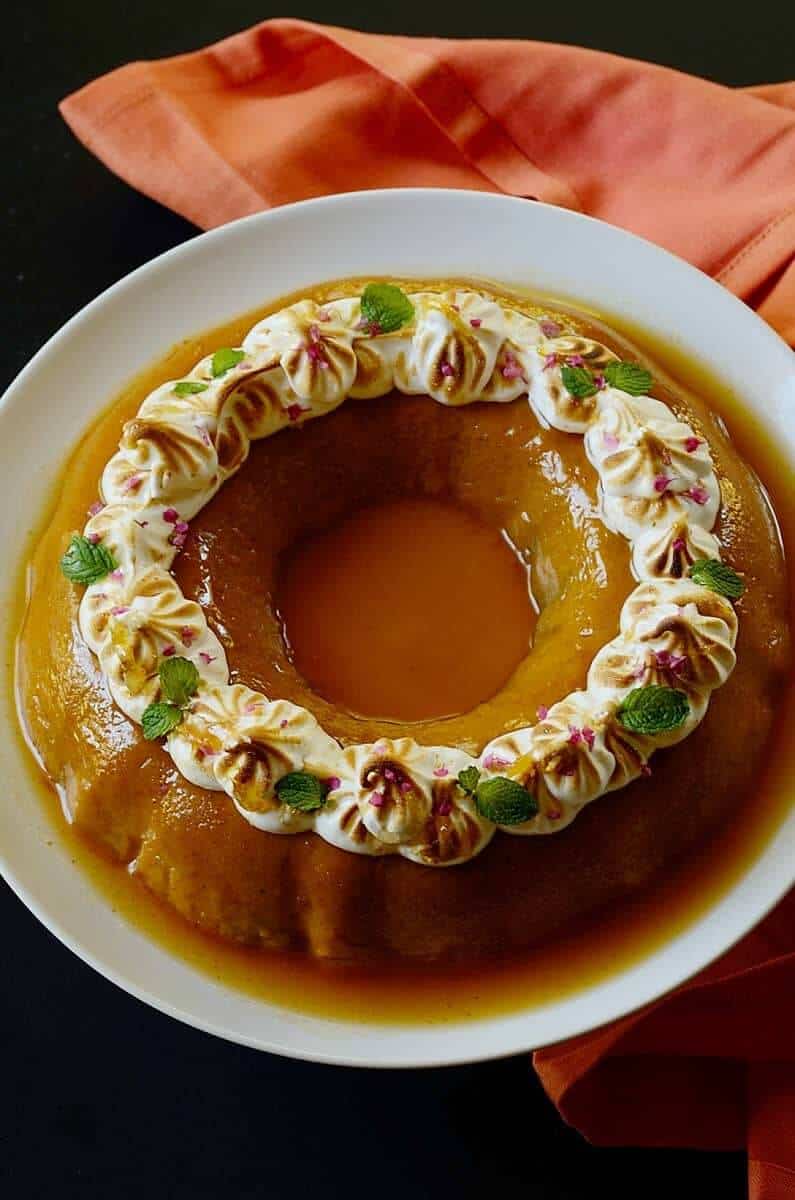 HAPPY FALL!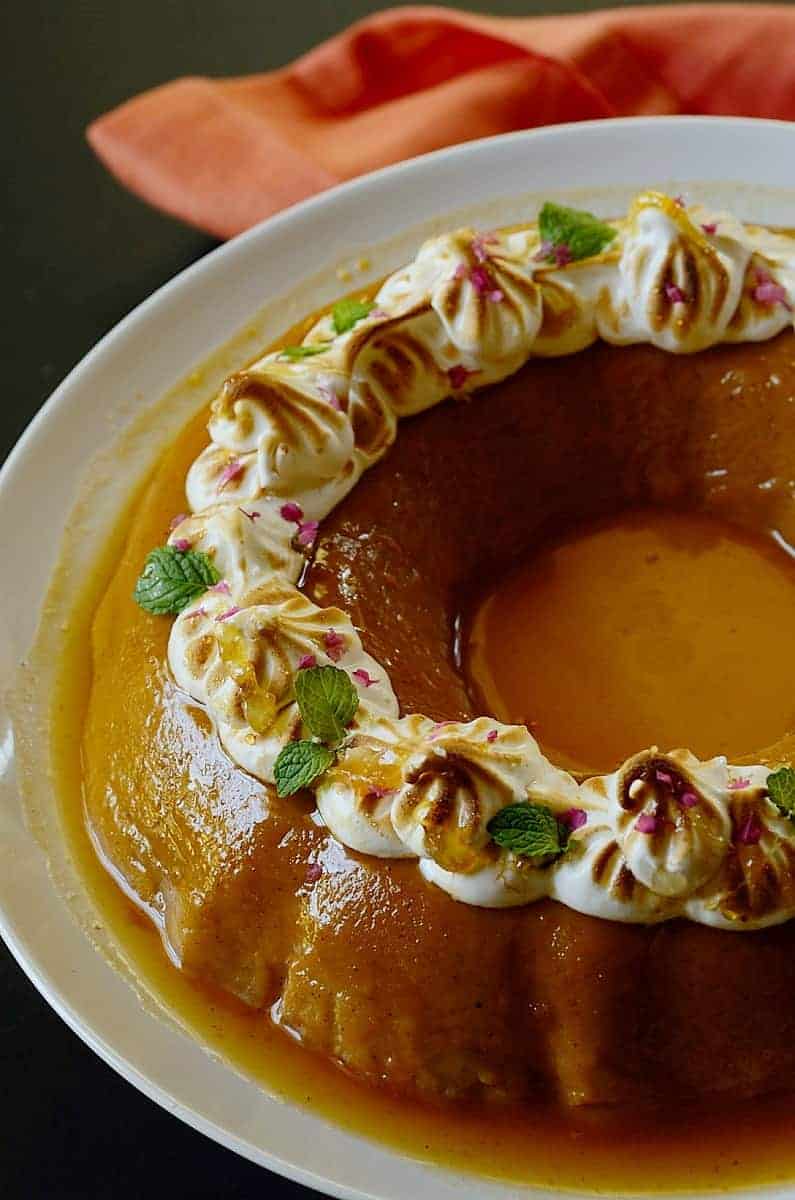 No Bake Eggless Sweet Potato Flan
A No Bake Eggless Sweet Potato Flan topped with caramel and meringue... An easy and delicious dessert to welcome autumn that is just perfect for Thanksgiving.
Ingredients
For the Sweet Potato Flan:

3.3

lbs

sweet potatoes

peeled and cut into medium chunks

1

can

sweetened condensed milk

14 oz

8

tablespoons

unsalted butter

melted, or 1 stick

¼

teaspoon

salt

½

teaspoon

ground nutmeg

1

teaspoon

ground cinnamon

2

envelopes

unflavored gelatin

or 2 Tablespoons

½

cup

hot water

not boiling

For the Caramel:

1

cup

granulated sugar

½

cup

water

For the Meringue:

optional

2

egg whites

¼

cup

granulated sugar

⅓

cup

powdered sugar
Instructions
In a large pot, boil peeled sweet potatoes in water over high heat for about 12-15 minutes or until fork tender. Drain water and roughly mash sweet potatoes with a fork while still hot. Place roughly mashed sweet potatoes (while still hot) into a blender with sweetened condensed milk, melted butter, salt, and spices. Blend well until obtaining a smooth mixture and set aside. In a small cup, stir well the gelatin in water until dissolved and let sit for about a couple of minutes. Pour the dissolved gelatin into the blender and blend sweet potato-gelatin mixture until well combined. Set aside.

Prepare the caramel. In a medium heavy-bottom saucepan, stir sugar and water until combined. Heat mixture over medium-low heat, stirring occasionally with an wooden spoon, just until it starts to boil. After this point, do not stir mixture anymore! Using a kitchen brush that has been moistened with water, brush down the sides of the pan occasionally, until the mixture starts to color around the edges, about 5 to 10 minutes. Gently swirl the pan once to even out the color and prevent the sugar from burning in isolated spots. Continue to cook until the sugar turns light to medium amber. Pour caramel into a 10-inch ring mold and using kitchen gloves, carefully swirl the ring mold to spread caramel on the sides and bottom pf the mold. Let sit for about 5 minutes or until it hardens.

Pour the sweet potato mixture into the mold, smooth it out with the back of a spoon or spatula, cover mold with aluminum foil, and refrigerate for at least 8 hours or until sweet potato flan is well set.

To unmold flan, carefully run a knife around the edges to loosen the flan and place a serving plate on top of the ring mold. Invert flan onto the plate and serve by itself or topped with piped meringue.

Prepare the meringue. Using an electric mixer on high, beat egg whites until loose and foamy (about 2 minutes). With motor still running, gradually add granulated sugar and beat until stiff, shiny peaks form (about 5 minutes). Gradually add powdered sugar and beat for a couple of minutes. You may have to stop the mixer to to scoop the sugar off of the sides of the electric mixer bowl using a spatula.

Pipe meringue over flan decoratively and then use a kitchen torch to toast meringue, if desired.
Recipe Notes
STORAGE: Flan should be stored covered in the refrigerator.
** Nutrition labels on easyanddelish.com are for educational purposes only. This info is provided as a courtesy and is only an estimate, since the nutrition content of recipes can vary based on ingredient brand or source, portion sizes, recipe changes/variations, and other factors. We suggest making your own calculations using your preferred calculator, based on which ingredients you use, or consulting with a registered dietitian to determine nutritional values more precisely.
Please note that health-focused and diet information provided on easyanddelish.com is for educational purposes and does not constitute medical advice, nor is it intended to diagnose, treat, cure, or prevent disease. Consult with your doctor or other qualified health professional prior to initiating any significant change in your diet or exercise regimen, or for any other issue necessitating medical advice.
DID YOU MAKE THIS RECIPE?
Comment and rate the recipe. Also follow us on Pinterest at @easyanddelish for more delish recipes.