Ah, beijinhos de coco… I mean, Brazilian Coconut Kisses… They taste like childhood — so sweet!!! Make these five-ingredient, quick coconut fudge balls — especially if you have children or grandchildren who are fans of the movie FROZEN.
Brazilian coconut kisses (beijinhos de coco — also known simply as beijinhos or branquinhos) are traditionally made from a mixture of sweetened condensed milk, coconut flakes, and butter (sometimes egg yolks). After briefly cooking, they are rolled into balls, dredged in coconut flakes or sugar, and decorated with a single clove on top.
Does this sound familiar?  The process of making them is similar to the ever popular BRIGADEIROS!!! 
Coconut kisses (beijinhos) are great to snack on, to serve at birthday parties and other events, and to give away as Christmas gifts. If your child is crazy for FROZEN, you gotta make these…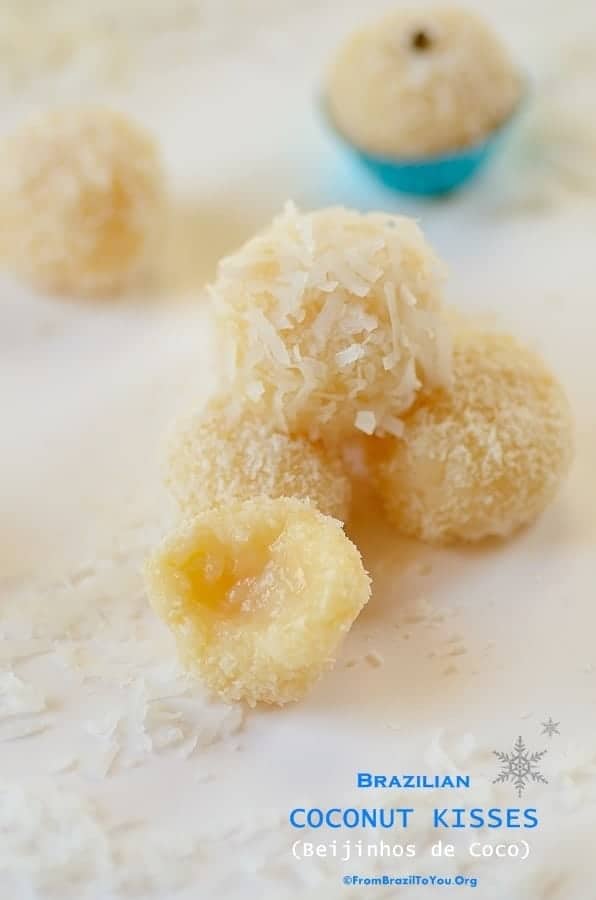 My daughter Hannah will be turning eight a few days from now.  Although I was secretly rooting for her to choose RIO as the theme for her upcoming birthday party, she winded up choosing FROZEN… like many children do nowadays. 🙂 I think that these coconut kisses would be a great treat to serve at a FROZEN themed party.  Don't you agree that they look like SNOWBALLS?
I hope you enjoy these edible SNOWBALLS… I mean, BRAZILIAN COCONUT KISSES… and other FROZEN theme treats that I intend to share with you soon. You are invited to take a peek at my daughter's party next week!
Enjoy your rest of summer… serving and eating these coconut kisses!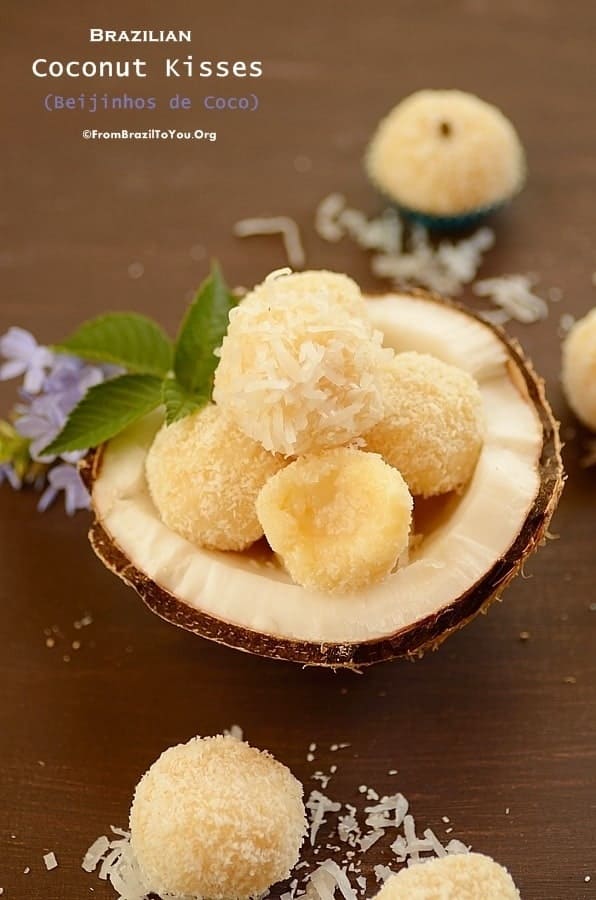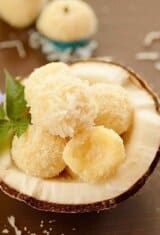 Brazilian Coconut Kisses (Beijinhos de Coco)
These Brazilian Coconut Kisses require only five-ingredients and are quick to make. They are a must-have for parties and also for garnishing cakes!!! I served them as "snow balls" at a FROZEN theme party.
Ingredients
1

can

sweetened condensed milk

14-ounce or 396 g

1

cup

sweetened coconut flakes

plus more for dredging

1

tablespoon

unsalted butter

softened (plus more for greasing a plate and your hands)

1

tablespoon

pure vanilla extract

optional

Cloves for garnishing

optional
Instructions
Mix the condensed milk, coconut flakes, and butter together.

Cook in a medium non-stick saucepan over medium heat, stirring constantly, until the mixture starts to show the bottom of the pan when you scrape it with your wood spoon (about 7 minutes). The coconut kisses mixture should be thick enough to reveal the bottom of the pan for a couple of seconds before the mixture levels out again.

When coconut kisses 'dough' is ready, remove from the heat, mix in the vanilla extract, and spread mixture onto a greased plate.

Let cool to room temperature before starting to roll them into balls with greased hands. Use a 1/2 Tablespoon as measurement. Then, dredge gently in the coconut flakes until totally covered.

Place into paper bonbon cups. Stick a clove atop (center) of each coconut kiss if desired. NOTE: The clove is only for decoration and must be removed right before eating!!!
Recipe Notes
Store coconut kisses into a clean airtight container for up to 2 days at room temperature or in the refrigerator for up to 4 days.