Don't you just love feijoada (Brazilian black bean stew)? I am totally crazy about it! If you've never had it, you've just got to try some as soon as possible. There's no black beans on Earth better than this!! Inspired by one of the most traditional and famous Brazilian dishes, I developed this quick yet very delicious Feijoada Salad -- which can either be served warm or chilled, as a side or main dish!!! In addition, it is naturally gluten-free and loaded with proteins. Ready?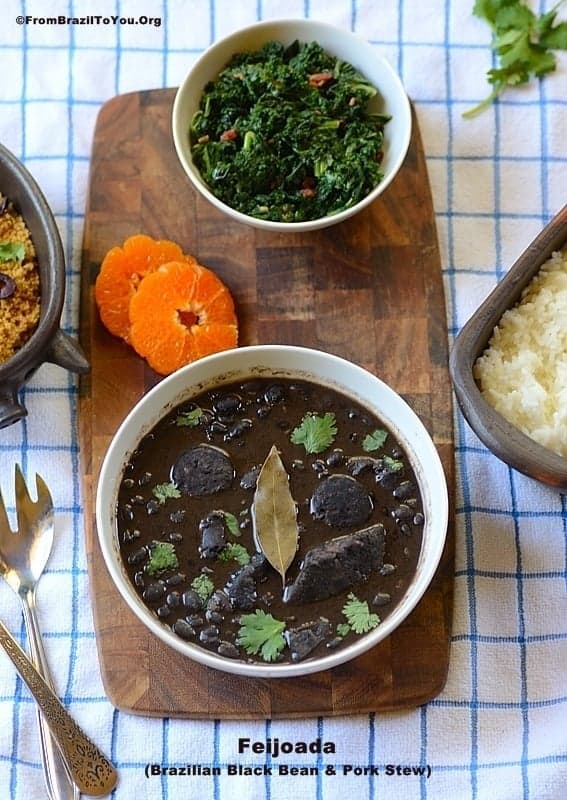 I think I can guess what may have crossed your mind. It is a fair question! "How can a feijoada salad be quick if it takes at least 2 hours to prepare the base, which is feijoada?" The answer is quite simple: you don't necessarily have to prepare a traditional feijoada to make this feijoada salad. Huh?
I know feijoada well enough to take some shortcuts.To prepare this feijoada salad, one will basically need canned black beans (which comes already cooked...you see?), smoked sausage and bacon (2 pork ingredients used in the traditional feijoada that can be cooked quickly), seasonings and condiments, collard greens (since traditional feijoada is accompanied by these), and orange vinaigrette (remember? Sliced oranges is one of feijoada's traditional accompaniments). Just because our feijoada salad is a quick dish doesn't mean at all that it has to be lacking in flavor. Try it and you will be hooked!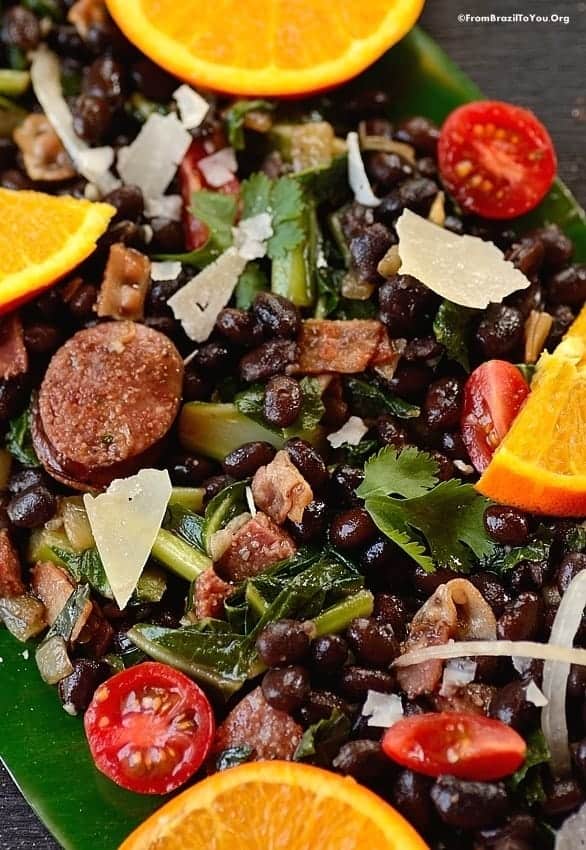 The rich flavors of traditional feijoada have also served as a source of inspiration for other dishes that I have developed in my professional life, apart from the blog, as a trained chef. As part of the original menu and recipes that I created for a restaurant which opened in Northeastern Brazil last summer, Bocadillos Tapas and Vinhos , I devised a recipe for 'croquetes de feijoada' (feijoada croquettes).
So you see, the unique combination of flavors that characterizes feijoada can be enjoyed in many different forms... See you in the kitchen soon.
xx
P.S.: What's your favorite bean salad?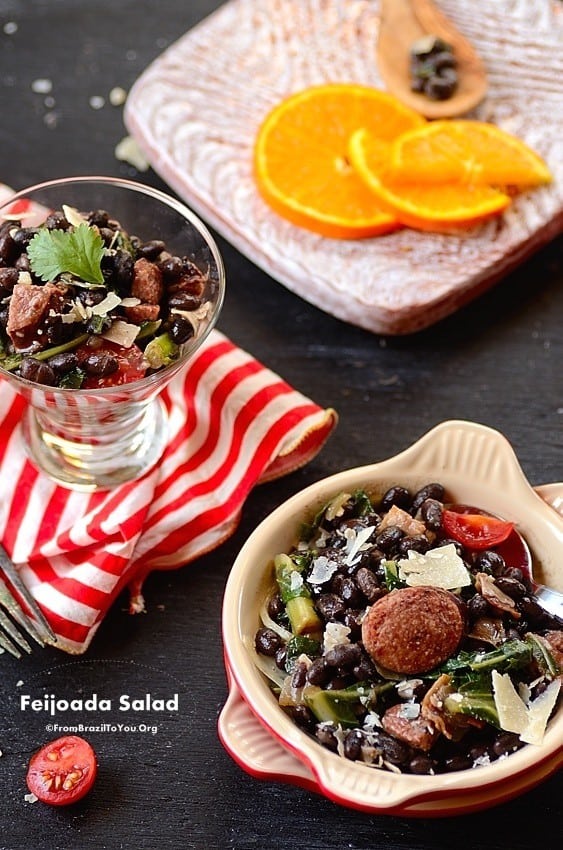 Quick Feijoada Salad
A quick yet very delicious feijoada salad inspired by one of Brazil's most traditional and famous dishes, feijoada. It can be served either warm or chilled, as a side dish or main dish.
Ingredients
For the feijoada salad:

3

strips uncooked smoked bacon

chopped

5.3

ounces

your favorite smoked sausage

either quartered or sliced into rounds, 150 g, if paio is not available

½

small yellow onion

small diced

2

cloves

of garlic

minced

2

cups

chopped collard greens

fresh or frozen and thawed

¼

cup

dry white wine

Salt and ground black pepper to taste

1

can

black beans

drained, 26.5oz or 715 g

1

teaspoon

freshly squeezed lime juice

6-8

grape tomatoes

halved

Slivers of Parmesan cheese

For the orange vinaigrette:

2

tablespoons

freshly squeezed orange juice

2

tablespoons

extra-virgin olive oil

Salt and pepper to taste
Instructions
In a large, non-stick frying pan, fully cook both the bacon and sausage together over medium-high heat, stirring occasionally (about 5-7 minutes). Remove from the pan with a slotted spoon and set aside on a plate lined with paper towels.

In the same pan, sweat the chopped onion in the rendered bacon fat over medium heat for about 1-2 minutes, stirring occasionally (Note: the goal is to cook the onion without browning). Add the garlic and cook for about 1 minute, stirring often. Add the chopped collard greens (if using frozen greens, please let thaw first and remove any excess water) and cook, stirring occasionally, for about 2 minutes over medium heat. Add back to the pan both the cooked bacon and sausage. Immediately add the wine and let evaporate. Season with salt and pepper to taste, and stir.

In a medium to large bowl, stir in together the cooked ingredients with the canned, drained black beans, adjusting the salt and pepper if necessary. Then, stir in the lime juice to bring out all the flavors. In a separate small bowl, prepare the vinaigrette by adding orange juice and slowly pour in the olive oil, whisking well until thickened. Whisk in salt and ground black pepper to taste.

Toss the black bean mixture with the orange vinaigrette. Add the halved tomatoes and serve the feijoada salad either warm or chilled with slivers of Parmesan cheese on top. Enjoy!
** Nutrition labels on easyanddelish.com are for educational purposes only. This info is provided as a courtesy and is only an estimate, since the nutrition content of recipes can vary based on ingredient brand or source, portion sizes, recipe changes/variations, and other factors. We suggest making your own calculations using your preferred calculator, based on which ingredients you use, or consulting with a registered dietitian to determine nutritional values more precisely.
Please note that health-focused and diet information provided on easyanddelish.com is for educational purposes and does not constitute medical advice, nor is it intended to diagnose, treat, cure, or prevent disease. Consult with your doctor or other qualified health professional prior to initiating any significant change in your diet or exercise regimen, or for any other issue necessitating medical advice.
DID YOU MAKE THIS RECIPE?
Comment and rate the recipe. Also follow us on Pinterest at @easyanddelish for more delish recipes.