Shrimp Tapioca Crepes are a quick and easy gluten-free dish made from 3-ingredient tapioca crepes filled with flavorful sauteed shrimp and fresh vegetables.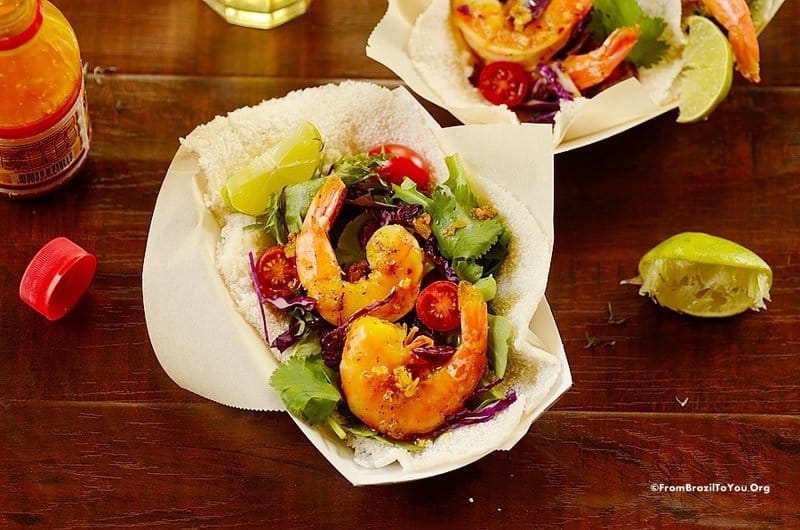 If you had the chance to play Iron Chef and had a mystery basket of ingredients in front of you...
what would you do with tapioca flour, shrimp, and fresh leaves and vegetables?
Well, I went for native Indian and African-influenced shrimp tapioca crepes (or as we'd say in Portuguese, tapioca com camarão no dendê). 🙂
If you have never tried your hand at making tapioca crepes/tacos, I suggest that you don't think twice.
HOW TO MAKE SHRIMP TAPIOCA CREPES
I am not kidding, all you have to do is mix together tapioca flour, water, and salt... and then sift the mixture over a heated non-stick skillet.
In less than one minute, you have a tapioca crepe ready to fill with whatever filling you wish.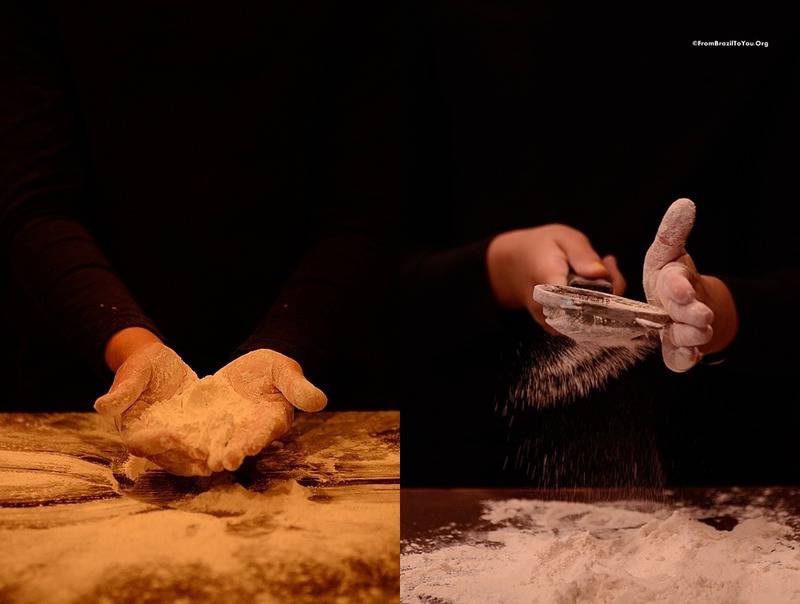 If you feel like it, you can also play around with the flour... like my daughter did! 🙂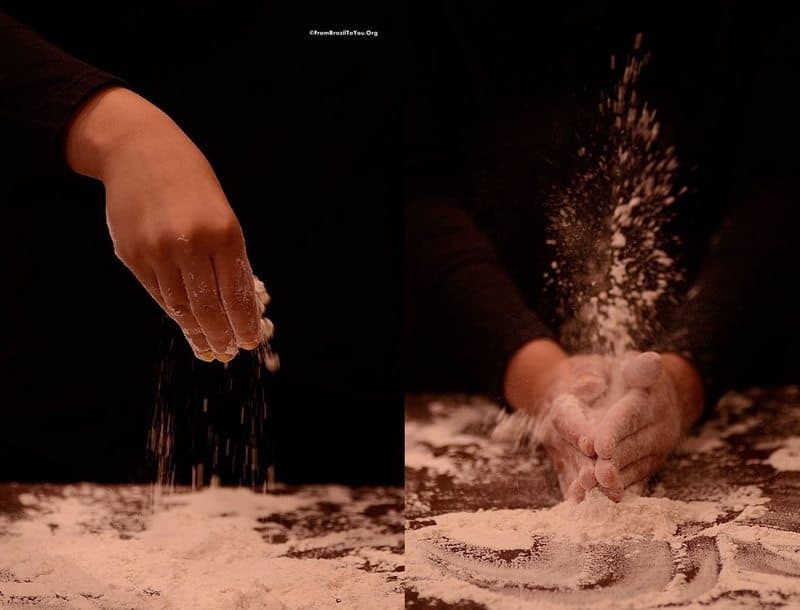 In my case, I took the large shrimp that I had around, sautéed in oil and garlic, seasoned, and then sprinkled with lime juice and a drizzle of palm oil.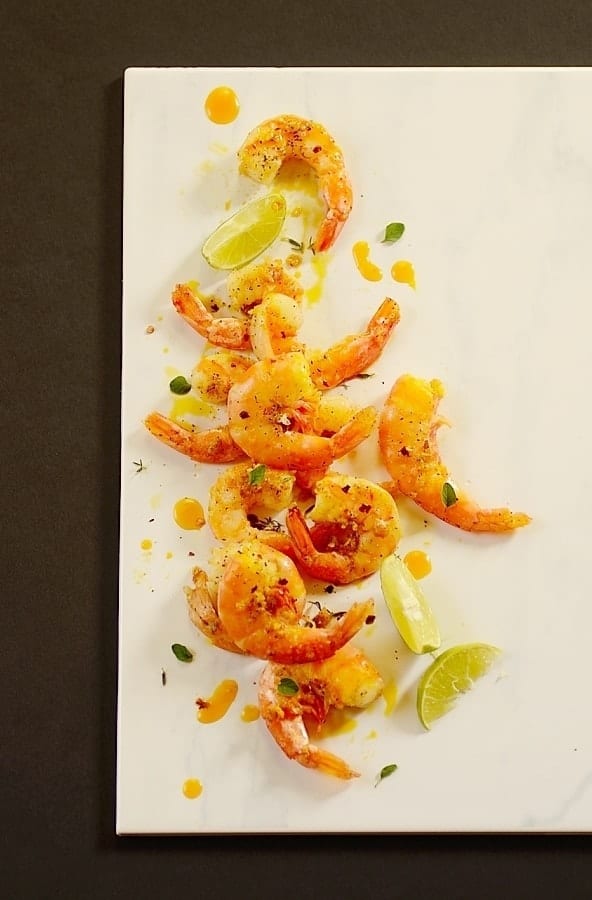 To complete the dish, I filled the tapioca crepes with mixed leaves and shredded purple cabbage, cherry tomatoes, herbs...
... and the sautéed shrimp, creating a complete, quick, and gluten-free dish.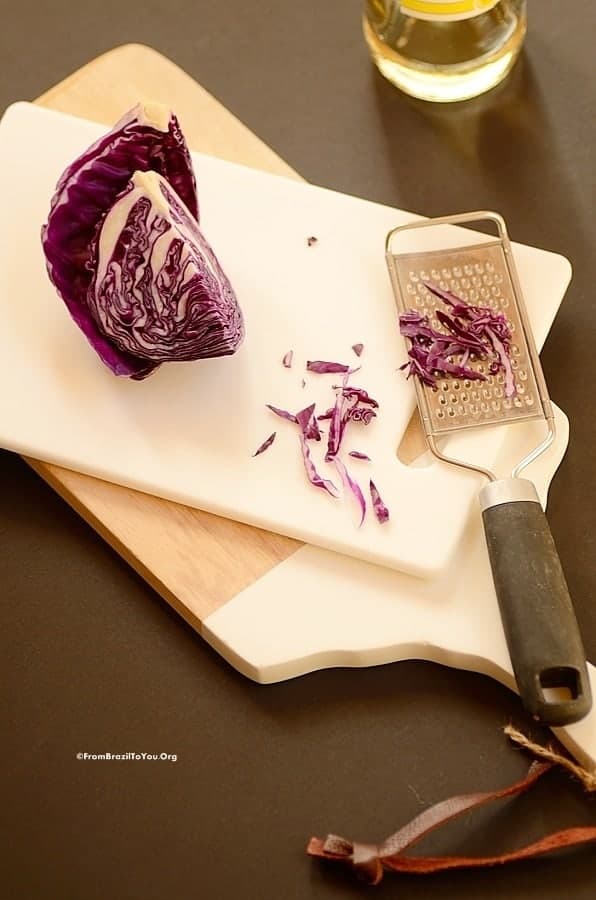 Although popular in the entire country, tapioca crepes are a traditional dish from the Northeastern region of Brazil with native Indian origins.
They are commonly served for breakfast, afternoon snacks, or as a dessert, depending on the filling.
Since our shrimp tapioca crepes are a complete meal, they can be served for lunch or dinner.
The filling I chose is more of a contemporary take on one of my favorite Afro-Brazilian Bahian dishes.
These crepes are best accompanied by lime wedges and your favorite beer or soda.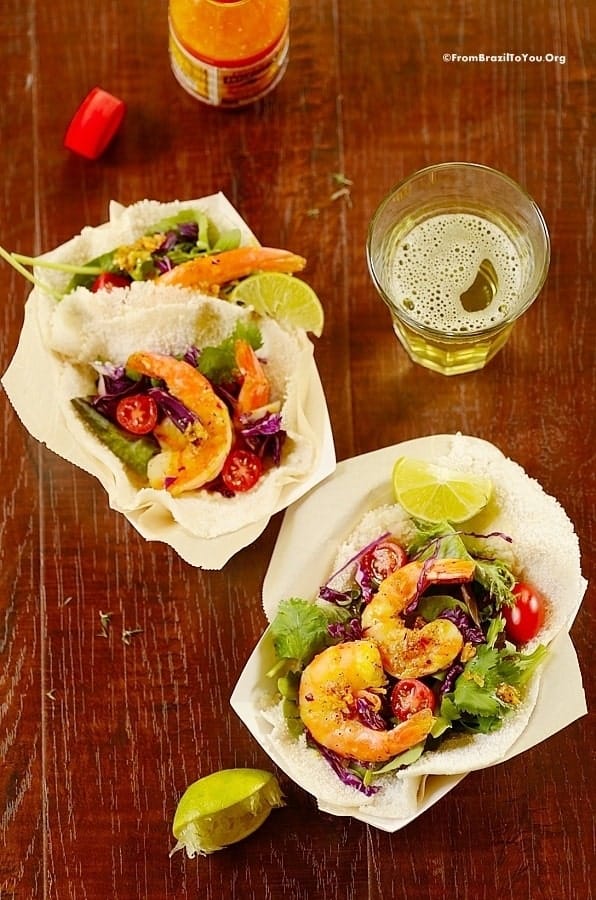 Yes, our shrimp tapioca crepes are a healthy dish, but are not quite low-cal.
When I have them, I think: "Just eat and be happy!" And I say the same to you...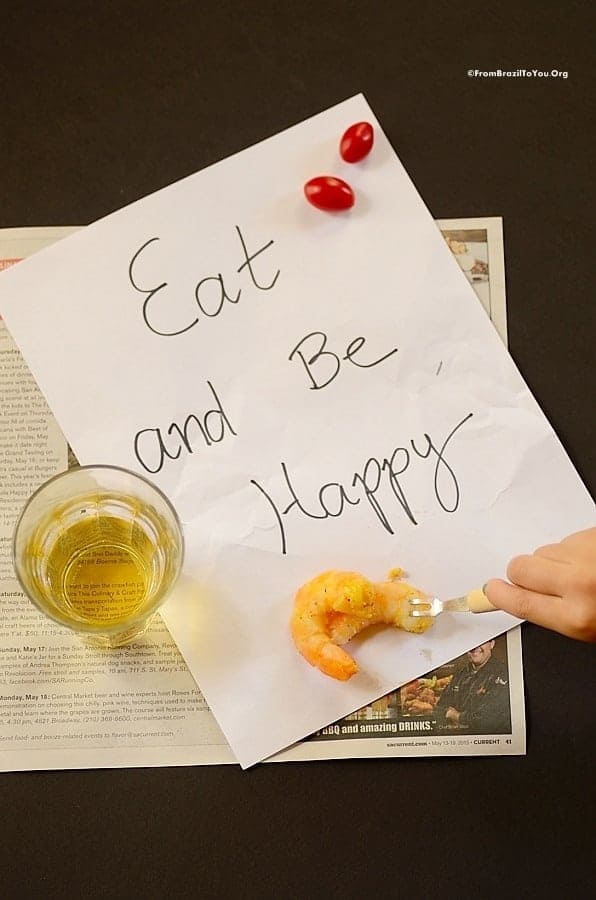 ... and hopefully you'll enjoy these shrimp tapioca crepes as much as I did, without feeling guilty! 😉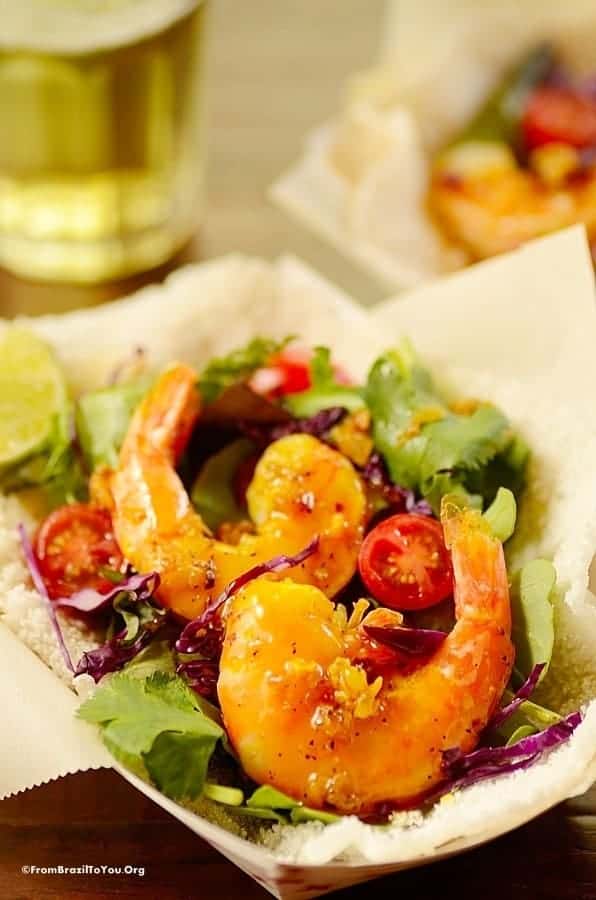 Shrimp Tapioca Crepes
Shrimp tapioca crepes are a quick and easy gluten-free dish made from 3-ingredeint tapioca crepes filled with flavorful sauteed shrimp and vegetables. It can be served for lunch/dinner or as a snack.
Ingredients
Tapioca crepes

2

tablespoons

vegetable oil

1-2

tablespoon

minced garlic cloves

12

large

shrimps

raw, fresh or thawed, shelled and deveined

1

pinch

salt

1

pinch

ground black pepper

1

pinch

ground cumin

Juice of ½ lime

plus 4 lime wedges to serve with crepes

2

tablespoons

palm oil

optional

1

cup

Mixed leaves

¼

cup

shredded purple cabbage

optional

4

cherry tomatoes

halved

2

tablespoons

chopped cilantro or parsley
Instructions
Prepare the tapioca crepes according to the directions in the

RECIPE

. Please, double the tapioca crepe recipe in order to prepare 4 crepes. When they are ready, spread only a bit of salted butter on top.

To prepare the shrimp, pat them dry and reserve. Heat the oil in a large, non-stick skillet over medium heat and cook the garlic for about 30 seconds. Add the shrimp and let cook until color changes to a light pink, about 2-3 minutes.

Season with salt, pepper and cumin, swirling the pan to combine. Then, add the lime juice and then the palm oil, if desired, swirling/stirring until incorporated. Remove skillet from the heat.

Place tapioca crepes on a serving plate/ paper basket, top each with about ¼ cup of mixed leaves and about 1 Tablespoon of shredded purple cabbage per crepe if desired. Top with 2 cherry tomato halves as well as 3 sautéed shrimp per crepe.

Sprinkle a bit of cilantro or parsley on top of each and serve immediately while still warm. Serve shrimp tapioca crepes with a wedge of lime to squeeze over the filling, along with your favorite beer, or guaraná soda (or Ginger Ale). Enjoy!
Recipe Notes
NOTE that the calories don't include the tapioca crepes. 
Nutrition
Calories:
149
kcal
|
Carbohydrates:
2
g
|
Protein:
4
g
|
Fat:
14
g
|
Saturated Fat:
9
g
|
Cholesterol:
45
mg
|
Sodium:
156
mg
|
Potassium:
82
mg
|
Vitamin A:
270
IU
|
Vitamin C:
10.7
mg
|
Calcium:
30
mg
|
Iron:
0.6
mg
** Nutrition labels on easyanddelish.com are for educational purposes only. This info is provided as a courtesy and is only an estimate, since the nutrition content of recipes can vary based on ingredient brand or source, portion sizes, recipe changes/variations, and other factors. We suggest making your own calculations using your preferred calculator, based on which ingredients you use, or consulting with a registered dietitian to determine nutritional values more precisely.
Please note that health-focused and diet information provided on easyanddelish.com is for educational purposes and does not constitute medical advice, nor is it intended to diagnose, treat, cure, or prevent disease. Consult with your doctor or other qualified health professional prior to initiating any significant change in your diet or exercise regimen, or for any other issue necessitating medical advice.
DID YOU MAKE THIS RECIPE?
Comment and rate the recipe. Also follow us on Pinterest at @easyanddelish for more delish recipes.