It's all about Thanksgiving... including this marvelous Spiced Sweet Potato Pound Cake with Caramel Frosting (Bolo de Batata Doce com Caramelo)! I know -- just thinking about it makes my mouth water. But it's fine, one has to enjoy the season's goodies. Moist, comforting, aromatic, and festive are this cake's real names. Folks, this was a hit in my household and it will be in yours as well.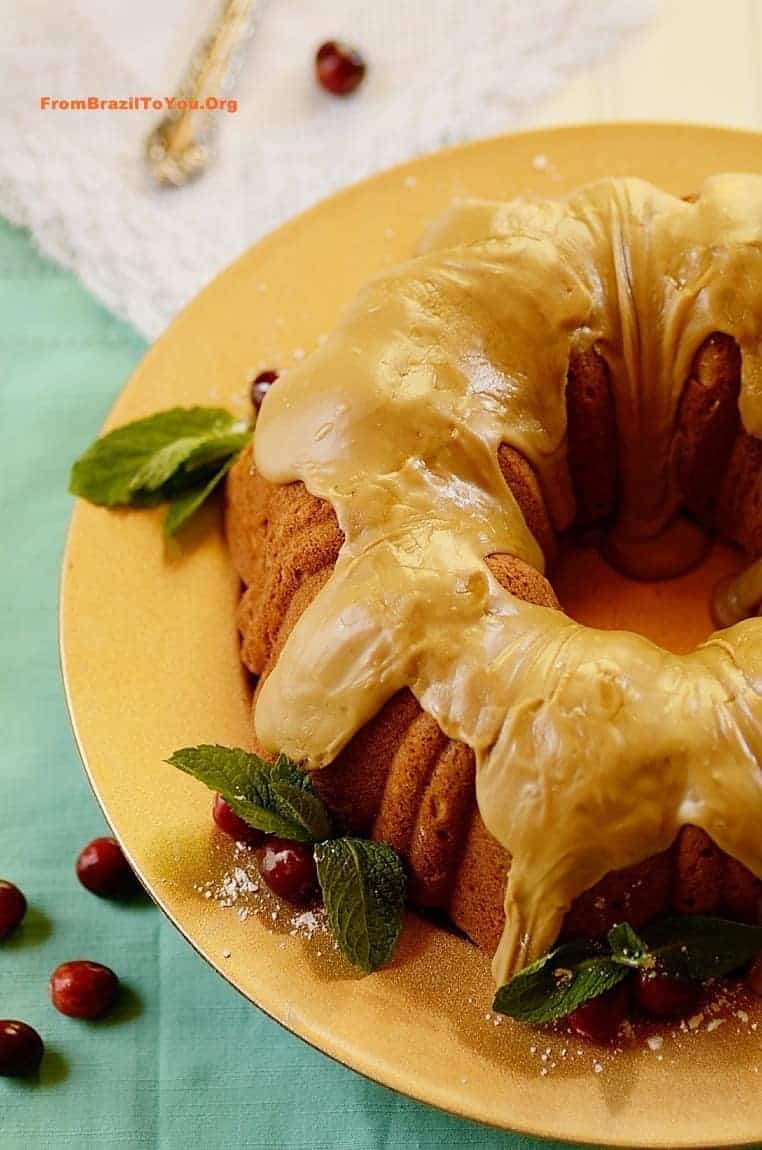 If you are already planning your Thanksgiving menu, add this cake to your list of desserts. Mine includes a variety of desserts: pies, a cake, and either cookies or another type of dessert. Do it... and you won't regret a thing! The sweetness of the homemade caramel balances well with the mild flavor of the cake. The spices make this a warm, comforting dessert, and the sweet potatoes and the caramel capture the spirit of the season.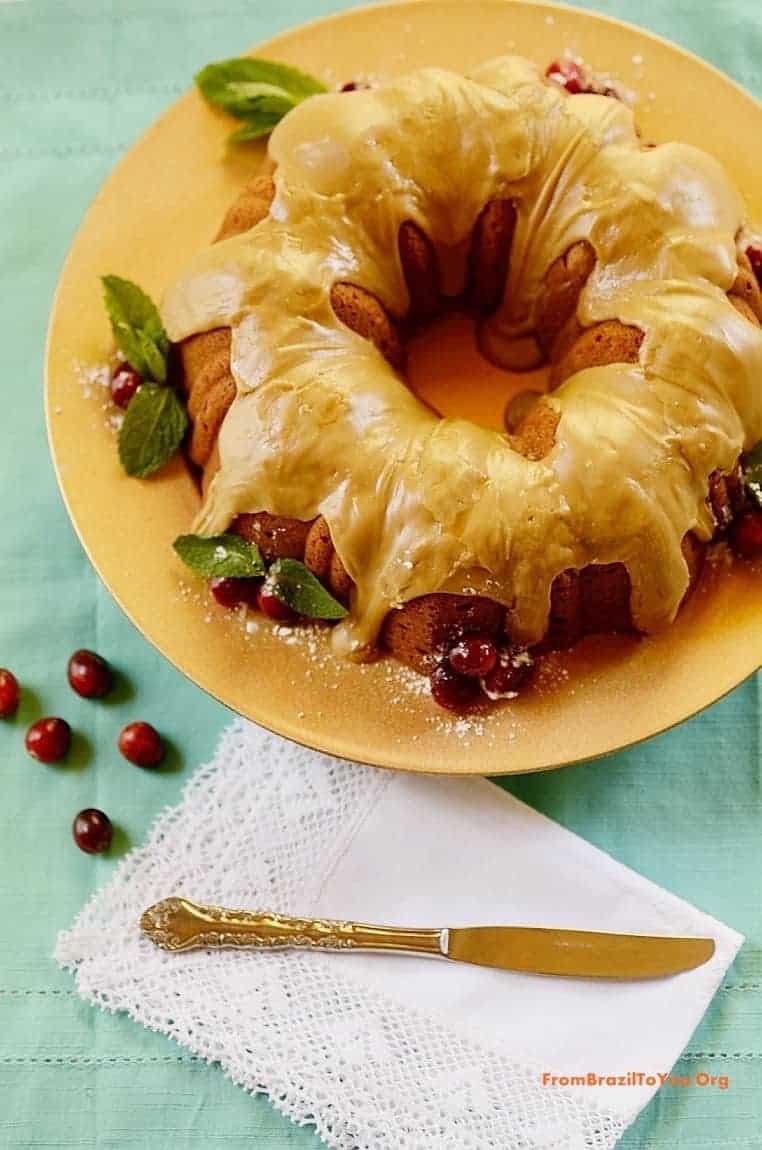 But if you would like to have this just to brighten your afternoon, accompanied by a cup of coffee or tea... well, I won't blame you either. Actually, I'd say 'way to go!' My husband can speak wonders about it. 🙂
Seriously, either for a festive occasion or for a simple afternoon treat, this sweet potato pound cake 'takes the cake' and crushes any competition! 🙂
I am looking forward to your feedback!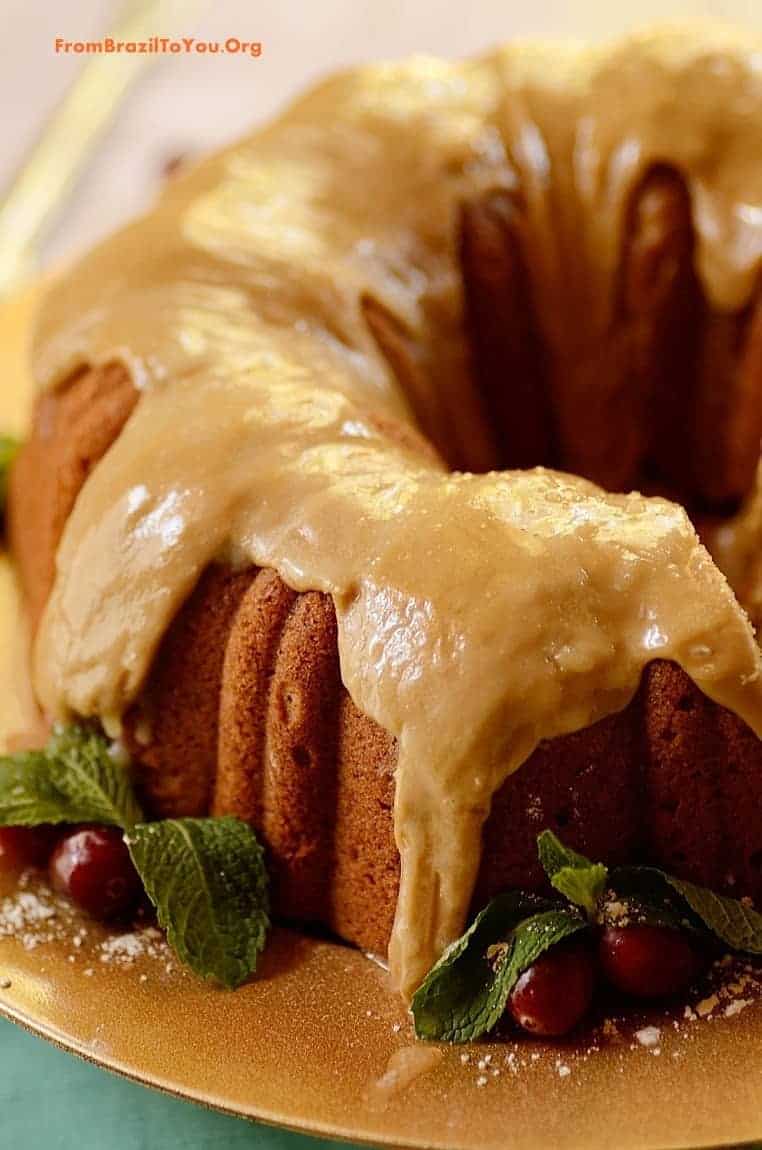 Spiced Sweet Potato Pound Cake with Caramel Frosting
A gorgeous, moist, comforting, and aromatic Spiced Sweet Potato Pound Cake with Caramel Frosting. What's not to like about it?
Ingredients
For the Sweet Potato Pound Cake:

1

cup

unsalted butter

softened

2

cups

granulated sugar

4

large eggs

at room temperature

3

tablespoons

buttermilk

or 3 Tablespoons whole milk mixed with ½ teaspoon of white vinegar

3

cups

all-purpose flour

¼

teaspoon

salt

2

teaspoon

baking powder

½

teaspoon

baking soda

2

teaspoons

ground cinnamon

1

teaspoon

ground nutmeg

2

cups

cooked

peeled, and cooled mashed sweet potatoes (or you can use canned golden cut sweet potatoes yams in syrup -- drain the syrup and mash the yams)

1

tablespoons

pure vanilla extract

For the Caramel Frosting:

½

cup

dark brown sugar

¼

cup

unsalted butter

⅓

cup

heavy whipping cream

1

teaspoon

pure vanilla extract

¾

cup

powdered sugar
Instructions
Preheat oven to 350 degrees F. Grease and flour a 10" tube or bundt pan, and set aside.

In the bowl of an electric mixer with a paddle attachment, cream butter and then add the sugar, beating at low speed until light and fluffy, about 3-4 minutes. Add eggs, one at a time, beating after each addition at low speed until just incorporated. Scrape down the bowl after each addition. Add the buttermilk and beat just until incorporated. Batter will look lumpy.

In a separate bowl, combine flour, salt, baking powder, baking soda, and spices. Slowly add the flour mixture to the potato mixture at low speed until combined. Beat in the mashed sweet potatoes and vanilla.

Pour the batter into the prepared tube/bundt pan and level uniformly. Bake for 55-70 minutes or until a toothpick inserted comes out clean.

Cool on a wire rack for 20 minutes, then invert onto a serving plate. Once cake has cooled completely, prepare the caramel frosting if desired. Our sweet potato pound cake can be served plain, or topped with the Caramel Frosting.

For the Caramel Frosting

: Bring brown sugar, heavy cream, and butter to a boil in a small stainless steel saucepan over medium heat, whisking constantly. Boil, whisking constantly for about 1 minute. Remove pan from the heat and stir in vanilla. Gradually whisk in powdered sugar until smooth. Continue to stir mixture until it just begins to cool and thicken. Immediately pour mixture over cooled sweet potato pound cake and let set. Decorate sides with fresh cranberries and mint leaves, or as desired.
** Nutrition labels on easyanddelish.com are for educational purposes only. This info is provided as a courtesy and is only an estimate, since the nutrition content of recipes can vary based on ingredient brand or source, portion sizes, recipe changes/variations, and other factors. We suggest making your own calculations using your preferred calculator, based on which ingredients you use, or consulting with a registered dietitian to determine nutritional values more precisely.
Please note that health-focused and diet information provided on easyanddelish.com is for educational purposes and does not constitute medical advice, nor is it intended to diagnose, treat, cure, or prevent disease. Consult with your doctor or other qualified health professional prior to initiating any significant change in your diet or exercise regimen, or for any other issue necessitating medical advice.
DID YOU MAKE THIS RECIPE?
Comment and rate the recipe. Also follow us on Pinterest at @easyanddelish for more delish recipes.