I absolutely love passion fruit! Don't you? So we'll be using this fabulous fruit to make a moist, delicious cake: Passion Fruit Cake with Double Topping…Yay!
In Brazil, our passion fruit is big, yellow on the outside, full of juicy pulp, and a bit less acidic than the purple type found here in the US. The state of Bahia is the highest producer of passion fruit in Brazil. Another interesting fact is Brazil is its largest consumer in the world. Brazilians appreciate this fruit so much that we have an astounding variety of desserts made from it. One of our favorites is passion fruit cake.
Browsing through the many recipes for passion fruit cake that I have, I chose a coffee-cake version for today's post. Something  quick, easy, and absolutely delish!
Yes, it has been a while since I made and got to eat a passion fruit cake because in the US the fruit is seasonal and a bit expensive. But this time I got lucky. Not only did I have some Brazilian passion fruit juice concentrate that I recently bought at a local Latin market, but I also found fresh passion fruit in season at Central Market. Whoo-hoo! I bought it knowing that something good would result from it.
And it did!
The easy part was making the passion fruit cake… The hard part was not grabbing a slice immediately! So as soon as I finish taking the pictures that you'll see here, this cake is mine. OK, I'll try to behave properly and share a piece with my husband. Well, maybe…
Actually, the man loves passion fruit cake so much that what I really hope is that he will share a piece with me. 🙂
I am so greedy for this passion fruit cake that it brings to mind that legendary scene from the movie Lord of the Rings in which Gollum — in a sinister and selfish voice– looks at the ring and says "My Precious!" Sorry, but this is exactly how I feel about this passion fruit cake… Another Brazilian specialty to must-try is  this Brazilian-Style Carrot Cake with Chocolate Topping (Bolo de Cenoura com Calda de Chocolate). I feel almost the same about my kid-friendly carrot cake…
Well, make this passion fruit cake and you'll know exactly what I am talking about.
Now, please excuse me while I go and enjoy "My Precious" passion fruit cake. 🙂  To encourage myself to overcome the selfish battle within me, maybe I should step on the scale later… Or not? Hmmmm?! 😉
xx
Passion Fruit Cake with Double Topping
Yield: About 12 slices
Segment: Brazilian Cuisine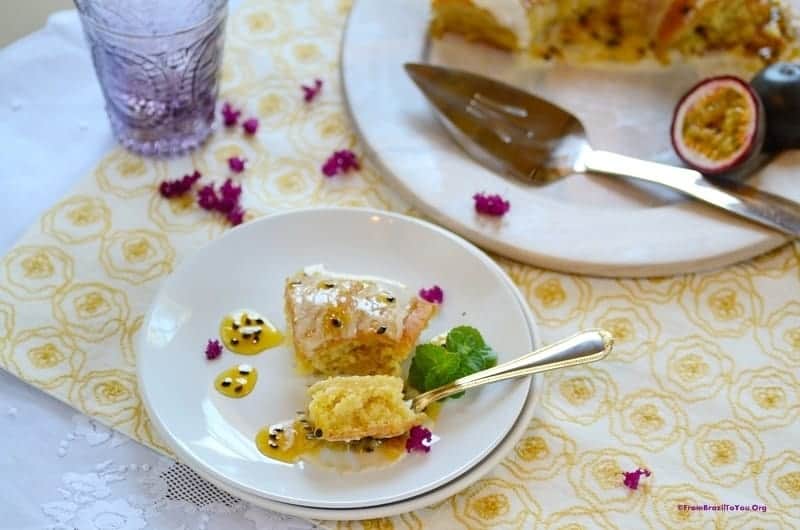 Ingredients:
For the Batter:
1 cup unsalted butter, softened
2 cups sugar
4 large eggs, at room temperature
3 cups all-purpose flour
2 teaspoons baking powder
1/2 teaspoon salt
1 cup concentrated passion fruit juice**
** It is available both at Latin supermarkets and online.
For the Icing:
1 cup powdered sugar
4 tablespoons heavy whipping cream
1-1/2 teaspoon pure vanilla extract
For the Passion Fruit Sauce:
Pulp of 2 passion fruits
1/2 cup sugar
1 cup water
2 tablespoons cachaça or white rum
Directions:
Preheat the oven to 350º F (180ºC). Grease and flour a 10- in (25.4 cm) fluted tub pan. Reserve.
In a mixing bowl, cream butter and sugar. Then, add the eggs, one at a time, beating well after each addition.
Sift and combine flour, baking powder and salt; add to creamed mixture alternately with the passion fruit juice.
Pour into the prepared pan and bake for about 60-70 minutes or until a toothpick inserted near the center comes out clean.
Let cool down over a wire rack for about 20 minutes. Run a knife around the edges carefully. Then, invert the cake onto a plate and let cool down 10 minutes longer. Pour icing over, and let cool down. When is completely cool, drizzle the cool or chilled passion fruit sauce on top. Serve.
To prepare the icing: In a bowl, mix all the ingredients well. Unmold the passion fruit cake when still slightly warm and pour the icing on top of the cake. Let cool down.
To make the passion fruit sauce:  Cut the passion fruit in half and scoop out center (including the seeds) into a small saucepan. Add the sugar, the water, and cachaça or rum. Let cook over high heat until sugar has dissolved and sauce has thickened, about 7 – 9 minutes. Transfer to a small bowl and let cool down (or chill). Drizzle the top of the iced passion fruit cake with the passion fruit sauce.