The June Festivals, known in Portuguese as Festas Juninas, are coming to an end. But not my cravings for dishes made from corn. Sweet Corn Pudding (Curau or Canjica Nordestina) is the dish for today! 🙂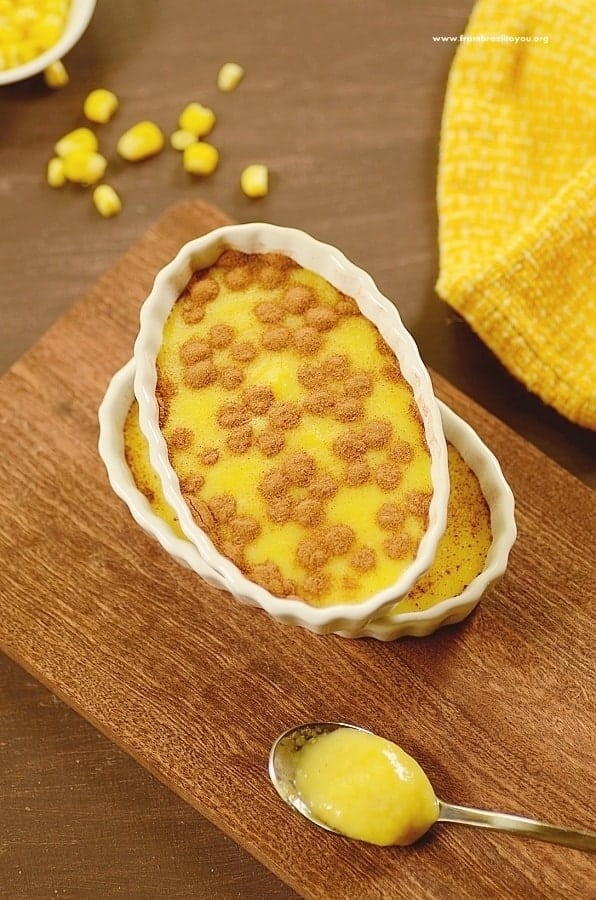 This is a pudding or porridge traditionally made from unripe maize, milk, and sugar. Because Brazilian maize contains more starch than sugar, there is no need to add cornstarch to the mixture. In Brazil, when the sweet corn pudding is warm it has a pudding-like consistency, and then firms up almost like a flan when it cools down. But the exact opposite occurs when sweet corn pudding is prepared with the most popular American maize, sweet corn-- it gets softer as it cools.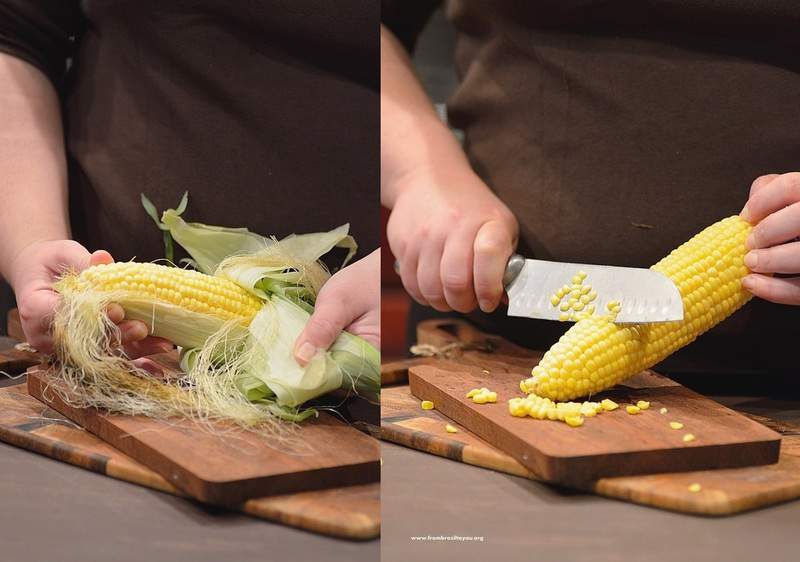 After making the proper adjustments, our sweet corn pudding was prepared with blended corn kernels, milk, salt, sugar, and sweetened condensed milk, thickened with corn starch. It is smooth and creamy... and can be eaten warm, at room temperature or chilled. It can even be frozen and transformed into ice cream, with no need for a machine. But I have to say that even adding corn starch, our pudding does not quite reach the firmness of a flan-like consistency.
The name of this dish varies depending on what part of Brazil you are in... Curau is used mostly in southern states such as São Paulo. It is also called corá in Minas Gerais, papa de milho or "corn porridge" in Rio, and canjica in the North and Northeast regions.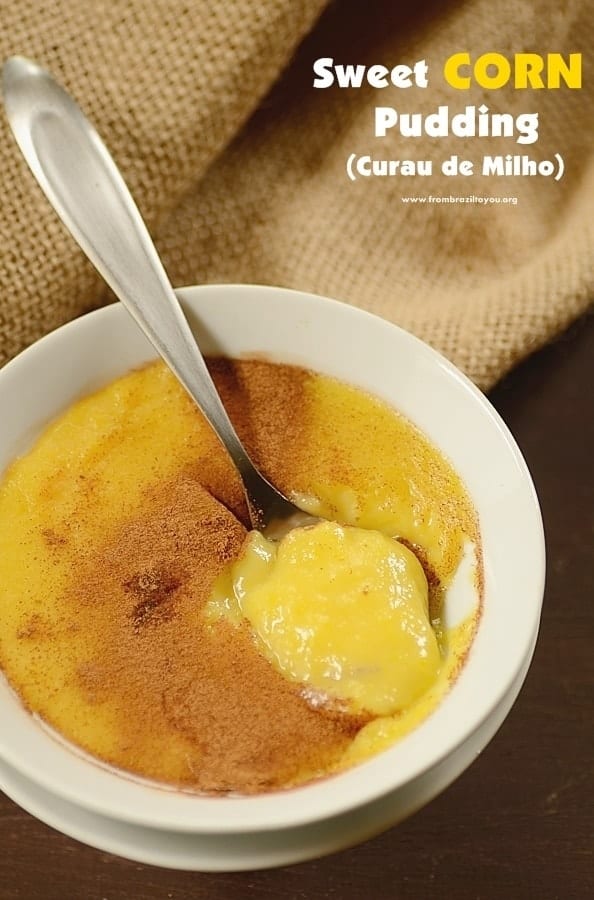 No matter what it is called, the fact is, sweet corn pudding is simple to prepare, quick, and quite tasty. If you have never gotten to give it a try, now is your chance!
Enjoy!
Sweet Corn Pudding (Curau or Canjica Nordestina)
An easy and tasty porridge or pudding made from blended corn, milk, salt, sugar, and sweetened condensed milk, thickened with corn starch. Sweet corn pudding can be savored warm, at room temp or chilled -- or even transformed into ice cream.
Ingredients
3

cans

sweet corn kernels

15.25 oz or 432 g, or 4¼ cups or 8-9 ears of corn

1

quart

whole milk

946 ml

1

teaspoon

salt

½ to 1

cup

sugar

6

tablespoons

corn starch

1

can

sweetened condensed milk

14 oz or 396 g

Ground cinnamon to sprinkle
Instructions
If using fresh corn, clean the corn and cut off the kernels with a sharp knife. If using canned corn, drain the water and use only the kernels. Blend corn, milk, salt, sugar, and corn starch in a blender until obtaining a homogeneous mixture. Strain, pressing down with the back of a spoon to separate the juice from the corn kernel pulp. Discard the pulp and place strained mixture (liquid) into a medium nonstick pan. Stir in the sweetened condensed milk until mixture is homogeneous.

Cook over medium-low heat (large burner), stirring constantly, for about 15-20 minutes or until mixture has thickened and attains the consistency of a pudding. Pour into ramekins, sprinkle on the top with ground cinnamon, and serve warm, room temp, or chilled.
** Nutrition labels on easyanddelish.com are for educational purposes only. This info is provided as a courtesy and is only an estimate, since the nutrition content of recipes can vary based on ingredient brand or source, portion sizes, recipe changes/variations, and other factors. We suggest making your own calculations using your preferred calculator, based on which ingredients you use, or consulting with a registered dietitian to determine nutritional values more precisely.
Please note that health-focused and diet information provided on easyanddelish.com is for educational purposes and does not constitute medical advice, nor is it intended to diagnose, treat, cure, or prevent disease. Consult with your doctor or other qualified health professional prior to initiating any significant change in your diet or exercise regimen, or for any other issue necessitating medical advice.
DID YOU MAKE THIS RECIPE?
Comment and rate the recipe. Also follow us on Pinterest at @easyanddelish for more delish recipes.