Thanksgiving Day will be celebrated about 9 days from now... I am thinking not only about all the dishes that are traditionally served on that special day, but also what can be prepared with the delicious leftovers. Turkey Pot Pie is my leftover dish of choice!
This turkey pot pie dish that I am about to present to you here is a perfect one either for Thanksgiving (if you don't feel like cooking a whole turkey) or especially as a dish to put those Thanksgiving leftovers to excellent use. Our  turkey pot pie also a great dish for a potluck.
When I saw this  turkey pot pie in one of the Southern Living magazines, I told myself that I had to try it. As you can see, I just could not wait until after Thanksgiving to have such a fabulous  turkey pot pie.
I made this turkey pot pie dish several days before and do not regret it one bit. As always, I had to share it with you.
Before you cook our  turkey pot pie, you have to know that I made several modifications to the original  turkey pot pie dish because the kitchen is my lab. I cannot help myself -- that's the truth! . 🙂  I have added bacon, celery, carrot, garlic, and wine to make the dish tastier. Also, instead of spinach I substituted kale, which is ever present in Brazilian cuisine. You know, you can take the girl out of Brazil, but you cannot take the Brazil out of the girl. 🙂  This is another truth!!! If you are not a big fan of kale/collard greens, no worries. Go ahead and use 1 (9-ouce) bag of baby spinach instead. Both pecans and cranberries -- originally present only in the crusts--  were added to the filling to give nutty and slightly sweet notes to it.
Well, I hope you enjoy this turkey pot pie with cranberry-pecan crusts... And do not worry about Thanksgiving leftovers. Now you have the perfect dish to prepare with them.
Happy Thanksgiving!!
Turkey Pot Pie with Cranberry-Pecan Crusts
Serves 8
(Segment: From My Table To Yours)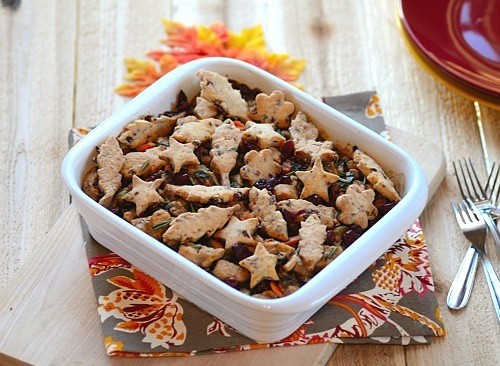 Ingredients:
For the Turkey Pot Pie:
5 tablespoons vegetable oil, divided
2 tablespoons butter, divided
2 strips smoked bacon, chopped
1 large red onion, small diced
1 cup cerely stalks, chopped
½ cup carrot, peeled and cubed
1 large garlic clove, minced
10 large leaves of kale or collard greens, thinly sliced (or one 9-ouce bag of baby spinach)
½ teaspoon fresh rosemary, chopped
½ cup all-purpose flour
1 tablespoon salt plus more to adjust seasoning
2 teaspoons pepper plus more to adjust seasoning
3 pounds ( 1,360 g ) turkey tenderloins, cut into 1-½-inch (about 4 cm) cubes
½ cup dry white wine
1-½ cups chicken broth
2 cups buttermilk or milk
⅓ cup dried cranberries
⅓ cup toasted pecans, chopped
Cranberry-Pecan Crusts
For the Cranberry-Pecan Crusts:
1 (15-ounce or 425 g) package refrigerated piecrusts
½ cup toasted pecans, finely chopped
½ cup dried cranberries, finely chopped
Directions:
1. Preheat oven to 350° F (180° C)
2. In a large skillet over medium-high heat, heat 2 tablespoons of oil. Add the bacon and cook for about 3 minutes, stirring occasionally. Then, add the onion, the celery, and the carrot. Sauté for about 5 minutes, stirring occasionally. Add the garlic and sauté for about 1 minute, and then sauté the greens for 2-3 minutes. Stir in rosemary. Place in a bowl, and set aside.
3. In a large, separate bowl, combine all-purpose flour, salt, and pepper; dredge turkey tenderloins in flour mixture.
4. Melt 2 tablespoons butter with 3 tablespoons of oil in skillet over medium-high heat; add turkey tenderloins, and brown on all sides. Stir in the wine and let evaporate a bit, stirring. Gradually stir in the chicken broth and buttermilk. Bring to a boil, and cook, stirring constantly, for 1 minute or until thickened. Stir in the sautéed mixture that was set aside. Add the cranberries and pecans. Adjust seasonings, stirring in more salt/or pepper if desired. Pour turkey mixture into a lightly greased 13- x 9-inch baking dish.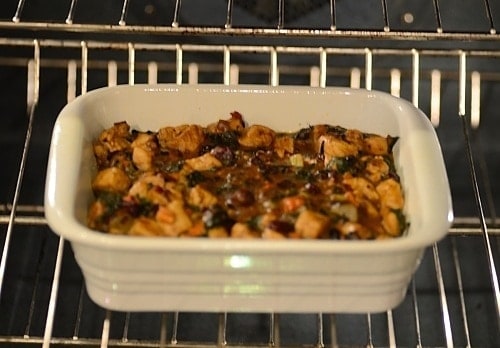 5. Bake, covered with aluminum foil, for 30 minutes. Remove from oven, and arrange desired amount of Cranberry-Pecan Crusts over pie before serving. Serve with any remaining Cranberry-Pecan Crusts on the side.
6. To make the crusts: Preheat oven to 425° F (About 220° C). Unfold each piecrust, and press out fold lines. Then, sprinkle 1 piecrust with both the pecans and cranberries; top with remaining piecrust. Roll into a 14-inch circle, sealing together piecrusts. Cut into desired shapes with a 2- to 3-inch cutter. Place pastry shapes on a lightly greased baking sheet. Bake for 8 to 10 minutes or until golden.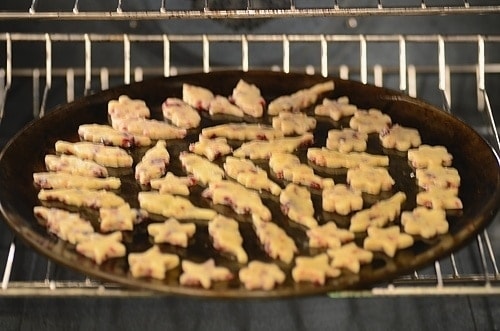 Note: This recipe can be made-ahead and frozen. In this case, store uncooked crusts separately, bake, and place on pie just before serving so that they stay firm.
 ** Recipe adapted from Southern Living Magazine -- September 2012 edition.
You might also enjoy:
Sparkling Cranberry-Passion Cocktail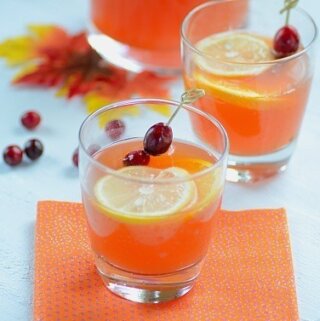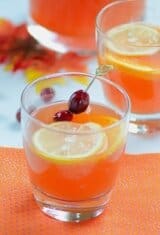 Coconut-Sweet Potato Custard (Gluten-free)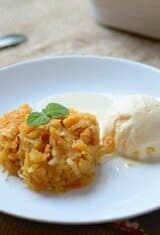 ________________________________________________________________________________________
Turkey pot pie
turkey pot pie