All that you ever wanted to know about tapioca (a by-product of cassava), its health benefits, culinary uses, and much more.
All About Tapioca
Tapioca is a food starch with diverse culinary uses and health benefits which derives from the root of the cassava plant. In various parts of Latin America and the Caribbean, the cassava plant has many other names.
These include: yuca, manioc, mandioca, and casaba. The cassava plant comes from the central-west and north region of Brazil. However, it is an important food across the rest of South America, Africa, and Asia.
This edible plant is part of the euphorb family. This is a family of flowering plants with many species in South America, among other places. Some other key members of the family are the Castor Oil Plant, Poinsettia, Barbados Nut, and Para Rubber Tree.
Please note that even though the names are similar, the yucca plant and cassava plant (yuca) are not the same and are not related to one another.
After cultivation spread to Central America, the Maya were among the first people believed to cultivate the cassava plant. Spanish and Portuguese explorers likely then carried the plant to Asia and Africa, where it has become a staple food.
How It Grows
The cassava is a perennial. There are different forms of the plant that range from herbs to shrubs and even unbranched trees. Some types of cassava can grow in more temperate climates and thrive in poorer soils than others.
First of all, in order to grow a cassava plant you will need at least eight months of warm weather. If you live in a place that gets harsh winters, the cassava plant will not do well.
You can start growing a cassava plant indoors during late winter when temps are cooler, and transplant it outdoors once temps reach at least 70°F (21°C).
The cassava plant has either green or red branches. The roots of the green-branch species requires a special process to remove linamarin, a chemical that creates cyanide.
How To Make Tapioca
Tapioca is a by-product of cassava flour, which comes from cassava root. After grinding the root to a wet pulp, one squeezes out the starch -- traditionally through a weave.
Once the water evaporates from the starchy liquid that one collects from the weave, what remains is a white powder called tapioca.
Today cassava starch can be processed into a number of different forms. In particular, these include pre-cooked coarse and fine flakes, meal, tapioca powder, tapioca sticks, and tapioca pearls.
The most common of these forms found on the commercial market are tapioca pearls.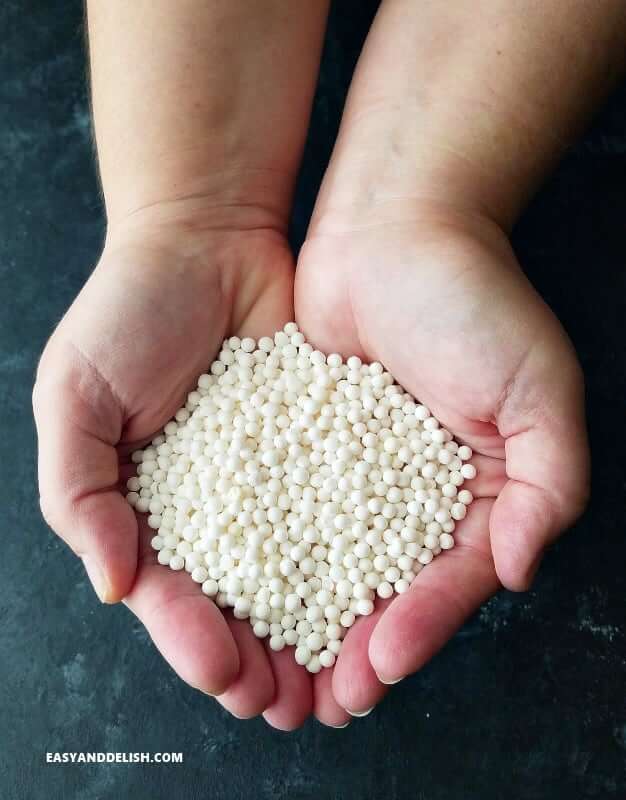 Uses of Tapioca in Cooking
Tapioca has many varied uses in cooking. As one example, tapioca can be made into a flatbread called casabe. Venezuela is where this use for tapioca is currently the most common. In fact, in some parts of the country it is their staple in place of bread.
Further, another use is to grind the root of the cassava plant into a pulp and then squeeze it to press out a bitter, milky liquid. This helps to remove the poisonous substances from the flesh.
Once a strainer has been used to squeeze out any remaining liquid, the residual starch is spread out into thin cakes to be toasted or roasted.
Moreover, tapioca balls, otherwise known as boba in some countries, are a frequent ingredient in many Asian and Brazilian dishes. This is a popular way of using tapioca 'pearls.' As such, this is a common ingredient in many Asian desserts that include sago, kolak, bubble tea, and taho.
The smaller pearls of tapioca are also a favorite ingredient in pudding. For example, in Brazil, tapioca pearls are cooked with liquid or wine to create sagu de vinho (red wine tapioca pudding).
Additionally, tapioca grit is a sort of intermediary between cassava flour and tapioca pearls. It is dried cassava flour that has been combined with gelatin, giving it a flaky or grainy appearance. Tapioca grit can be cut into the shape of pearls and are exposed to heat treatment which can extend its shelf life.
Tapioca pearls have a number of unique properties which give them their mouthfeel and texture. Besides the starch composition, the method of commercial processing affects these factors as well. Tapioca pearls are typically chewy and soft.
Because tapioca is a binding agent and thickener, it's often added to dough, nuggets, and burgers to improve both the moisture content and the texture.
As a cheap additive, it's also useful to put into soups, gravies, and sauces to thicken them naturally. In Western culture, its flour is popular as a great alternative to wheat flour since it is gluten-free.
Sweet and Savory Brazilian Tapioca Dishes
Health Benefits
Tapioca is naturally free from common allergens and is grain-free, nut-free, and gluten-free. As a result, one can find tapioca flour in many different gluten-free products and in replacements for traditional flour.
Moreover, it is also cholesterol free, and one cup of tapioca pearls contains 1.5 grams of fiber. It also contains just 1mg of sodium and 9% of the recommended daily iron intake.
The carbohydrate and fiber content in it produce a full feeling that will last a long time. It can help suppress hunger and prevent overeating. While it isn't good for weight-loss, it is a good source of slow-releasing energy.
Countries That Eat Tapioca the Most
The countries that have the highest intake of cassava plant-based foods are:
Nigeria - 20,397,512 tonnes
Indonesia - 11,607,925 tonnes
Brazil - 8,490,712 tonnes
India - 7,668,110 tonnes
Ghana - 6,099,126 tonnes
Mozambique - 5,203,505 tonnes
Angola - 3,903,491 tonnes
United Republic of Tanzania - 3,606,652 tonnes
Uganda - 3,122,832 tonnes
Madagascar - 2,745,027 tonnes
China - 2,564,488 tonnes
Cameroon - 1,990,343 tonnes
Colombia - 1,724,935 tonnes
Benin - 1,380,689 tonnes
Malawi - 1,259,301 tonnes
Source: Food and Agriculture Organization of the United Nations food supply data 2011
Fun Facts About Tapioca
In World War II there was a severe food shortage in Southeast Asia. As a result, many refugees survived mainly on tapioca. In particular, this was because the cassava plant is quick and easy to grow and can thrive in low-nutrient soil.
While the cassava plant takes ten months to mature fully, it is possible to harvest every two months. This meant that it was able to provide much-needed levels of carbs, and a few other nutrients.
One must never eat cassava raw due to the prussic acid in the root which can cause cyanide poisoning. Indeed, some have even used it to poison darts and arrows.
There are two types of cassava: sweet and bitter. Only the sweet varieties are sold in the U.S., and the bitter kind is used for making flour and starches.
The root of the cassava plant also has another use when made into tapioca starch. It can be processed into biodegradable bags that are an alternative to plastic and can be composted.
Besides being completely biodegradable, this form of tapioca is also recyclable, renewable, reusable and sustainable. In like fashion, it is also possible to make aprons, gloves and even caps from tapioca in this form.
Because tapioca is a starch, one can use it on garments and shirts, applying it before ironing. It is typically sold in bottles combined with a natural gum and is either in a spray form or powder which can be dissolved in water.
In Indonesia, tapioca is used to make Krupuk, which is a traditional Indonesian cracker. Because of its diversity, it can be combined with many different flavors including minced shrimp or fish.
The cassava plant is often dried in the sun and turned into what are called cassava chips, a known side dish in many countries akin to french fries in the USA.
By the way, name tapioca actually comes from the word "Tipioka" in Tupi, a native language of South America. Tipioka means 'starch' or 'what is squeezed out of cassava.'
As well as being a food staple in many countries around the world, tapioca also finds use as a thickening agent and an additive to traditional meals.
Moreover, it is the most popular alternative to wheat flour in many Asian countries, mainly because it is gluten-free.
To sum up, tapioca is a widely available ingredient that is vital to many different countries and cultures. It comes from a root that's been around for centuries and is a popular staple because it's cheap to cultivate and process. Its health benefits includes being gluten-free.
References
Science Direct
Martin, Laura C. (2007). Tea: The drink that changed the world. Rutland: Tuttle Publishing. p. 219. ISBN 9780804837248.
Online Library Wiley