5-ingredient, gluten-free Brazilian Hot Pockets filled with bacon and cheddar cheese that are super easy to prepare. They make a great breakfast or snack!
Love Pão de Queijo (Brazilian cheese rolls)? Well, me too! After becoming a fan of the traditional recipe and its variations, including pão de queijo waffles, I decided to innovate once more by using the same dough to make what I call Bacon and Cheese Brazilian Hot Pockets (Enroladinho de Pão de Queijo). Yep! This thing is addictive... much to my despair!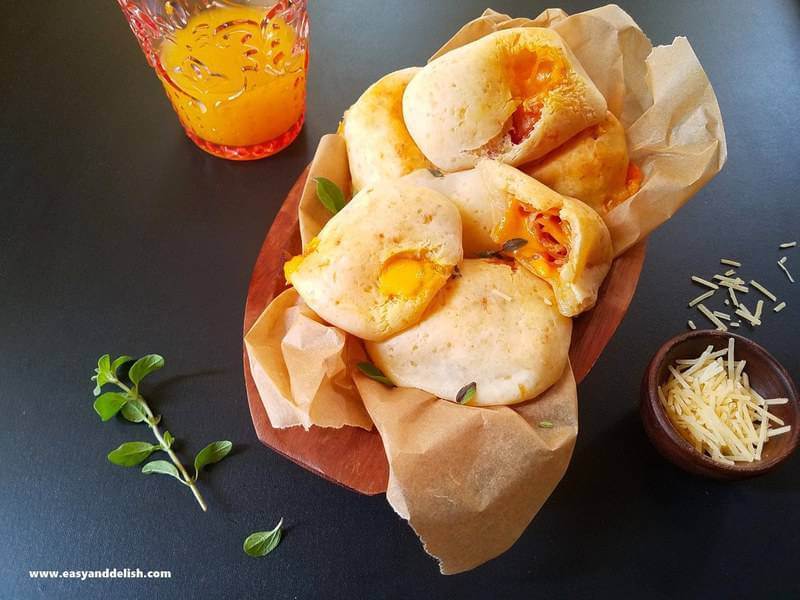 I ain't kidding folks! Only five ingredients were used to prepare this recipe. Three for the dough -- sour cream, tapioca flour, and grated Parmesan cheese. And of course, two for the filling: bacon and cheddar cheese. That's all!
Because they are made from tapioca flour, these Brazilian hot pockets are naturally gluten-free -- in contrast to the ones available at the supermarket.
How to make Brazilian hot pockets
They are also quite simple to prepare-- pretty much just needing to mix the dough, fill with bacon and cheese, and then bake. It actually took more time to bake than to actually prepare these Brazilian Hot Pockets. And yes, they can be frozen. Now that's my kind of recipe!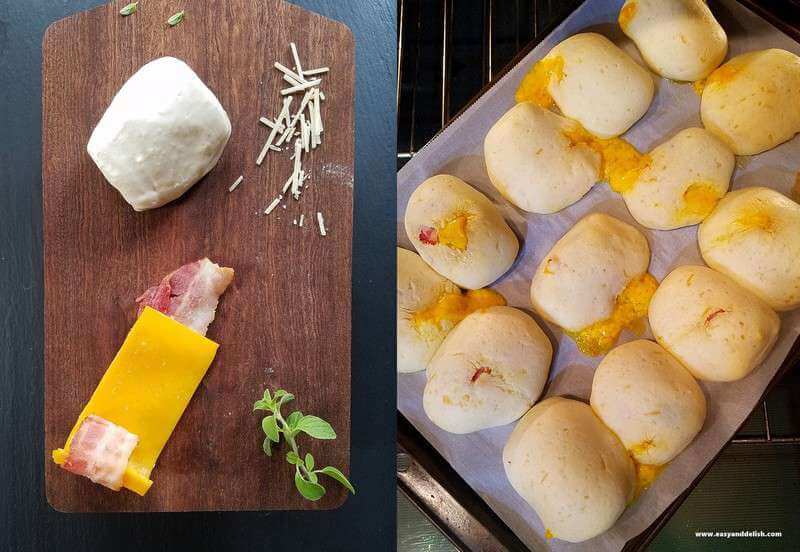 Looking for something new to serve for breakfast or for a hearty snack? These Brazilian hot pockets will be a huge hit! And yes, they make a great lunch or dinner too.
If you would like to, you can also use different fillings such as mozzarella and pepperoni, or sausage and cheddar. Presto! New hot pockets to delight the family.
Needless to say, my hubby and kids made short work of the whole batch! 😉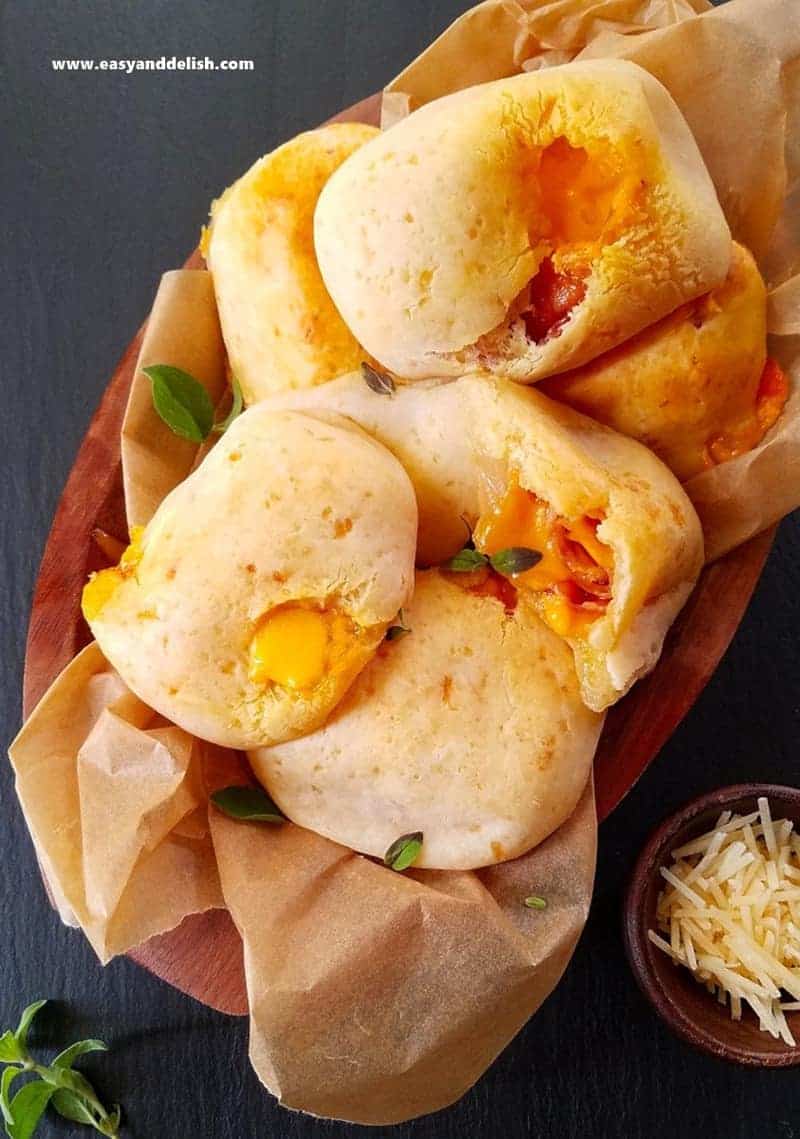 Coffee, soda, juice, beer... they all go well with our easy and delish Brazilian pocket sandwiches. Baby carrots and celery sticks make excellent accompaniments, too.
I will be awaiting your feedback for this hot pocket recipe! 🙂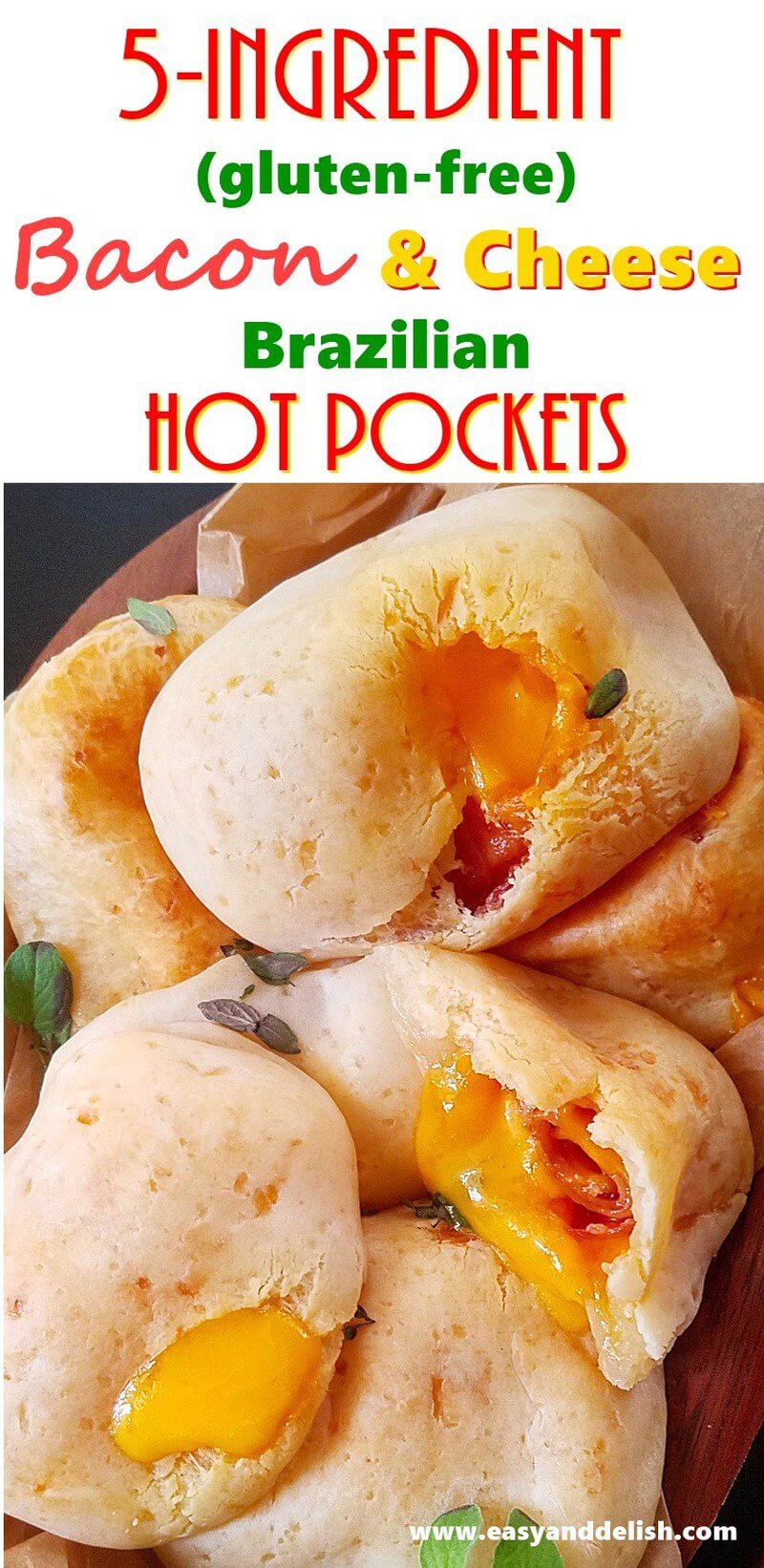 Bacon and Cheddar Brazilian Hot Pockets
These 5-ingredient, gluten-free Brazilian pocket sandwiches are filled with bacon and cheddar cheese... and are super easy to prepare. They make a great breakfast or snack!
Ingredients
3 ½

cups

light sour cream

5 ¼

cups

tapioca flour

2

cups

grated Parmesan cheese

24

strips

fully cooked smoked bacon

12

slices

thin mild cheddar cheese

cut into halves
Instructions
Preheat oven to 350 degrees F. Line a large baking sheet with parchment paper and set aside.

In a large bowl, combine sour cream with tapioca flour and cheese until obtaining a homogeneous and consistent mixture. Use your hands! Set aside.

On a level surface, layer a half slice of cheese on top of a strip of bacon and then roll them together. Repeat the process.

Grab a portion of the dough, roll into a ball, flatten into a disc, place the rolled bacon/cheese on top, and close the dough around the filling. Shape into thick cigars, making sure no holes are found in the dough for the filling to leak out of. At this point, they can be either baked right away or frozen in a plastic bag for baking some other time.

Place onto the lined baking sheet, leaving a bit of space between one Brazilian hot pocket and the other.

Bake for about 27 minutes or until Brazilian hot pockets are lightly golden on top. Enjoy while still warm!
Recipe Notes
These Brazilian hot pockets can be frozen in a plastic bag for up to 3-4 weeks. Let them rest out of the freezer for about 5 minutes prior to baking. It will take more time to bake them if baking from frozen.
Nutrition
Calories:
318
kcal
|
Carbohydrates:
26
g
|
Protein:
11
g
|
Fat:
19
g
|
Saturated Fat:
10
g
|
Cholesterol:
48
mg
|
Sodium:
384
mg
|
Potassium:
144
mg
|
Vitamin A:
331
IU
|
Calcium:
242
mg
|
Iron:
1
mg
** Nutrition labels on easyanddelish.com are for educational purposes only. This info is provided as a courtesy and is only an estimate, since the nutrition content of recipes can vary based on ingredient brand or source, portion sizes, recipe changes/variations, and other factors. We suggest making your own calculations using your preferred calculator, based on which ingredients you use, or consulting with a registered dietitian to determine nutritional values more precisely.
Please note that health-focused and diet information provided on easyanddelish.com is for educational purposes and does not constitute medical advice, nor is it intended to diagnose, treat, cure, or prevent disease. Consult with your doctor or other qualified health professional prior to initiating any significant change in your diet or exercise regimen, or for any other issue necessitating medical advice.
DID YOU MAKE THIS RECIPE?
Comment and rate the recipe. Also follow us on Pinterest at @easyanddelish for more delish recipes.