I know that I don't make breads very often. But I am about to redeem myself with these tapioca breadsticks — a quick, naturally gluten-free Brazilian snack that is best served warm and accompanied by coffee, tea, or any other beverage of your choice. Is that sounding good to you?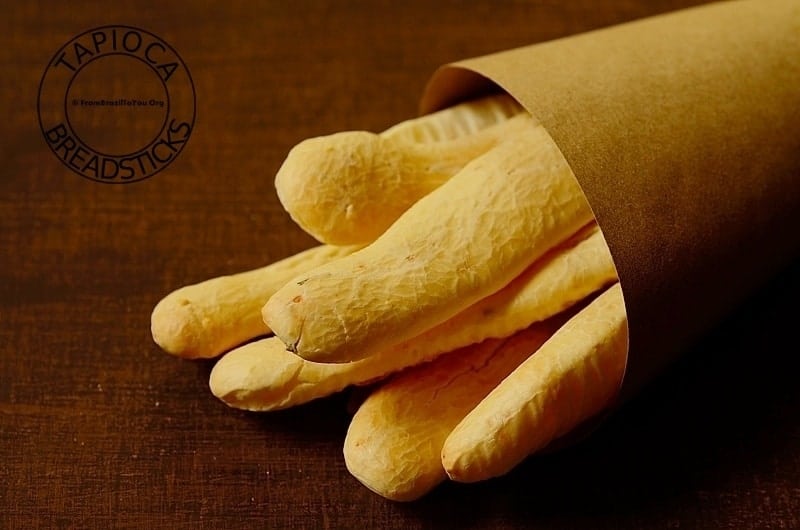 I know… Sometimes I can be a lazy cook. On top of that, I confess that bread is not my favorite thing to make… although it's definitely one of my faves to eat! 🙂 Well let me tell ya, these tapioca breadsticks just became an exception, because they are quick and easy to make… and they are similar to one of my favorite breads: pão de queijo (Brazilian Cheese Rolls). Just thinking about it has me buzzing with excitement!!!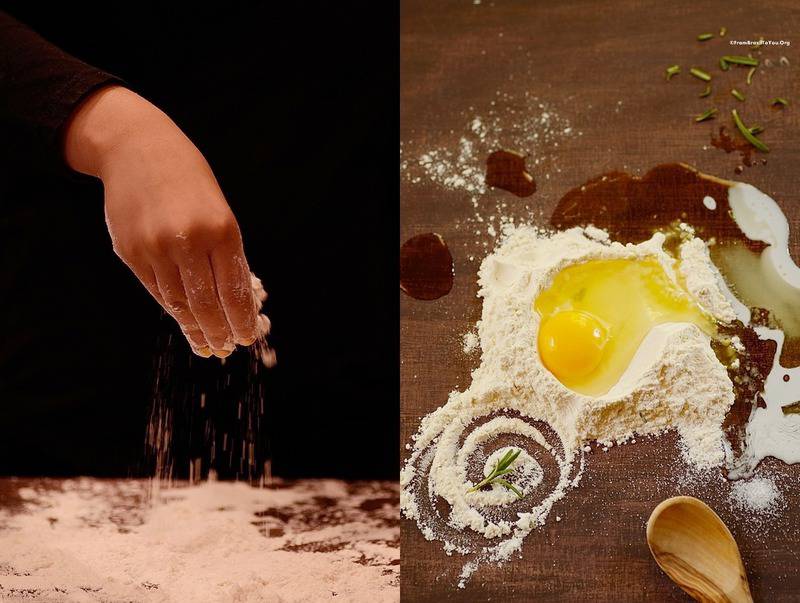 Back in Brazil, these are known as biscoito de polvilho (tapioca "cookies"), and also by some other funny names such as biscoito de vento ("wind cookies"), biscoito voador ("flying cookies"), and biscoito globo ("globe cookies"). Originally from the southeastern state of Minas Gerais, they date back to the colonial period (18th century), and used to be served to the plantation owners along with cheese and coffee at afternoon coffee time. Over time biscoito de polvilho acquired different variations in shape (rings, sticks, or spheres), size (mini and regular sized), cooking methods (fried or baked, like ours), as well as in a few ingredients (some add cheese and/or fennel to the dough).
These are traditionally made from sour tapioca starch, eggs, milk, vegetable oil, and salt…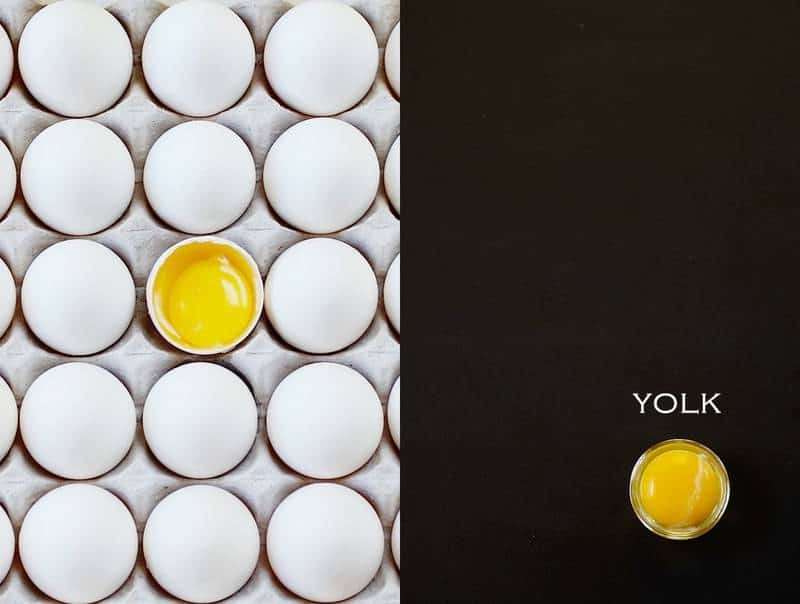 … and yet they are so popular in Brazil that they are available at supermarkets and even from food vendors at the beach. Vale D'ouro and Panificação Mandarinho are a couple of brands that manufacture this baked goodie.
The main differences between the cheesy version of these tapioca breadsticks and the traditional pão de queijo are basically in the shape, and the fact that some like to add fennel to the dough. However, since I am not a fan of fennel, I used rosemary to flavor ours. Yes, they are a great snack, but can also be a great substitute for crackers or other breads at the hors d'oeuvre table. In that case, you can serve them with caipirinha instead.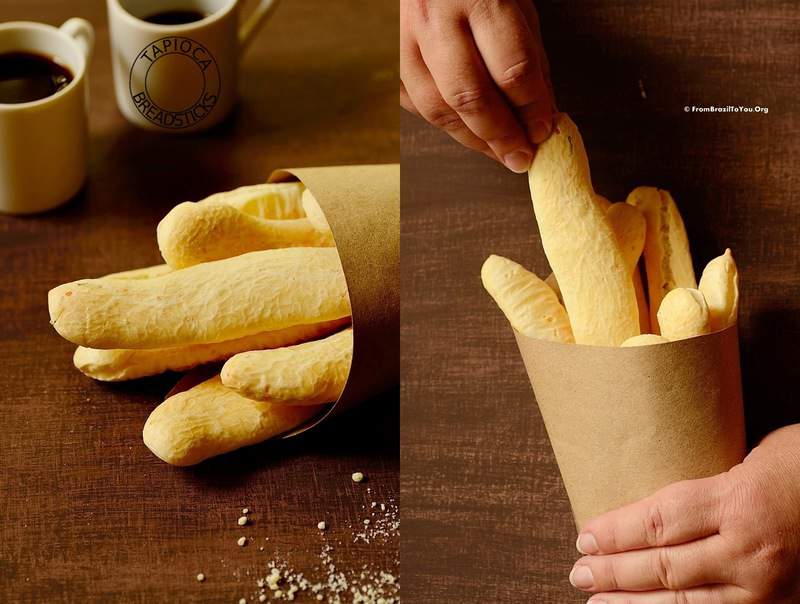 Enjoy!
Tapioca Breadsticks (Biscoito de Polvilho)
Tapioca breadsticks are a quick, naturally gluten-free snack (or accompaniment for the hors d'ouvre buffet) that can be served with coffee, tea, or any other drink of your choice.
Ingredients
4

cups

tapioca flour

about 500 g

1/3

cup

grated Parmesan cheese

1/2

cup

whole milk

1/2

cup

vegetable oil

1/2

tablespoon

plus 1 teaspoon salt

1/2

tablespoon

chopped fresh rosemary

optional

3

large eggs

at room temperature
Instructions
In a large heat-proof bowl, stir in tapioca flour and Parmesan cheese together until combined; then set aside.

In a small saucepan, stir in together the milk, oil, salt, and chopped rosemary and bring to a boil. Remove from heat and pour the hot liquid mixture over the flour mixture, stirring well with a wood spoon until combined. Mixture will be lumpy. Add eggs on one side of the bowl, break them with a fork and give a quick stir. Then, using your hands, mix them with the lumpy flour mixture until obtaining homogeneous dough, about 3-4 minutes.

Preheat oven to 350 degrees F (about 180 degrees C). Line two to three baking sheets with parchment paper and set aside.

Lightly grease your hands with a drop of vegetable oil. Using a tablespoon as measurement, spoon 1-2 tablespoons of the dough onto your hands, mold into balls and then roll into sticks, 2-inch (mini breadstick) to 4-inch long each (medium breadstick). Arrange them on the lined baking sheets, leaving a space (1 to 2-inches) between them. Bake for about 13-15 minutes, or until tapioca breadsticks are puffy and lightly golden on top. Yield will vary according to the size of the tapioca breadsticks (22-45 breadsticks). Mine were approximately 4 inches long a piece, yielding about 22 breadsticks.

Serve while still warm accompanied by coffee, tea, or any other beverage of your choice. If desired, you can brush a bit of melted butter on top of the tapioca breadsticks. Enjoy!
Recipe Notes
Sour tapioca starch (polvilho azedo) is often used to make these tapioca breadsticks (biscoito de polvilho). Since it is not typically available at local supermarkets in the US, I used tapioca flour instead -- which is a suitable substitute, and can be usually be found in the flour/cake aisle.
DID YOU MAKE THIS RECIPE?
Comment and rate the recipe. Also follow us on Pinterest at @easyanddelish for more delish recipes.