…What would be your guess? Well, what I can say is that Farofa is both a slang term full of Brazilian humor and a side dish.
Let me explain further.
Farofa, the slang word, is a derogatory term for a cheap day trip to the beach, in which low-income people who plan to spend the day pack a lunch bag full of farofa to go with a container of chicken–a cheap option.  They are called farofeiros.
In the mid 1980's, the Brazilian band Ultraje a Rigor had an instant hit with the song "Nós Vamos Invadir Sua Praia" ("We're Gonna Invade Your Beach"), which pokes fun at the fear that more affluent beachgoers had of the farofeiros.
If you would like to laugh a bit, watch this clip!
Farofa, the food, is commonly made from toasted manioc flour mixed with bacon, smoky meats, either hard-boiled or scrambled eggs, vegetables, bananas, nuts, or raisins, as well as anything else that suits the cook's fancy.  Farofa is an essential accompaniment to feijoada, barbecue, and also hearty stews (e.g. the one presented in our last post, Bobó de Camarão – Shrimp in Yuca Cream).  Farofa can be used as a stuffing for poultry, too.  Maize flour (aka cornmeal, farinha de milho) is sometimes used to make farofa instead of manioc flour.
Both manioc and maize flour can be found online or in Brazilian markets, which also sell farofa ready-made as you can see in the image below.
Well, I leave you here wishing that you eat lots of farofa and have some fun, dear reader!
xx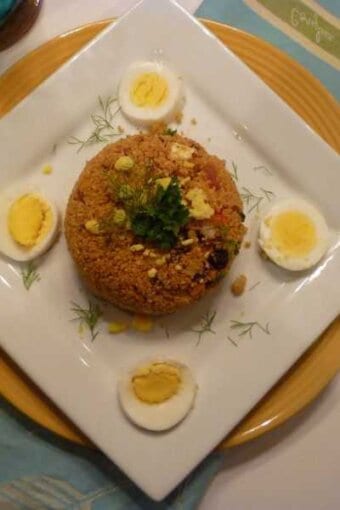 Farofa
Ingredients
1

cup

diced bacon

1

medium yellow onion

small diced

1/4

cup

red bell peppers

small diced

1/4

cup

yellow bell peppers

small diced

1

large carrot

grated

2

tablespoon

dendê or red palm oil

optional

2

cups

manioc flour

3

eggs

hard-boiled and small diced

1/4

parsley or cilantro

finely chopped

Salt and pepper to taste
Instructions
Using a large frying pan, over high-heat, sauté the bacon until brown. Add onion, bell peppers, and carrot and let sauté until onion starts to turn translucent (about 2-3 minutes), stirring now and then. Add the dendê oil and cassava flour, mixing everything very well.

Remove from heat. Season with salt and pepper. Add eggs and parsley. Serve warm.

Optional ingredients:

golden raisins, sautéed small diced bananas, small diced sausage, thinly shredded kale (sautéed), chopped green olives.

For a vegetarian version, omit the bacon and eggs. Add some of the optional ingredients above instead (raisins and sautéed diced bananas pair well with onions and carrots as well as kale and olives pair with onions, carrots, and bell peppers).