As my fond memories of Brazil grow, so does my appetite for all Brazilian snacks and treats. Brazilian cheese rolls happen to be a real favorite of mine. The last time that I passed through Rio, I had some of the rolls with a cheese-filled center — as well as other types of fillings. As nostalgia was calling me homeward through food, I found myself preparing these naturally gluten-free Cheddar filled Brazilian cheese rolls (pão de queijo recheado com cheddar) —which pairs so great with coffee. How about some cheese rolls?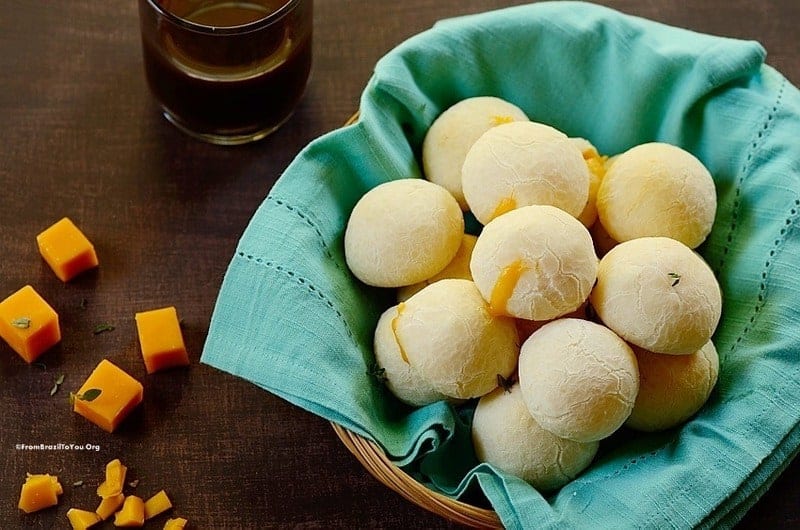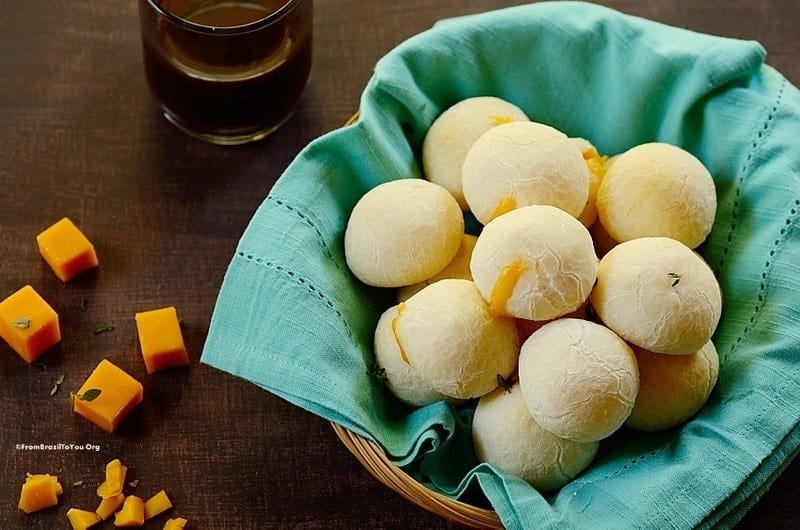 Made from basic ingredients such as milk, cheese, vegetable oil, salt, eggs…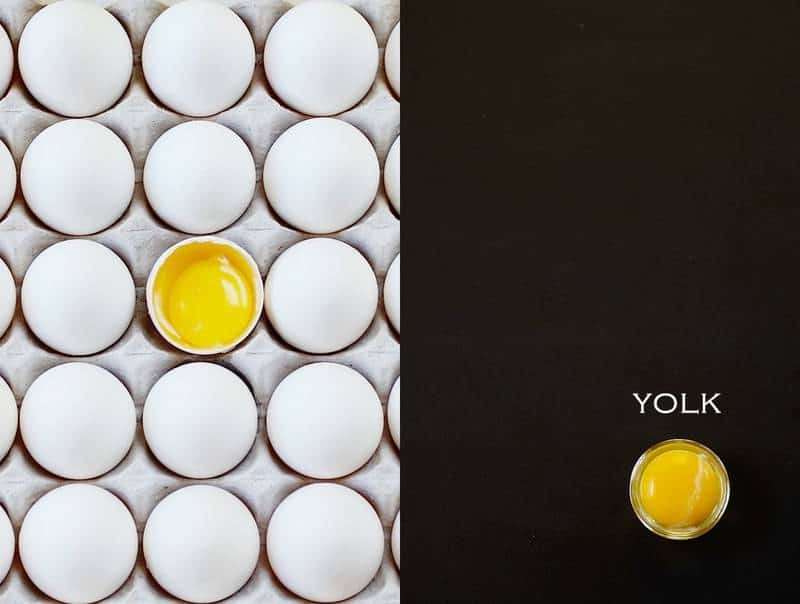 … and tapioca flour…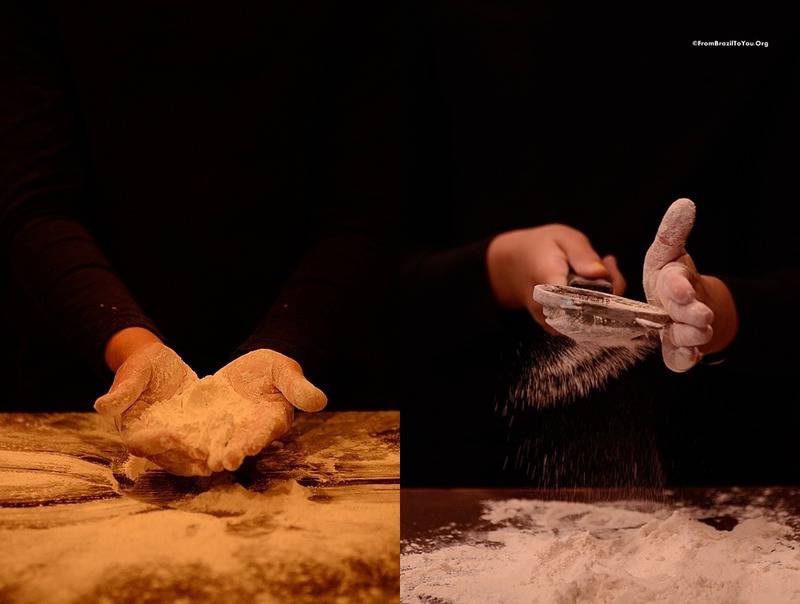 … this small baked good is easy and quick to prepare and delivers flavor with every single bite. The best part? You don't have to be a great cook to come away like a hero. Mixing the ingredients, cubing the cheese to fill small portions of dough, and then baking is ALL that you have to do. Pure enjoyment will fill both your mouth and soul!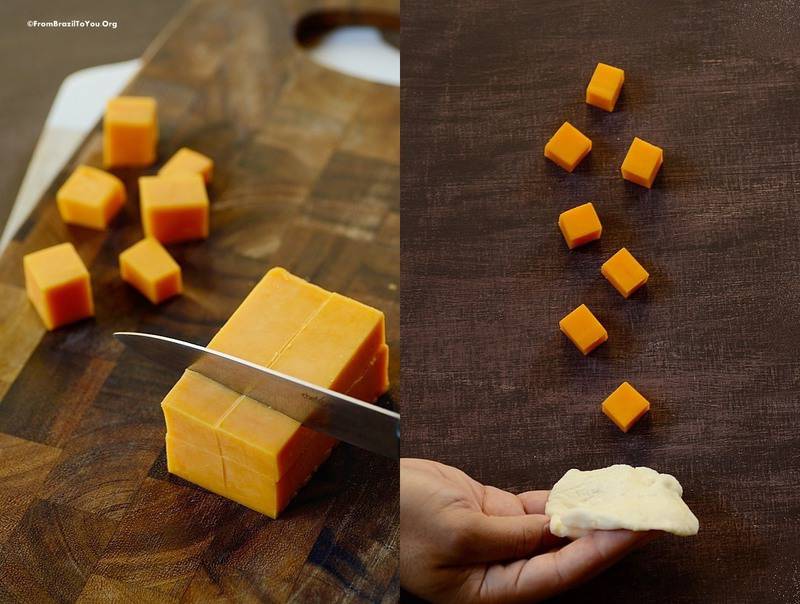 In the Brazilian state of Minas Gerais, pão de queijo has been around since the eighteenth century, but its popularity spread to other regions of the country after the 1950's. I would say that it is one of the most popular snacks in my home country. It is relatively inexpensive, and often sold on the streets, in snack bars, cafes, airports, bakeries, Brazilian steakhouses, and supermarkets.
And that's not all! These Cheddar filled Brazilian cheese rolls make a great snack, breakfast, and small party bites. Is there a televised sports event coming up? Surprise your crowd with these comforting bites and you'll score major points.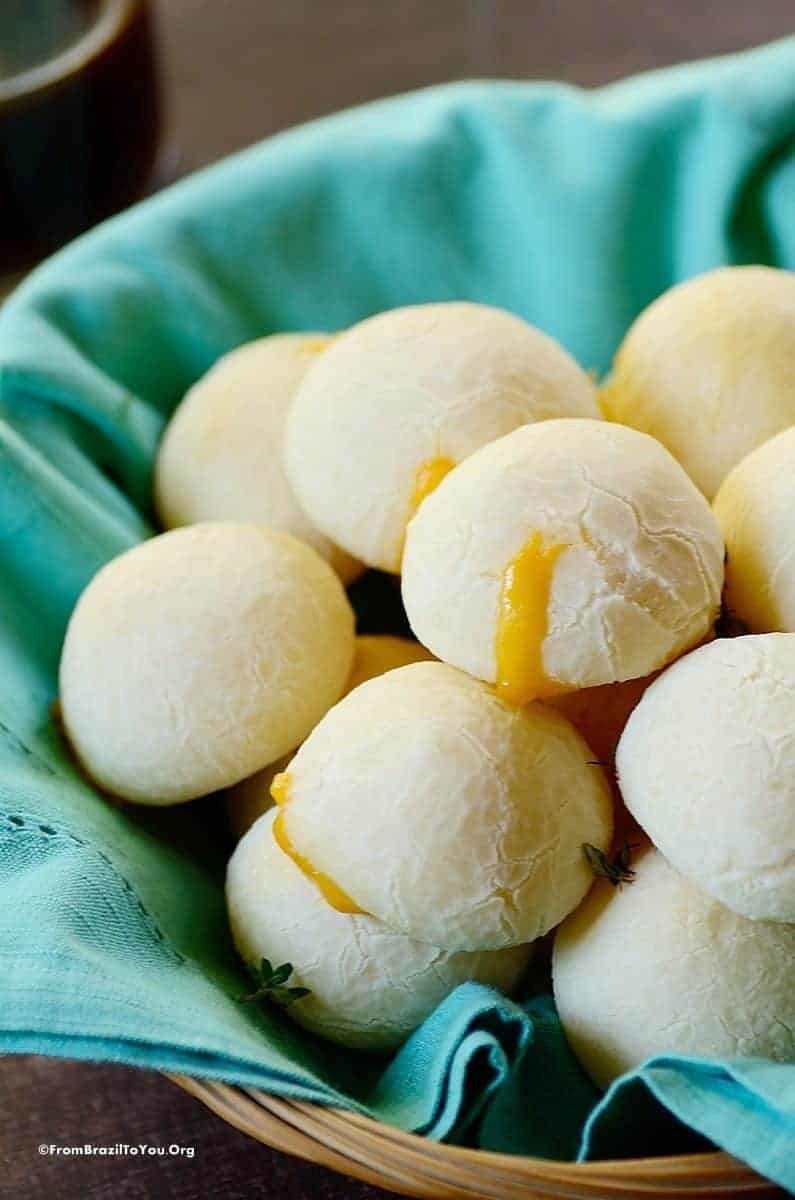 But if you thought all the commotion about pao de queijo is just limited to Brazil, you'd be dead wrong. Pão de queijo is beloved in several other South American countries and even in Japan, where it is usually made with rice flour instead of tapioca flour.
It is also becoming more and more popular in the USA now through the influence of Brazilian steakhouses (churrascarias). And this is one of those recipes that my American friends have most inquired about. But you know what? You won't find them filled with cheese at any churrascaria.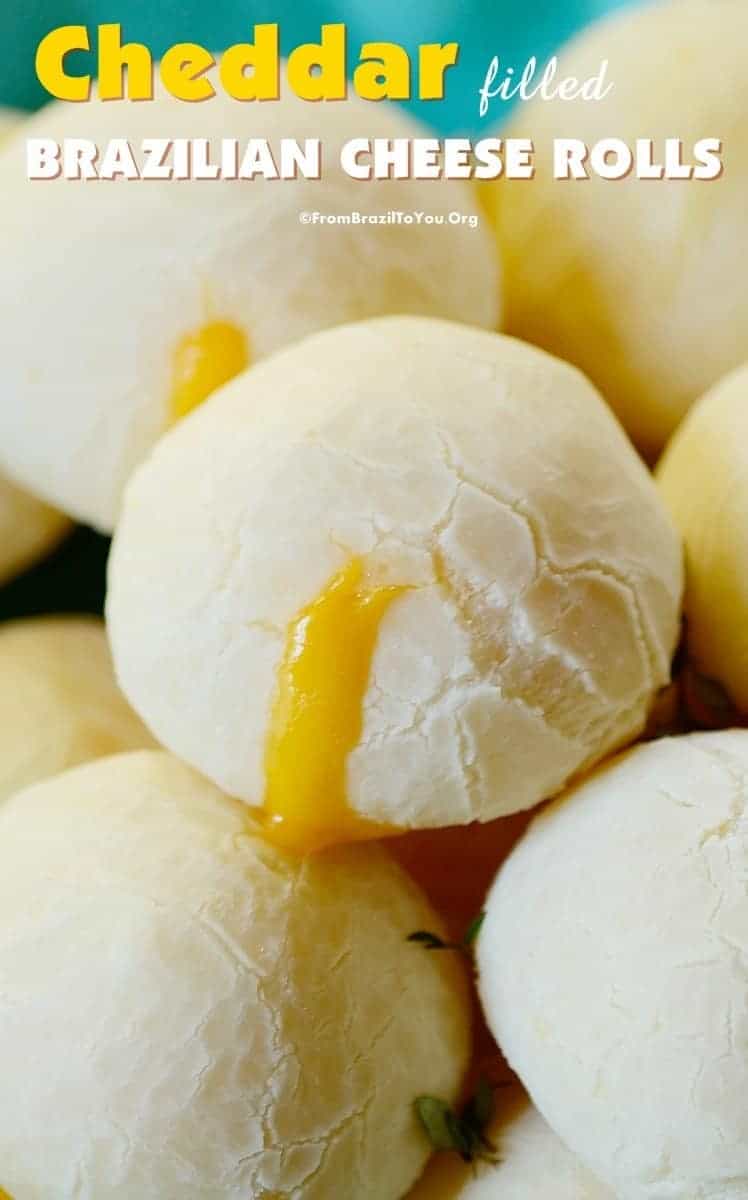 Believe me, if you enjoy the ones served at Brazilian steakhouses here in the US, you will be totally crazy for our Cheddar filled Brazilian cheese rolls… after all, they contain the best of two countries: American cheddar on the inside and an exquisite Brazilian dough on the outside. 😉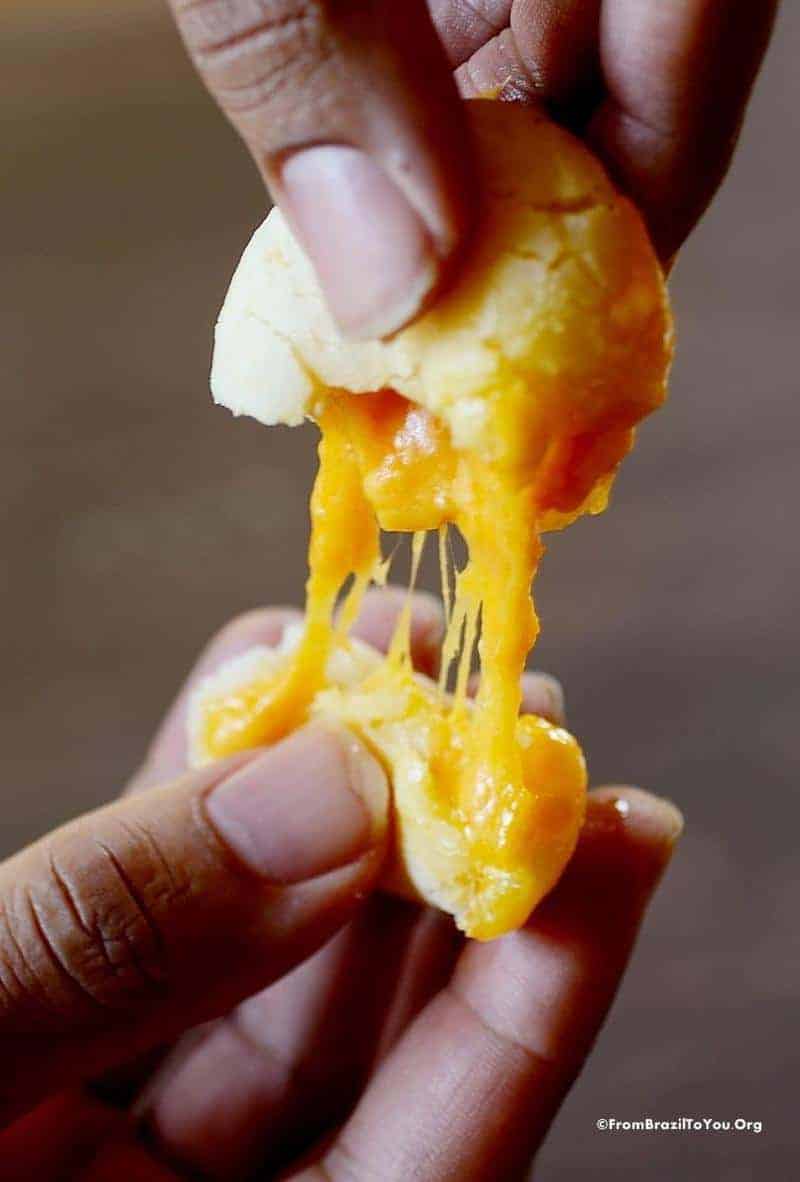 So grab your cup of coffee and enjoy our finger-licking rolls.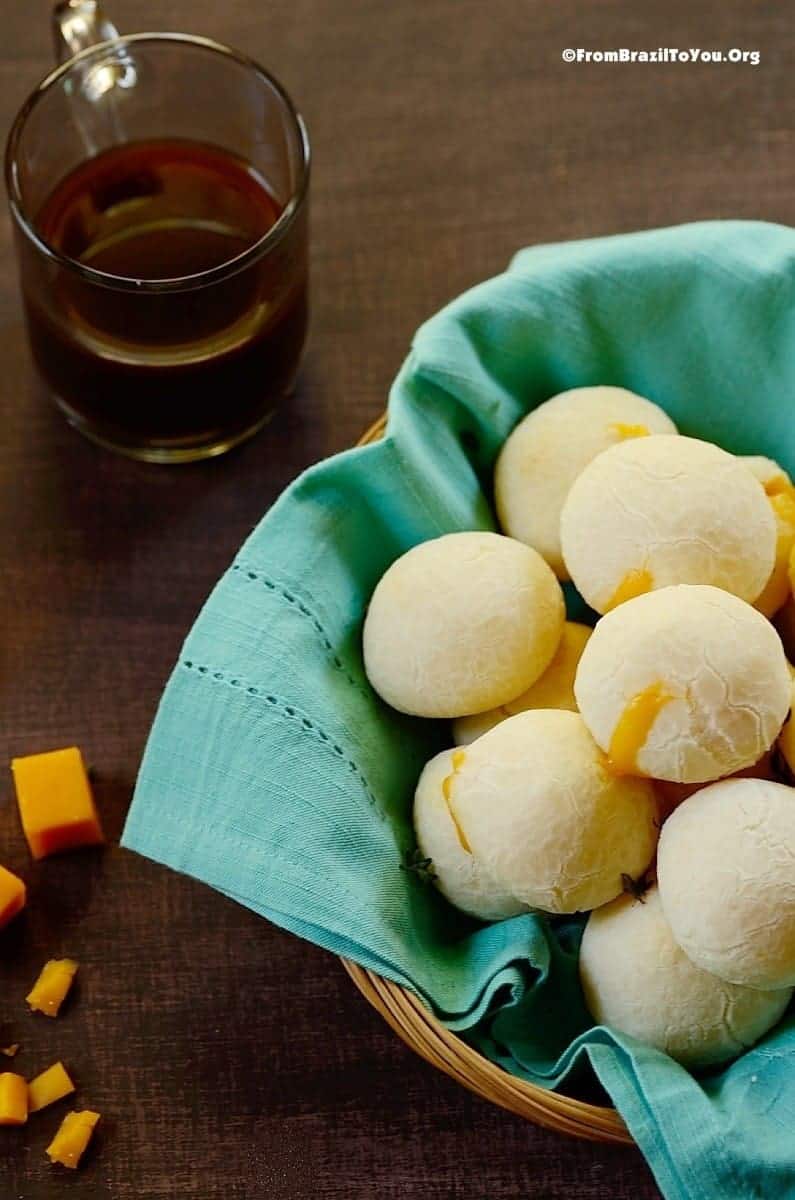 Cheddar filled Brazilian Cheese Rolls
Cheddar filled Brazilian cheese rolls are naturally gluten-free and can be served for breakfast or as a snack or small party bites.
Ingredients
2

cups

tapioca flour

250 g

1/2

cup

whole milk

120 ml

1/4

cup

plus 1 tablespoon vegetable oil

use extra to grease hands

1/2

teaspoon

salt

1

large egg

at room temperature

3.5

oz

queso fresco

crumbled, about 100 g

1-2

tablespoons

grated Parmesan cheese

1/4 to 1/2

teaspoon

fresh thyme

optional (if using dried herbs, cut amount in half)

15

cubes

medium or sharp Cheddar cheese for the filling

1/3 to 1/2-inch
Instructions
Line a large baking sheet with parchment paper. Preheat the oven at 350° F (180° C).

Place the tapioca flour in a large bowl and set aside.

In a small saucepan, mix the milk, oil, and salt together and bring to a boil. Pour hot liquid mixture into the reserved bowl of flour, stirring well with a wooden spoon. Mix in the egg, and then add the crumbled queso fresco and grated Parmesan. Sprinkle the thyme if desired. Knead the dough for about 2-3 minutes or until homogeneous.

Lightly grease your hands with vegetable oil. Using a tablespoon as measurement, make balls of dough and open an indentation in the center to fill in with a cube of cheddar. Close the dough around the cheese cube, seal tightly, and shape into a round ball, making sure there aren't any gaps where the cheese is exposed.

Place the rolls on the lined baking sheet and bake for 15 to 18 minutes or until they begin to lightly brown. Serve while warm accompanied by coffee, guaraná soda,

caipirinha

, or other beverage of your choice.
Recipe Notes
Minas cheese is used to make Brazilian cheese rolls in Brazil. Because it isn't easily available in the US, I suggested the

Mexican queso fresco

be used in this recipe since it is the most similar to Minas cheese.
DID YOU MAKE THIS RECIPE?
Comment and rate the recipe. Also follow us on Pinterest at @easyanddelish for more delish recipes.