Just when one thinks that there is nothing else new that could possibly be invented, humanity's endless creativity proves one wrong… Oh, yes!  Ready?  I have already shared here both the traditional Brazilian cheese rolls recipe and its quick version… I have also made it with a bit of Mediterranean flair… Well, today we'll be presenting it its newest form: Gluten-Free Waffle Pão de Queijo (Brazilian Cheese Bread made into Waffles)!!! How cool is that?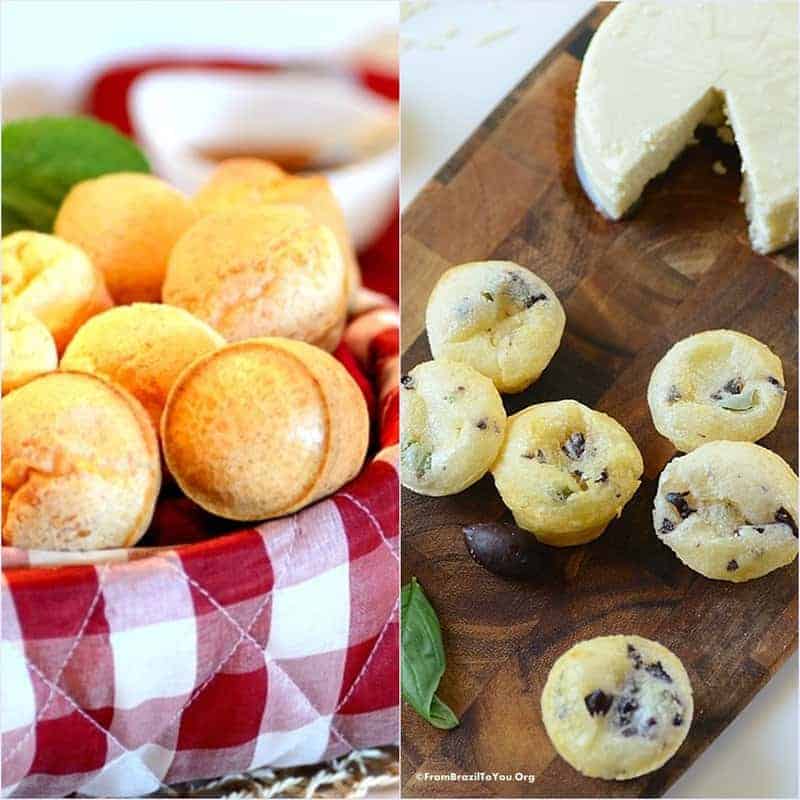 For pão de queijo lovers like me, it is exciting news! We can now sample Brazil's most famous and beloved bread in a new way… I just hate the fact that I was not the genius behind this newest recipe — which is already a hit in Brazil.  I found different recipes from time to time on the Internet and have adapted the recipe to share with you– because for you, always the best…. I hope waffle pão de queijo becomes a hit in America as well.
Waffle pão de queijo is quicker to make than the quick baked pão de queijo. Can you believe that only takes 3-5 minutes for them to cook?  They are also naturally gluten-free because they are made from tapioca flour — which is widely available under different brand names both online and at local supermarkets.  It is cheesy and soft… Man, waffle pão de queijo is the bomb!  My whole family is hooked on waffle pão de queijo!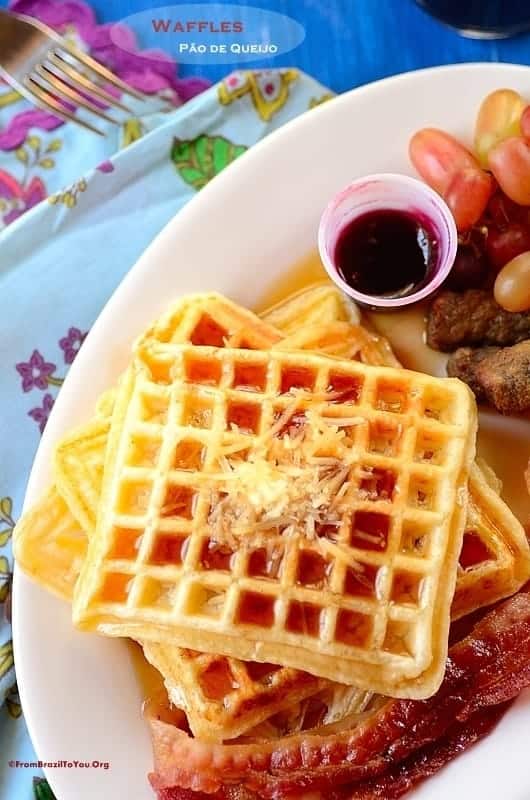 It can be served for breakfast or brunch, or as a snack.  For breakfast and brunch (savory), you can eat waffle pão de queijo fresh from the waffle iron and spread with a little butter, or topped with maple syrup and accompanied by bacon, breakfast sausage, PERFECT fried eggs, fruit and jams (American style)…. Or for snack time (sweet), you can eat them drizzled on top with homemade dulce de leche sauce  and chopped roasted cashew nuts, or guava paste sauce (Brazilian style).   It is really up to you!
There is only one problem: my family and I cannot stop eating it… Yep! We have become addicted to waffle pão de queijo… Good luck to you! 🙂
xx