Banana Compote (doce de banana) is basically banana rounds cooked and preserved in syrup. It can be served with vanilla ice cream.
I spent many years of my life enjoying all types of fruit preserves in Brazil (e.g. cashew, guava, pineapple, green papaya, lemon, orange, etc). One of my favorites is banana compote (doce de banana). There is something distinctly comforting about it that I do not even know how to explain.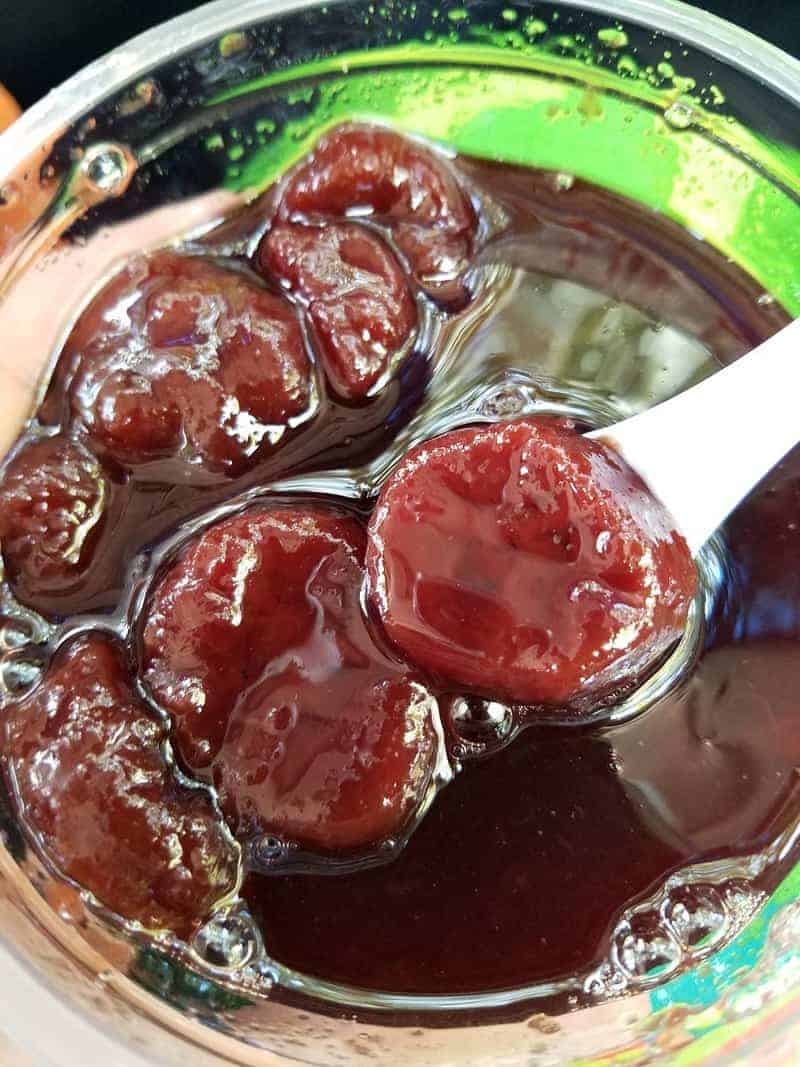 Although I have eaten it countless times, this will be my first time making this banana compote. It is a Northeastern Brazilian delicacy.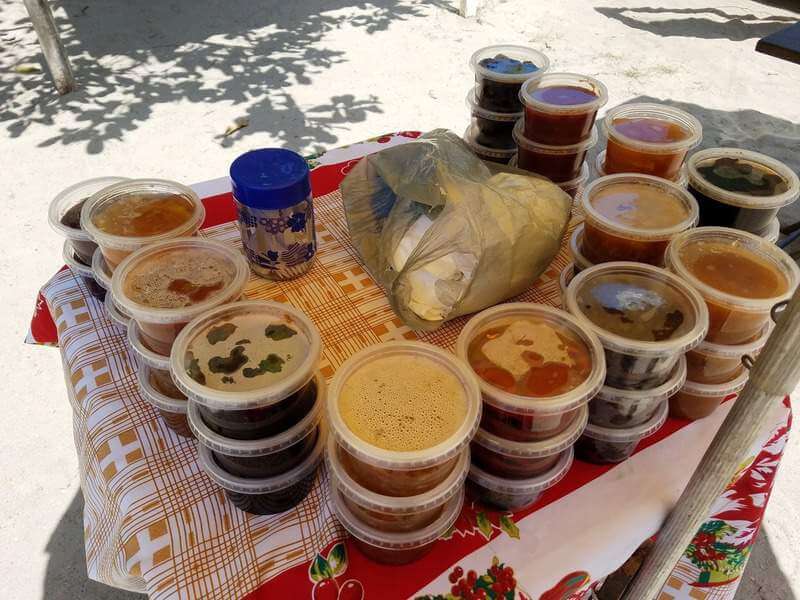 There are several ways of preparing it, with resultant differences in the color and texture of the finished product. I wish that I had a recipe of my own already worked out or better yet, that my Grandma Socorro were still alive to explain to me exactly how to make it.
I found all kind of recipes for doce de banana or banana compote in books and also online. Judging from the odd ratios in their ingredients and especially from their vague directions, it quickly became clear that I would have to come up with a recipe of my own.
So I have decided to make 6 different test batches:
- Two made with ripe, regular bananas, one of which I am cooking with dark brown sugar and the other with granulated sugar. Both will be cooked slow in a large heavy-bottomed aluminum pan. One covered and the other uncovered.
- Four made with plantains (two with green plantains and two with ripe plantains).  I have also divided up these batches and am cooking two with light brown sugar and two with granulated sugar. All four will be cooked slow in a heavy-bottomed aluminum pan. Two uncovered and two covered.
Yes, my kitchen looks and also smells like a lab. 🙂
Of course, I will let you know the results soon...
(several hours later)
The most characteristic features of a traditional doce de banana  are: a dark red color (mahogany) and bananas that hold their shape well, besides being sweet and syrupy.
The results of my experiment were as follows:
** The secret to the mahogany color is still a mystery to me. If red wine or red food coloring are not used, I am guessing that the only way to achieve this color is with a very ripe banana, cooked slow,  perhaps in a copper pan with white granulated sugar. As you know, I made 2 batches with regular, ripe bananas, 2 with green plantains, and 2 with ripe plantains, cooked slow in a heavy-bottomed aluminum pan, using different types of sugar in each, and none of them produced the mahogany color. Actually, after cooking, the batches made with brown sugar turned brown and the ones made with white sugar showed a pale yellow color.
** Tastewise, I do prefer the ones made with brown sugar better... and served with vanilla ice cream. 😉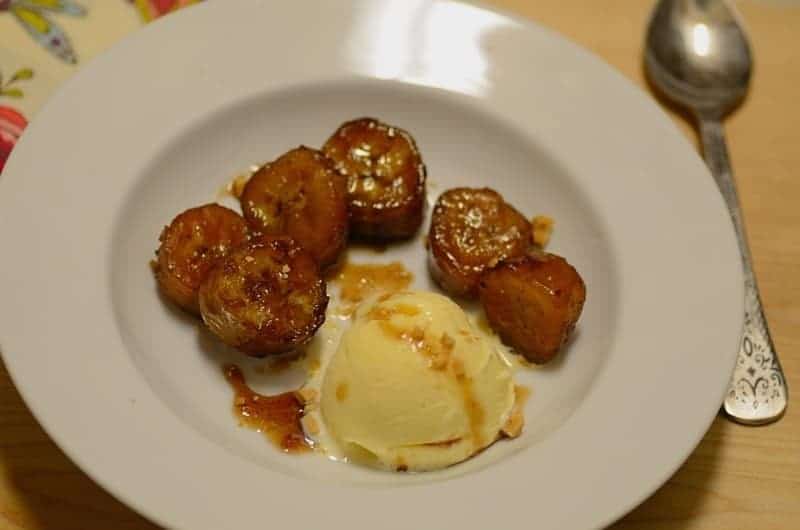 ** Regardless of whether the pot was covered or not, the ripe, regular bananas did not hold their shape. Since this was a big batch, I transformed it  in a modern version of the traditional compote, the texture of which is more like a spread. I enhanced its color and flavor by adding cocoa powder, sweetened condensed milk, and roasted cashew nuts... What I did I end up with? A magnificent banana-chocolate spread. I ate it with toast... Oh, so yummy!
** The batches made with plantains (both green and ripe) held their shape, as I had suspected, but didn't show the mahogany color at all. As you can see in the first image above, the batches prepared using brown sugar resulted in a caramel color. Those made with granulated sugar showed a light brown color.
 ** Tastewise, I cannot recommend green plantains for making the preserves. Even when very well cooked,  the result tastes a bit raw and presents a hard texture.
If you have a copper pot, you can try the traditional recipe below to see if the customary mahogany color is achieved. Good luck!
Well, even without the characteristic color,  I do hope you enjoy both the modern and traditional versions of this Brazilian treat as much I do.
Banana Compote (Doce de Banana)
Ingredients
4

very ripe plantains

peeled, stringy bits removed, and sliced 0.75 in thick (1 cm) crosswise

8.2

ounces

light brown sugar

if making the compote in a copper pan, use white granulated sugar to see if the mahogany color is achieved (250 grams)

13.5

fl.oz water

400 ml

¼

teaspoon

ground cinnamon

6

cloves

Juice of ½ lime or lemon
Instructions
Place the sliced plantains, sugar, water, the spices, and the lime or lemon juice in a large, heavy-bottom aluminum pot over medium-low heat. Agitate the pot to mix everything. Let cook uncovered over medium-low heat until bananas are brown and soft (approximately 1 hour for this quantity of plantains).

Let the compote cool down completely before storing in a sterilized, dry, and sealed glass jar. Remove the cloves and refrigerate. It can be eaten by itself, with a hint of heavy whipping cream on top, with toast, or used as a topping for ice creams, pancakes and waffles.

Note: Consum these preserves within one week.
** Nutrition labels on easyanddelish.com are for educational purposes only. This info is provided as a courtesy and is only an estimate, since the nutrition content of recipes can vary based on ingredient brand or source, portion sizes, recipe changes/variations, and other factors. We suggest making your own calculations using your preferred calculator, based on which ingredients you use, or consulting with a registered dietitian to determine nutritional values more precisely.
Please note that health-focused and diet information provided on easyanddelish.com is for educational purposes and does not constitute medical advice, nor is it intended to diagnose, treat, cure, or prevent disease. Consult with your doctor or other qualified health professional prior to initiating any significant change in your diet or exercise regimen, or for any other issue necessitating medical advice.
DID YOU MAKE THIS RECIPE?
Comment and rate the recipe. Also follow us on Pinterest at @easyanddelish for more delish recipes.
You might also like: