If you are not from Brazil or familiar with our gastronomy, I bet you might be thinking: "What now?" or "What's she talking about?" or even, "What a funny word!"
Well, I agree.  I really think Quindim (pronounced keen-DEEN) is a funny word — especially for a dessert, considering its meaning. 🙂
The word itself comes from the Bantu language, and originally meant "the gestures, demeanor, or humor that is characteristic of adolescent girls."
Maybe the correlation between the humor characteristic of teens and the vibrant color of the dessert was made because they both make us smile.  I don't know…
Anyway, the fact is that quindim is a popular Brazilian baked dessert, made from sugar, egg yolks, and ground coconut, plus other ingredients that vary from recipe to recipe.  Technically, quindim is a custard, which usually is presented as an inverted cup with a glistening surface and intensely yellow color.  Quindim can also be made in a large ring mold, in which case it is called a "quindão" and served in slices.
The typical quindim recipe is believed to be based on traditional Portuguese baked desserts that make heavy use of egg yolks.  The recipe was then modified during the 17th century by slaves in the Northeast region of Brazil , where coconuts were abundant and where sugar– extracted from sugarcane– was a major industry.
Ah, I cannot forget to mention that Quindim is also the name of a rhinoceros character (named after the dessert) featured in a famous series of children's books by Monteiro Lobato, as well as on the Sítio do Picapau Amarelo television show, which is based on his works.
The word quindins (plural for quindim) also appears several times in the lyrics of Ary Barroso's "Os Quindins de Iaiá," which was sung by Aurora Miranda (Carmen Miranda's sister) in the Disney movie "The Three Caballeros".
We, Brazilians, are crazy for quindim, aren't we? 😉  I hope you become, too…
xx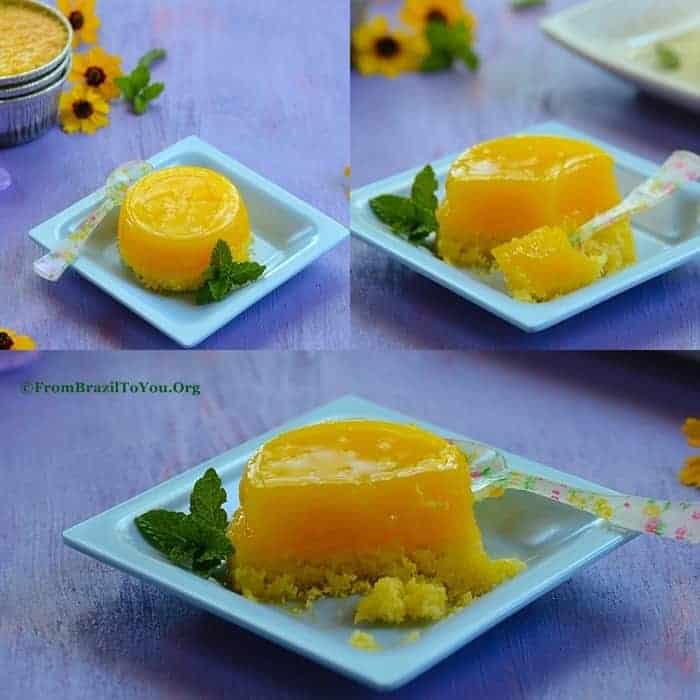 Quindim
Delicious and unique recipe of quindim, a typical Brazilian coconut custard!
Ingredients
10

large egg yolks

at room temperature

3.6

oz

shredded coconut

or 100 gr.

6.75

fl. oz

coconut milk

or 200ml. About 3/4 cup plus 2 Tbsp

1

cup

sugar

1

dash

of salt

1

teaspoon

orange liqueur or vanilla extract**

Butter/cooking spray and sugar for the mold or tin

** This ingredient represents my personal touch to the recipe.
Instructions
Preheat the oven to 230 degrees F (110 degrees C).

In a large bowl, mix all the ingredients together using a wooden spoon.

Pour into 16 mini-muffin tin that has been greased with butter (or butter-flavor cooking spray) or a 6 inch (15 cm) greased ring mold pan, and sprinkled with sugar (bottom and sides).

Bake for 20 - 25 minutes (mini baking pan for quindins) or 50-60 minutes (medium ring mold pan for quindão) , or until an inserted toothpick comes out clean.

Remove from the oven and let cool down a bit on a rack. Place a plate over the baking pan and invert the warm custard on a plate (It is very important not to unmold the custard hot, because it will break, or cold, because it will not leave the pan easily). Run a small metallic icing spatula around the edges to help unmold the custard, if necessary. The coconut "crust" will be on the bottom of the plate. Let cool down completely and refrigerate. Decorate and serve chilled.
DID YOU MAKE THIS RECIPE?
Comment and rate the recipe. Also follow us on Pinterest at @easyanddelish for more delish recipes.