Are you a rib lover? So am I! I always welcome the sight of them with a smile... and these succulent Caipirinha Baby Back Ribs (Costelinha de Porco na Caipirinha) are no exception!!! For those who may not know, caipirinha is Brazil's national cocktail made from lime, sugar, and cachaça (a distilled beverage similar to white rum).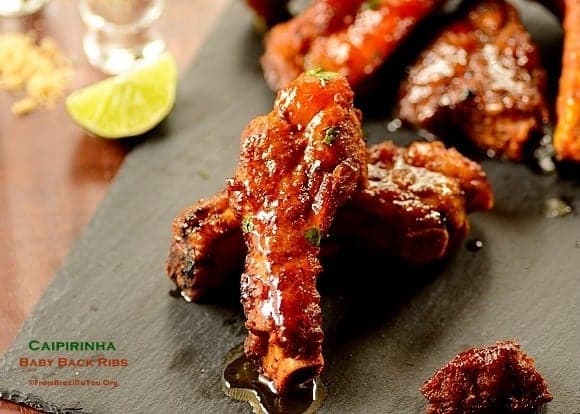 The preparation of our caipirinha baby back ribs is quite simple. Blend cachaça (or white rum if desired), lime juice, brown sugar, garlic cloves, a few seasonings, and fresh parsley in a kitchen blender and pour over the ribs. Marinate, and then cook on the stove top (first pan-searing to brown, and then simmering until tender and liquid evaporates). The result: One of the tenderest and tastiest ribs that you will ever experience.
This recipe took its inspiration from Costelinha de Porco à Mineira ("Fried" Baby Back Ribs) -- a traditional dish from Minas Gerais in Southeastern Brazil. The difference here is the caipirinha ingredients! Cachaça, the main ingredient of caipirinha, has many more uses than than just as a base for the caipirinha drink in Brazil-- it is also great for marinating meats, and for making pie crust and empanada dough flakier. It is available at large liquor stores in the U.S., but in a pinch white rum is a suitable substitute.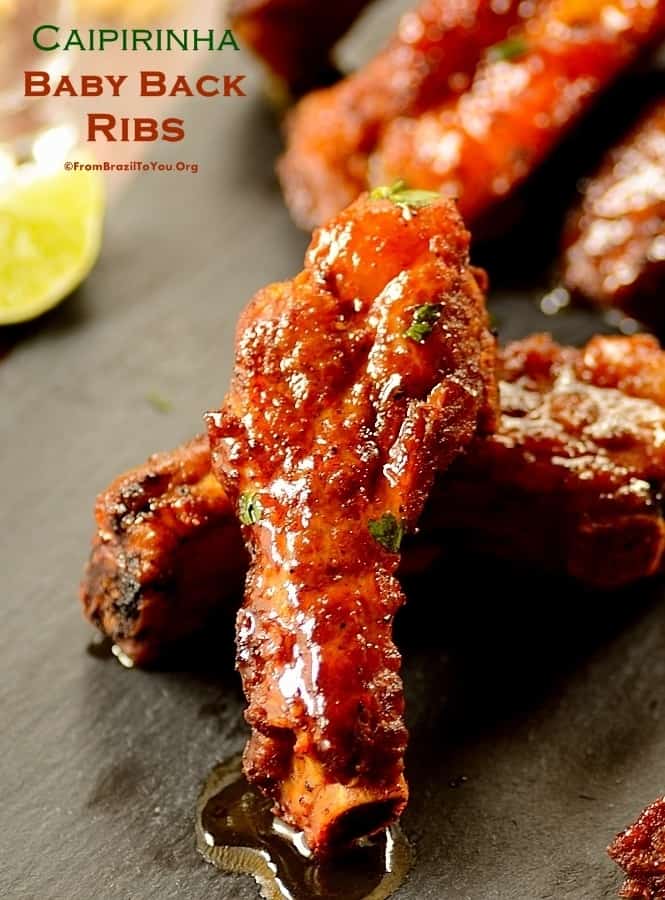 As for side dishes, our caipirinha baby back ribs can be served with farofa, collard greens a la Mineira, and yuca fries, or with pretty much anything else that you want.
Enjoy our caipirinha baby back ribs... and get used to being asked to make them again and again! 🙂
Caipirinha Baby Back Ribs
Tender and tasty caipirinha baby back ribs marinated with cachaça (or WHITE RUM), and then prepared on the stove top.
Ingredients
1

stack

stack baby back ribs

3.3 pounds or 1.5 kg, buy a stack with 10-14 ribs

¾

cup

cachaça or white rum

3

tablespoons

fresh lime juice

2

teaspoons

light brown sugar

6

cloves

of garlic

chopped

1

tablespoon

plus 1 teaspoon salt

¼

teaspoon

ground black pepper

1½

tablespoons

anatto powder

used most for coloring foods and available at local supermarkets

¼

cup

fresh parsley

roughly chopped

½

cup

vegetable oil

or a bit more if necessary

1

cup

water
Instructions
OPTIONAL: Before marinating the caipirinha baby back ribs, place the full stack of ribs on a cutting board, turn the ribs over, and stick a butter knife right under that white membrane.

Wedge the butter knife in between membrane and meat/bone. Pull membrane off. This will make ribs even more tender but is optional since our ribs are not supposed to fall off the bones.

MAKE AHEAD (MARINADE): Cut the ribs individually (right over the meat in between each bone) and place them in a large bowl or rectangular pyrex dish, and set aside. In a blender, blend well the cachaça or white rum, lime juice, sugar, garlic, salt, pepper, annatto powder, and parsley until obtaining a smooth mixture. Pour this mixture over the ribs. Using your hands, mix ribs with the marinade to coat both sides of each rib. Cover bowl or pyrex with plastic or foil, and refrigerate for 8 to 12 hours (Inactive Time).

Drain the marinade from the ribs by simply shaking a bit and seting aside the marinade.

In a large (wide) pan, heat the oil over medium-high heat and brown the ribs evenly (do not overcrowd the pan). Transfer ribs to a plate and discard leftover oil. Then, add and mix water to the reserved marinade, place ribs back into the pan, and bring to a boil. Cover the pan, reduce heat to medium-low, and let cook for 20 minutes or until the ribs are tender and liquid has evaporated completely.
** Nutrition labels on easyanddelish.com are for educational purposes only. This info is provided as a courtesy and is only an estimate, since the nutrition content of recipes can vary based on ingredient brand or source, portion sizes, recipe changes/variations, and other factors. We suggest making your own calculations using your preferred calculator, based on which ingredients you use, or consulting with a registered dietitian to determine nutritional values more precisely.
Please note that health-focused and diet information provided on easyanddelish.com is for educational purposes and does not constitute medical advice, nor is it intended to diagnose, treat, cure, or prevent disease. Consult with your doctor or other qualified health professional prior to initiating any significant change in your diet or exercise regimen, or for any other issue necessitating medical advice.
DID YOU MAKE THIS RECIPE?
Comment and rate the recipe. Also follow us on Pinterest at @easyanddelish for more delish recipes.