Candy Corn Apple Pops are a quick and easy Halloween treat made with apples, candy melts, and sprinkles. It makes a fun and delicious treat that delights kids and adults.
October is the month when we celebrate Halloween.  Our treat for this year is colorful, fun, and easy to prepare — Candy Corn Apple Pops. Aren't they cute? Kids will go crazy for these — and adults too.  😉
As you can imagine, our treat was inspired by the popular Halloween candy, candy corn. Just like the classic American candy, it has three colors, yellow, orange, and white.
The difference is, our treat is made with sliced Granny Smith apples covered with white candy melts, drizzled with yellow candy melts, and then decorated with orange sprinkles.  The original candy corn, created in the 19th century, mimics the appearance of corn kernels, hence the name — and it is made with sugar, corn syrup, confectioner's wax, and artificial coloring.
Our Candy Corn Apple Pops makes a great Halloween cooking project to get children involved in… and definitely will brighten any Halloween celebration, putting a huge smile on any kid's face. They were tested and approved by my kids. 😉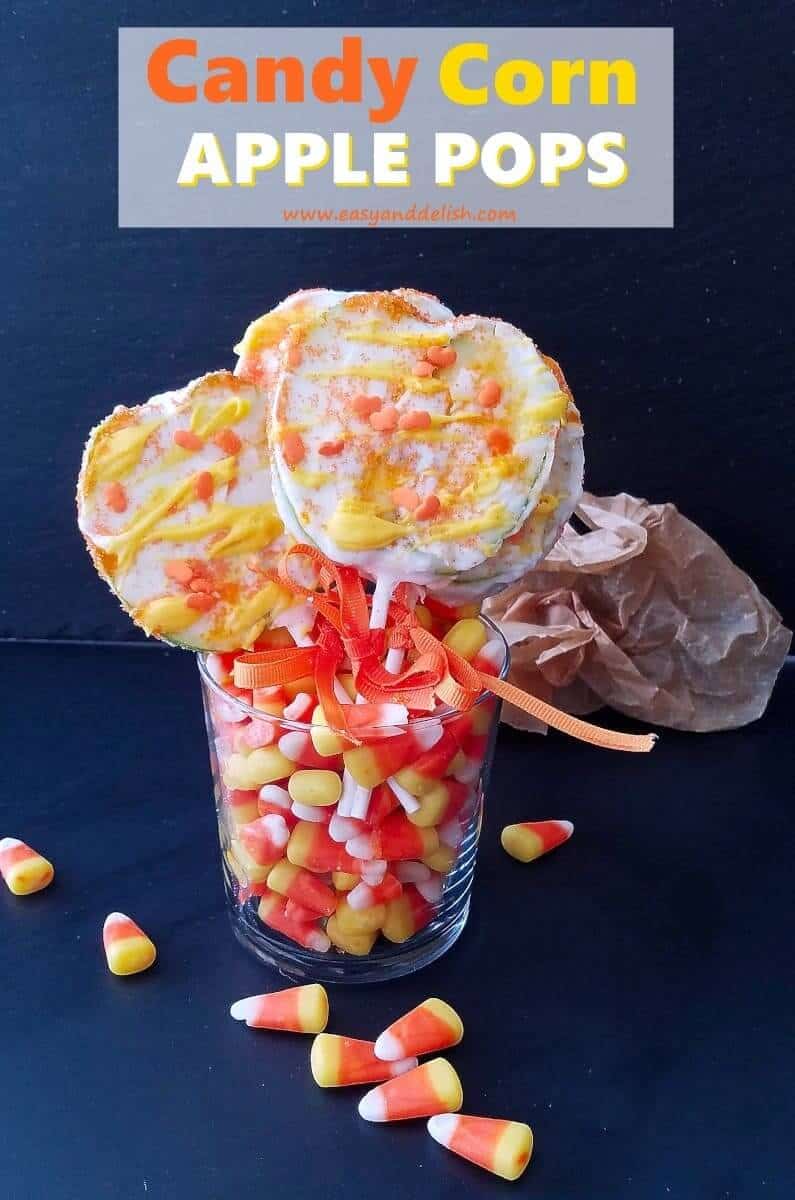 They can be prepared in 30 minutes. All you have to do is slice apples, stick a candy or popsicle stick in one of the ends, dip sliced apple into the melted white candy melts, and place onto a baking sheet lined with parchment paper to dry. Then, drizzle melted yellow candy melts on top and sprinkle with orange sprinkles. And voila!  In the blink of an eye, a treat perfect for your little Halloween monsters will be ready to be happily devoured.
If you would like another cute variation made with apples, also try our Chocolate Apple Halloween Owl. But if you plan on adding a spooky treat to your sweet arsenal , you gotta make our Creepy Jello Cups,
Every year my kids dress up in a different costume.  This Halloween we will have a witch and a deer. Hehe! How about you?
We will be trick-or-treating in our new neighborhood… and swamping our bloodstreams with a load of sugar.  The kiddos will be bouncing off the walls until late at night, as always. The good thing is, in my household Halloween lasts for one day only. Yep!  Several treats will magically disappear by the next day.  As a Mom, I think you get what I mean. 😉
Happy Halloween!!!
TO PIN TILL YOU DROP: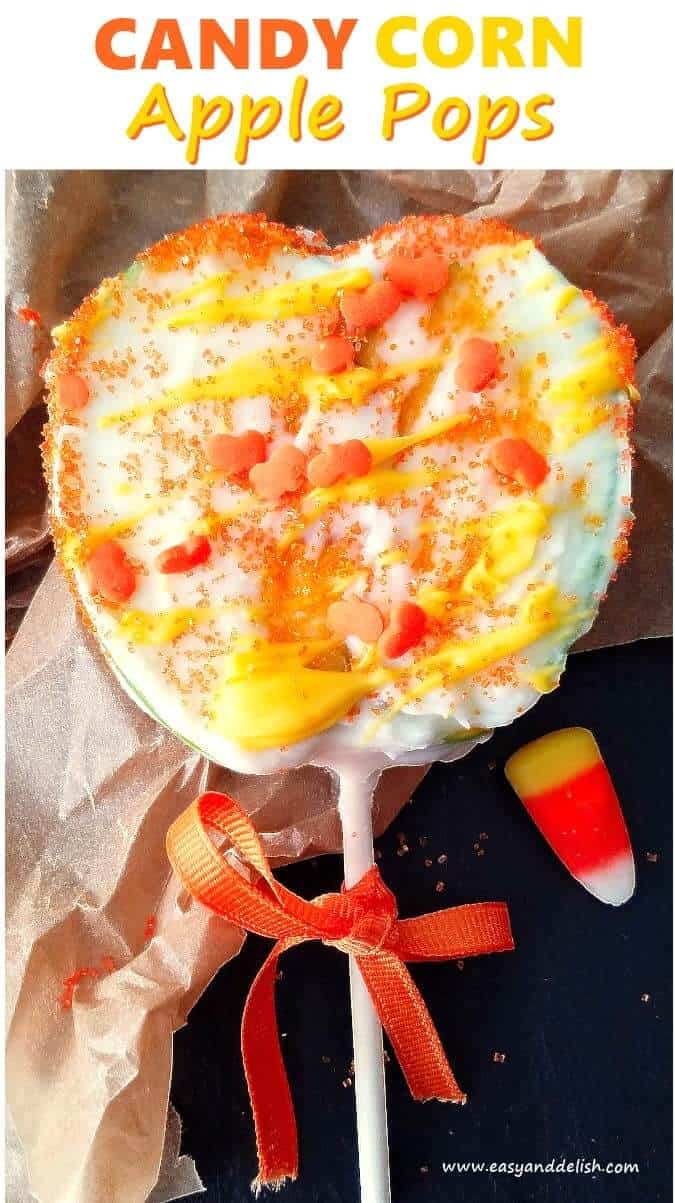 Sit clean apples upright on a wood board and slice from top to bottom (about 4 slices per apple, 1/2-inch thick). Remove seeds gently. Then, line a large cookie sheet with aluminum foil and push the pointed end of each stick up into the bottom of each apple slice.

In a medium heatproof glass bowl, melt white candy melts in the microwave according to the package directions, place bowl into a larger pot filled with about 2-inch boiling water (this will help candymelts to not harden), and dip apple slices in melted candy (using a spoon to help coat each slice if your bowl isn't deep enough to cover them).

Allow excess candy melts to drip off, then lay flat on the foil-lined baking sheet. Once hardened, drizzle melted yellow candy melts over the top using a fork. Sprinkle orange sprinkles on top and let harden. Place the baking sheet in the fridge for approximately 10-15 minutes, allowing candy corn apple pops to harden. If you wish, decorate the wood stick with a ribbon. Serve and enjoy! Inactive Time: 10-15 minutes