Five-ingredient, quick, naturally gluten-free Brazilian Coconut Bars or Cocada de Leite Condensado is the recipe of the day!
It has been a long time since I had the pleasure of munching on my favorite Brazilian dessert bars– but finally, I will have to wait no longer…
For those who may not know, cocada is a tropical treat typical to Northeastern Brazil -- although also found in Angola, Mexico, Colombia, Venezuela, and Chile.
This dessert is no stranger to this blog. As I explained in one of my previous posts about cocada cremosa, cocada can present three different types of textures: cocada de corte (the traditional texture– either a slightly chewy or crisp dessert bar), cocada de forno (baked in the oven), and cocada cremosa, de copo or mole (which has a pudding-like, creamy texture).
We have already presented a recipe for cocada cremosa (banana-coconut pudding) as well as for cocada de forno (baked coconut-sweet potato custard) last year. This time, however, our recipe is for cocada de corte. This particular recipe of cocada de corte makes use of condensed milk, coconut, and sugar. This is a contemporary cocada recipe, since the traditional recipe calls for water instead of condensed milk. Because these cocadas de leite condensado are very sweet, they are sliced into small portions.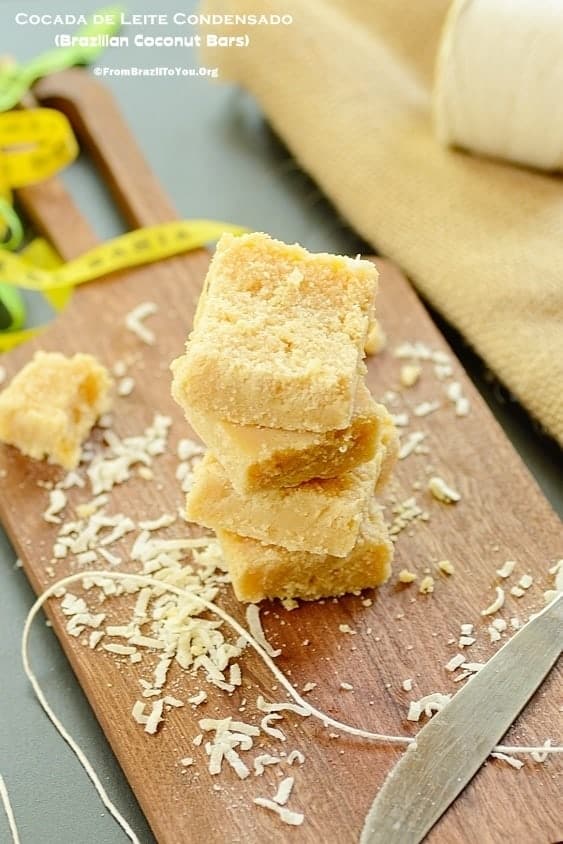 I remember vividly that I used to prefer nibbling on cocadas instead of cookies while watching TV. Also, it was always such a thrill to purchase cocadas from the street vendors at the Alto da Sé in Olinda.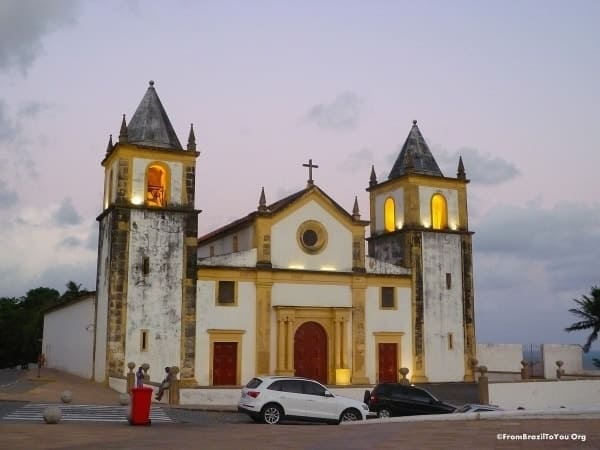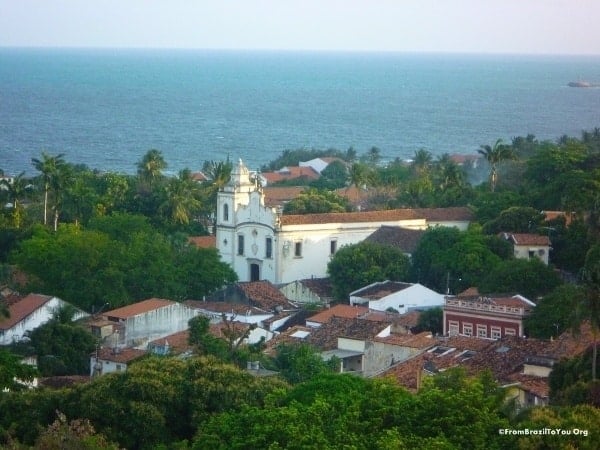 "Um tabuleiro de cocada" (large cocada tray carried by street vendors) can be an attraction all its own. In general, it comes lined with cocadas of different flavors and of course, colors. From cocada preta (burnt coconut bars) to those made from assorted fruits such as passion fruit, banana, and guava, it has been always hard to choose just one. Brazilians' fascination for cocada can be only compared to Americans' obsession with cookies. 🙂
I hope you do enjoy our coconut bars as much as I did... My eyes always light up when I see one -- like a child when she catches sight of her favorite candy!
JOIN THE CONVERSATION
What is your favorite sweet bar?
Brazilian Coconut Bars (Cocada)
Quick, tropical, gluten-free coconut bars that despite their small-size can satisfy even the most die-hard sweet tooth!
Ingredients
1

can

can of sweetened condensed milk

14 oz or 396 g

1¼

cups

unsweetened coconut flakes

2

cups

granulated sugar

½

tablespoon

softened unsalted butter

plus more for greasing

1

teaspoon

pure vanilla extract
Instructions
Grease well with butter both the bottom and sides of a 8 x 8-inch baking pan. Set aside.

In a medium saucepan, combine condensed milk, coconut, and sugar. Cook over medium-low heat for about 10 minutes (large burner) or more (small burner), stirring constantly, until mixture has thickened enough to detached from the bottom and sides of of the pan.

Remove from the heat, immediately stir in ½ Tablespoon of butter, and then the vanilla.

Pour hot mixture into the prepared baking pan, spreading well with a large spoon or spatula until leveled uniformly. Let cool slightly on a rack and cut into squares while mixture has not completely solidified. Let them cool down before handling.
Recipe Notes
Storage: These coconut bars should be stored in an airtight container at room temperature for up to 8 days. Do not freeze or refrigerate!
** Nutrition labels on easyanddelish.com are for educational purposes only. This info is provided as a courtesy and is only an estimate, since the nutrition content of recipes can vary based on ingredient brand or source, portion sizes, recipe changes/variations, and other factors. We suggest making your own calculations using your preferred calculator, based on which ingredients you use, or consulting with a registered dietitian to determine nutritional values more precisely.
Please note that health-focused and diet information provided on easyanddelish.com is for educational purposes and does not constitute medical advice, nor is it intended to diagnose, treat, cure, or prevent disease. Consult with your doctor or other qualified health professional prior to initiating any significant change in your diet or exercise regimen, or for any other issue necessitating medical advice.
DID YOU MAKE THIS RECIPE?
Comment and rate the recipe. Also follow us on Pinterest at @easyanddelish for more delish recipes.