Have you ever had so many treat ideas that you could barely decide upon just one? This is exactly what happened to me this year when I was wondering what to make for Easter. After taking a look at my Easter recipe index containing cakes, cookies, bars, savory casseroles, etc, etc, I finally realized that what was missing was a bread recipe. After a long process of elimination, I finally narrowed it down to either a Portuguese Easter bread (Folar de Páscoa) or a Polish Easter Egg Braid (Paska). Did I make one of them? Well, an easy and delish Easter Chocolate Braid is the answer to the question. 🙂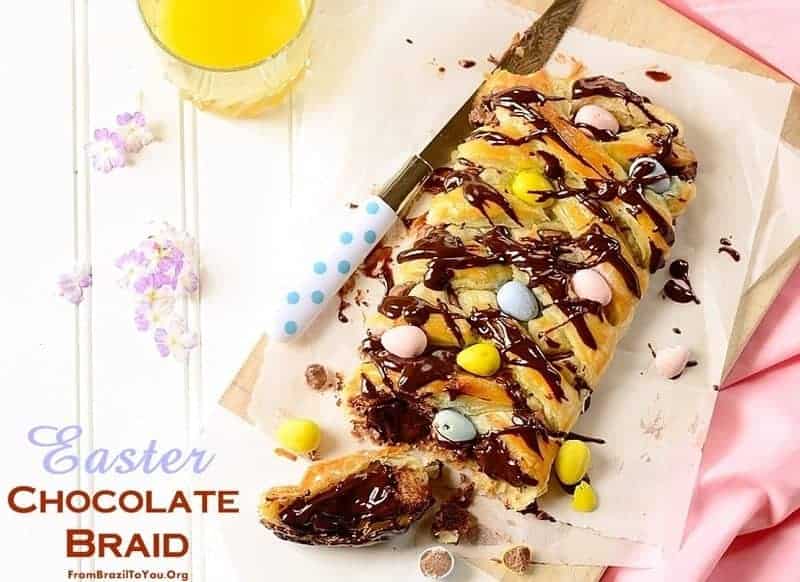 How did we end up with this treat for the Easter table? Since 1) chocolate treats -- and above all, chocolate eggs -- are what we customarily have for Easter in Brazil, and 2) a bread is what our recipe index needed initially, I had to look to our settler and immigrant's table traditions (respectively the Portuguese and the Polish) in order to find a great fit for our recipe box. But of course, my laziness towards making breads and tight schedule threw a monkey wrench into everything... However, thankfully this video from Tasty Meals gave me the lightbulb that I was searching for in order to put all my ideas together.
Adapting that video recipe, we came up with an easy and quick braid that resembles both the Portuguese and Polish breads but incorporates lots of chocolate -- including chocolate Easter eggs -- in order to keep my Brazilian tradition intact. I didn't have to slave in the kitchen, and yet was able to keep all the flavors, looks, and traditions. 😉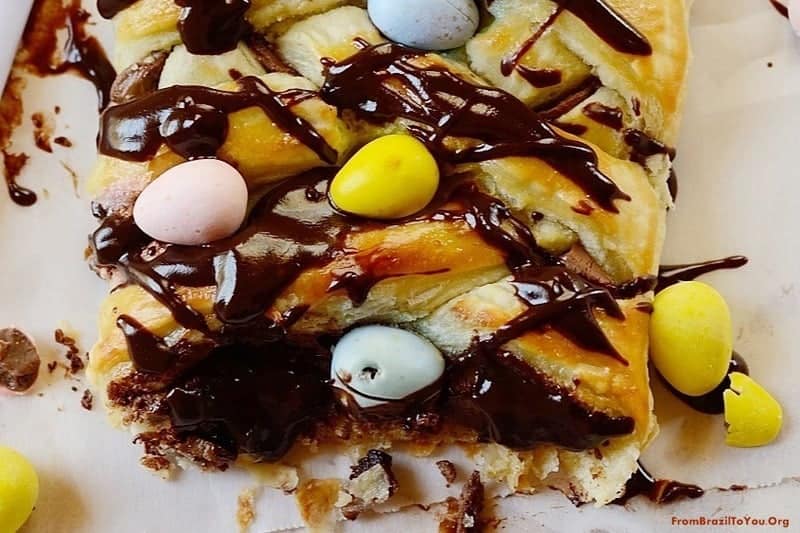 The key shortcut came from using store-bought puffy pastry, which was filled with a semisweet chocolate bar, brushed with an egg wash, and then garnished with a drizzle of chocolate ganache and Cadbury chocolate mini eggs -- a real favorite of mine.
Of course, technically speaking our Easter chocolate braid is not a bread, but a pastry that resembles a bread. 😉 For this particular hater of breadmaking, it really did the trick! I have no complaints... neither do my children or husband, who happily devoured our Easter treat.
If you are looking for a treat that is both delicious and quite quick to make for your Easter table, this is it, folks!
All that I can say is, there will be no regrets.
Enjoy and have a very HAPPY EASTER!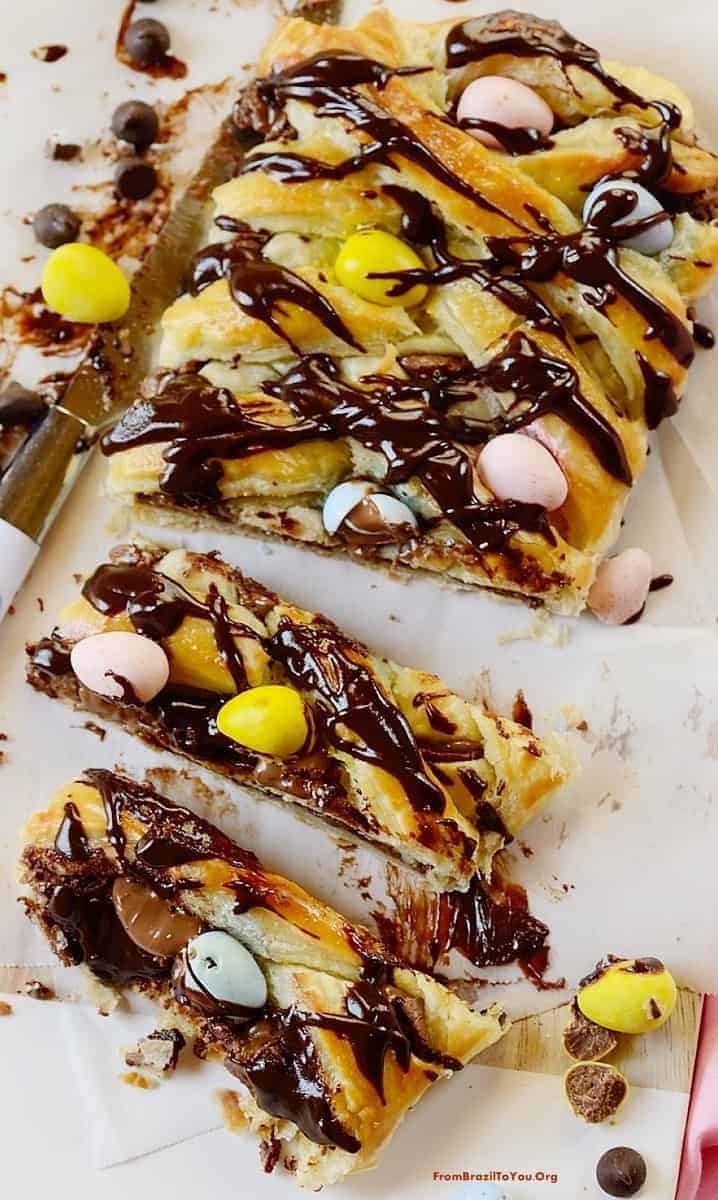 Easter Chocolate Braid
Easter chocolate braid is made from store-bought puff pastry filled with a chocolate bar, and garnished with a drizzle of chocolate ganache and chocolate eggs.
Ingredients
1

sheet of puff pastry

thawed according to the directions of the package

1

dark or semisweet chocolate bar

4.25 oz

1

teaspoon

large egg

lightly beaten with 1of water

⅓

cup

semisweet or dark chocolate chips

3

tablespoons

heavy whipping cream

Cadbury milk chocolate mini eggs with a crisp sugar shell
Instructions
Lay out one sheet of thawed puff pastry on a sheet of parchment paper or a lightly floured surface. Place one chocolate bar in the center of the puff pastry sheet, and cut diagonal lines into the pastry sheet along the left and right sides of the chocolate bar (about an inch between each line). Then remove the corner pieces of pastry.

Starting from the top, fold down one of the top diagonal flaps across the chocolate bar, and then alternate folding down the remaining flaps right and left until you are close to the bottom. Fold the bottom flap up and then finish folding down the last remaining flaps alternately right and left. If necessary, tuck any extra puff pastry underneath.

Place the braided puff pastry on a baking sheet lined with parchment paper. Brush with egg wash. NOTE: Please, do not garnish with the chocolate eggs at this point.

Bake at 415°F (213°C) for about 16-20 minutes or until chocolate has melted and puff pastry is golden brown.

Remove tray from the oven and let sit on a rack while preparing the chocolate ganache. Place chocolate chips and heavy cream into a small bowl and microwave in 30-second intervals just until chocolate has melted. Stir well to obtain a smooth mixture. Using a fork, drizzle braid with the chocolate ganache. Decorate with the chocolate eggs and let set. Enjoy!
** Nutrition labels on easyanddelish.com are for educational purposes only. This info is provided as a courtesy and is only an estimate, since the nutrition content of recipes can vary based on ingredient brand or source, portion sizes, recipe changes/variations, and other factors. We suggest making your own calculations using your preferred calculator, based on which ingredients you use, or consulting with a registered dietitian to determine nutritional values more precisely.
Please note that health-focused and diet information provided on easyanddelish.com is for educational purposes and does not constitute medical advice, nor is it intended to diagnose, treat, cure, or prevent disease. Consult with your doctor or other qualified health professional prior to initiating any significant change in your diet or exercise regimen, or for any other issue necessitating medical advice.
DID YOU MAKE THIS RECIPE?
Comment and rate the recipe. Also follow us on Pinterest at @easyanddelish for more delish recipes.