Learn how to make Homemade Bow Tie Pasta tossed with a tomato and basil sauce, which requires only a few simple ingredients and is easy and fun to prepare. The result? An addictive dish that will please the entire family!
Homemade Bow Tie Pasta made easy? Yes, that's right!!!! Check it out!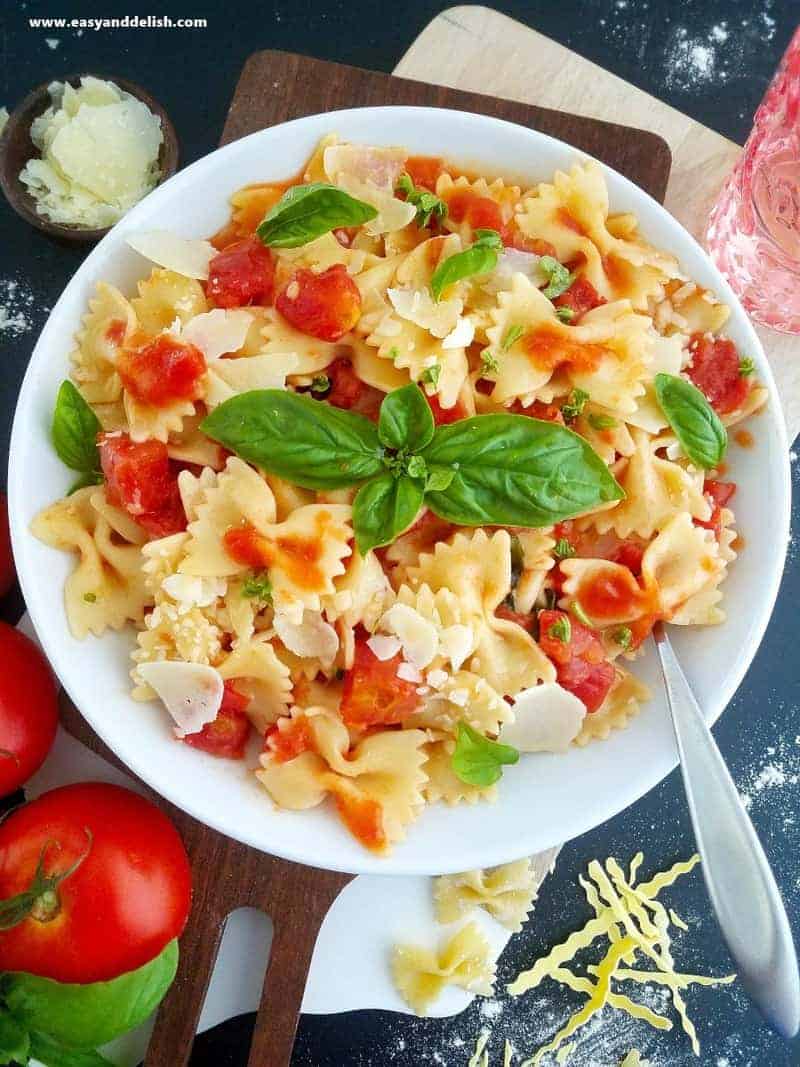 The recipe for today, along with many other superb pasta recipes (and of course, flavorful sauces to pair them with, like today's tomato and basil sauce) are all available in Manuela Zangara's new cookbook, Homemade Pasta Made Simple. Believe me! Once you taste homemade pasta, you'll never want to go back to store-bought. There is only one problem: no, it is not the preparation process, because Manu makes that quite easy... the problem is how addicting fresh pasta can be! And that's one thing I know for a fact. 🙂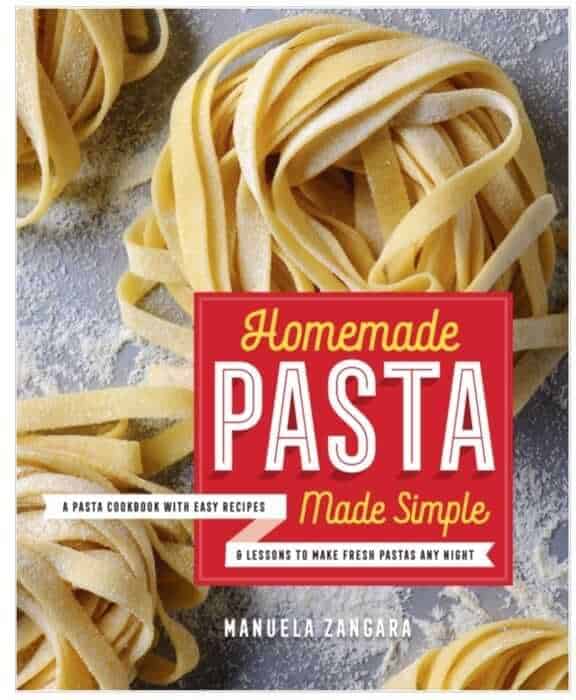 Even as a professional chef, I always thought of pasta as labor intensive... well, that is, until I got my hands on a copy of Manu's cookbook. I am not kidding! She makes the process absolutely seamless, and way less scary than you might think.
At first, she entertains us with personal stories of when she first learned, at an early age, how to make pasta with her Italian family at home in Milan...
... then Manu teaches how to make essential pasta dough recipes -- such as the 'know-by-heart egg pasta dough' that we used to make our bow tie pasta -- and the many fun forms that one can craft while shaping pastas. In fact, some of the chapters are even organized by pasta form, such as hand-shaped, ribbon-cut, and stuffed pastas, as well as gnochi and gnudi.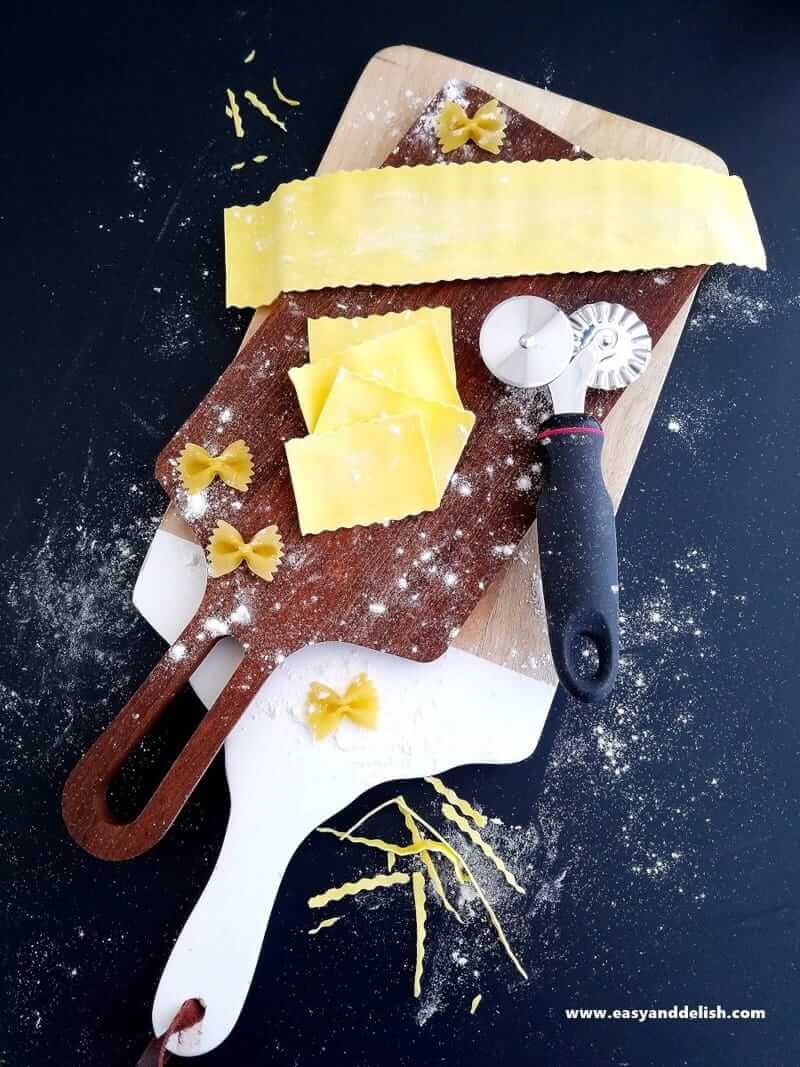 Another whole chapter is dedicated to all kinds of Italian sauces such as pesto, lemon sauce, arrabbiata, gongonzola, and the list goes on and on.
And that is not all! The book features all the details you've been wondering about the necessary ingredients, conversions, simple tools and equipment, and easy techniques, so that we can all master making pasta like a pro. After all, there is nothing like learning from an expert, right?
Manu and her book are simply fantastic! She is the beautiful lady who shared a Quick and Easy Veal Marsala recipe with us a few weeks ago. Remember?! Yep! The mind and hands behind the popular food blog, Manu's Menu.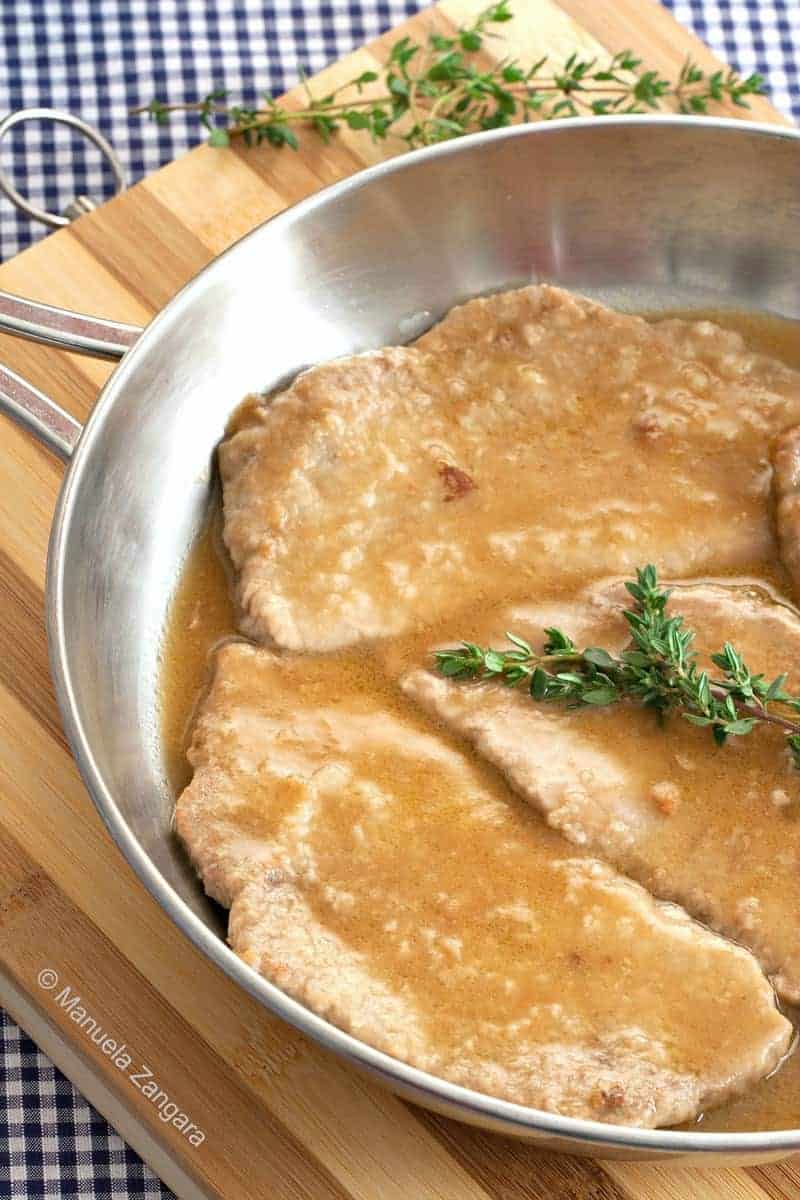 Here is one of her new pasta and sauce VIDEOS -- so that you can see how easy it is to make another one of her new cookbook recipes:
Well, for now enjoy this Homemade Bow Tie Pasta with tomato basil sauce. A mangiare!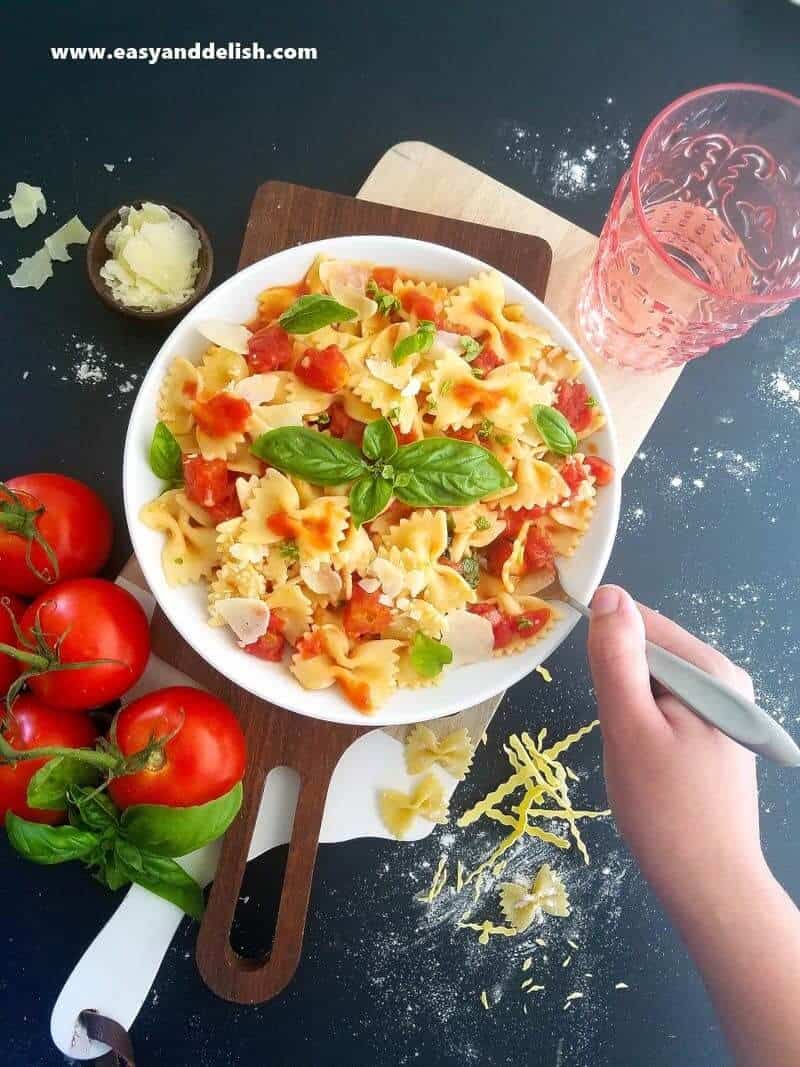 P.S.: YOU CAN ORDER HOMEMADE PASTA MADE SIMPLE ON AMAZON BEGINNING AUGUST 8, 2017. YOU CAN ALSO GET IT NOW FOR THE KINDLE!
TO PIN TILL YOU DROP:

Homemade Bow Tie Pasta with Tomato Basil Sauce
This Homemade Bow Tie Pasta tossed with tomato and basil sauce requires only a few simple ingredients and is easy and fun to prepare. The result? An addictive dish that will please the entire family! Recipes adapted from Homemade Pasta Made Easy Cookbook by Manuela Zangara (pages 20; 52 and 53; 182).
Ingredients
For the Homemade Bow Tie Pasta:
14 ounces

all-purpose flour, plus more for dusting

4

large eggs, weighing about 2 ounces each

sea salt, for cooking the pasta
For the Tomato and Basil Sauce:
¼

cup

extra virgin olive oil

½

onion, chpped

1(28-ounce)

can

diced tomatoes

¼

cup

water

sea salt

5 or 6

basil leaves

Finely grated Parmigiano-Reggiano (or shaved cheese if desired)
Instructions
To prepare the homemade bow tie pasta:
Weigh the flour and mound it in a bowl. Make a well in the center of the mound. Crack the eggs in a separate bowl and pour them into the well.

Beat the eggs with a fork until smooth. Using the tips of your fingers, mix the eggs with the flour, a little at a time, until everything is combined.

Knead the dough for 5-10 minutes, or until smooth. Form into a ball, cover tightly with plastic wrap, and let it rest for 30 minutes before rolling it out.

Dust 3 (10-by-15-inches) baking sheets with flour and reserve. Roll the dough out on a lightly floured surface and feed through a pasta machine, adjusting the settings to setting #7, or roll the dough by hand with a rolling pin, making the dough as thin and uniform as possible

Using a crinkle-edge pastry wheel or a pizza cutter (if you don't have a crinkle-edge pastry wheel), cut the pasta sheets into 2 ½-inch squares. A ruler can be used for measurement to cut uniform squares if desired. I did use it!

To shape the bow ties, pinch each square in the middle with your thumb and index finger. Then, transfer to the floured baking sheets and repeat the above steps with the remaining dough.

Cook pasta in a large pot of boiling salted water for approximately 2 minutes or until al dente (cooked but still slightly firm). Drain pasta in a colander and shake away excess water. Serve immediately tossed with the tomato basil sauce. Enjoy!
To prepare the tomato basil sauce:
Heat oil in a sauce pan over low heat. Saute onion for about 2 minutes or until translucent. Add the diced tomatoes and water. Season with salt, cover, and let cook for about 10-15 minutes over low heat.

Add basil leaves and stir. Pour sauce over cooked and drained pasta in a pot and mix well while cooking for about 1 minute. Serve immediately, topped with grated cheese (or shaved cheese like I did).
Recipe Notes
MY NOTE: If you don't use great quality canned diced tomatoes, you may need to add more seasonings (such as a bit of red pepper flakes), a dash of white wine, and/or sauteed minced garlic to make sauce more flavorful.
** Nutrition labels on easyanddelish.com are for educational purposes only. This info is provided as a courtesy and is only an estimate, since the nutrition content of recipes can vary based on ingredient brand or source, portion sizes, recipe changes/variations, and other factors. We suggest making your own calculations using your preferred calculator, based on which ingredients you use, or consulting with a registered dietitian to determine nutritional values more precisely.
Please note that health-focused and diet information provided on easyanddelish.com is for educational purposes and does not constitute medical advice, nor is it intended to diagnose, treat, cure, or prevent disease. Consult with your doctor or other qualified health professional prior to initiating any significant change in your diet or exercise regimen, or for any other issue necessitating medical advice.
DID YOU MAKE THIS RECIPE?
Comment and rate the recipe. Also follow us on Pinterest at @easyanddelish for more delish recipes.