Looking for a good watermelon? Find out 7 tips on how to pick watermelon that is ripe and sweet, avoiding wasting time and money, and of course, frustration.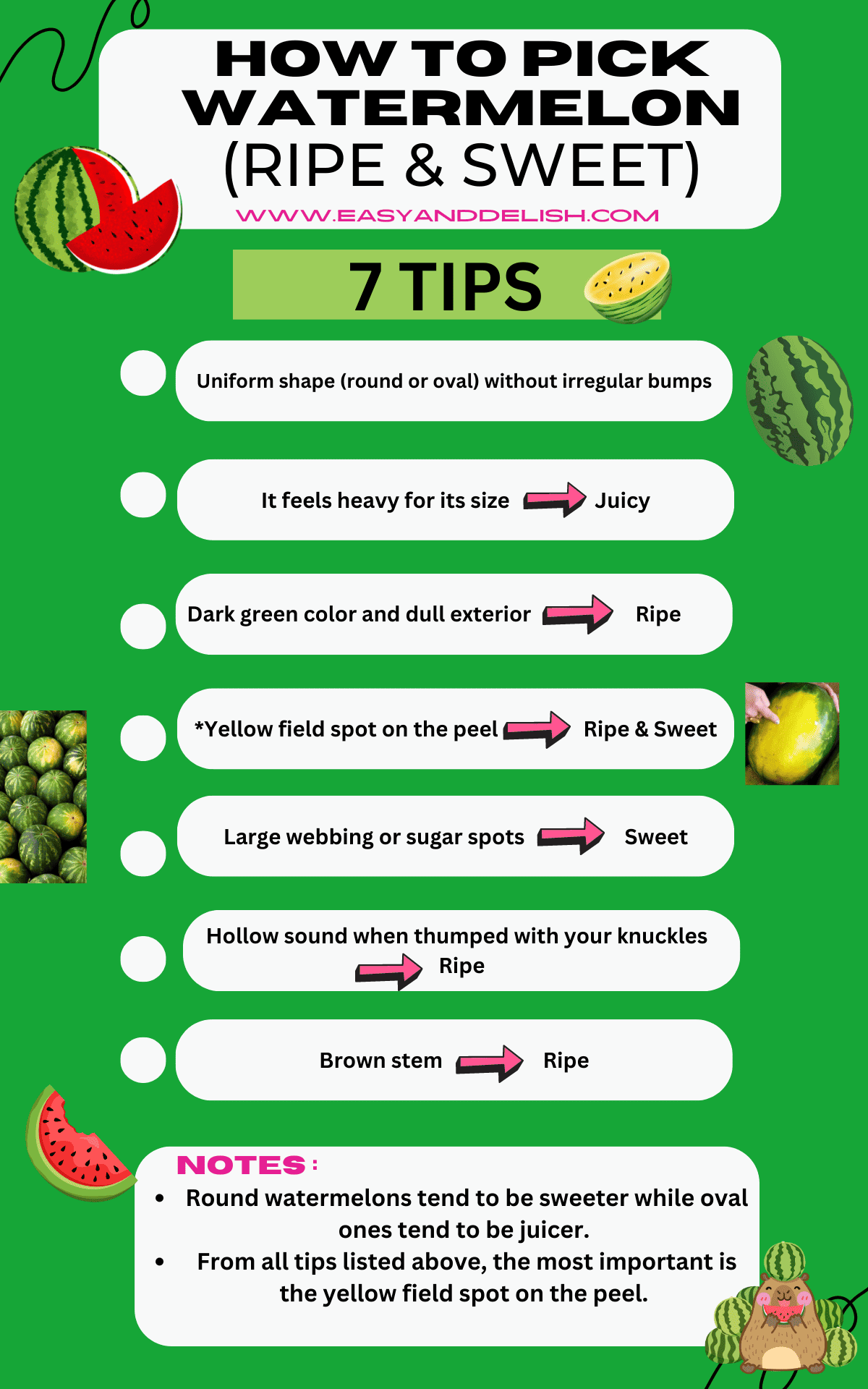 It is summertime...
This is the best season to pick the perfect watermelon and enjoy it as a healthy snack, or for your pool or bbq party.
Although this is its peak season, not all watermelons are ripe and sweet at your grocery store.
But we are here to help you with easy tips to choose the best watermelon.
Ready? 
What is a good watermelon?
A good watermelon is ripe and sweet, and also free of cuts, dents, soft spots, or bruises. Here you will find out the best tips on how to choose a ripe and sweet watermelon. 
Watermelon Season
The peak season for watermelon in The United States is between May and September, but this range may vary depending on where you live.
Types of Watermelon
In the U.S.A. there are several varieties, each featuring 4 types of watermelon, varying in size, shape, flesh color, and sweetness, as follows: 
Icebox --

this type of watermelon weighs between 5-15 pounds. Their name is due to their small size, fitting iceboxes quite well. They are easy to transport and have sweet flesh. Sugar Baby is the most popular Icebox watermelon.

Picnic --

It can be round or oval-shaped, weighing between 10 and 50 pounds or more. It got its name for its size that's large enough to feed a crowd yet transportable.

Seedless--

This type of watermelon is a result of cross-breeding. Therefore, it is not genetically modified as some may think. Seedless watermelons will have white seed traces, and only occasionally a mature, brown, hard seed.

Yellow-orange flesh

-- It has yellow flesh but its peel often presents narrow strips with a green color background, which pattern is sometimes called tiger-striped. However, some red-flesh watermelons may also have that pattern.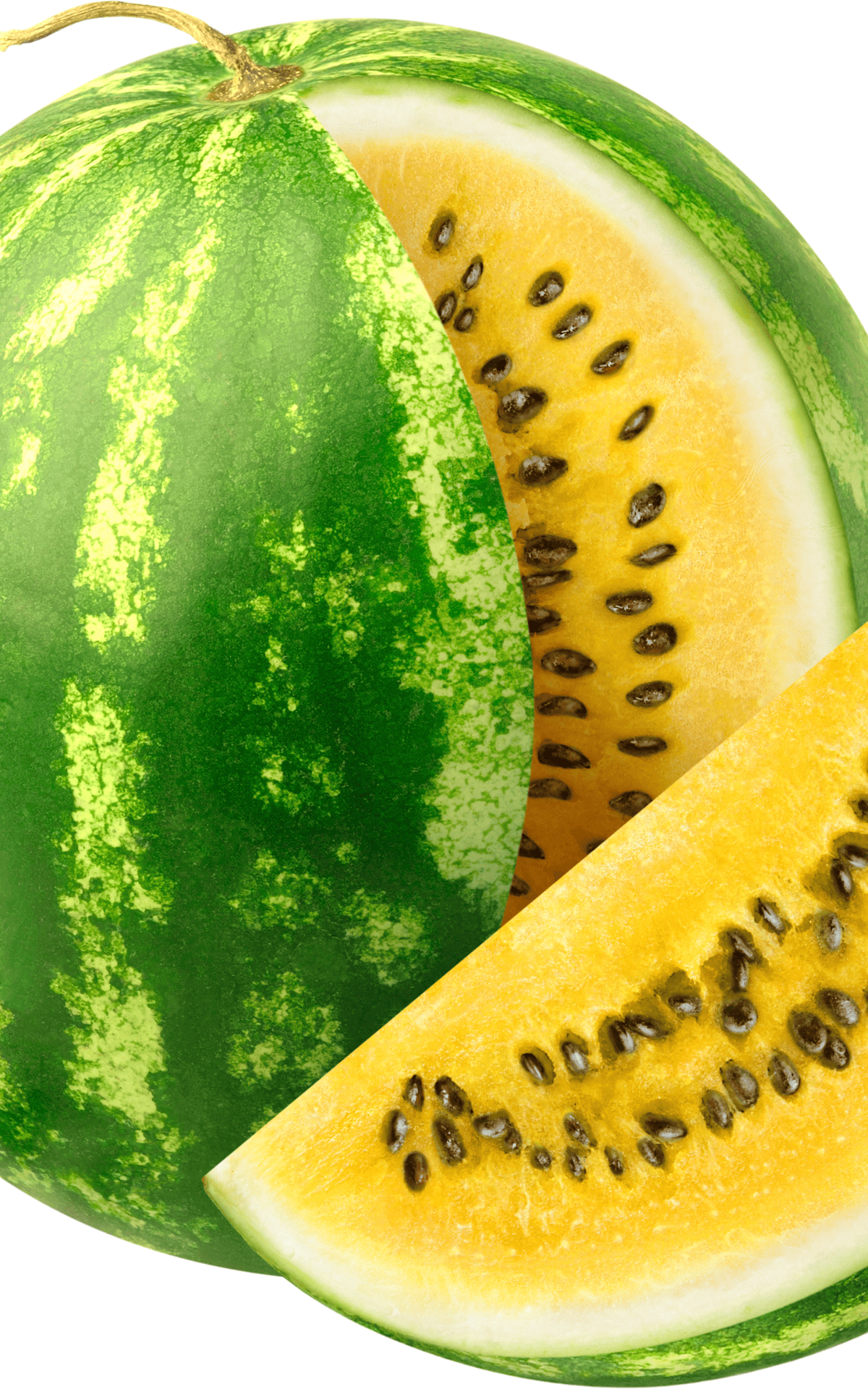 How to pick a good watermelon
To choose a good watermelon, we have to use sound, touch, and visual clues. Here are some 7 important tips for choosing the best watermelon:
TIP #1 -- Uniform Shape without irregular bumps
Start by choosing a watermelon that has a uniform shape, either oval or round, without irregular bumps. The oval ones tend to be juicier while the round ones tend to be sweeter. If there are irregular bumps, this is a sign it may have gotten varying amounts of sunlight or water, or distress. You must avoid that watermelon at all costs. 
TIP #2 -- It Feels Heavy for Its Size
Hold the watermelon! If it feels heavy for its size, this means it is a juicy watermelon (but this doesn't mean too watery). You may want to hold several around to compare them and determine which one feels heavier.
TIP #3 -- Dark green color and dull exterior
Look for a watermelon with a dark green, dull exterior. It indicates is ripe. This means, avoiding one with a shiny exterior because it is underripe.
TIP # 4 -- Yellow field spot (the main tip for how to pick watermelon)
Go for one with a yellowish field spot. This means it was on the vine longer and is a ripe melon and also a sweet melon (or flavorful). The darker the yellow, the better! On the other hand, if the field spot is white, it's a sign that the watermelon is not quite ripe or was picked from the vine too early.
NOTE: Of all the tips listed here, I consider this one the most important!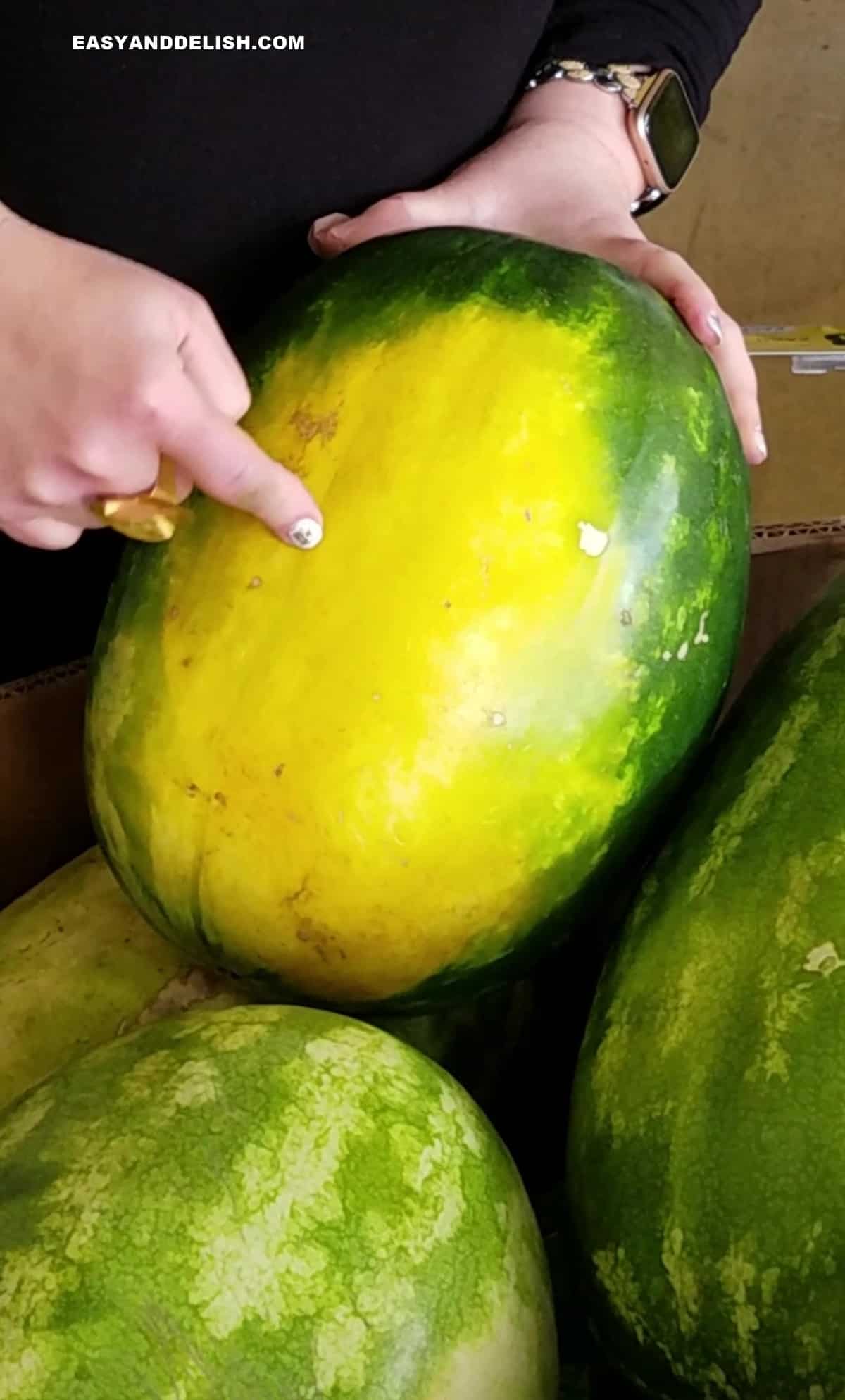 TIP #5 -- Large Webbing or Sugar Spots
Large "webbing", "sugar spots", or "pollination points" means the melon is sweet!
If your melon presents a large greyish webbing on the peel, dots in a line that is not a scratch (pollination points), or a sugar spot that looks like dirt but cannot rub off easily, these are all great signs of a sweet watermelon. One with a small webbing means it is bland.
TIP #6 -- Hollow sound when thumped with your knuckles
Here is one quick way how to pick a ripe watermelon:  If you thump the exterior of a watermelon and it sounds hollow, it's ripe. On the other hand, if the thump produces a dull sound, it's underripe; or if you hear a thud, it's overripe.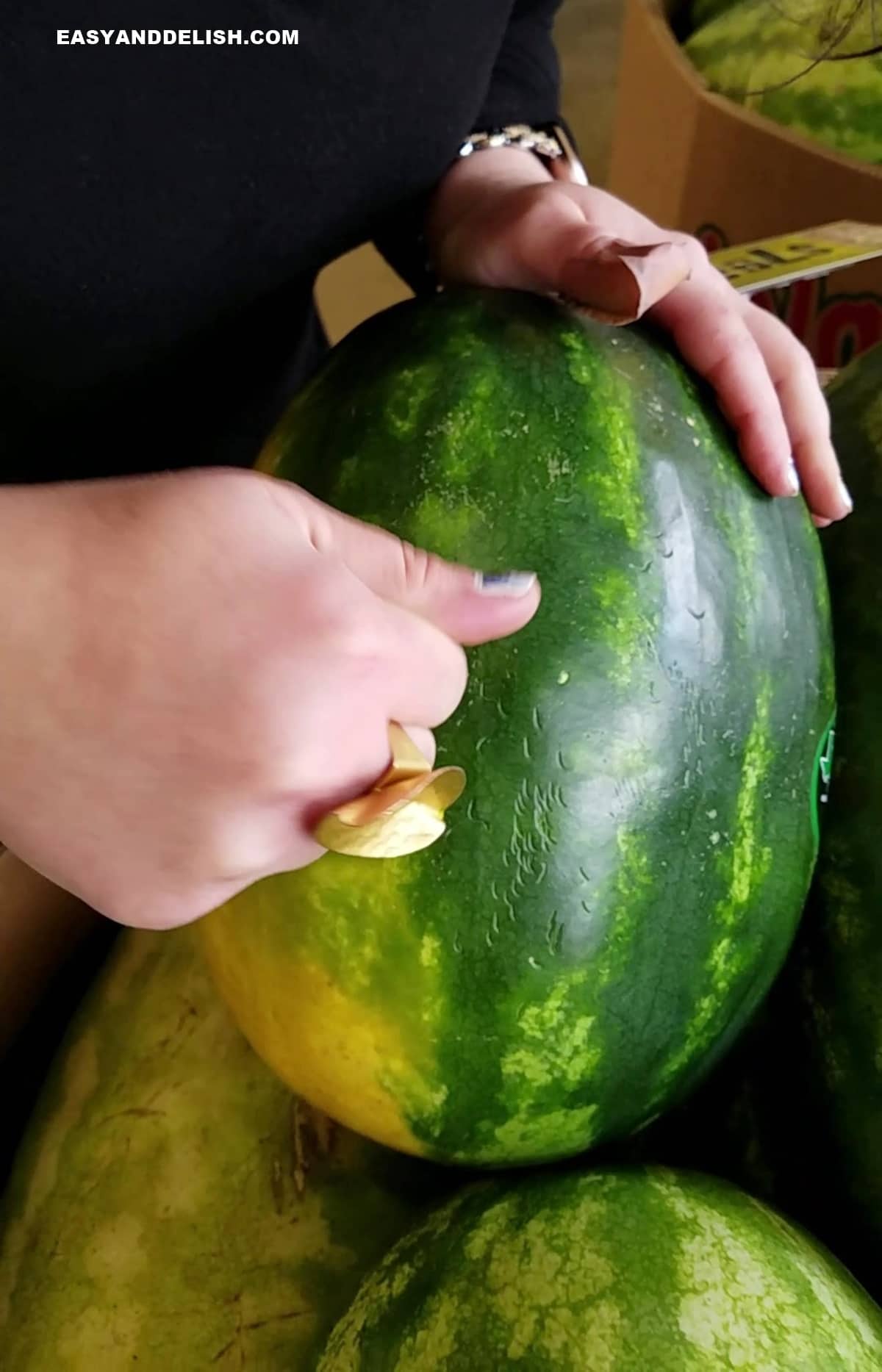 Tip # 7-- Brown stem
Some watermelons don't come with a stem attached. Use other tips listed above (hollow sound, large yellow spot, and dark green, dull peel) to determine whether is ripe.
However, if it comes with a stem attached, look for one with a brown stem because indicates the fruit is ripe. If you choose one with a green stem, it is not only unripe but also may never become ripened because watermelons stop ripening when they are picked.
Use the tips listed above to tell if a watermelon is the perfect melon!
FAQS for how to choose watermelon
How to tell if a watermelon is good?
A good watermelon (or the best watermelon) is ripe and sweet. There are several touch, sound, and visual clues one can use to choose a watermelon, but the best is the yellow field spot. Look for a melon with a large yellowish spot because it means the watermelon is both ripe and sweet.
What is better: seeded or seedless watermelons?
It depends on personal preference as well as who you are serving. If serving watermelon at a children's party, for example, you may prefer the seedless type to avoid the risk of choking. If there is not a big risk of hazard, you may pick whatever type suits your preference and pocket.
What is that hole in the center of a watermelon?
You may find a hollow heart (a gap or three-pointed hole) in the center of your watermelon when you cut it. This doesn't mean the fruit is spoiled. It is edible although may not be as sweet as you want. This happens due to inadequate pollination by bees because of unfavorable weather conditions or low bee numbers.
How do you know when a watermelon is ready to pick from your garden?
Most varieties take from 80 to 120 days to mature. In addition to looking for a yellow field spot and a dull peel (instead of shiny), the fruit is ready to pick when the stem or tendrils become brown. Those are signs of a ripe and sweet watermelon.
How to pick a good watermelon at the grocery store? 
You can use several sound and visual clues to choose the perfect watermelon at the grocery store but the most important is to look for a melon that has a large yellow spot. It is a sign it is both ripe and sweet.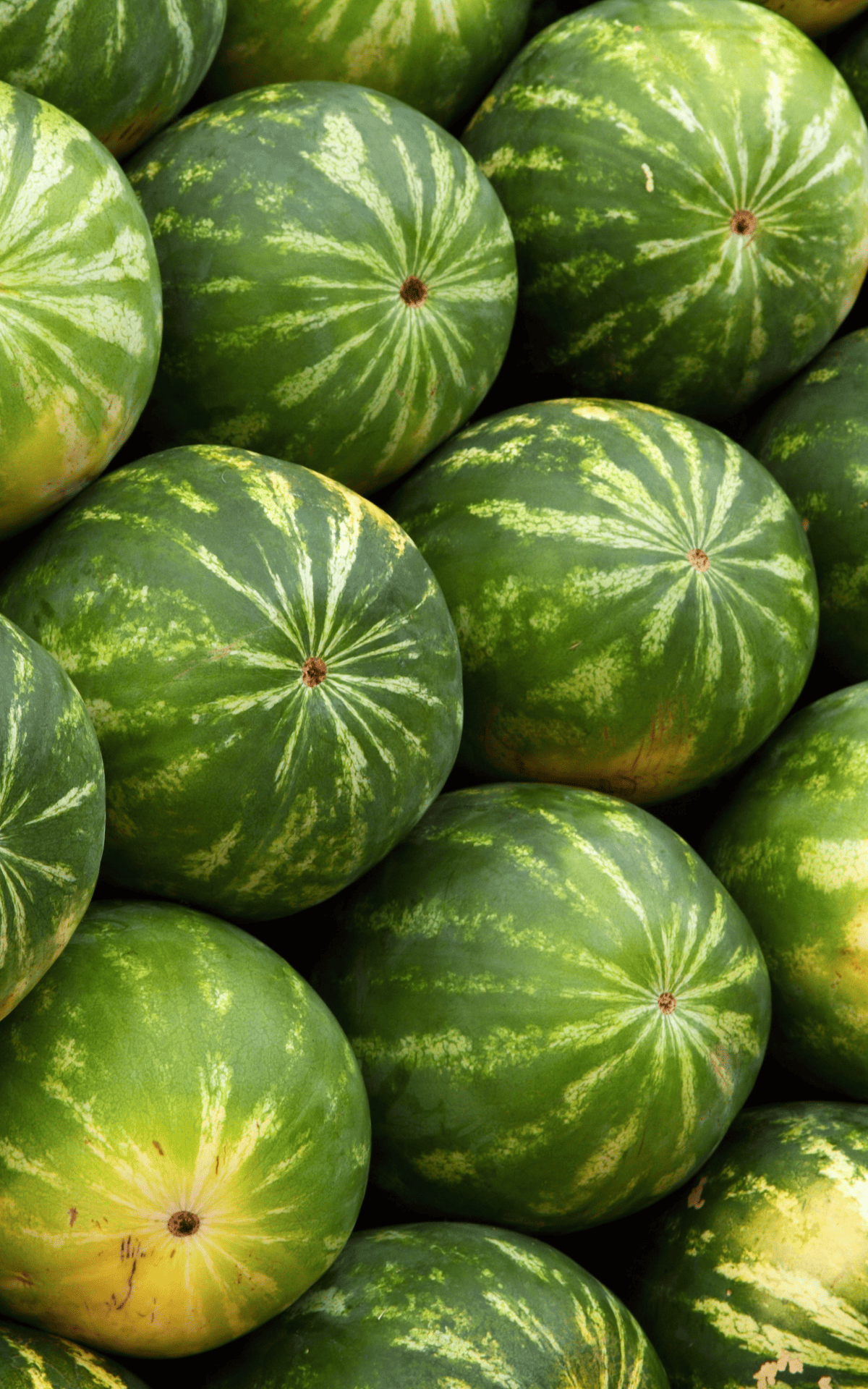 Do I have to wash a watermelon before cutting it up?
Yes! Remember that watermelons grow in soil. If you don't want to contaminate your knife and the fruit's flesh with microbes from the peel, rinse it under running cool water, scrub it with a brush, and then dry it off using a paper towel before slicing.
How to Store
WHOLE: Keep your uncut watermelon at room temperature for 1-2 weeks, or in the fridge for 2-3 weeks.

SLICED: For cut watermelon, after tightly wrapping it with plastic wrap, store it in the fridge for 2-4 days. Drain excess liquid before serving.
Can I freeze watermelon?
Yes! For that, line a cookie sheet with parchment paper and place the melon chunks in a single layer in the pan. Freeze until solid and then transfer to a freezer-safe container. It keeps well for 3-6 months. If thawing, do it in the fridge. It will have a more soft consistency and are not good to use in salads.
Watermelon recipes to enjoy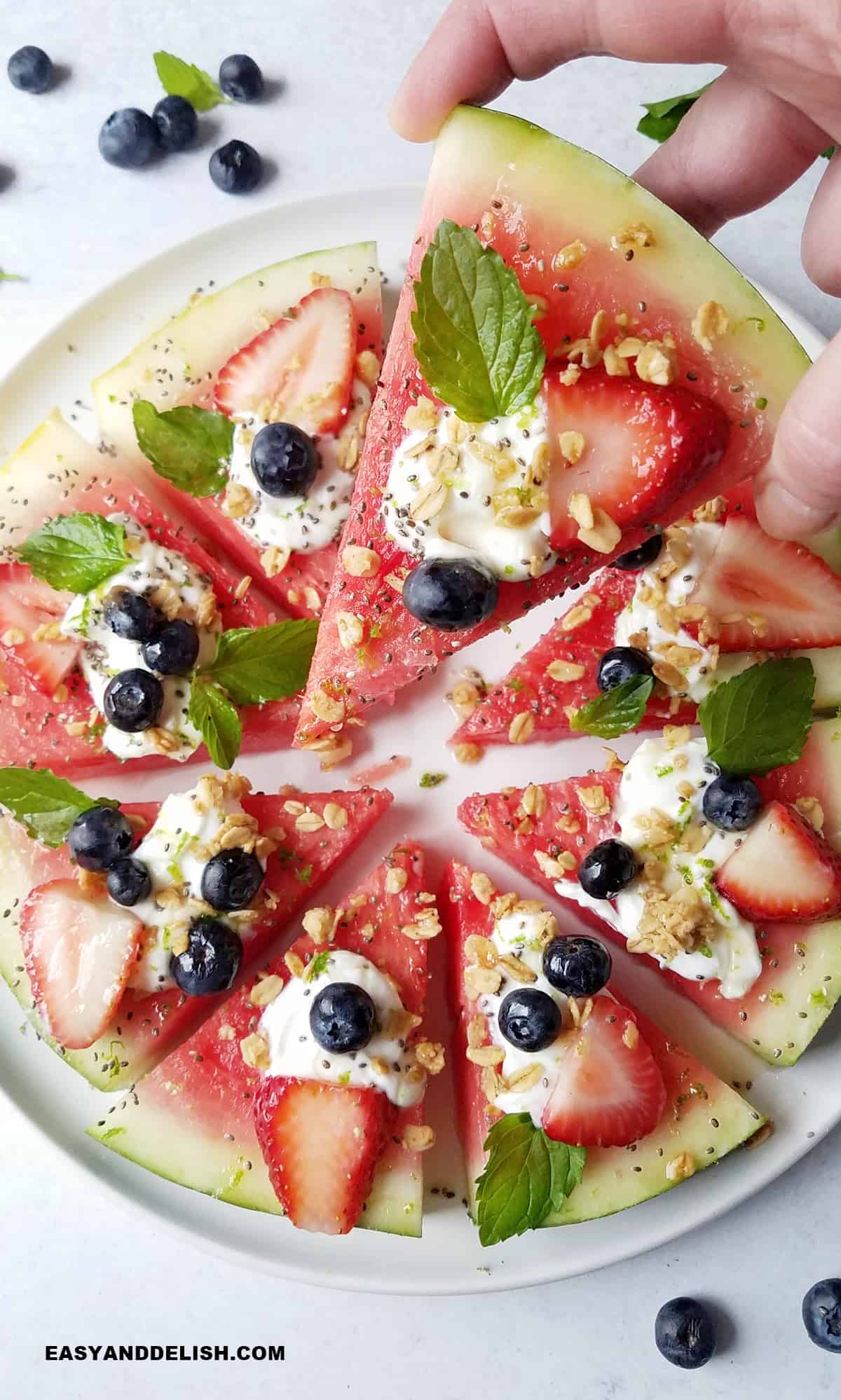 PIN & ENJOY!