PCOS is a complex condition that affects all aspects of a woman's life. This post will guide you through what it is, its causes, the PCOS diet and food list, and much more. In conjunction with supplements and exercise, a balanced and healthy meal plan will help you manage the associated symptoms and lose weight as I did. It can help diabetics too!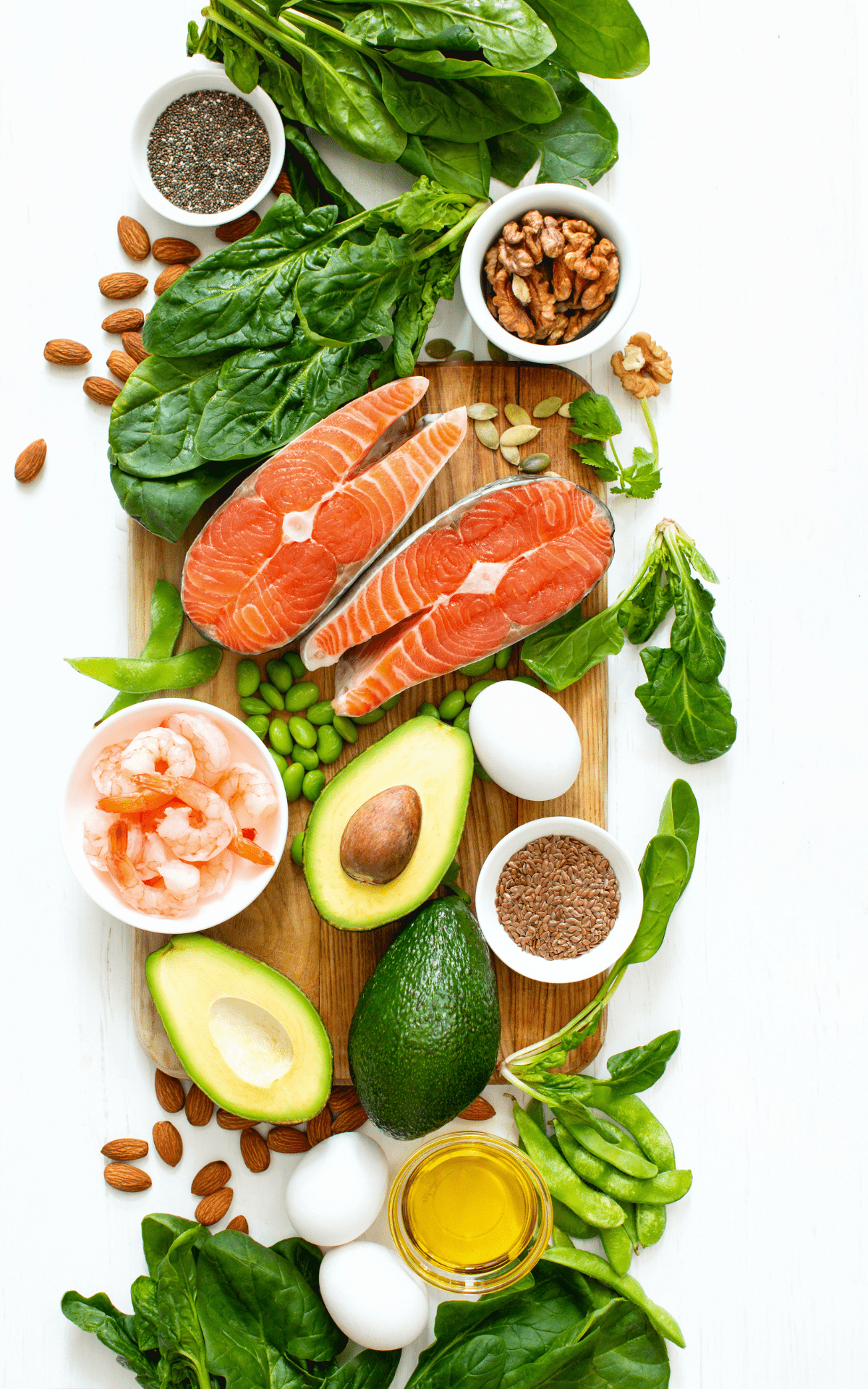 What is PCOS?
PCOS (Polycystic Ovarian Syndrome) is a hormonal condition that can also cause metabolism problems potentially affecting women of all races and ethnicities, at any age after puberty. The risk of PCOS may be higher if you are obese or if you have a mother, sister, or aunt with PCOS. According to the American Society for Reproductive Medicine, it affects about 10% of American women of reproductive age and is the leading cause of infertility.
The 3 main features of PCOS are as follows:
Increased testosterone

Ovulation irregularities

Polycystic ovaries
As a result of excess testosterone, and often a lack of estrogen, women experience irregularities in their ovulation. Since the eggs are not properly released each month, they begin clustering around the ovaries, forming cysts.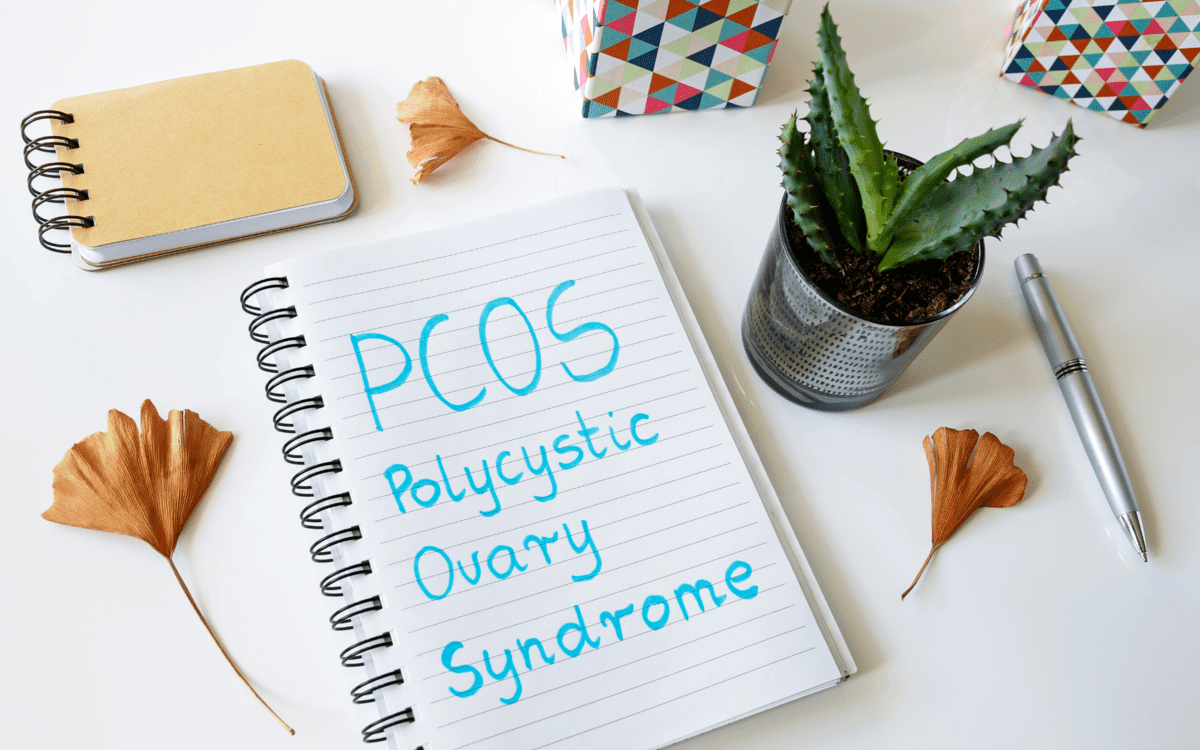 Causes and symptoms of PCOS
Unfortunately, the exact cause of PCOS is largely unknown, but it seems to run in families. Obesity and abnormal hormone levels, like insulin, are also correlated with PCOS. Most women suffering from PCOS are resistant to insulin, meaning their body has to produce more to compensate.
Typical signs and symptoms start to appear during a woman's late teens or early 20s, and they may include any of the following:
Missed periods, irregular periods, or either very light or heavy periods

Trouble becoming pregnant due to irregular ovulation

Hirsutism (excessive hair growth)

Increased hunger

Weight gain

Hair loss or thinning on the scalp

Oily skin or acne

Sleep apnea

Skin tags, in the armpits or neck area
Traditional treatment of PCOS
Although there is no cure, the primary goal of treatment is lifestyle changes, hormonal control, and symptom management. In some cases, surgery may be necessary.
Lifestyle changes: If you're overweight, diet and exercise may

help you reach and maintain a healthy weight.

Hormone regulation: Medications to promote regular ovulation may be prescribed if you are trying to become pregnant. Birth control may be recommended to regulate hormones if you are not trying to become pregnant. Additionally, drugs like Metformin may be used to help control blood sugar.
Symptom management: If you're suffering from excess hair growth, drugs like Spironolactone may be prescribed to treat the symptoms.
Surgery: If fertility medications are not effective, a surgical procedure known as laparoscopic ovarian drilling (LOD) may be an option.
Health risks of PCOS
Excessive levels of testosterone not only increase facial hair and acne, but also put women at risk for conditions like type 2 diabetes, high blood pressure, and high cholesterol. Each of these may lead to more life-threatening diseases later in life such as heart disease and stroke.
In addition, hormonal imbalances may lead to infertility, miscarriages, gestational diabetes (during pregnancy), endometrial cancer (inside the uterus), depression, and anxiety.
Every case of PCOS is unique, but it can affect the whole body, including the way insulin is processed, the gut microbiome, and other metabolic processes such as inflammation. It's important to understand how to regulate your hormone levels to better control symptoms, improve infertility issues, and feel your best.
What is the PCOS diet?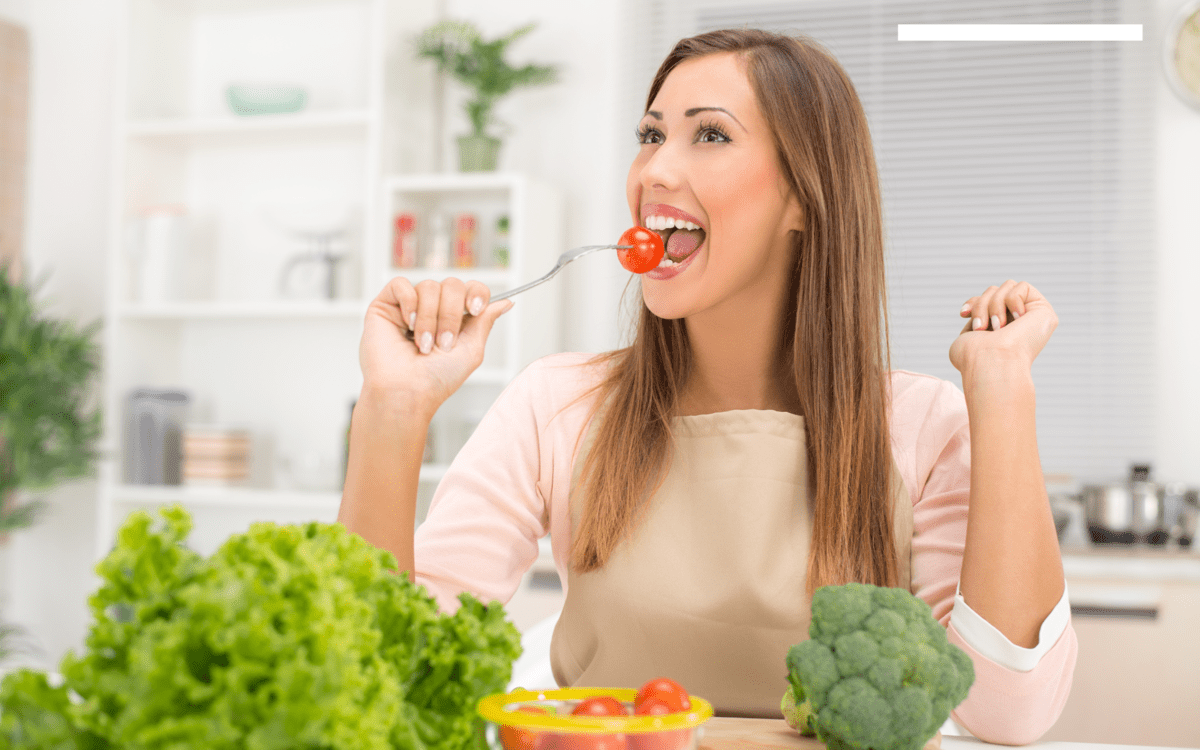 As previously mentioned, a balanced diet is imperative to maintaining a healthy weight and managing PCOS symptoms. With this in mind, here are a few key points to consider when you're trying to understand what to consume:
Fiber: Choosing complex

carb

s that are full of fiber is a vital component of eating. Similar to the diabetic diet, this helps maintain consistent blood sugar levels, avoid constipation, and keep you full for longer. Aim for at least 25 grams of fiber per day.
Low glycemic index: Most fiber-rich foods will fall low on the glycemic index

(GI), but it's important to familiarize yourself with this scale to better understand where other foods fall on it.

Consistent and regular: Eating consistently and at regular intervals helps your body learn when and how many hormones it should release. Avoid s

kipping meals and overeating at all costs.

Nutrient-dense: Nutrient-dense foods (antioxidants) that are high in vitamins and minerals like Vitamin D, B, iodine, and magnesium may help improve insulin resistance and decrease the symptoms associated with PCOS, including inflammation. These foods often have anti-inflammatory properties! 
Best Diet for PCOS Weight Loss
There is currently no standardized PCOS diet, but a good rule of thumb is to focus on eating whole grains, lean proteins, healthy fats, and fresh produce while limiting processed foods, alcohol, and sugar. Some also recommend avoiding gluten and dairy which tend to be inflammatory!
I have been dealing with PCOS for the last 30 years. The diet that has been most effective to make me lose weight was a calorie-deficit, healthy low-carb diet incorporating probiotics and also anti-inflammatory and low-glycemic foods. It is similar to a low-carb Mediterranean diet!
If you have PCOS and live on a budget, get the list of 45+ cheapest foods to buy which is mostly PCOS-friendly!
In addition, some PCOS sisters have reported losing weight by adopting a paleo diet, a low-glycemic index diet (for diabetes), or a keto diet.  
PCOS Food list
Planning out a PCOS diet may feel overwhelming, so to make things simpler, I've broken it down into types of "foods to eat" and "foods to avoid".
Make sure to save and share our PCOS food list infographic!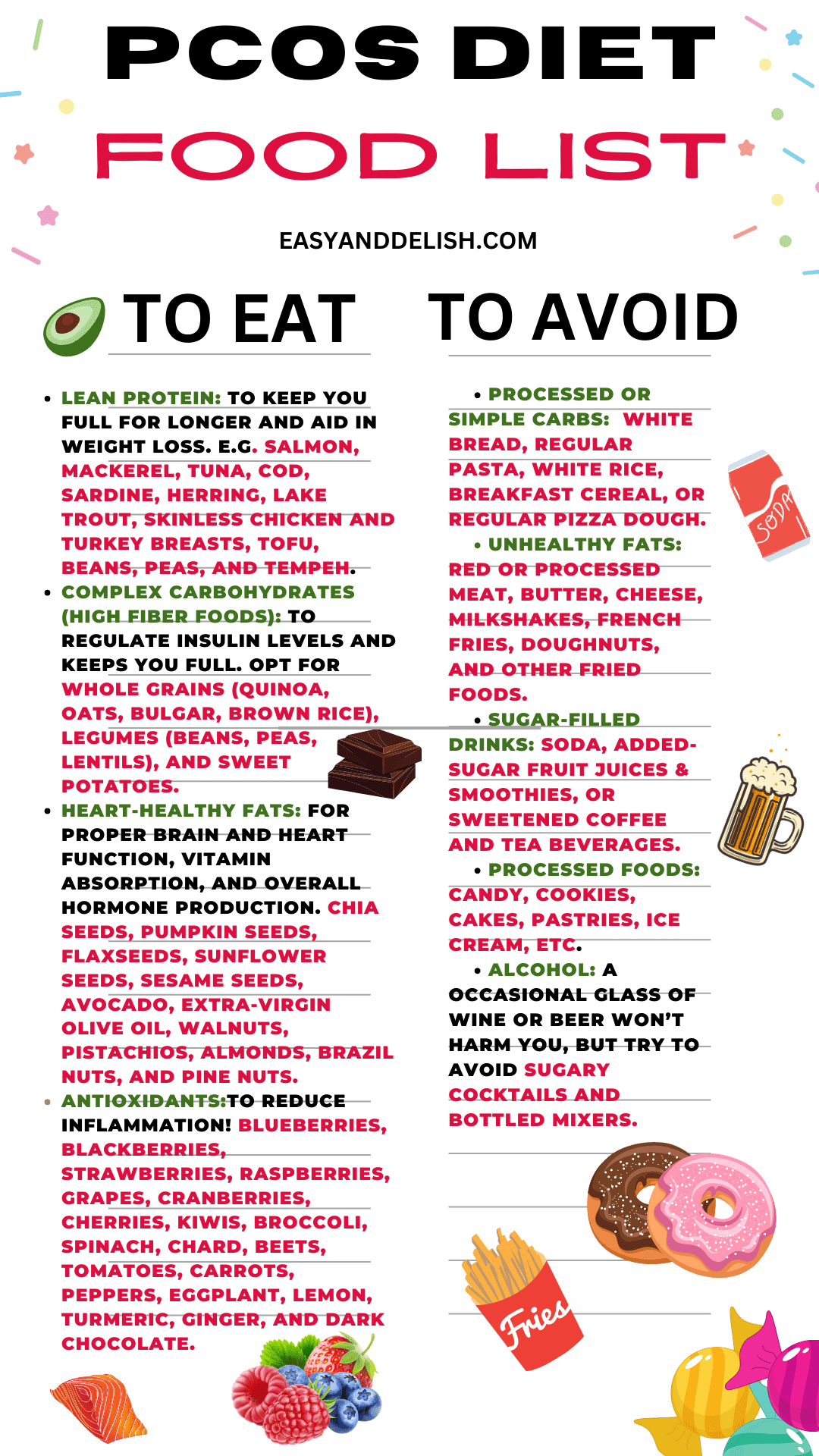 Foods to eat
When trying to decide which specific foods to include in your diet, it's important to break them down into groups of foods that will help reduce PCOS symptoms. Use the following list as a guideline, but it is by no means complete:
Lean protein: Look for lean protein sources

(and omega-3 fatty fish)

to keep you full for longer and aid in weight loss. Think salmon, mackerel, tuna, cod, skinless chicken and turkey breast, tofu, beans, peas, and tempeh.
Complex carbohydrates: Enjoy foods that are high in fiber, which regulates insulin levels and keeps you full. Opt for whole grains (quinoa, oats, bulgar, brown rice), legumes (beans, peas, lentils), and sweet potatoes.
Heart-healthy fats: Fat is vital for proper brain and heart function, vitamin absorption, and overall hormone production. The best options are chia seeds, pumpkin seeds, flaxseeds, sunflower seeds, sesame seeds, avocados, extra-virgin olive oil, walnuts, pistachios, almonds, Brazil nuts, and pine nuts.
Antioxidants: In order to reduce the inflammation in your body, include antioxidant-rich foods in your diet. Try blueberries, blackberries, strawberries, raspberries, grapes, cranberries, cherries, kiwis, broccoli, spinach, chard, beets, tomatoes, carrots, peppers, eggplant,

lemon, turmeric, ginger,

and dark chocolate.
PCOS Food List to Avoid
While no one is perfect, knowing which foods to avoid will help you make better choices when you're eating out with friends, going on holiday, or needing a little variety in your diet. Here are the top foods to steer clear of on a PCOS diet:
Processed, refined, or simple carbohydrates: Women suffering from PCOS don't process glucose (sugar) correctly due to high insulin levels. Try to limit refined carbohydrates like white bread, regular pasta, white rice, breakfast cereal, or regular pizza dough.
Unhealthy fats: Both saturated and trans fats increase inflammation in the body, leading to disease risk and weight gain. Limit foods like red or processed meat, butter, cheese, milkshakes, French fries, doughnuts, and other fried foods.
Sugar-filled drinks: Many convenient beverages are packed with refined sugar, which may negatively affect your blood glucose levels. A few examples include soda, fruit juice, smoothies, or sweetened coffee and tea beverages.
Processed foods: Similar to drinks, overly-processed foods often contain high amounts of sugar and unhealthy fats. These products should also be avoided for women with PCOS. Some examples include candy, cookies, cakes, pastries, ice cream, etc.
Alcohol: One of the long-term side effects of PCOS is an increased risk of fatty liver disease. Since alcohol is a direct toxin to the liver and may also increase the risk, it's recommended to avoid it whenever possible. The occasional glass of wine or beer won't harm you, but try to avoid sugary cocktails and bottled mixers.
PCOS Diet Supplements
In addition to a healthy and balanced diet, women with PCOS may find a supplement regimen beneficial for mitigating symptoms. Before trying any herbs or supplements, always check with your healthcare provider first.
Please, save and share our PCOS Supplement infographic below!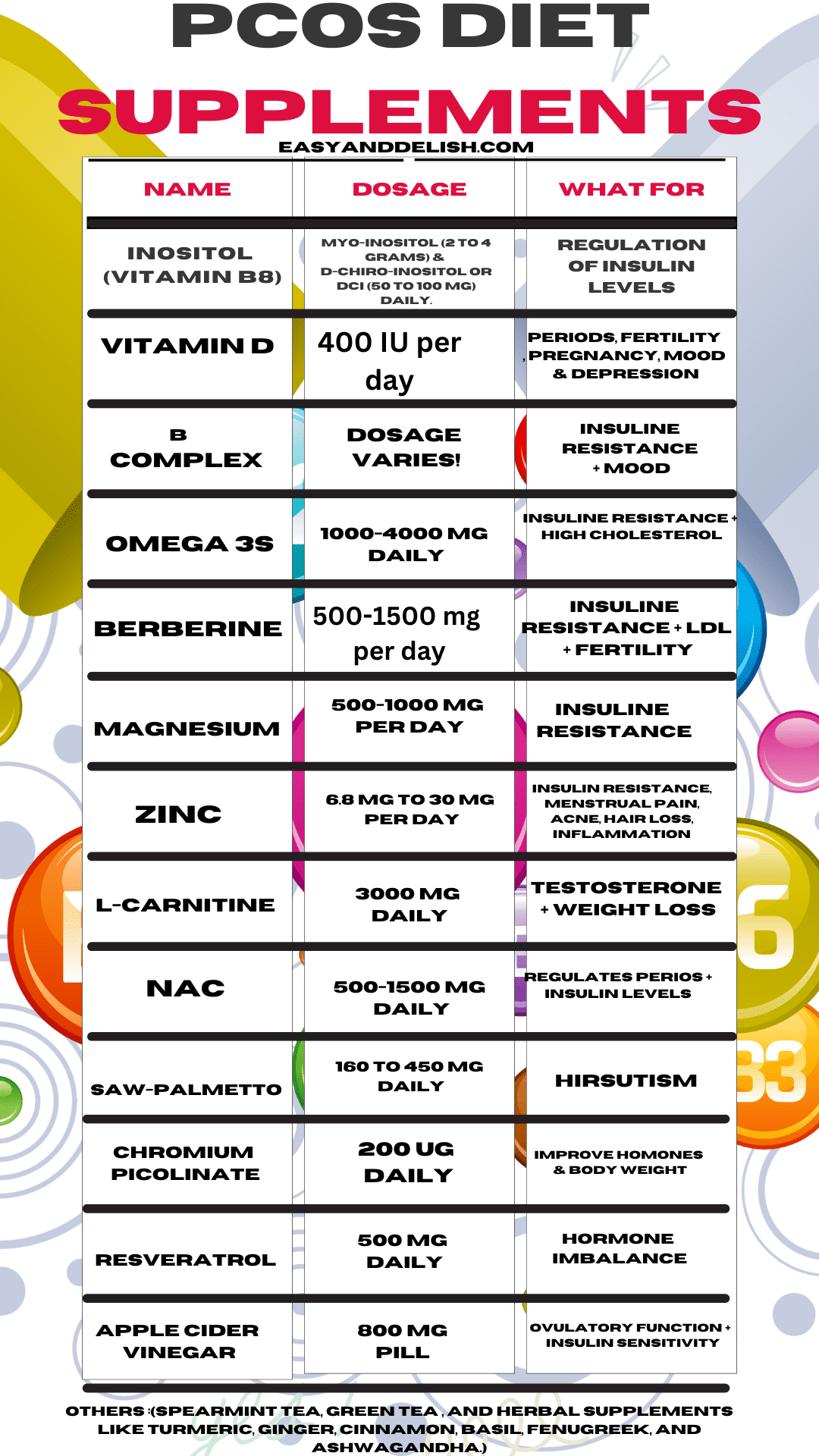 These are some of the options they may discuss with you:
Inositol (Vitamin B8): Aids in the regulation of insulin levels.

Most studies show benefits with

Myo-inositol (

2 to 4 grams) and D-chiro-inositol or DCI (50 to 100 mg) daily

.

Vitamin D: Improves menstrual regularity, fertility, pregnancy, the likelihood of depression, and overall mood. About 400 IU

per day is the dose you should aim to.

B complex (Vitamin B6, folate, and vitamin B12): Helps reduce insulin resistance and aids in mood regulation. Dosage varies!
Omega 3s: Reduces insulin resistance and treats high total cholesterol in the blood. Omega 3s from fish are preferred over plant-based sources due to their increased absorption rate. You can buy

fish oil in a gel capsule and take 1 g (1,000 mg) to 4 grams (4,000 mg) daily of a combination of EPA and DHA.

Berberine: A plant-derived alternative to Metformin that improves insulin resistance and blood sugar levels while also reducing bad cholesterol (LDL). It may also increase fertility. It is recommended about 500-1500 mg per day!
Magnesium: Reduces insulin resistance. Opt for magnesium citrate or magnesium glycinate for the best absorption rates. It may vary between 500-1000 mg

per day.

Zinc: Decreases insulin resistance, menstrual pain, acne, hair loss, and inflammation. The dosage recommendation fluctuates between 6.8 mg daily

to 30 mg per day.

L-Carnitine: this

is a chemical that is made in the human brain, liver, and kidneys, helping the body turn fat into energy.

It helps to low testosterone and aids in weight loss! Take about

3 g daily

.

NAC (

N-acetyl-L-cysteine

):

The body makes this into cysteine and then into glutathione, a powerful antioxidant.

It helps with regulating periods and may improve insulin level by

reducing oxidative stress

. Aim to 500-1500 mg daily!
Saw Palmetto: Taken as a dietary supplement, it can help with excessive facial hair. Aim to

160 to 450 mg

daily.

Chromium

Picolinate

: It can d

ecrease serum insulin and free testosterone and improve body weight.

It is recommended to be 200 ug daily!
Resveratrol: This

natural compound found in red wine and grapes can help address a hormone imbalance

. Aim to 1500 mg daily!
Apple cider vinegar: It

restores ovulatory function by improving insulin sensitivity

. Take about 1 tablespoon of raw apple cider vinegar with mother diluted in a cup of water or an 800 mg supplement pill.
In addition to the above options, you can also add spearmint tea (good for hirsutism), green tea (weight loss), and herbal supplements like turmeric, ginger, cinnamon, basil, fenugreek, and ashwagandha to your diet. These herbs and spices help naturally reduce inflammation, manage blood sugar levels, regulate the menstrual cycle, and enhance fertility.
Recommended exercises for PCOS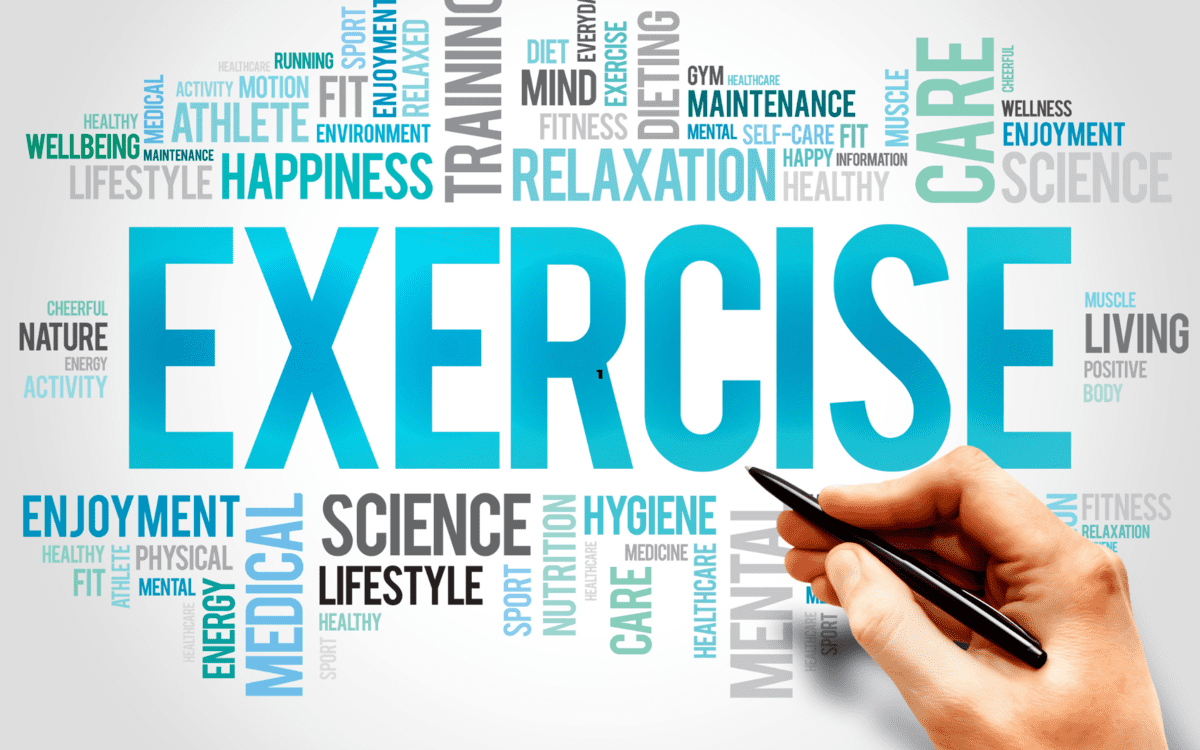 Due to the fact that insulin resistance, obesity, and PCOS are all correlated, integrating an exercise routine into your schedule may help improve your symptoms. The good news is that almost every type of regular, sustained exercise is helpful in managing PCOS. Studies have found sessions ranging from 30 minutes a day (3 times per week) to 3 total hours per week improve metabolic and reproductive symptoms related to PCOS.Try experimenting with any of the following to find out which one is your favorite:
Steady-state cardiovascular workouts: Often referred to as "cardio," these types of workouts increase your heart rate to about 60% of its max. They can include walking, cycling, running, or dancing. Note: You can find your max heart rate by subtracting your age from 220. For example, if you are 30 years old, your max heart rate is approximately 190 beats per minute (bpm). 60% of your max heart rate would be 114 bpm.
High-intensity interval training: Known as HIIT in the fitness industry, this popular workout routine is characterized by intense bursts of exercise followed by intervals of rest. Some examples include burpees, sprints, walking or running stairs, and cycling. For this style of exercise, your heart rate should be close to its max during each burst.
Mind-body exercises: Exercises that limit stress and increase body awareness are an excellent choice for women with PCOS. A few examples of these exercises include pilates, yoga, and tai chi.
Strength training: Workouts that include weights, resistance bands, or body weight are under the "strength training" category. All of these options help build and maintain tone in your muscles and bones.
Tips to lose weight with PCOS and Diabetes
When it comes to managing PCOS and diabetes, there is no magic diet or shortcut to achieving a healthy weight. It takes discipline, consistency, and hard work. Here are a few of the most helpful tips when trying to lose weight:
Eat enough protein: Protein not only helps stabilize blood sugar after a meal, but it also keeps you feeling full for longer. Try to consume around 30% of your calories from protein-rich foods like legumes, nuts, lean meat, seafood, and eggs.
Eat enough fiber: This means, at least 25 g per day of complex carbs or high-fiber foods.
Choose the right foods: Thoroughly read over the foods in this post to better understand which groups

are the b

est

f

or

your health (and those that are not).

Limit calories: Do not confuse it with

undereating, limiting your overall caloric intake is important if you're going to lose weight. Otherwise, eat just enough until you're no longer hungry.

Exercise regularly: Exercise at least 3 times per week for at least 30-45 minutes per session for the best results. A mix of different exercises and activities is likely the best option for long-term health.
Sleep enough: Lack of sleep can

increase hunger, obesity, and risk of diseases. Aim for 7-8 hours of sleep each night.

Manage stress: Stress is a risk factor when it comes to weight gain, which means regulating your stress levels is important in the management of PCOS. Techniques such as yoga, meditation, and spending time in nature can all reduce stress levels.
Drink water: Make sure to drink plenty of water, at least 8 cups per day or more.
Please, make sure to save and share our chart with Weight Loss Tips for PCOS and Diabetes!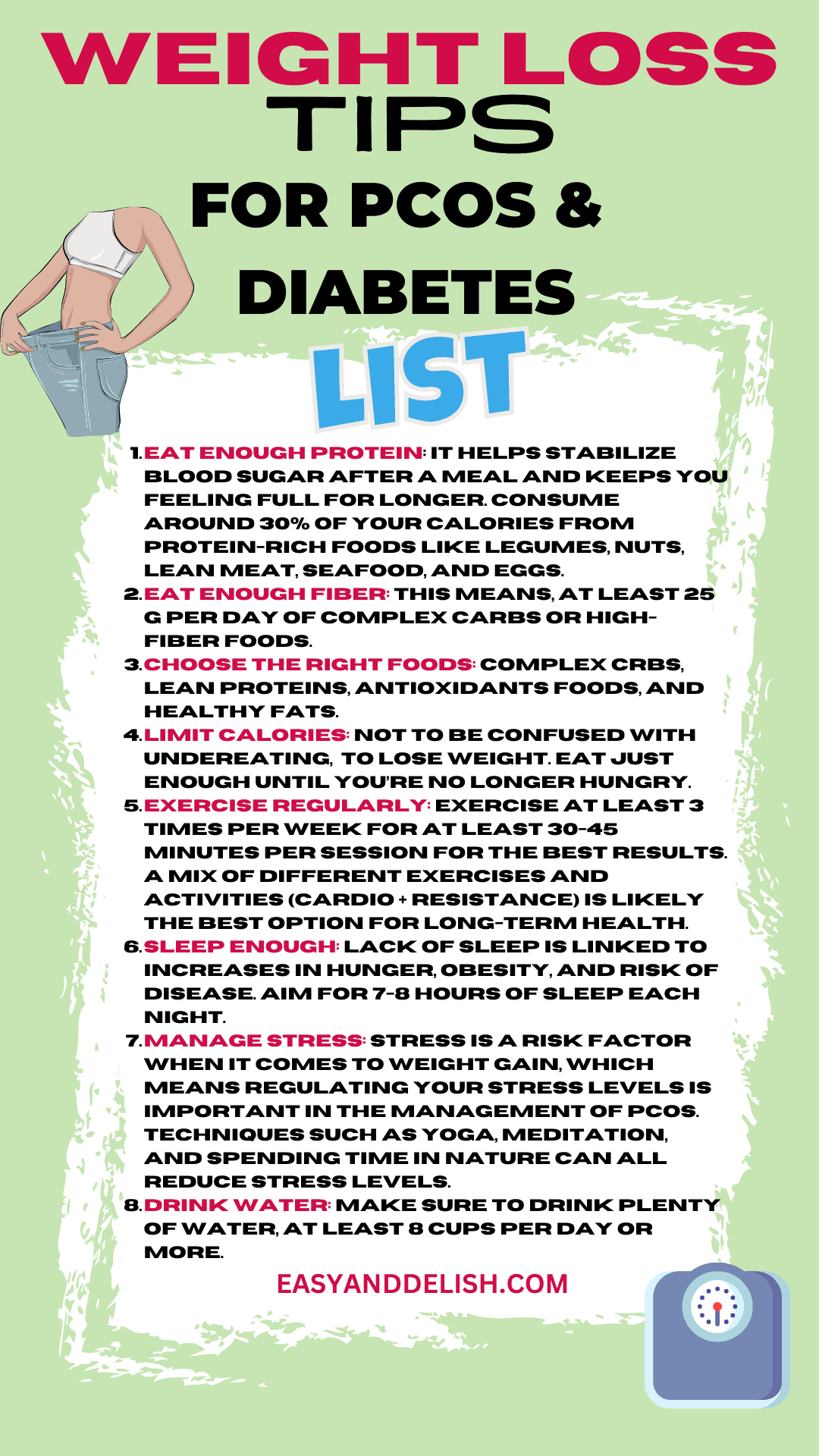 FAQ's
What is the difference between PCOS and type 2 diabetes?
PCOS may lead to type 2 Diabetes, but the two are diseases related to insulin resistance. PCOS causes increased levels of testosterone, irregular ovulation, and ovarian cysts in women of reproductive age and also inflammation and weight gain in women of all ages after puberty. On the other hand, Type 2 diabetes can affect both women and men, and it is characterized by an inability of the body's cells to respond to insulin due to the overworking of the pancreas.
Can people with type 2 diabetes benefit from a PCOS diet?
Yes, the foundational approach of a PCOS diet may also relieve symptoms of type 2 diabetes. These include eating sufficient amounts of lean protein, fiber, heart-healthy fats, foods low on the glycemic index, and nutrient-dense foods.
How is inflammation linked to PCOS?
Due to insulin resistance and high glucose levels, many people with PCOS suffer from high levels of inflammation in the body. A healthy diet and exercise regimen can help lower the effects of inflammation and lower the risk of complications.
Does gut health affect PCOS?
Yes, maintaining a healthy gut microbiome is important in managing symptoms of PCOS. Eating a variety of pre and probiotic-rich foods will help. Some examples include unsweetened probiotic yogurt (such as Kefir), tempeh, miso, natto, sauerkraut, kimchi, and other pickled vegetables or fermented foods and drinks (such as kombucha).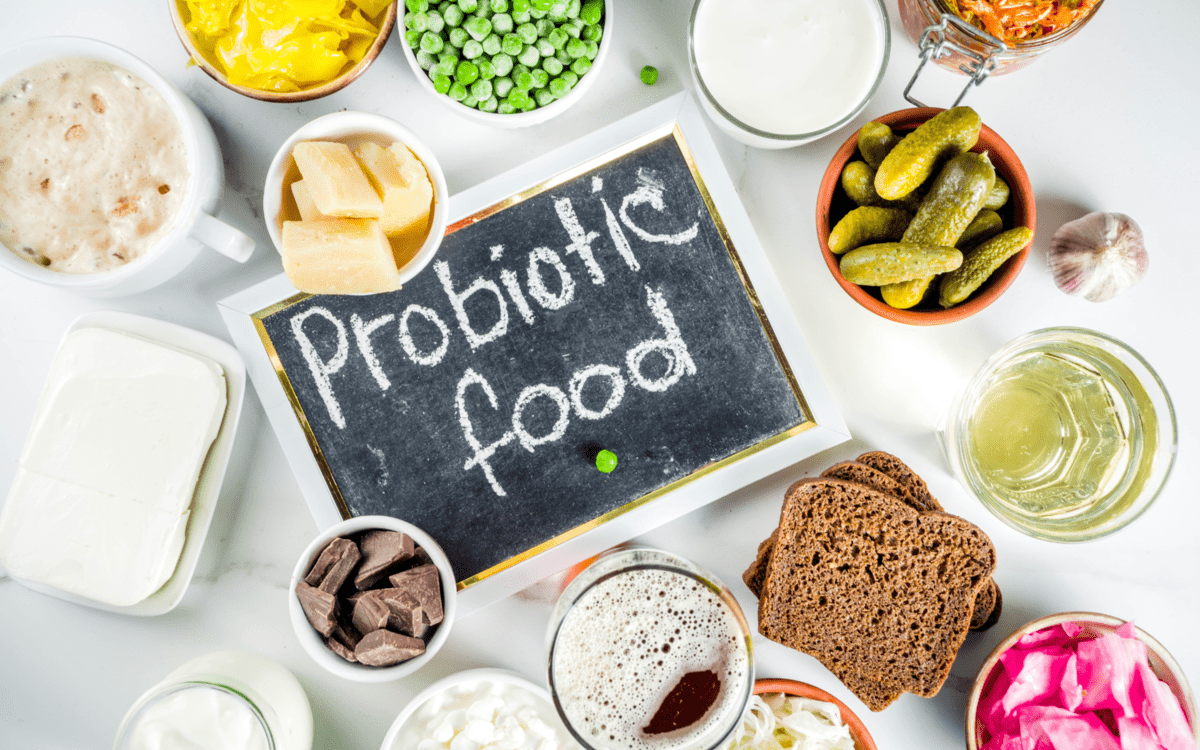 Other diets:
PIN & ENJOY!
DISCLOSURE: Please note that health-focused and diet information provided on easyanddelish.com is for educational purposes and does not constitute medical advice, nor is it intended to diagnose, treat, cure, or prevent disease. Consult with your doctor or another qualified health professional prior to initiating any significant change in your diet or exercise regimen, or for any other issue needing medical advice.