Anti-inflammatory foods have the power to improve symptoms of and even reverse chronic conditions. In a world where aches, pains, and ailments have become the norm, the answers to living optimally could be right on your plate! Get the list of the best foods to add to your diet!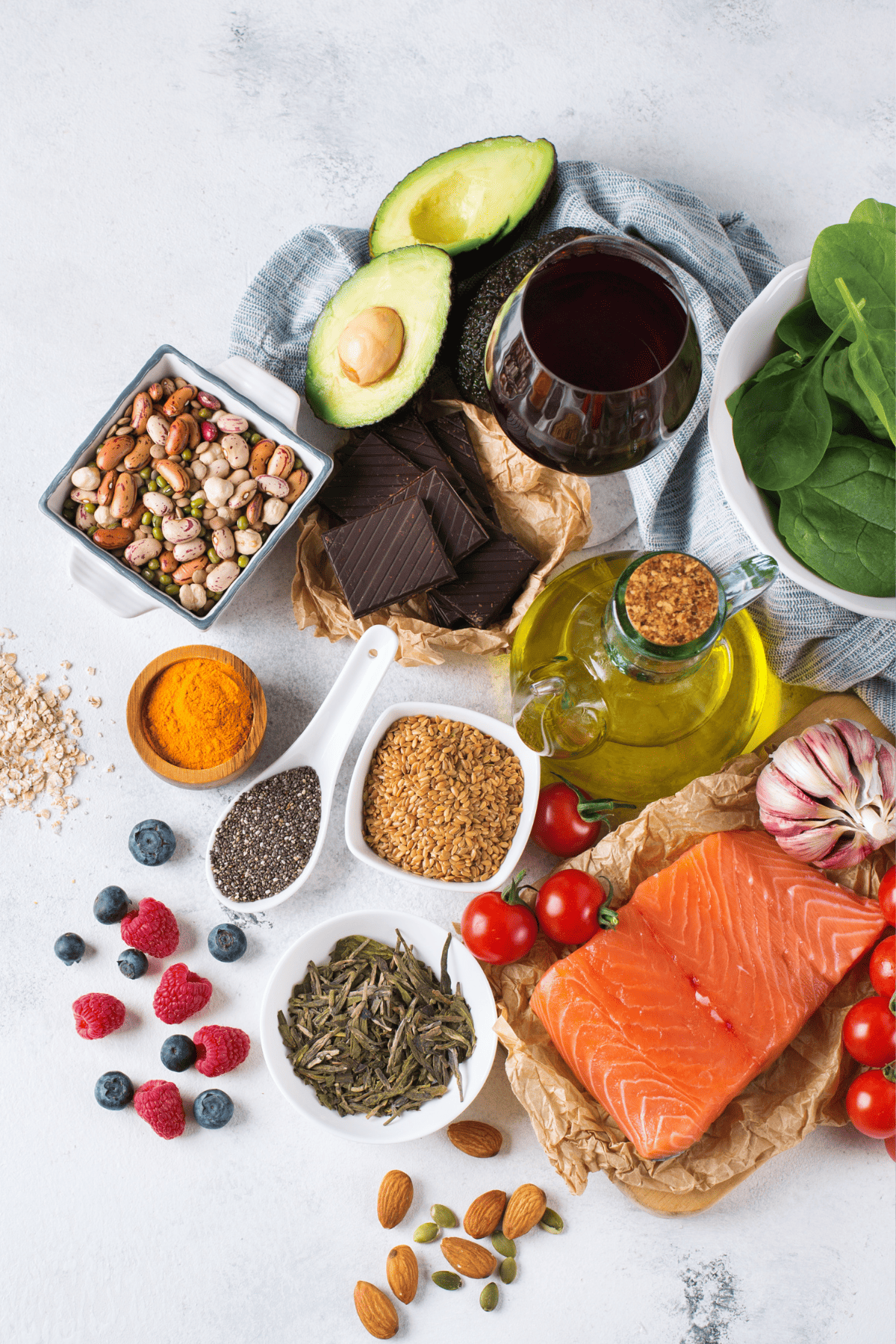 What is Inflammation?
Inflammation is the body's natural response to injury or illness, working to heal and defend against further harm. It is a very beneficial process, especially in acute situations like broken bones, infections, and other short-lived ailments.
However, when it becomes chronic or excessive, it can lead to many health problems. Knowing what fuels and foods fight inflammation is key to achieving and maintaining optimal health.
Causes
Understanding the root causes of inflammation is the first step toward prevention and treatment. The primary triggers include:
Diet: Consuming processed foods, sugars, and trans fats. Avoid or limit those and add anti-inflammatory foods to your diet.
Stress: Chronic stress releases hormones, like cortisol, that exacerbate inflammation.
Environmental toxins: Pollution and chemicals in our surroundings also play a role.
Sedentary lifestyle: Lack of physical activity can promote inflammatory processes.
Chronic infections: Persistent infections can lead to ongoing inflammation.
Symptoms
The signs of chronic inflammation might be more common than you think. They range from obvious physical manifestations to subtle internal cues:
Pain: Chronic body pain, arthralgia, and myalgia are common manifestations of inflammation in the body.
Psychological pain: Depression, anxiety, and mood disorders.
Infections: Inflammatory processes in the body can tax the immune system, leading to more frequent infections.
Gastrointestinal complications: Constipation, diarrhea, and acid reflux.
Weight fluctuations: Chronic inflammation can lead to weight gain or weight loss.
Fatigue: Chronic fatigue and insomnia may indicate systemic inflammation.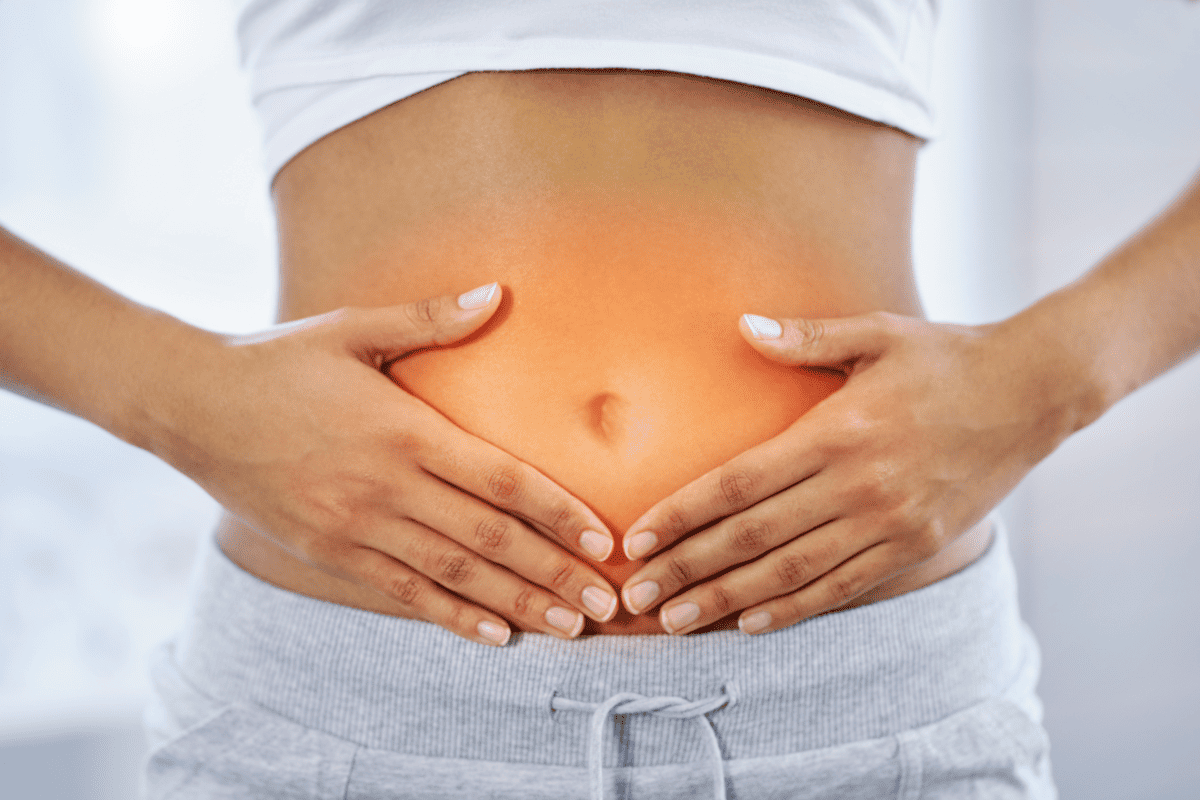 Treatments
Managing inflammation is vital for maintaining overall health and can be approached through various methods. Effective treatments and strategies include the following:
Medication: Over-the-counter NSAIDs like ibuprofen, or prescription drugs like corticosteroids are often used.
Physical therapy: Helps reduce inflammation by improving mobility and strength. Additionally, it promotes blood flow to the affected areas to aid in healing.
Stress management: Meditation, yoga, and deep-breathing exercises are all helpful.
Diet: Incorporating anti-inflammatory foods and avoiding pro-inflammatory ones.
Natural supplements: Turmeric, omega-3 fish oil, and green tea are popular anti-inflammatory supplements.
What is an Anti-inflammatory Diet?
An anti-inflammatory diet emphasizes foods that naturally combat the inflammatory process. This way of eating promotes the intake of whole foods like fruits, vegetables, lean proteins, nuts, and seeds.
It also limits or eliminates foods known to exacerbate inflammation, such as refined sugars, processed foods, and certain types of fats. Adopting this diet not only supports a reduction in inflammation but also promotes optimal health, energy, and well-being.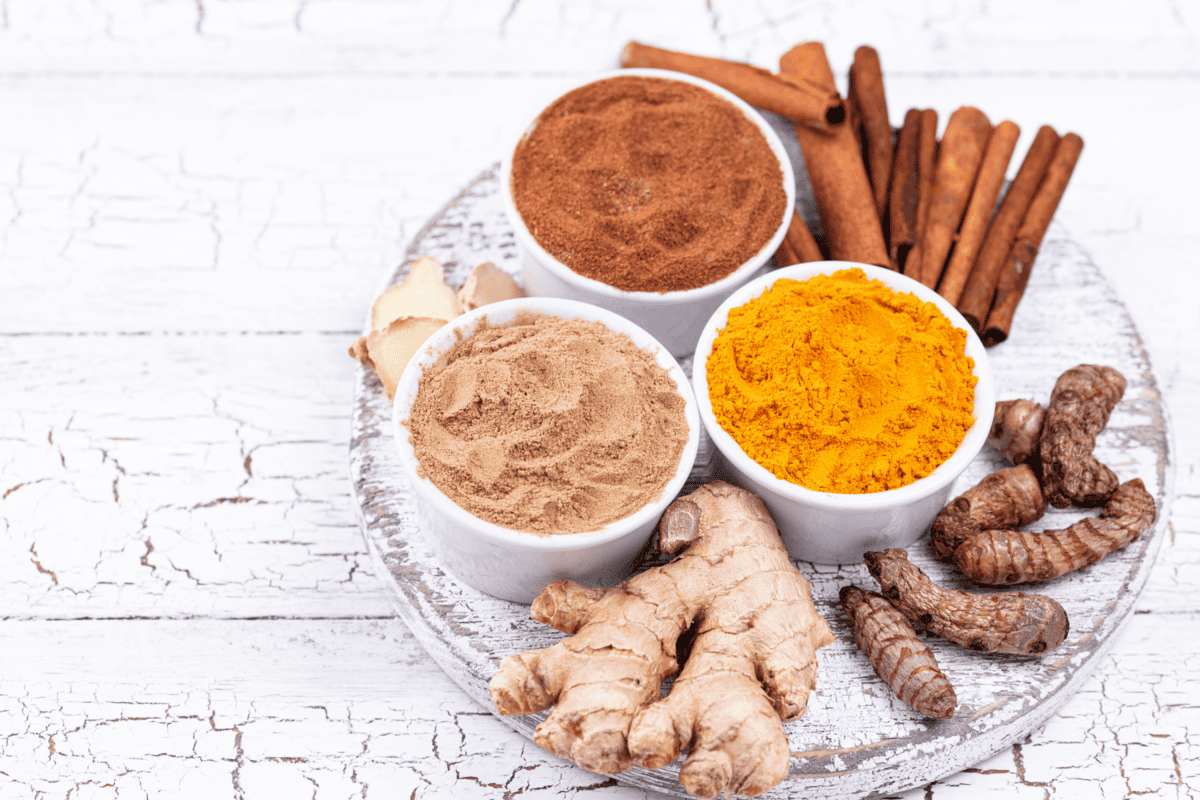 Who Can Benefit From an Anti-Inflammatory Diet?
Almost everyone can benefit from adopting an anti-inflammatory approach to eating! It's particularly beneficial for individuals with chronic inflammatory conditions like arthritis, diabetes, cardiovascular disease, or autoimmune disorders.
The anti-inflammatory diet is also effective for anyone aiming to improve general health or reduce the risk of chronic diseases.
Which Diseases Can An Anti-Inflammatory Diet Help Fight?
An anti-inflammatory diet can help combat a variety of diseases and conditions like these:
Cardiovascular disease: Helps reduce inflammation in blood vessels and improve heart health.
Rheumatoid arthritis: Alleviates joint pain and swelling by reducing inflammation.
PCOS, prediabetes, and type 2 diabetes: Improves blood sugar control and insulin sensitivity. Anti-inflammatory foods are also part of the PCOS diet and the insulin-resistance diet for diabetes and weight loss.
Asthma or Chronic Obstructive Pulmonary Disease (COPD): Reduces inflammation in the airways, potentially decreasing the severity of symptoms.
Inflammatory Bowel Disease (IBD): Can soothe the digestive tract and reduce flare-ups.
Alzheimer's Disease: An anti-inflammatory diet may help slow cognitive decline by limiting brain inflammation.
Types of Anti-Inflammatory Diets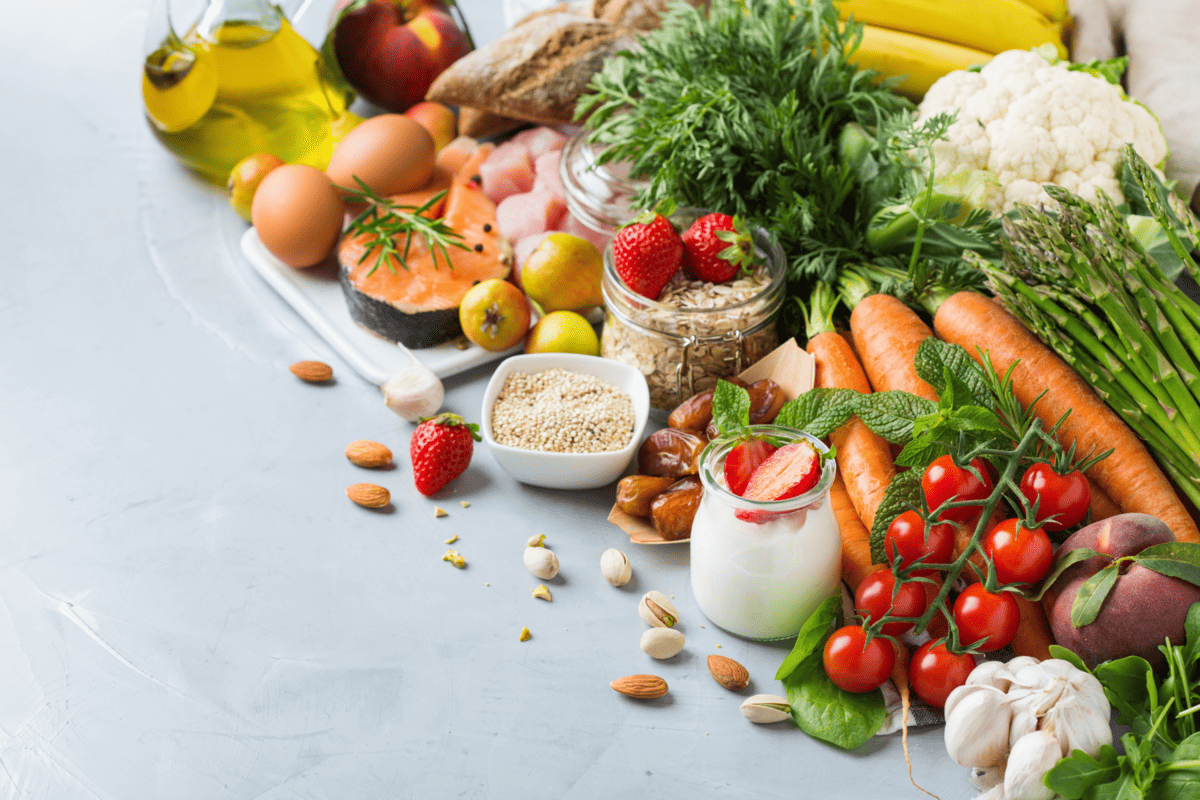 There is no such thing as a prescribed anti-inflammatory diet but there are foods with anti-inflammatory properties that you can consume to fight inflammation. Also, while many diets have anti-inflammatory benefits, two stand out for their scientifically backed results and comprehensive approach:
Mediterranean Diet
Features mainly fish, whole grains, and healthy fats like olive oil.
Prioritizes fresh fruits and vegetables, particularly leafy greens and colorful varieties.
Incorporates nuts, seeds, and legumes.
Limits red meat and avoids processed foods and sugars.
DASH (Dietary Approaches to Stop Hypertension)
Primarily designed to lower blood pressure.
Focuses on whole foods like fruits, vegetables, and lean proteins.
Encourages whole grains and low-fat dairy products.
Reduces sodium and limits alcohol and caffeine intake.
LIST OF ANTI-INFLAMMATORY FOODS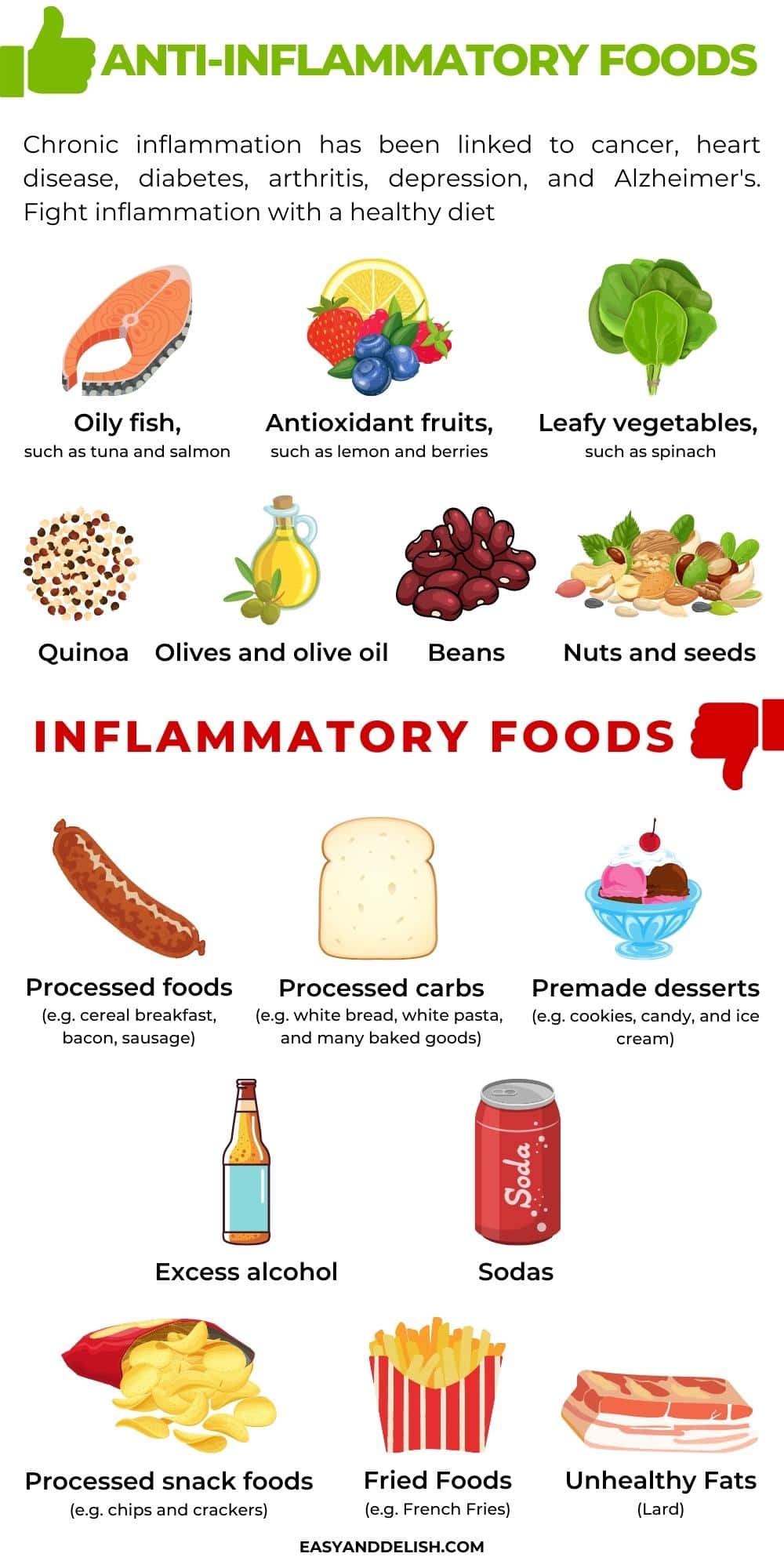 When you're looking to build an anti-inflammatory pantry, here are some of the must-haves:
Fruits

(e.g. citrus, stone fruits, watermelon, grapes, pomegranates, apples, etc.).

Berries

(blueberries, strawberries, and raspberries) are rich in antioxidants that help reduce inflammation.

Avocados

are rich in monounsaturated fats and magnesium.

Vegetables

(e.g. carrots, garlic, onion, leafy veggies such as spinach and kale). Like fruits, they are rich in fiber! Broccoli contains sulforaphane, an antioxidant that fights inflammation.

Whole grains 

(oats, barley, bran, etc)

which contain fiber to feed your gut. Check out the best foods for gut health!
Legumes

(such as beans and lentils)

Fatty fish

such as salmon, sardine, tuna, herring, mackerel, and cod contain Omega-3s fatty acids.

Poultry

(skinless)

Nuts

(almonds, pecans, walnuts, etc.) contain omega-3 fatty acids reducing the risks of strokes and heart attacks.

Seeds

such as chia, which

is

in our anti-inflammatory smoothie, flaxseed, pumpkin seeds, sesame, etc

. Flaxseeds are also one of the best anti-inflammatory foods.
Unsaturated fats

such as olive oil and flaxseed oil.

Olive oil is a

source of monounsaturated fats and antioxidants.

Herbs and spices

such as mint, cinnamon, ginger, cayenne pepper, and turmeric.

Turmeric

co

ntains curcumin, which is known for its potent anti-inflammatory properties.

Dark chocolate

as well as

other

foods containing polyphenols, plant chemicals found in berries, many herbal teas (chamomile, spearmint, green tea, lemongrass, etc), apples, citrus, onions, soybeans, and coffee. Dark chocolate has high flavonols that reduce inflammation. Opt for 70% cocoa or higher! Green tea offers polyphenolic compounds that have anti-inflammatory effects.
Red wine: Studies have shown that low to moderate consumption of red wine can decrease inflammation because it contains resveratrol, a compound with anti-inflammatory properties.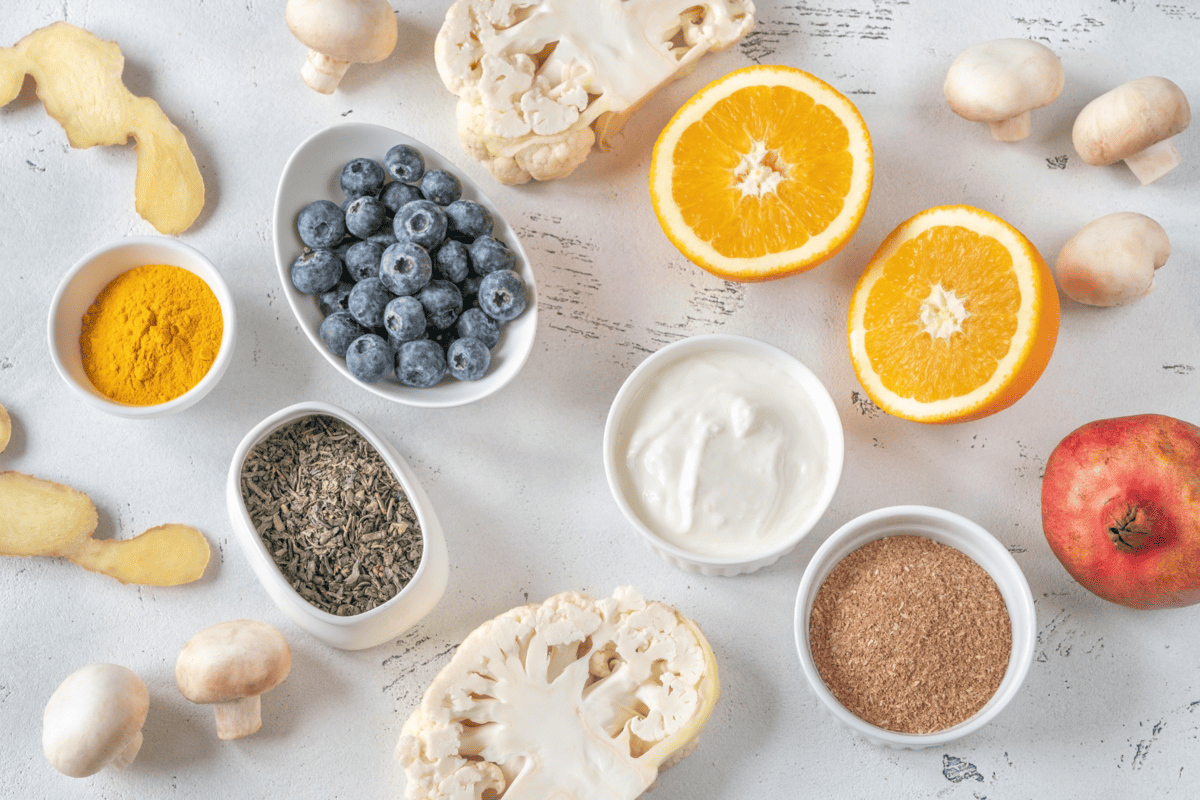 High-Inflammatory Foods to Avoid
While certain foods combat inflammation, others promote it. Be aware of these foods:
Processed meats: Sausages, hot dogs, and other highly processed meats are linked to inflammation.
Fried foods: Deep-fried foods like French fries or chicken wings can exacerbate inflammatory conditions.
Sugary drinks: Sodas and other sugar-sweetened drinks are known to cause inflammation.
Refined carbohydrates: Carbohydrates found in white bread, pastries, and many processed snacks can promote inflammation.
Trans fats: Trans fats are often found in margarine, baked goods, and fried foods.
Excessive alcohol: Limit intake or consume alcohol in moderation as it exacerbates inflammatory disorders.
Processed vegetable oils: Avoid processed oils like sunflower, safflower, and corn oil.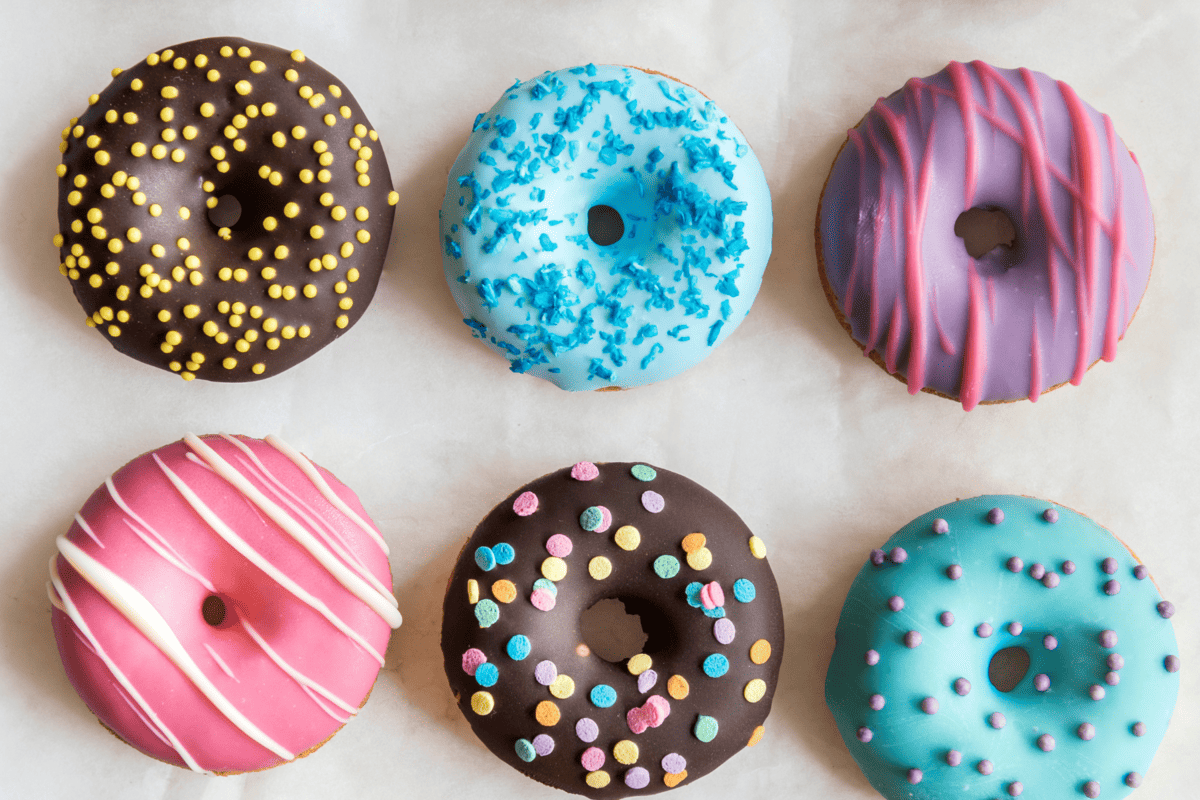 Anti-Inflammatory Vitamins and Supplements
Sometimes, a little extra support from vitamins and supplements can make a good difference in managing inflammation. Here are some of the most common anti-inflammatory supplements:
Omega-3 fatty acids: Found in fish oil supplements, omega-3s are crucial for reducing inflammation, especially in the joints. One must consume about 2000 to 4000mg of DHA + EPA daily.
Curcumin: Extracted from turmeric, this compound has been revered for its anti-inflammatory effects for centuries. It represents about 2–8% of most turmeric preparations. One must consume about 500-1000 mg per day to get its anti-inflammatory effect, and it has more anti-inflammatory properties than turmeric.
Ginger: Offers potent anti-inflammatory and antioxidant properties. Experts recommend about 3 to 4 grams a day— or only 1 gram daily if you're pregnant.
Quercetin: A flavonoid found in many plants, known to help reduce inflammation. About 250 to 1,000 mg daily doses may be safely used for up to 12 weeks at a time.
Boswellia: Also called Indian frankincense, Boswellia aids inflammation as well. About 300–500 mg by mouth 2-3 times per day will combat inflammation but the dosage may be higher for IBD.
Vitamin D: Helps regulate immune function and reduce inflammation. For people from 1 to 70 years, take 600 IU for people over 70 years, 800 IU.
Zinc: Important for immune function and has anti-inflammatory properties. The National Institutes of Health considers up to 40 mg of zinc a day to be safe for adults.
Note: If you are thinking about taking any supplements to help improve or reverse chronic inflammatory conditions, make sure you consult your physician for drug interactions, dosages, and further education.
Tips for Incorporating Anti-inflammatory Foods into Your Diet
Embracing an anti-inflammatory diet and lifestyle doesn't have to be daunting. Here are some easy strategies to seamlessly add these beneficial foods to your daily meals: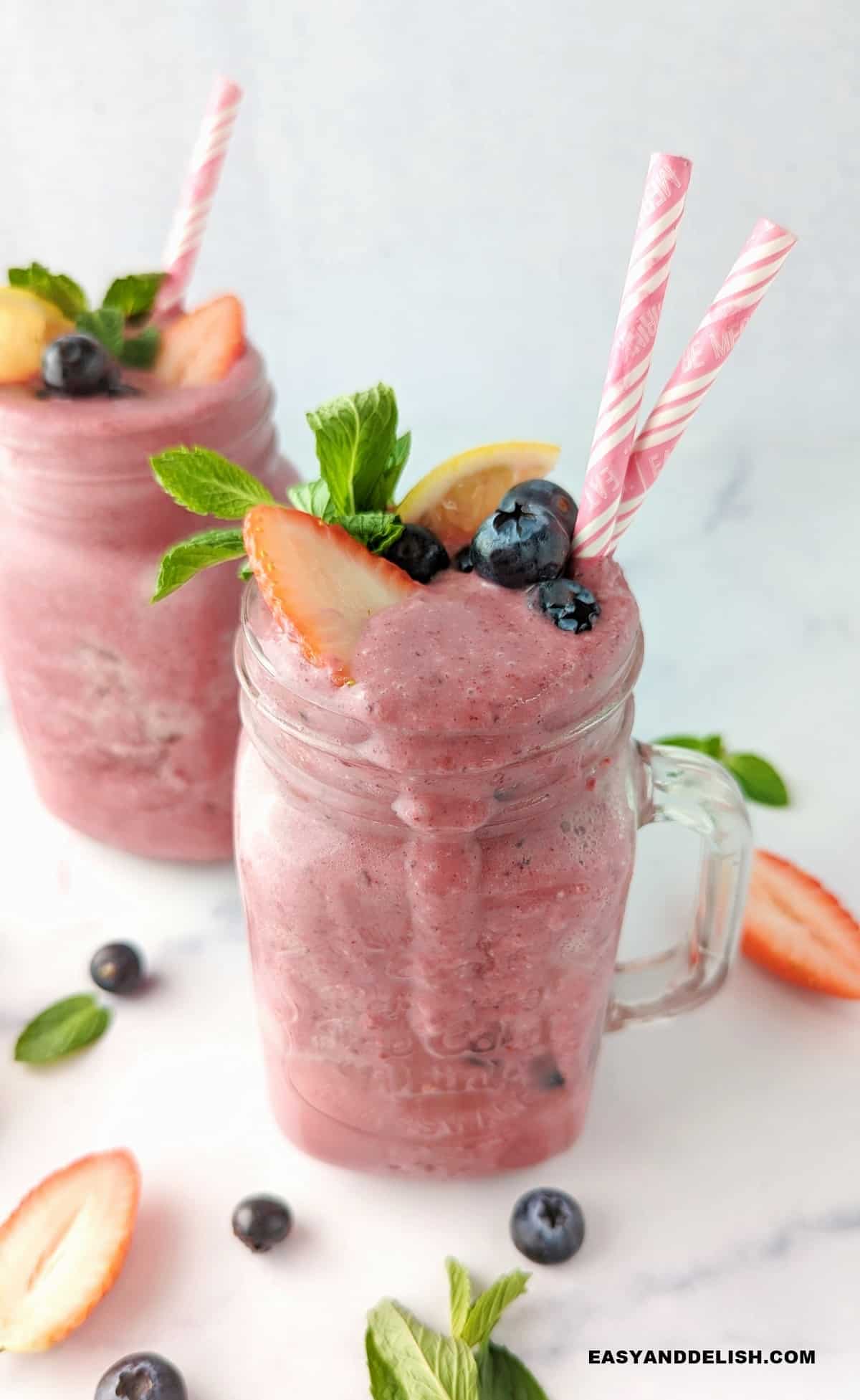 Smoothies: Blend berries, spinach, chia seeds, and almond milk for a nutritious kick-start to the day or after exercise.
Spices: Add turmeric, ginger, and garlic regularly to your cooking routine.
Swaps: Use olive oil instead of vegetable oil, and whole grains instead of refined grains.
Hydrate: Drink green tea over sugary drinks, and always keep a water bottle near you.
Eat fish: Aim to consume fatty fish like salmon or mackerel twice a week.
Nuts: Snack on a mix of almonds, walnuts, and chia seeds when you're hungry.
Fresh: Always opt for whole, unprocessed foods whenever possible.
FAQS
How can you tell your body has inflammation?
Some of the most common signs of chronic inflammation are body discomfort such as joint stiffness and muscle pain. In addition, sleep disorders like insomnia, sleep apnea, and fatigue. Weight gain or unexplained weight loss is another sign.
How can I reduce inflammation in my body fast?
To quickly reduce inflammation, consider taking over-the-counter anti-inflammatory medications like ibuprofen and prioritize consuming anti-inflammatory foods such as berries, fatty fish, and leafy greens. However, it's best to consult a physician to ensure you don't have any health conditions or medications that could interact with over-the-counter medication.
Does the anti-inflammatory diet work for everyone?
The anti-inflammatory diet offers health benefits for most people, but individual responses can vary based on genetics, existing health conditions, and adherence to the diet. It's always best to consult with a healthcare professional for personalized guidance.
How long does it take to see benefits from eating anti-inflammatory foods?
While some people may notice improvements within weeks, it typically takes a few months of consistent dietary changes to see the full benefits of anti-inflammatory foods.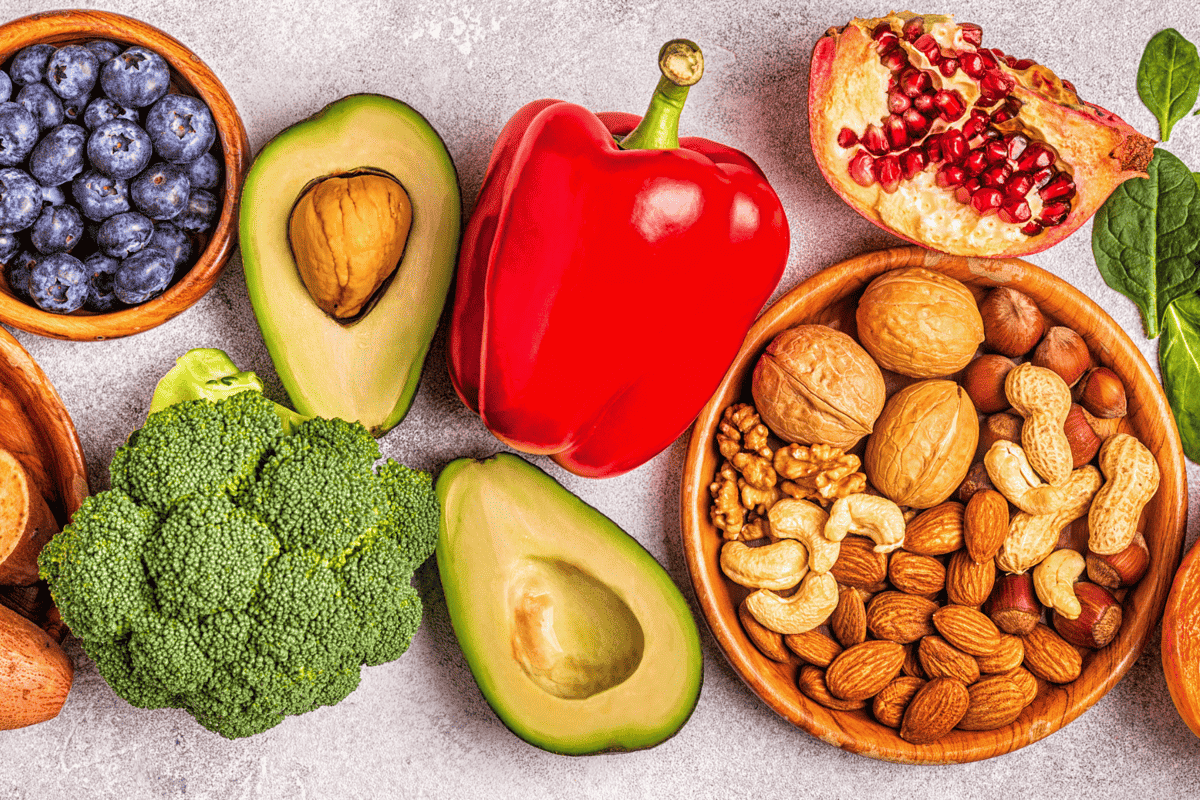 Do anti-inflammatory foods help autoimmune diseases?
Anti-inflammatory foods can support the management of autoimmune diseases by reducing inflammation, and potentially limiting symptoms and flare-ups. However, that being said, they are not a cure and should be used in conjunction with prescribed treatments.
What is the #1 most anti-inflammatory food?
Turmeric (preferably with black pepper to help with quick absorption), more specifically its active compound curcumin, is often touted as one of the most potent anti-inflammatory foods due to its strong ability to reduce inflammation at a molecular level. Regularly adding about ¼ teaspoon per day to a meal can offer significant health benefits.
ANTI-INFLAMMATORY FOOD RECIPES
DISCLAIMER: The information in this article is for educational purposes only and is not intended to be a substitute for medical treatment by a healthcare professional. Because each individual has unique needs, the reader should always consult their physician to determine the appropriateness of the information displayed here for the reader's situation.
PIN & ENJOY!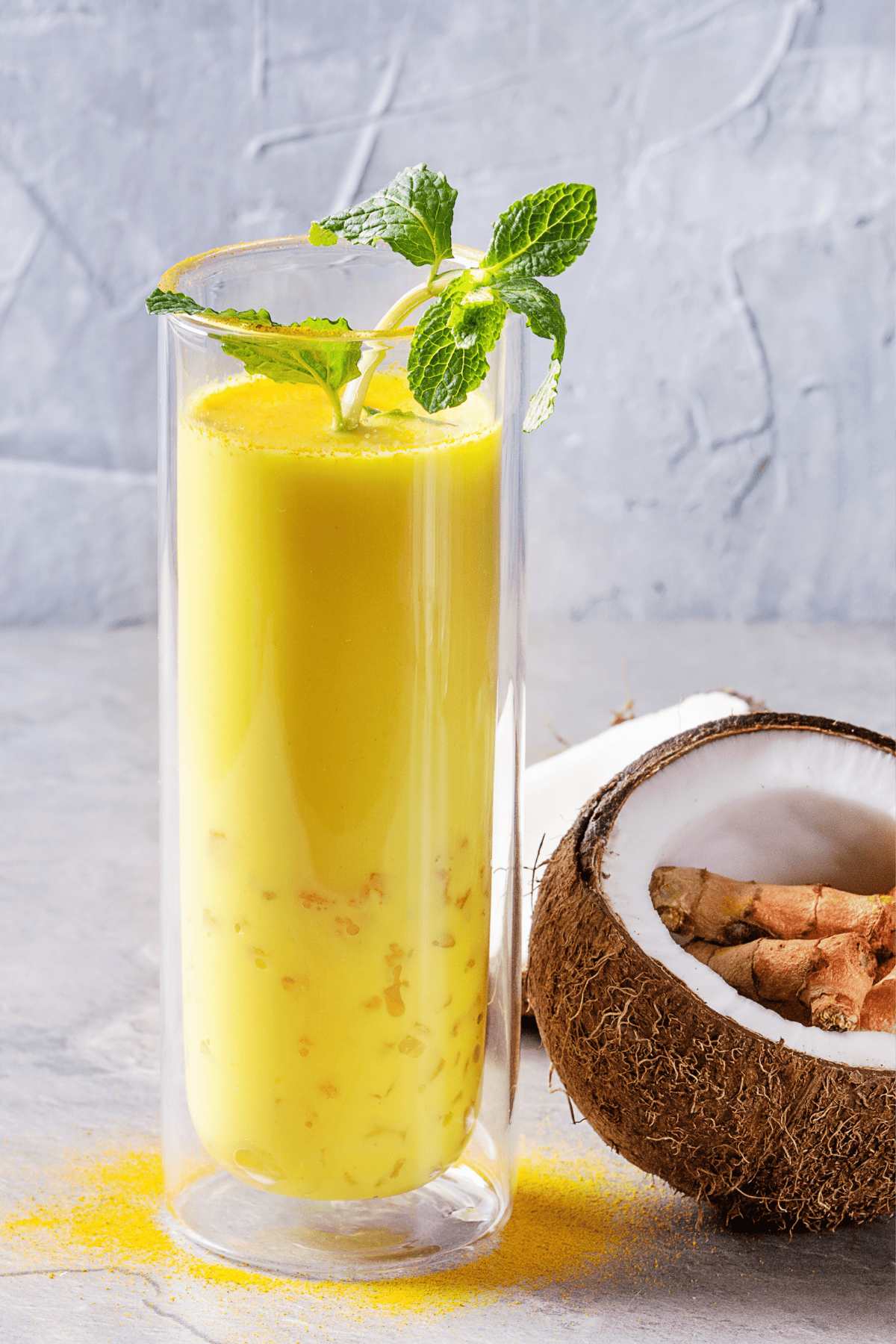 Anti-inflammatory Foods to Add to Your Diet
Anti-inflammatory foods have the power to improve symptoms of and even reverse chronic conditions. In a world where aches, pains, and ailments have become the norm, the answers to living optimally could be right on your plate! Get the list of the best foods to add to your diet!
Ingredients
½

cup

mango

or pineapple, cubed (frozen or fresh) -- OPTIONAL (SEE NOTES)

1

cup

unsweetened plain kefir milk

or unsweetened coconut milk

1

tablespoon

honey

or maple syrup (or more if you prefer)

¼

teaspoon

turmeric powder

preferably with ground black pepper to help absorb it faster (or youc an add a dash or glound black pepper to your smoothie)

Ice cubes

Only if you use fresh fruit
Instructions
Blend all the ingredients in a blender until smooth. Pour the mixture into a glass and drink immediately.
Recipe Notes
You can either make a smoothie by adding the fruit to your drink, or you can skip the fruit and make "golden milk". 
Because the fruit is optional, it is not calculated in the nutrition facts.
Kefir has probiotics and should be drank immediately, while it is still chilled.  
STORAGE
If you want to make this drink up to one day ahead, keep it in a mason jar (with a tight lid) in the fridge.
Nutrition
Calories:
151.8
kcal
|
Carbohydrates:
12.3
g
|
Protein:
8
g
|
Fat:
8
g
|
Saturated Fat:
4.8
g
|
Polyunsaturated Fat:
0.01
g
|
Monounsaturated Fat:
0.01
g
|
Cholesterol:
30
mg
|
Sodium:
125
mg
|
Potassium:
12.6
mg
|
Fiber:
0.1
g
|
Sugar:
12
g
|
Vitamin A:
492
IU
|
Vitamin C:
0.1
mg
|
Calcium:
300.9
mg
|
Iron:
0.2
mg
** Nutrition labels on easyanddelish.com are for educational purposes only. This info is provided as a courtesy and is only an estimate, since the nutrition content of recipes can vary based on ingredient brand or source, portion sizes, recipe changes/variations, and other factors. We suggest making your own calculations using your preferred calculator, based on which ingredients you use, or consulting with a registered dietitian to determine nutritional values more precisely.
Please note that health-focused and diet information provided on easyanddelish.com is for educational purposes and does not constitute medical advice, nor is it intended to diagnose, treat, cure, or prevent disease. Consult with your doctor or other qualified health professional prior to initiating any significant change in your diet or exercise regimen, or for any other issue necessitating medical advice.
DID YOU MAKE THIS RECIPE?
Comment and rate the recipe. Also follow us on Pinterest at @easyanddelish for more delish recipes.