Summer is THE grilling season… from meats, fruits, and vegetables to cheeses: nothing can escape my grilling addiction! 😉 Our latest grilled treats are these quick and tasty grilled cheese sticks to enjoy as a healthy snack or to serve as an starter, if desired.  As a bonus, I prepared for you a useful list of the best cheeses for grilling, including only the ones that hold their shape  well over flame.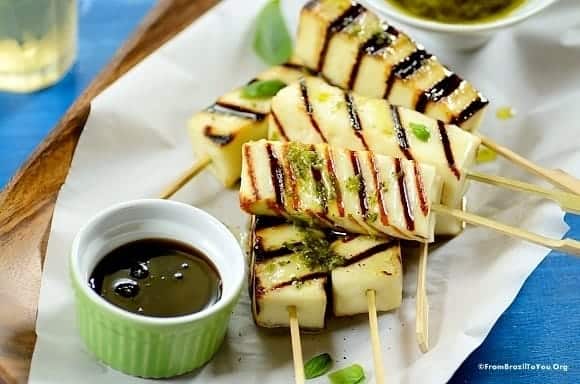 Grilled cheese sticks is a popular, cheap snack in Brazil… so popular in fact, that it is available from vendors both on the streets and at the beaches. In my home state, Pernambuco, it is often eaten with mel de engenho (molasses)… while in southern Brazil grilled cheese sticks are accompanied by chimichurri sauce or simply brushed with a mixture of olive oil, garlic and oregano.  If you are not a big fan of molasses, with its sweet yet slightly bitter after-taste and distinctively strong aroma, use honey, maple syrup or any other syrup of your choice.
If you are not sure what accompaniments to serve, I suggest setting the platter with a side of molasses or honey (sweet accompaniment) and a side of chimichurri sauce (savory accompaniment)… and letting your guests choose which option best suits their taste, like I did.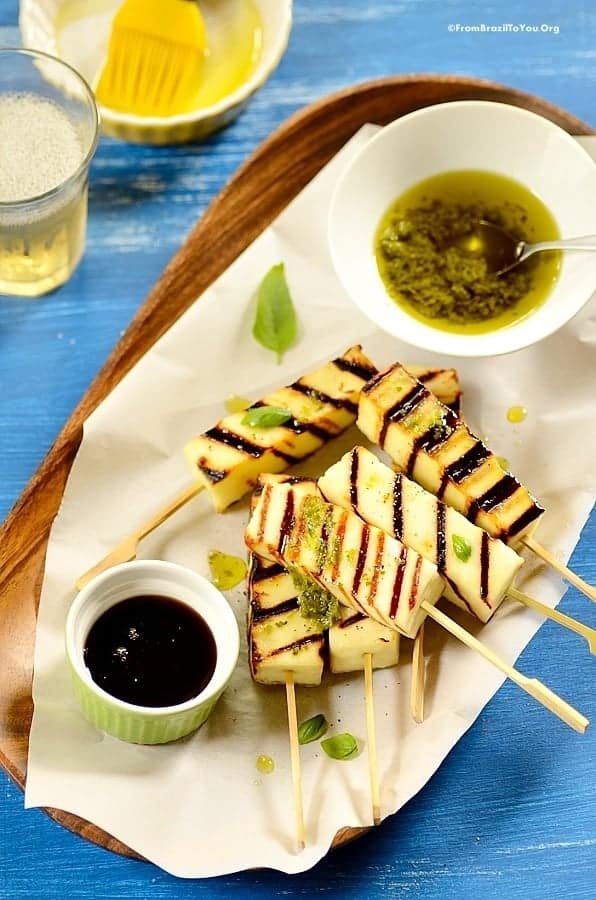 Back in my home country, we use either queijo de coalho (rennet cheese) or queijo de Minas frescal (fresh Minas cheese) for grilling. Aware these are not readily available in the U.S. and many other countries, I quickly found some great subsitutes here to maintain my tradition of grilling. 🙂
Some of the cheeses on this list are available at local American supermarkets, Indian and Middle Eastern stores, or Whole Foods, where I purchased mine… some are more affordable than others, but all develop a nice golden-brown exterior and hold their shape well under high heat. They are:
Halloumi: a salty, semi-hard goat and sheep milk cheese from Cyprus — with a high melting point that makes it suitable for grilling. When fresh, it is dense with a raw taste, but once grilled or pan-fried, its exterior turns crispy and golden-brown, while the inside softens without melting. Halloumi is my favorite substitute for queijo de coalho (Brazilian rennet cheese).  But due to its salty brine, it must be soaked in water for about one hour and then pat dry before grilling in order to more closely resemble queijo de coalho. Depending upon where is purchased, halloumi can be expensive. I am sure it is much more economical at Greek markets than at Whole Foods.
Paneer: is a fresh, non-melting cow's milk cheese common in India, Nepal, Bangladesh, and Pakistan. Paneer is firm enough to hold its shape once grilled.  Because some varieties contain very little salt, it is best to taste it first.  If necessary, brine it in salty water and then pat dry before grilling. It is nearly half of the cost of halloumi cheese, and is available at Whole Foods, some local supermarkets, and of course, Indian markets.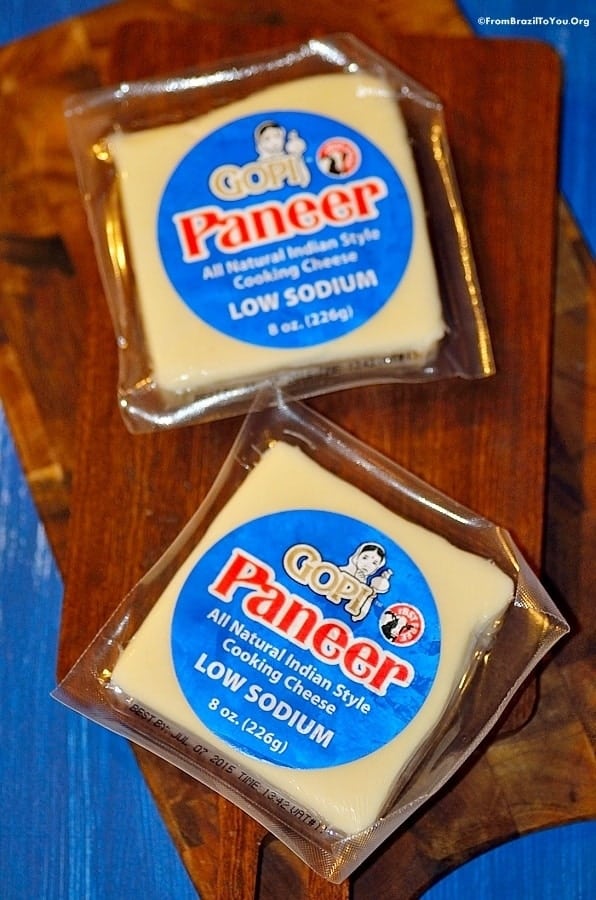 Kefalotyri: is a hard, salty yellow cheese made from sheep's milk and/or goat's milk in Greece and Cyprus.  Because it has a high melting point, it can be pan-fried or grilled without turning into a gooey mess.  It is saltier than halloumi and needs to be de-salted by soaking in a couple of changes of fresh water and then pat dry before grilling. It can be purchased in specialty stores and at Greek markets. It is used to prepare a traditional Greek appetizer called saganaki, a flambéed fried cheese prepared in a small frying pan. Its other related cheeses are

graviera, kefalograviera, halloumi, and kasseri

.
Tropical "Grilling Cheese": this Latin odd cheese can be regularly seen in the Central and South American cheese section at local grocery stores. Although it's not a traditional cheese, it is manufactured to have the properties that make it ideal for grilling because it browns on the outside while keeping its shape. It has a mild taste, making pico de galho, chimichurri sauce, or molasses great  options for accompaniments.
Queijo de Coalho (also known as queijo coalho, Portuguese pronunciation: [ˈkejʒu ˈkwaʎu]): is a Northeastern Brazilian rennet cheese with a firm yet lightweight cheese and an almost "squeaky" texture when bitten into. It is a very popular, cheap, skewered snack for street-eaters and beach-goers in Brazil. Although Northeastern Brazilian also enjoy raw queijo coalho, it is ideal for pan-frying or grilling because of its high melting point. Once grilled, it develops a wonderful golden surface without melting much. Another advantage is that it doesn't need to be de-salted or brined before grilling. It's my favorite cheese for grilling, but unfortunately it is not easily available in the US. You can try to order it online.
Queijo Minas (also known as queijo-de-minas, pronounced: [ˈkejʒu (dʒi) ˈmĩnɐs]): translated as Minas cheese, this is a type of cow's milk cheese that has been traditionally produced in the Brazilian state of Minas Gerais. It is used to make the famous pão de queijo. It comes in four varieties: frescal (fresh), meia-cura (half-matured), curado (matured), and padrão ("standard" cheese). It used to be matured naturally in open air, or much less often, over a cooker to dry with heat. The variety frescal (fresh) is usually eaten accompanied by goiabada or guava paste (the combo is called Romeo and Juliet) or doce de leite (dulce de leche), or used for pan-frying or grilling, developing a golden surface while keeping its shape. It is not easily available in the US either.
This is by no means an exhaustive list.  I am sure there are more cheeses that one can use for grilling, but the question is how well these others would hold their shape under high heat.
Well, enjoy our grilled cheese sticks, and happy grilling!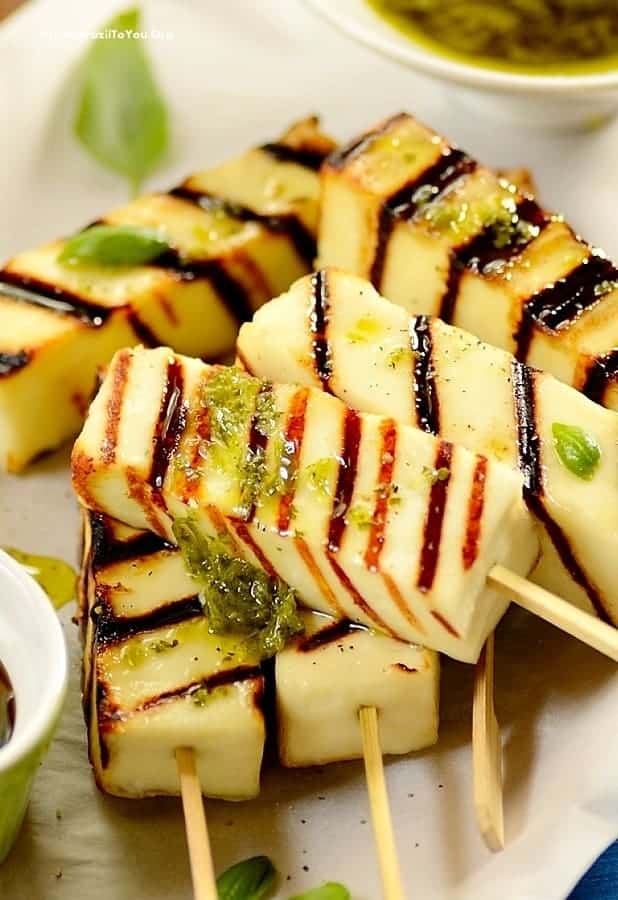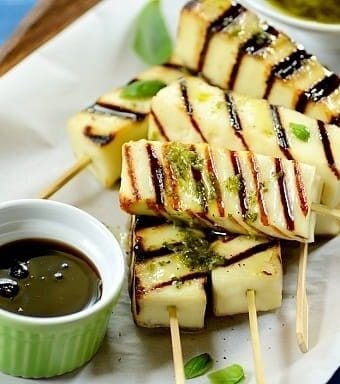 Grilled Cheese Sticks & The Best Cheeses for Grilling
Grilled cheese sticks are a quick yet healthy snack or starter that can be served with honey, molasses, or chimichurri sauce.
Ingredients
2

blocks

paneer or halloumi cheese

sliced into thick sticks (about 0.78 x 3-inch or 2 x 8 cm)

Vegetable oil to brush

Chimichurri sauce

molasses (black treacle), or simply honey (which is much milder than molasses)
Instructions
If using paneer cheese, taste it first. If necessary, sprinkle salt on top of the sticks after grilling or brine in salty water and pat the sticks dry before grilling because paneer can be quite low in salt. If using halloumi cheese, soak sticks in cold water for about 30-60 minutes and then pat dry before grilling because halloumi is quite salty.

Grill cheese sticks on a griddle (or grill) brushed with vegetable oil at medium to medium-high heat for about 2 minutes per side or until grilling marks can be seen.

Garnish grilled cheese sticks with chimichurri sauce (the South American pesto) or with molasses or honey.