Good day, everyone! After our elaborate Mother's Day sweet feast and an extra couple of pounds, how about something light and versatile such as these fresh Heart of Palm Salad Skewers (Salada de Palmito no Espeto)?
Heart of palm, also known as palm heart, is a vegetable harvested from the inner core of certain palm trees such as  coconut, açaí, pupunha,  among others. In my home country, Brazil, heart of palm is consumed by itself as well as incorporated into various salads, of which this traditional heart of palm salad is the most popular.  Also, it is often used as a filling for empanadas and empadinhas (mini pot pies).  Hearts of palm are also great in bisques and soups, stews, baked rice, etc.
Palm hearts are considered a delicacy due to the labor-intensive process needed to harvest them. The Northern states of Pará and Amapá have become the largest producers and exporters of hearts of palm in Brazil since the 1980's. Brazil used to be the highest exporter of uncultivated hearts of palm, but in the 90's lost its position to Ecuador and its cultivated hearts of palm.  France still remains the largest importer though!!!  Hearts of palm are available fresh or, more usually, canned or in jars, available both online and at Latin markets.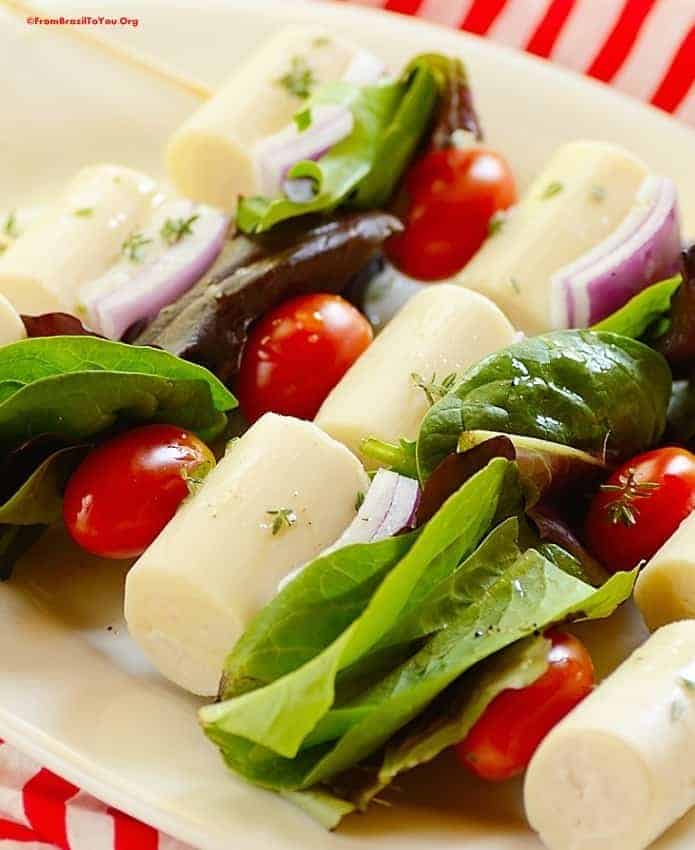 Hearts of palm are white, cylindrical, crisp, and mildly sour. They come from the center core of a palm tree and contain fiber.  Low in calories, they are especially recommended for the dietary management of obesity and constipation.  If you have never tried this delicacy, it is easy to buy a can and prepare this wonderful heart of palm salad. To make it unique and fun, I decided to serve our heart of palm salad on skewers, although it is traditionally served on a plate in Brazil. Ours is more of a modern approach… After all, if Brazilians can serve meats on skewers (churrasco), why not one of its most traditional salads, right? 🙂
These heart of palm salad skewers are very versatile! They can be served as an appetizer or main dish depending on the size of the skewers, or even as a side dish for a summer barbecue.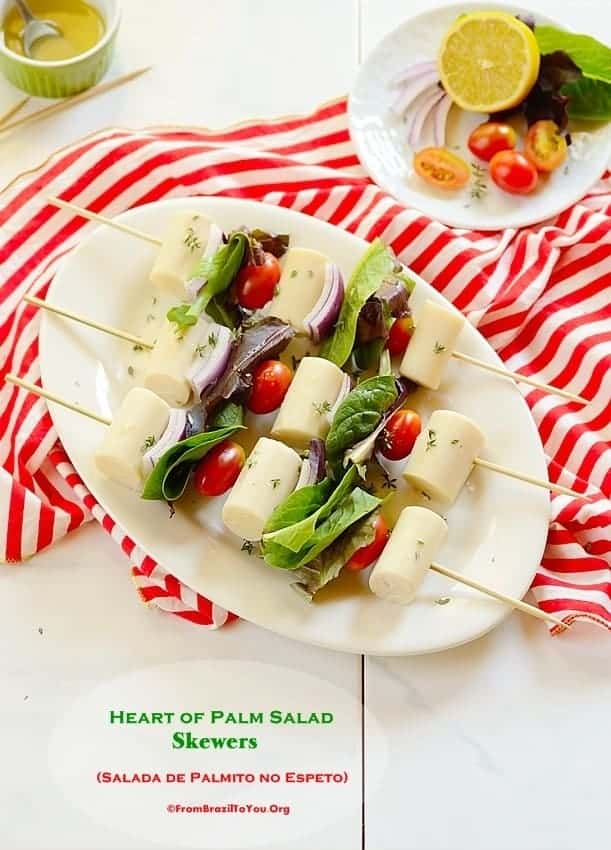 The traditional Brazilian heart of palm salad calls for greens (often arugula or lettuce), tomatoes, red onions, and of course, hearts of palm. It is dressed with olive oil and vinegar, and seasoned with salt and pepper.  Yes, it's as simple as that!  Our hearts of palm salad  is similar, although with a very few tweaks, as you will see soon. 🙂
Enjoy our heart of palm salad skewers (or salada de palmito no espeto)… and have a healthy week!!!
JOIN THE CONVERSATION
Have you ever tried hearts of palm?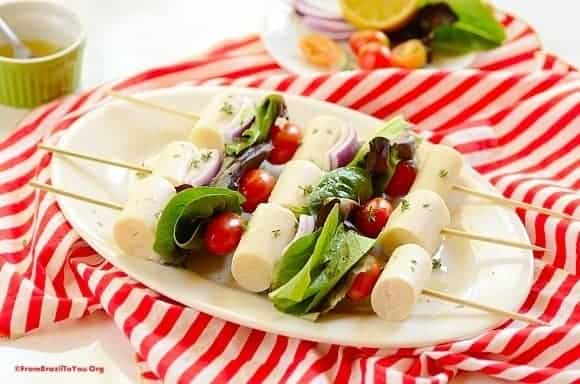 | | |
| --- | --- |
| | |
To prepare the salad

, assemble 4 heart of palm salad skewers by inserting and alternating heart of palm chunks, grape tomatoes, salad leaves, and chunks of red onion (optional) as shown in the pictures, or as desired. Each of our skewers contains 3 heart of palm chunks, 2 grape tomatoes, salad leaves, and 2 to 4 chunks of red onion. Once skewers are assembled, chill in refrigerator for about 30 minutes, covered with a wet paper towel.

Meanwhile,

prepare the dressing

. In a small bowl, whisk all the ingredients together well until obtaining a thick and homogeneous dressing. Drizzle the heart of palm salad skewers with the dressing, sprinkle with thyme leaves, and serve!