Who doesn't love bananas?  I am just crazy for bananas and many other tropical fruits, as you already know.  What's more, from fruit salads to desserts, bananas also deliver, big time.  A great example is this scrumptious, caramelized upside down banana bread — a recipe adapted from Dessert Before Dinner, the blog that I have been assigned to for this month.  Yeah, baby!  Today is SRC– Secret Recipe Club day!!!
Although the original recipe is a simple yet delicious banana bread, it caught my eye. It looked quite comforting, moist, and versatile since banana bread can be served either for breakfast or as a dessert — especially if paired with ice cream. 😉 In my home country, Brazil, this upside down banana bread would be enjoyed with cafezinho (a small cup of our strong coffee)  or alternatively, with a cup of tea.  Our upside down banana bread is still baking in the oven but I am already daydreaming about it.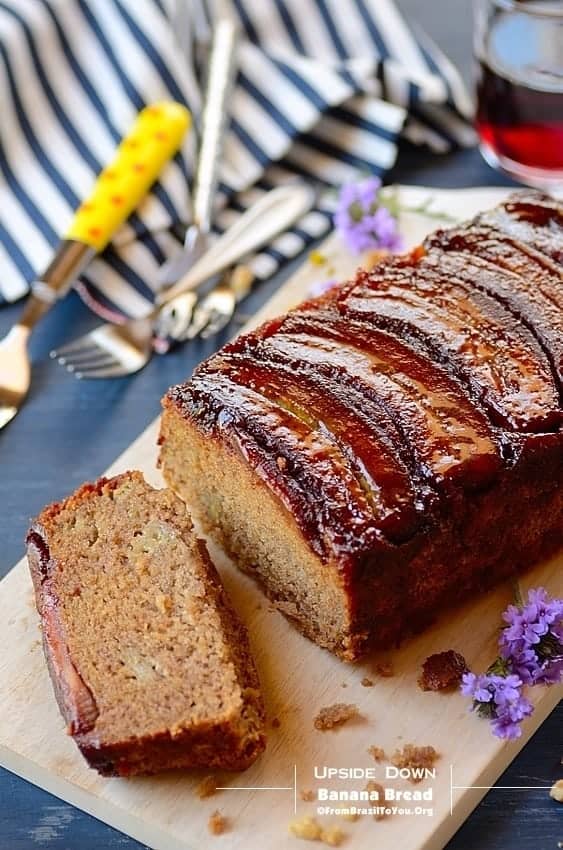 Dessert Before Dinner is a blog authored by Stephy,  a home baker from Arlington, Virginia.  Although I do appreciate her recipe as it is, I had to put my own little spin on the recipe in order to make it my own.   In this way, her Best Ever Banana Bread became our Upside Down Banana Bread.  A few alterations were made to the original recipe, particularly the addition of a banana topping with caramel sauce.  As always, you are welcome to try either recipe, or to put on your own personal touch(es) as well.  I also have to say that following Stephy's banana bread batter recipe yielded some surplus batter.  I mixed this extra banana bread batter with Nutella and baked in a mini muffin pan.  The leftovers were quickly taken care of and very much appreciated! 🙂 My kids can vouch for that!
For now, enjoy our scrumptious upside down banana bread.  Its wonderful aroma is calling my name… I can barely await for it to cool down bit and to get a big slice of this upside down banana bread.   🙂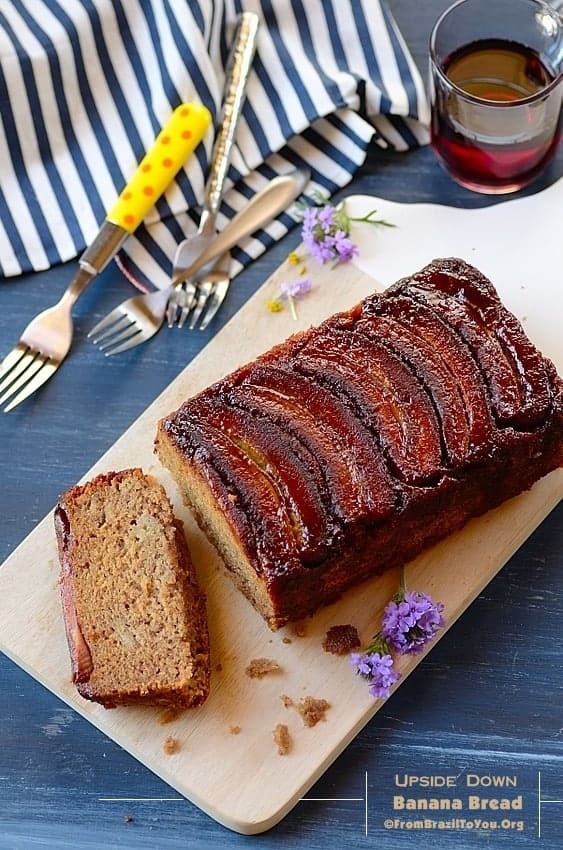 xx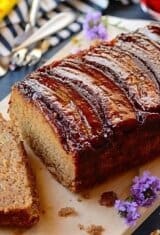 Upside Down Banana Bread
An easy and delicious upside down banana bread that can be served for breakfast or as a dessert.
Cook Time
1
hour
10
minutes
Total Time
1
hour
25
minutes
Ingredients
For the Banana Bread Batter:

2½

cups

flour

sifted

1

teaspoon

baking soda

1

teaspoon

salt

2

teaspoons

cinnamon

1

teaspoon

nutmeg

½

cup

unsalted butter

softened

1

cup

white granulated sugar

1/2

cup

light brown sugar

3

large eggs

at room temperature

1

cup

applesauce

2

cups

mashed bananas

about 4 to 5 ripe medium bananas

1

teaspoon

pure vanilla extract

For the Banana Topping:

3

medium ripe yet firm bananas

slice in half lengthwise

1/4

cup

white granulated sugar

2

tablespoons

water

2

tablespoons

unsalted butter
Instructions
To prepare the banana bread batter:

Preheat oven to 325 degrees F (about 163 degrees C).

In a large bowl, sift the flour and mix with baking soda, salt, cinnamon, and nutmeg. Set aside.

In a bowl of an electric mixer, cream together butter and both sugars. Add eggs, one at a time, beating after each addition until just incorporated into the batter (please, do not overbeat!!). Beat in half of the flour mixture at low speed just until incorporated into the batter. Beat in half of the applesauce. Beat in the remaining flour mixture, and then the other half of the applesauce until just incorporated. Mix in both the mashed bananas and vanilla. Set batter aside.

To prepare the banana topping:

In a large, non-stick frying pan, heat sugar and water over medium-high heat until sugar melts and acquires a golden brown color. Reduce heat to low, stir in butter, and then lay banana slices, flat side down, in caramel mixture. Let bananas cook for approximately 1 minute. Remove bananas from the pan and lay them flat side down to line the bottom of a loaf pan. Pour remaining sauce over bananas.

Pour batter over bananas and bake loaf for 55-70 minutes or until a toothpick inserted in the center comes out clean (NOTE: To avoid the top of the upside down banana bread loaf becoming too brown, cover loosely with a sheet of aluminum foil after halfway baked). Use any remaining batter to make muffins. Let upside down banana bread loaf cool in pan on a rack. Use a knife around the edges to loosen loaf from the inside of the pan and invert onto a plate. Enjoy upside down banana bread warm by itself, with a dab of peanut butter or nutella (for breakfast), or with vanilla ice cream (as a dessert)!
__________________________________________________________________________________________