Easy and addictive Pumpkin Pie Spice Pull Apart Bread drizzled with a pumpkin pie spice glaze and topped with chopped pecans. It is to die for!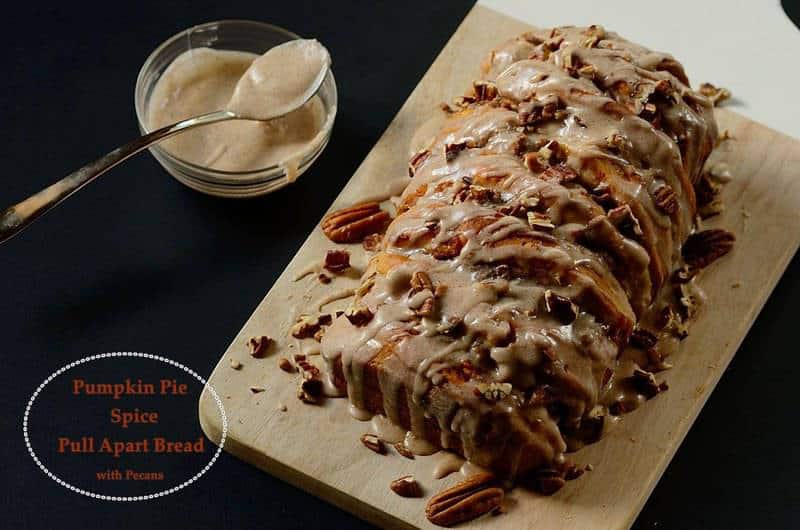 Hello, lovelies! Pumpkin season is on the rise at FBTY… First with our No Bake Pumpkin Spice Latte Breakfast Cookies and now this scrumptious and oh-so EASY Pumpkin Pie Spice Pull Apart Bread with Pecans. This is super quick to prepare. In addition, the bread is a treat for the eyes and is totally ADDICTIVE! Just last week, I made it twice! 😉
All you have to do is to combine together canned pumpkin with melted butter, pumpkin spice, vanilla extract and sugar; then spread the mixture on store-bought refrigerated biscuits, sprinkle chopped pecans on top…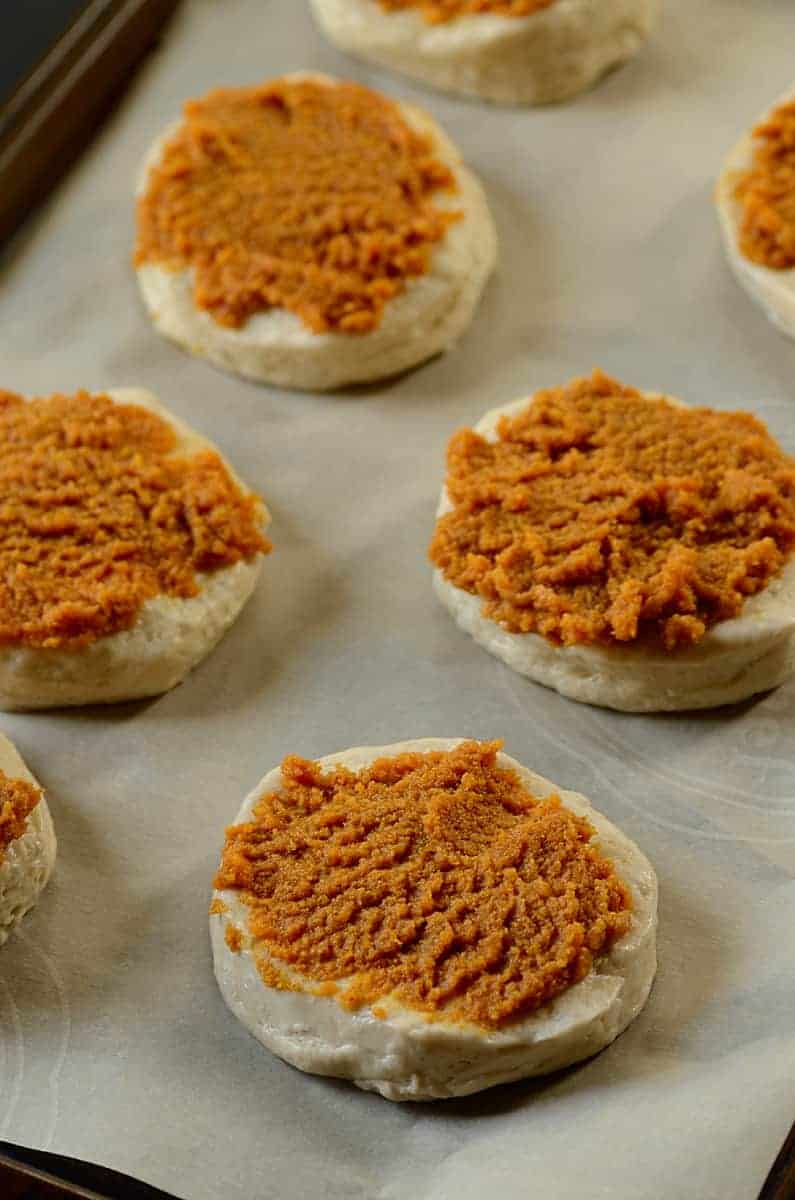 … and stack all the biscuits one on top of the other, placing everythring into a greased baking pan. While baking, you can quickly prepare the glaze that goes on top after bread finishes baking. It is an easy and quick process. Set your oven to 40-45 minutes and then go take care of other chores or simply rest.  How about that?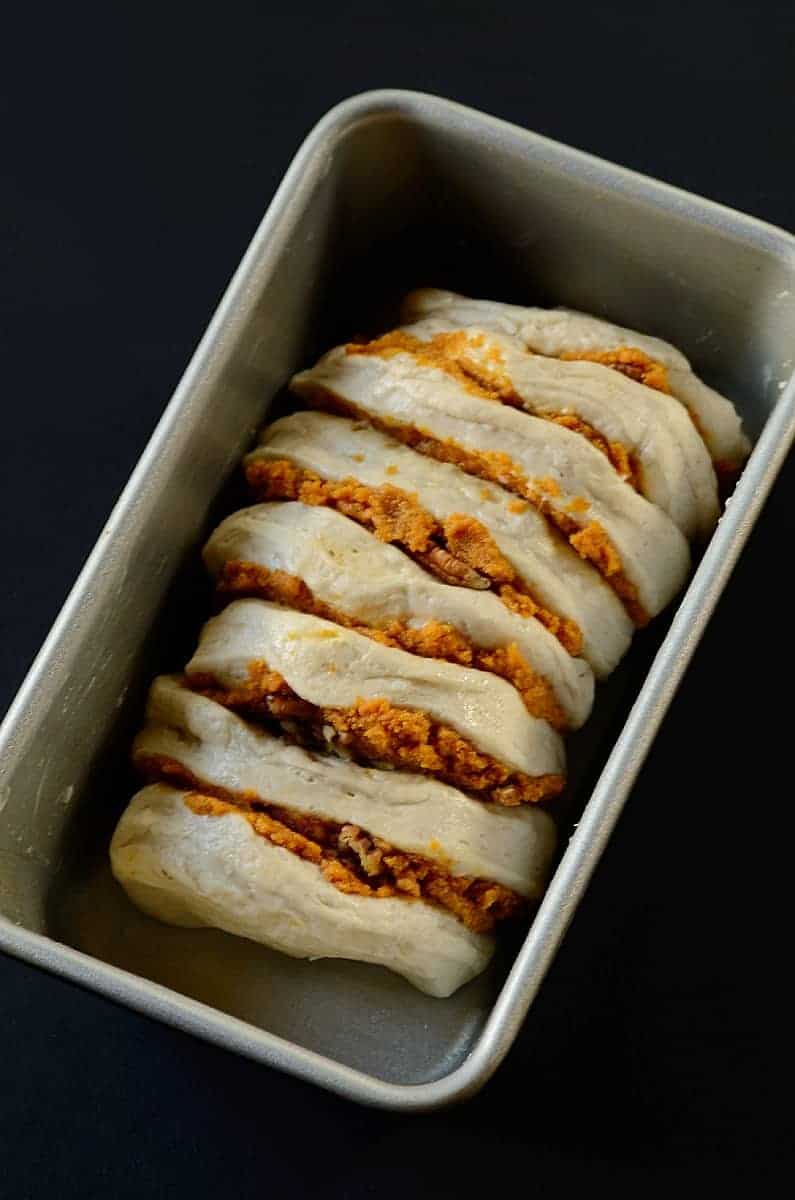 The aroma wafting from the kitchen was so tantalizing… waiting for it to be ready to take from the oven was a real torment. Argh!!!!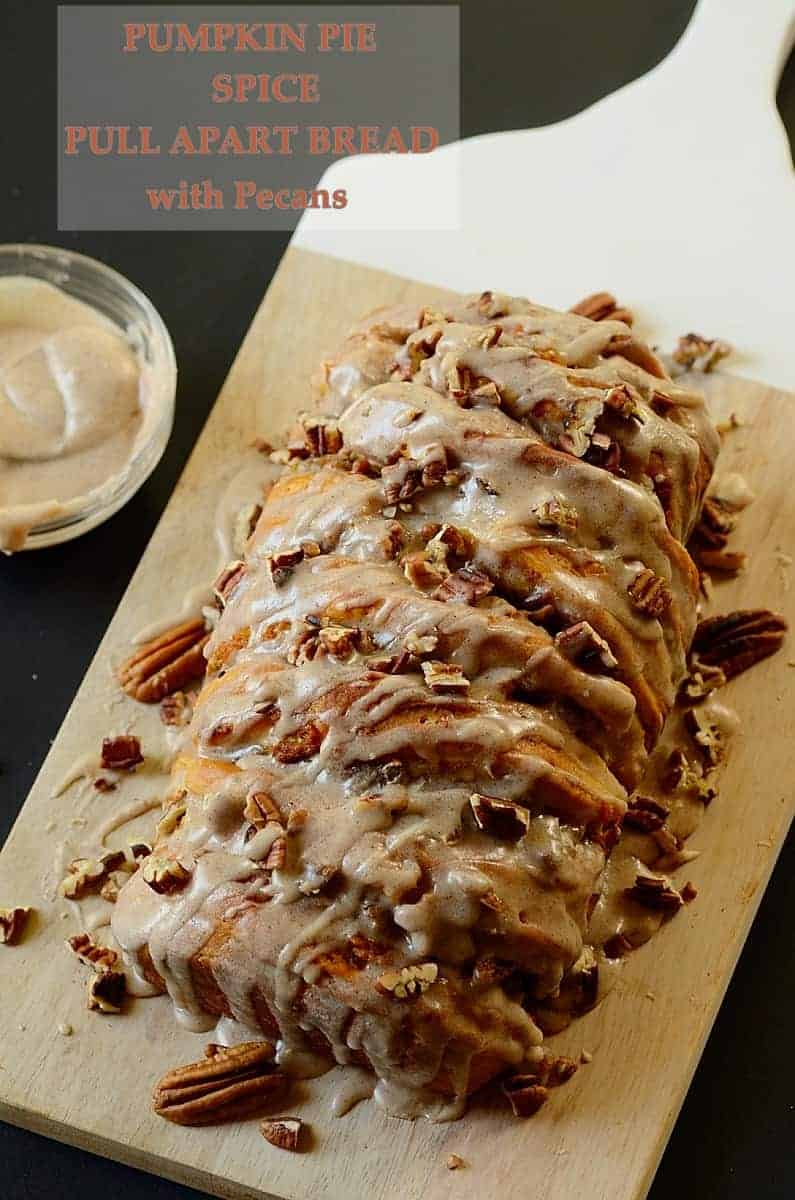 Ahhh… get ready to eat slice after slice while it is still warm — either all by itself or along with a good glass of milk or cup of coffee. 😉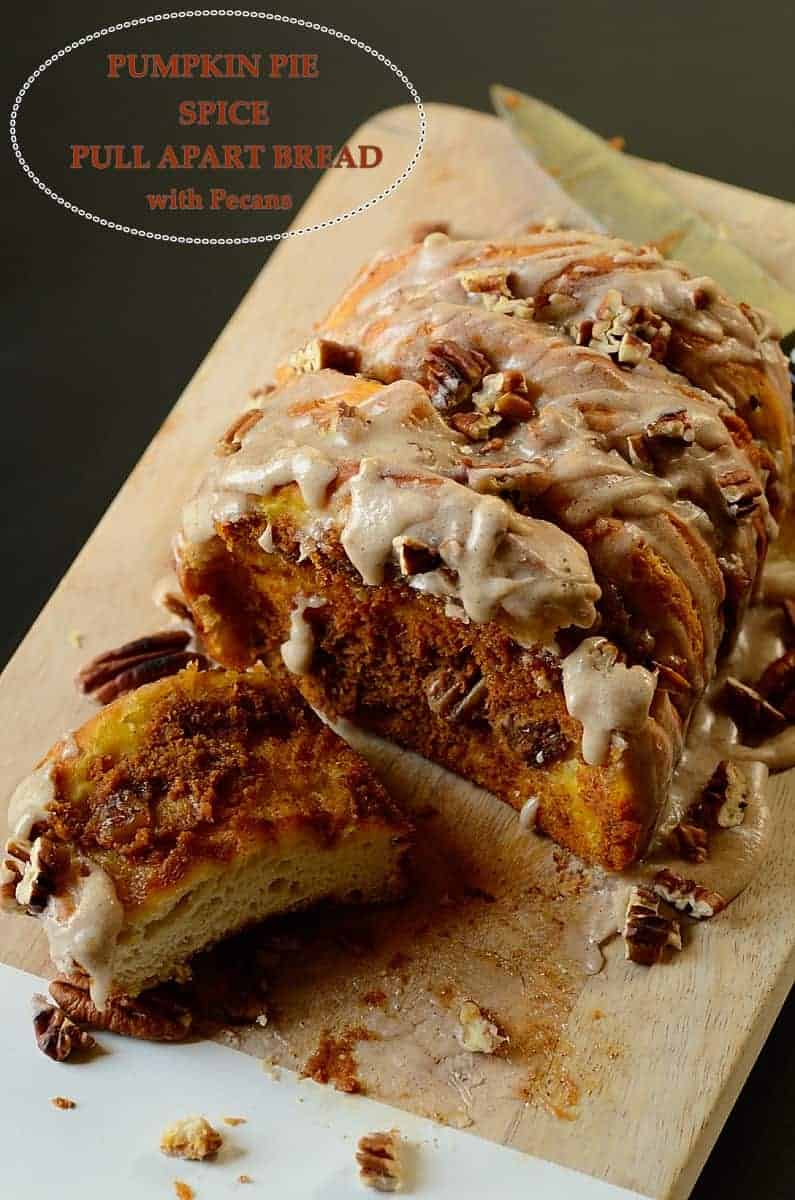 Sharing our pumpkin pie spice pull apart bread with family was even harder than trying to control myself from eating eat all at once. You have been forewarned, you hear?
Well, enjoy and have a marvelous Fall!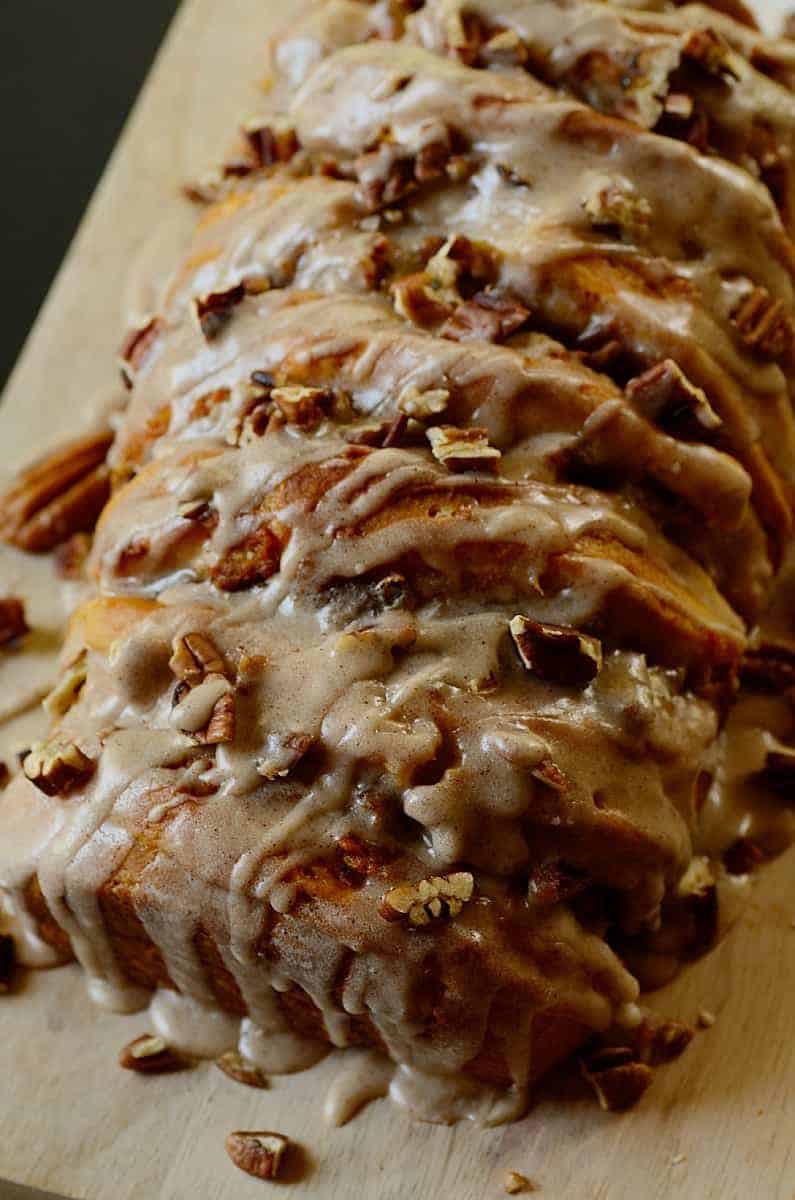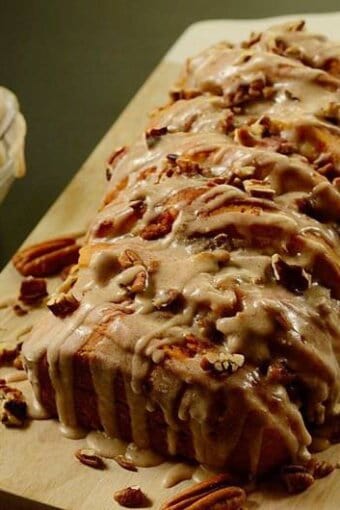 Pumpkin Pie Spice Pull Apart Bread with Pecans
Easy and addictive Pumpkin Pie Spice Pull Apart Bread drizzled with a pumpkin pie spice glaze and topped with chopped pecans. It is to die for!
Ingredients
1

can

refrigerated buttermilk biscuits

16.3 oz, 8 biscuits

1/2

cup

canned 100% pure pumpkin

4

tablespoons

unsalted butter

melted

1/3

cup

granulated sugar

1 1/2

teaspoons

pumpkin pie spice

divided

1 1/2

teaspoons

pure vanilla extract

divided

1/4

cup

chopped pecans

plus 1-2 Tablespoons for the topping

1/2

cup

powdered sugar

2-3

tablespoons

heavy whipping cream

or whole milk
Instructions
Heat oven to 350°F. Spray 9x5-inch loaf pan with cooking spray or grease with unsalted butter; set aside.

Separate dough into 8 biscuits. In a medium bowl, combined the canned pumpkin, melted butter, granulated sugar, 1 teaspoon of pumpkin pie spice, and 1 teaspoon of vanilla extract. Spread pumpkin pie mixture on top of each biscuit. Top each with the chopped pecans.

Stack biscuits in a pile to form alternating layers of biscuit and pumpkin filling. The very last biscuit that is placed on top should be inverted so that its filling is facing down against the filling of the next-to-last biscuit rather than facing up (i.e. both the top and bottom ends of the stack should be capped by biscuit rather than filling). In a loaf pan, tip the stack of biscuits/filling onto its side all in a row--again, if the stacking has been done correctly, the part of the unbaked loaf that touches each end of the pan should be biscuit rather than filling.

Bake for about 40-45 minutes or until loaf is deep golden brown and center is baked through. Make sure to cover pan loosely with a sheet of aluminum foil 10 minutes before taking the pan out of the oven, to prevent the bread from over-browning.

Place pan on a rack and let bread cool for about 10 minutes. If necessary, run knife around edges to loosen loaf from pan. Carefully turn pan upside down on a serving platter to release loaf. In a small bowl, whisk powdered sugar, heavy cream or milk, and the remaining 1/2 teaspoon each of pumpkin pie spice and vanilla until smooth and no sugar lumps are seen. Drizzle over loaf. Sprinkle 1-2 Tablespoons of chopped pecan on top. Serve warm and enjoy! SERVES 8.
Recipe Notes
Storage: Store cooled bread covered at room temperature for up to 2 days.