With temperatures plunging, all that I have been craving is comforting meals. I don't know about you, but in my humble opinion chicken pot pie is comfort at its best... So yes, chicken pot pie is what we will be preparing today... but this is no ordinary pie, folks!!! This is a Brazilian Chicken Pot Pie or Empadão de Frango -- one of the best you will ever have. Trust me!
Our chicken pot pie is made from a homemade flaky dough called pâte brisée or massa podre (the French version of classic pie pastry), filled with a tasty, creamy, and chunky chicken-and-vegetable filling... A true party in your mouth!

In my home country of Brazil, pot pies come in 3 basic sizes: mini (about a size of a mini muffin), small (a bit smaller than a standard-size muffin or cupcake), and large (family-size pot pie). The mini pot pies are served as small bites at birthdays or holiday events, or as hors d'oeuvres at cocktail parties -- such as our shrimp mini pot pies. The small size pot pies are usually available at cafés and bakeries, or from street vendors. The large size pies-- such as this one-- are served either for lunch or dinner, and are called empadão in Portuguese .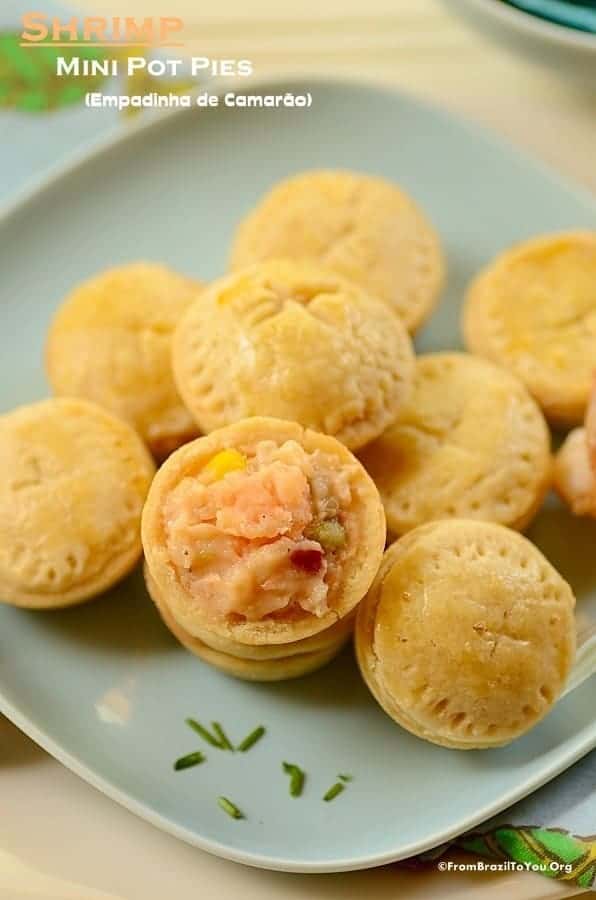 The filling varies, of course! The most popular filling is chicken -- although shrimp (with or without catupiry cheese), hearts of palm, and others are also available.
I know that making this pie from scratch is a labor of love, but both its taste and texture are worth every bit of the time spent preparing it. To save some time, our recipe yields 2 pies. You can serve one and freeze the other to serve up to 3 months later. If desired, you can also use a store-bought pie dough instead, shaving off a bit more time from the recipe. It's really up to you!!!
In contrast to some American pot pies that have only a top crust, this Brazilian double crusted pie should not be served bubbly hot, but warm instead-- otherwise it will be prone to falling apart. Our chicken pot pie can also be accompanied by white rice (the Brazilian way) or by a fresh salad (my favorite way).
Enjoy our Brazilian chicken pot pie and make your family and yourself quite happy...
P.S.: What's your favorite comfort food?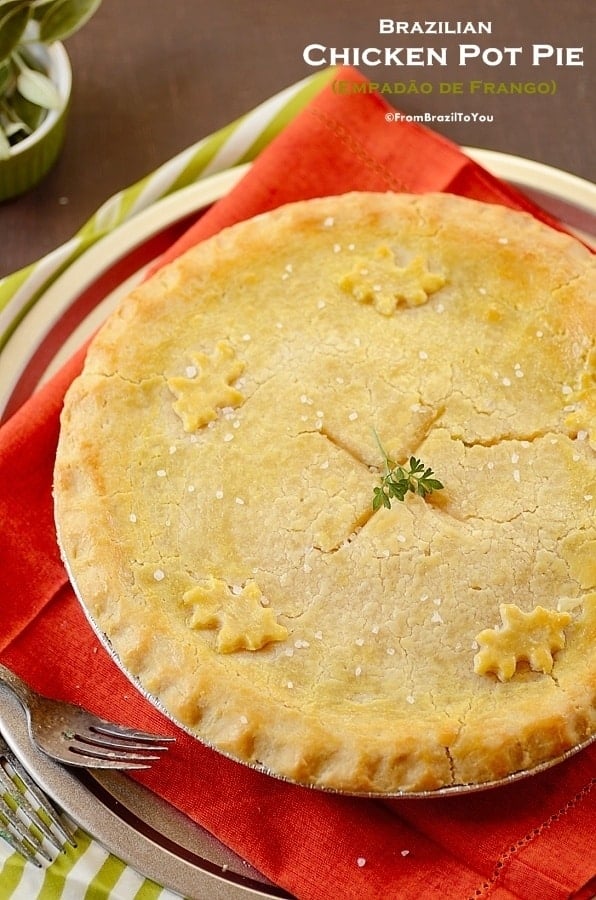 Brazilian Chicken Pot Pie (Empadão de Frango)
A family-size chicken pot pie made from pâte brisée and a comforting chicken-and-vegetable filling.
Ingredients
For the dough:

3 -⅓

cups

all-purpose flour

sifted

1

tablespoon

salt

1-½

teaspoons

granulated sugar

1-½

cups

unsalted butter

cold and cut into chunks, 3 sticks

2

large whole eggs

¼

cup

ice water

For the filling:

2

tablespoons

olive oil

1

medium white onion

small diced

4

cloves

garlic

minced

4

cups

shredded cooked chicken

¾

canned diced tomatoes

2

cups

frozen peas

2

cups

frozen corn kernels

¼

cup

chopped green onions

5

cups

low-sodium chicken stock

1

tablespoons

tomato paste

¼

cup

dry white wine

8

tablespoons

unsalted butter

1 stick

1

cup

all-purpose flour

Salt and freshly ground black pepper to taste

1

beaten egg for the egg wash
Instructions
Prepare the dough: Place the flour, salt, and sugar into a bowl of an stand mixer fitted with the paddle attachment. Beat in the butter at low speed until mixture is well combined yet lumpy. Beat in the eggs, and then the water, until obtaining a homogeneous dough. You might need to stop the mixer a few times to scrape together dough from both the bottom and sides of the bowl.

Place the dough onto a floured surface, form a ball, then press into a flat disk. Pressing the dough into a disc allows it to chill faster. This will also make the dough easier to roll out, and if you freeze it, it will thaw more quickly. Wrap in plastic wrap and refrigerate for a bout 1 hour.

Meanwhile, prepare the pie filling. In a large non-stick saucepan, heat the oil over medium heat. Add the onion and let cook, stirring occasionally, for about 2-3 minutes or until softened. Add the garlic and cook, stirring occasionally, for about 1 minute or until fragrant. Add the chicken and sautée for about 1-2 minutes. Stir in the tomatoes, peas, corn, and green onions. Turn off the heat and set aside.

In a medium to large pot, combine well the chicken stock, tomato paste, and wine. Bring mixture to a boil over high heat and reduce the heat to low.

In a large saucepan over low heat, melt the butter and add the flour all at once, stirring to make a roux (approximately 2 minutes). Increase the heat to medium, add the stock, whisking constantly, until it thickens. Season with salt and pepper to taste. Combine mixture with the chicken mixture and set aside.

Remove the dough from the refrigerator at least 15-20 minutes before rolling.

To assemble the chicken pot pies, cut the dough into four pieces. On a lightly floured surface or on a surface covered with a plastic sheet, roll the dough into circles, a bit larger than the pie pan. Always work the dough from the center towards the edges. Unroll the dough onto a 9-inch pie pan and up the sides, leaving some extra dough hanging on the edges. Spread half of the filling inside the pan. Using a pastry brush or your fingers, lightly moisten the edges of the bottom crust with water. Fold a bit of extra top dough over the rim of the pan. Press the top crust against the bottom crust to seal and make a pattern on the edges with your fingers, then trim the overhang from both crusts. Using a paring knife, cut an X or slits in the center of the crust to vent while baking.

Repeat step 7 with the second pie. Place the empadao in the refrigerator for 30-60 minutes before baking. At this point, you can either bake the pie, or cover it with plastic wrap and store it in the refrigerator for up to 2 days or in the freezer for up to 3 months.

Preheat the oven to 350* F. Place the chicken pot pie on a baking sheet pan and bake, on the center rack of the oven, for about 30 minutes. Remove from the oven, brush the top crust with the egg wash and return to the oven for additional 10-15 minutes or until the crust is golden brown.

Transfer the chicken pot pie to a rack and let it rest for 15-20 minutes before serving. Enjoy the pie served warm, accompanied by a fresh salad or white rice.
Recipe Notes
Any filling leftovers can be enjoyed as a "stew" over white rice.
** Nutrition labels on easyanddelish.com are for educational purposes only. This info is provided as a courtesy and is only an estimate, since the nutrition content of recipes can vary based on ingredient brand or source, portion sizes, recipe changes/variations, and other factors. We suggest making your own calculations using your preferred calculator, based on which ingredients you use, or consulting with a registered dietitian to determine nutritional values more precisely.
Please note that health-focused and diet information provided on easyanddelish.com is for educational purposes and does not constitute medical advice, nor is it intended to diagnose, treat, cure, or prevent disease. Consult with your doctor or other qualified health professional prior to initiating any significant change in your diet or exercise regimen, or for any other issue necessitating medical advice.
DID YOU MAKE THIS RECIPE?
Comment and rate the recipe. Also follow us on Pinterest at @easyanddelish for more delish recipes.