Cookies, cookies, and more cookies!!! I cannot bear to eat or even look at a single one more.... Everyone is sharing cookie recipes...it seems that everybody is giving them away as holiday presents! It's enough to make any cookie monster bored and grumpy. 🙂 Although I intended to share a typical Brazilian cookie recipe with you this week, I just couldn't. If you are a cookie lover, please forgive me! Instead, I prepared a typical, festive Brazilian candy that will put a smile on your face: Camaféu de Nozes or Walnut Cameos. They are gorgeous, incredibly easy to make, scrumptious, and unique. Wouldn't you be happy to open a gift box filled with them? They are definitely more delightful than cookies. 🙂 In addition, they are flourless (naturally gluten-free).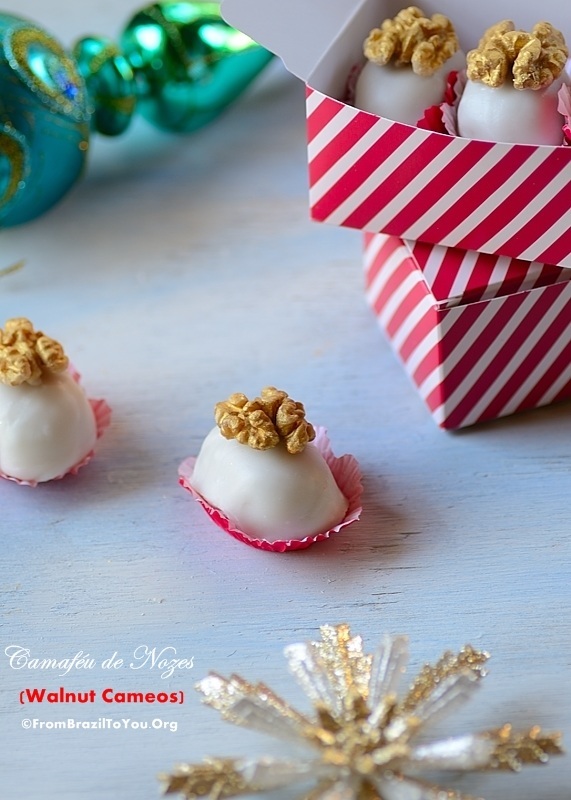 Camaféu de Nozes (literally translated as Walnut Cameo) is a walnut brigadeiro covered with melted "fondant" glaze and topped with a shelled walnut. This typical Brazilian treat (technically neither a candy nor a truffle) finds its inspiration in cameo jewelry, since its appearance is reminiscent of the carved trinkets whose artistry dates back as far as the 3rd century BC. As you can see, the food styling for these photos was inspired by a favorite carved cameo from my personal jewelry collection.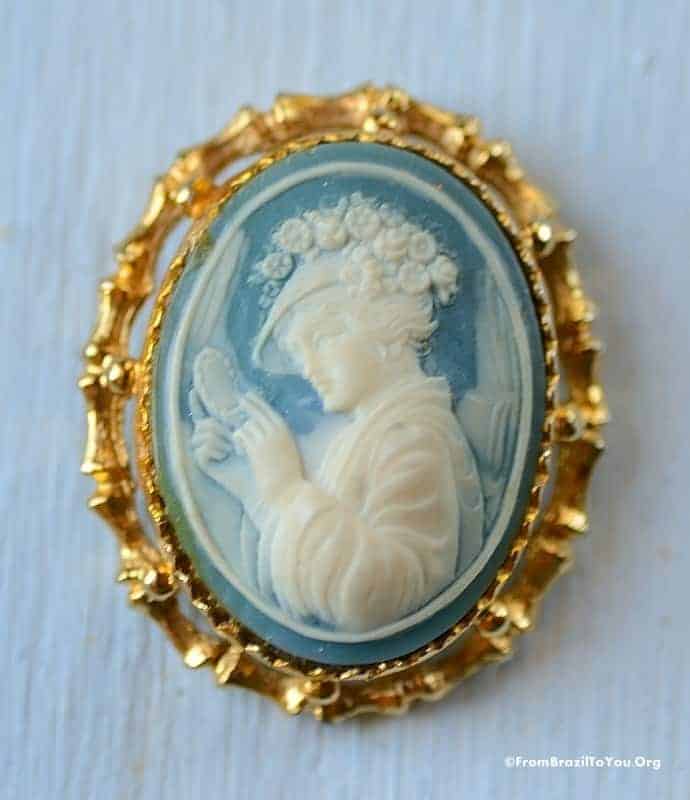 In Brazil, camaféu de nozes are traditionally served at weddings (sometimes as guest favors or sometimes to be enjoyed by guests after the wedding cake is served), and at other special occasions, too. I think camaféu de nozes are perfect for Christmas!!! Just look at them... they are alabaster white and decorated with a beautiful golden walnut on top. In fact they are made from walnuts, which along with other nuts are a traditional part of both Brazilian and American holiday tables.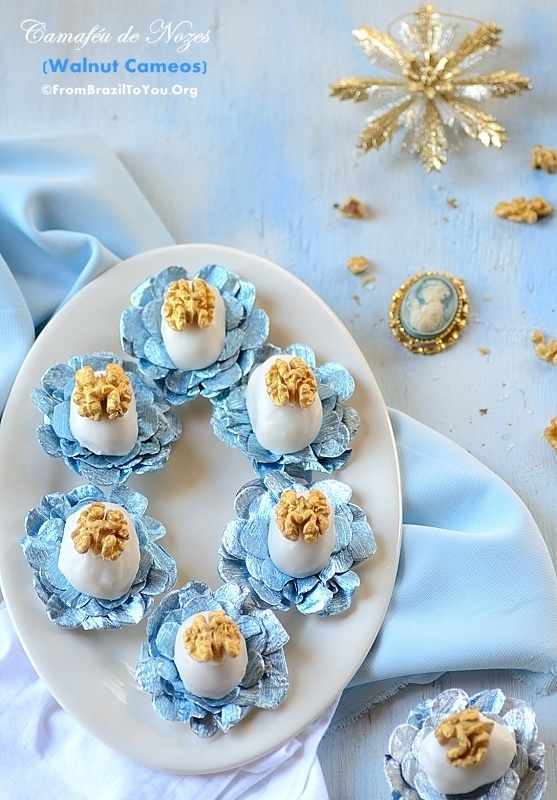 They make the most unique and gorgeous edible jewelry Christmas presents, too. In fact, this is one of my presents to you!!! You will not find any other online recipe for camaféu de nozes or walnut cameos in either Portuguese or English more reliable or detailed than the one that I have worked out for you here. Pass it along! Delight your friends with a gift box filled with camaféu de nozes and wait for their puzzled yet happy reaction. For such a special occasion, believe me: Camaféu de nozes are the best!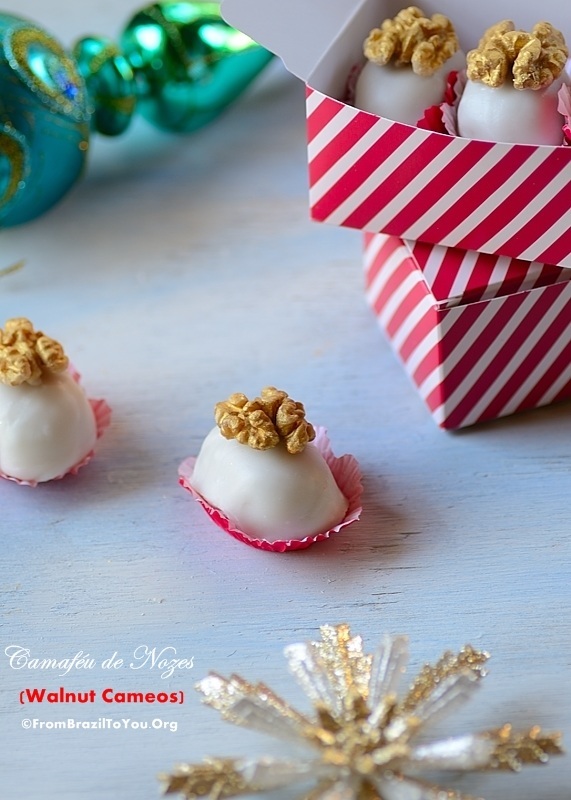 Christmas is about traditions. You can start a new tradition... something different and more exciting than cookies! Although I do appreciate old traditions such as panettone, I also enjoy incorporating new ones at my table and making them my own. These camaféu de nozes are definitely my ultimate Christmas tradition. What is/are yours?
But that is not all!!!! Besides these camaféus de nozes or walnut cameos, I have another Christmas present for you: A $100 holiday debt relief GIVEAWAY. To find out more about this giveaway, please scroll down the page. Good luck!
From my family to yours, Merry Christmas!!!!
xx
To read more about the many variations of brigadeiro, please see here.
Camaféu de Nozes (Walnut Cameos)
Walnut brigadeiro covered with melted "fondant" glaze and topped with a shelled walnut. A typical Brazilian treat inspired in carved cameo jewelry!
Ingredients
For the Camaféu de Nozes Dough:

1

can

sweetened condensed milk

14 oz or 396 g

2

large egg yolks

1

cup

shelled walnuts

ground

1

tablespoon

unsalted butter

plus extra for greasing, softened

½

teaspoon

pure vanilla extract

20

shelled walnuts to decorate top of the candies

1

Wilton gold color mist food spray, which is also available at local supermarkets (optional)

For the "Fondant" Glaze:

17.5

ounces

powdered sugar

about 500 g

¼

cup

whole milk

plus extra when necessary

1

tablespoon

freshly squeezed lemon juice
Instructions
Prepare the camaféu de nozes dough: In a medium saucepan, combine the condensed milk, egg yolks, ground walnuts, and butter. Cook over medium heat (large burner), stirring constantly, until mixture has thickened and bottom of the pan starts to show through when stirred (about 5 minutes). Remove from heat and stir in the vanilla.

Pour cooked mixture into a greased dish and let cool on a rack.

Lightly grease hands with butter. Using a tablespoon as measure for each candy, roll into balls...

then, pressing between two of your fingers, shape into slightly elongated, oval shaped treats...

and finish by pressing down to flatten the top.

Set aside on a lightly greased plate or surface.

If you'd like to give the walnuts a golden color effect, line a baking sheet with parchment paper, arrange 20 walnuts in one single layer and spray each one of them with the edible gold food spray (we found this at Walmart in the cake decorating/wedding supply section near the crafts). Let color set at room temperature.

To prepare the "fondant" glaze: Place the powdered sugar, milk, and lemon juice in a heat-resistant bowl. Whisk until obtaining a homogeneous mixture. Place bowl in a larger baking pan filled with boiling water (about 2 inches). Then, continue to whisk mixture until sugar has melted.

With the aid of a fork, dip each camaféu de nozes into the "fondant" glaze, letting the the excess drip off.

Place shelled walnut carefully on top while glaze has not yet set. Place treat(s) on a lightly greased surface or baking sheet (you may need to slide the glazed treat off onto the greased surface using the handle of a spoon or fork) and let glaze set.

Note:

You may need to stir in a

few

drops of milk whenever the fondant glaze starts to get too thick. But be careful not to add too much, or glaze will be too thin. If this happens, just whisk in a bit of powdered sugar. Please, keep glaze in the warm water bath at all times or it will harden. In addition, always clean the fork with a paper towel before dipping another walnut cameo/camaféu de nozes into the fondant glaze in order to prevent the fondant from becoming dirty with walnut cameo dough.

Once glaze has set, carefully trim off excess glaze with a knife and transfer each camaféu de nozes to a bonbon cup.
Recipe Notes
Storage: Store camaféu de nozes (walnut cameos) in a clean, airtight container for up to 2 days.If desired, freeze unglazed camaféus de nozes for up to 3 months. For it, arrange layers of unglazed camaféus de nozes in a clean, airtight container separated by plastic wrap. Label and freeze them. Thaw them at room temperature and bath them in the "fondant" glaze.
** Nutrition labels on easyanddelish.com are for educational purposes only. This info is provided as a courtesy and is only an estimate, since the nutrition content of recipes can vary based on ingredient brand or source, portion sizes, recipe changes/variations, and other factors. We suggest making your own calculations using your preferred calculator, based on which ingredients you use, or consulting with a registered dietitian to determine nutritional values more precisely.
Please note that health-focused and diet information provided on easyanddelish.com is for educational purposes and does not constitute medical advice, nor is it intended to diagnose, treat, cure, or prevent disease. Consult with your doctor or other qualified health professional prior to initiating any significant change in your diet or exercise regimen, or for any other issue necessitating medical advice.
DID YOU MAKE THIS RECIPE?
Comment and rate the recipe. Also follow us on Pinterest at @easyanddelish for more delish recipes.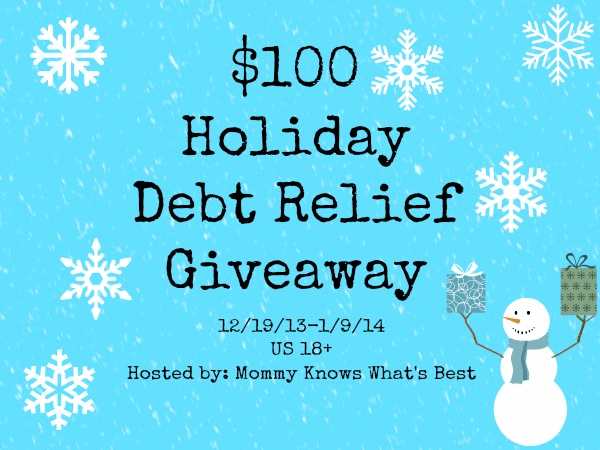 Welcome to the Holiday Debt Relief $100 Cash Giveaway!
Did you spend a lot on gifts this holiday season? Could you use some extra cash to pay off your credit card or to put back into your savings account?
Mommy Knows What's Best and

FROM BRAZIL TO YOU

want to help you with that!
What would you do if you win our $100 giveaway prize?
How would you like the chance to win $100 cash to help ease your holiday debt? Enter using the Giveaway Tools form below!
Good luck!
Giveaway Begins: Dec. 19th 1:00 am EST
Giveaway Ends: Jan. 9th 11:59 pm EST
Prize: $100 via Paypal
Disclaimer: This is a blogger sponsored post. Giveaway begins 12/19/13 at 1 am EST and ends 1/9/14 at 11:59 pm EST. Mommy Knows What's Best is responsible for prize delivery. One entrant/email per household. One winner will be chosen randomly from Giveaway Tools. Void where prohibited. The winner has 48 hours to respond to the congratulatory email. If the winner does not respond, a new winner will be randomly chosen by Giveaway Tools. Facebook, Twitter, Pinterest, and Instagram are in no way affiliated with this giveaway. If you have any questions, please email Marissa at MommyKnowsWhatsBest(at)gmail.com.