Valentine's Day is almost here… It's knocking on the door of our hearts despite our busy lives, and regardless of whether we are married or single. For this special occasion, we'll be making Chocolate Raspberry Brownie Stacks!!!
Who is/are your Valentine(s)? I'd love to hear!!!!!!!!!! Will you make for them these brownie stacks?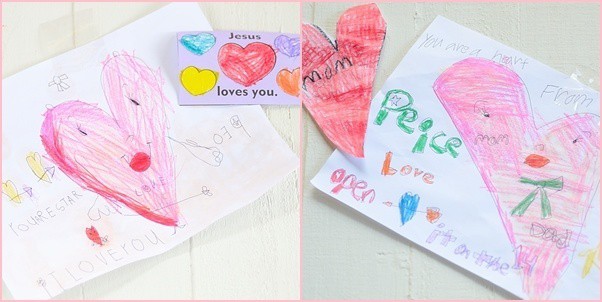 From my precious 2 children to me!!! 
Well, I have mine: My supportive husband, my two children who are the blessings of my life, my beloved family in Brazil, true friends who are mostly far away, and those who have demonstrated constant support to this blog and my endeavors. These chocolate brownie stacks are for them — and for you as well!
To each one of you, a huge thanks. You are my true Valentines. I am blessed to have you in my life, to have people who make me smile — even behind a computer…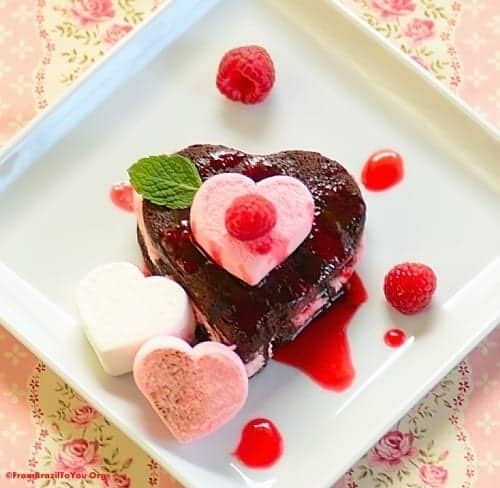 To each of you, I wish more than a day of celebration… I wish you a life filled with love, excitement, and wonderful blessings.
I hope you enjoy what I have prepared for you: The decadent chocolate brownie stacks…
Happy Valentine's Day!!!!!!!!
XOXO
Chocolate Raspberry Brownie Stacks
A gorgeous and scrumptious treat to celebrate Valentine's Day!
Ingredients
For the brownie batter:

1-1/2

cups

all-purpose flour

1/2

cup

unsweetened cocoa powder

3/4

teaspoon

baking soda

1/2

teaspoon

salt

3/4

cup

unsalted butter

1-1/2 sticks

3

ounces

semisweet chocolate

broken up

1 1/4

cups

sugar

3

large eggs

at room temperature

2

teaspoons

vanilla extract

OR

1

box chewy brownie mix

follow instructions on the box

For the filling:

4

ounces

cream cheese

softened, 1/2 package

1/4

cup

raspberry preserves

if you prefer, you can substitute strawberry preserves

4

drips

red food coloring

1/2

teaspoon

unflavored gelatin

1

cup

heavy cream

For the homemade raspberry sauce:

3/4

cup

fresh or frozen raspberries

you can substitute fresh or frozen strawberries

1/4

cup

confectionary sugar

3/4

cup

water

Juice of 1/2 lemon

For the garnishes:

Heart-shaped marshmallows to decorate

Homemade chocolate sauce or store-bought
Instructions
Heat oven to 325º F (163º C). Butter and flour 6 (4 x 4 inches or 10 x 10 cm) heart shaped baking pans or a 9 x 9 x 2-inch (23 x 23 x 5 cm) baking pan.

Whisk flour, cocoa powder, baking soda, and salt. Place butter and chocolate in a large glass bowl. Microwave in three 30-second increments, stirring well until smooth and homogeneous.

Whisk in sugar and flour mixture; then, eggs and vanilla. Spread into prepared pan(s).

Bake at 325º F (163º C) for about 27 minutes (heart-shaped baking pans) or 35 minutes ( 9x9x2-inch or 23x23x5-cm baking pan), or until pick inserted in center comes out clean. Cool in pan for 10 minutes. Remove from pan (s) and let cool completely on a rack.

With a serrated knife, slice in half horizontally. Line pan(s) with plastic wrap and insert top layer, cut side up, in pan. Reserve the other half/halves.

To make the filling: In a medium bowl, beat cream cheese, raspberry preserves, and the red food coloring. Sprinkle gelatin over 2 tablespoons of water in a small glass bowl and let stand approximately 5 minutes. Microwave 15 to 20 seconds until dissolved. Beat into cream cheese mixture. Then, in a separate bowl, whip 1 cup of the heavy cream to stiff peaks. Fold into cream cheese mixture and spread onto brownie layer in pan. Refrigerate for about 2 hours. Remove from the fridge and top with remaining brownie layer, cut side down. Use plastic to lift stacked brownie from pan. With serrated knife, cut into 9 squares (if a 9 x 9 x 2 in pan was used). Top each square or heart with one marshmallow each, decorate with fresh raspberries, some of both raspberry and chocolate sauces. Serve chocolate brownie stacks immediately.

To make the raspberry sauce: Place the berries, sugar, and water into a saucepan. Bring to a boil, then simmer for 5 – 10 minutes or until the fruits are soft. Stir in the lemon juice, remove from heat, and cool slightly. Purée in a blender or food processor; then, strain through a sieve, rubbing it through with the back of a ladle or spoon. Refrigerate. Use it to drizzle top of the brownie stacks.
Recipe Notes
Both the chocolate brownie stacks batter and its filling recipe were adapted from Chocolate Caramel Brownie Stacks from Family Circle Magazine - January 2013 edition.
DID YOU MAKE THIS RECIPE?
Comment and rate the recipe. Also follow us on Pinterest at @easyanddelish for more delish recipes.
________________________________________________________________________