PICTORIAL for easy, delicious, and super adorable Frankenstein Marshmallow Pops made from chocolate and marshmallow... A hit among children (and adults as well). A list of ingredient substitutions is available.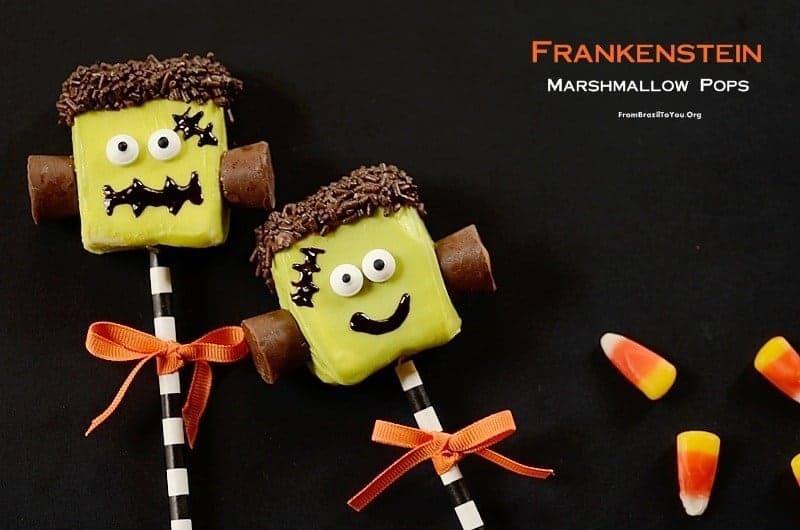 The month for Halloween has finally arrived... and along with it all the sweet treats and fun. My children are as happy as can be...
...especially after devouring these Frankenstein Marshmallow Pops -- a super simple treat basically made from just marshmallows and chocolate. Aren't they just adorable?
Our Halloween Marshmallow Pops are much funnier and quicker to make than cupcakes or any other treat. I am telling you, kids go crazy for it. Well, who wouldn't?
HOW TO MAKE HALLOWEEN MARSHMALLOW POPS
Don't worry! All you have to do is stick a paper straw into a S'mores marshmallow, dip it into melted green candy melts for the face... then into melted brown candy melts...
...cover with chocolate sprinkles for the hair... "glue" on candy eyes and mini Rollo chocolates for the bolts, and finally draw a mouth and scar on the face with a black writing gel. Easy peasy!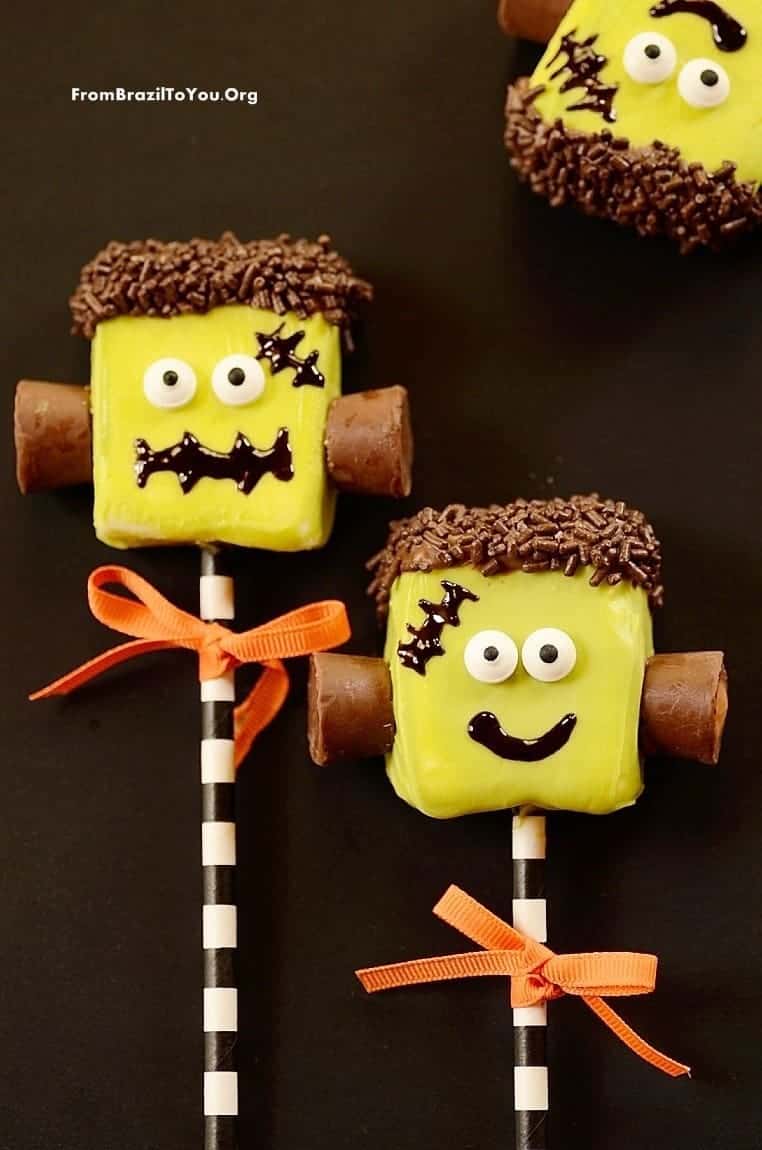 All ingredients are available at American local supermarkets. In addition, I have attached to the recipe a list of substitutions -- just in case you already have any of them in your pantry.
If you would like to make additional treats for your Halloween party, here are a few more easy treats that you can rely on.
OTHER HALLOWEEN TREATS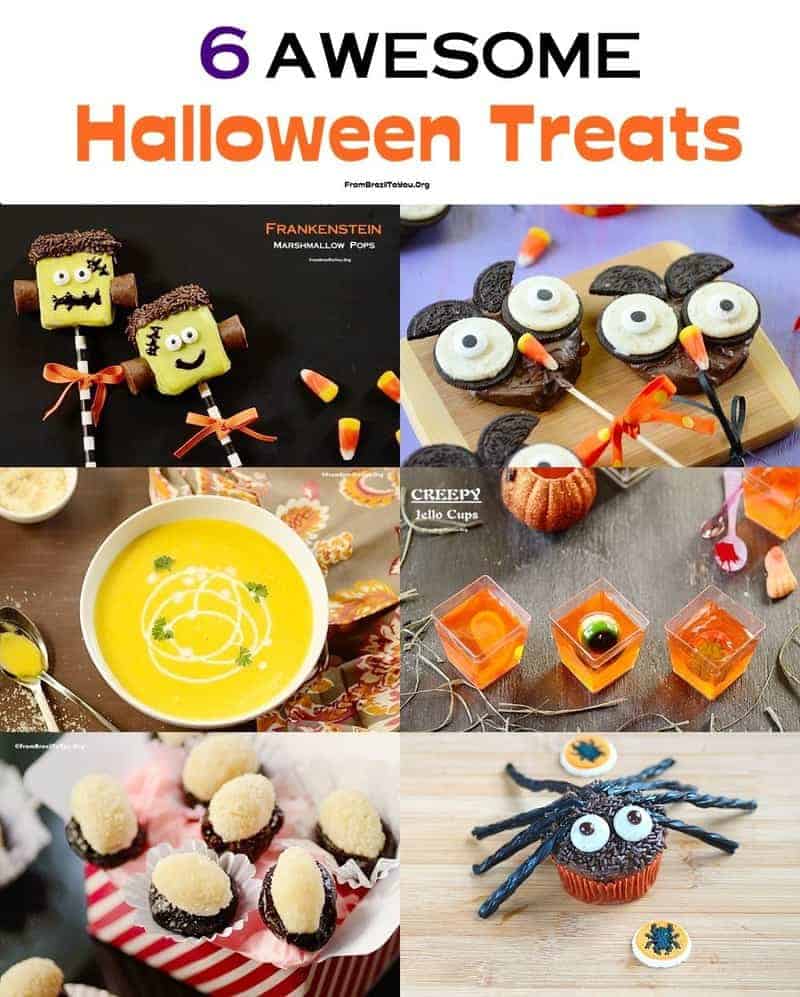 Yes, it is true that my home country Brazil does not have a longstanding Halloween tradition. This event is known there as Dia das Bruxas (Witches' Day) and really only started being celebrated in Brazil commencing with my generation (and even then not by everyone)-- all as a result of modern American influence on our culture.
I started celebrating the date as an adult down there and have continued here with my children. You know... The dressing up in costumes, sweet treats, and the 'trick or treating' can be lots of fun.
Enjoy the day and have several bites of deliciousness.
HAPPY HALLOWEEN!
Adorable Frankenstein Marshmallow Pops & 5 Other Treats
PICTORIAL for easy, delicious, and super adorable Frankenstein Marshmallow Pops made from chocolate and marshmallow... A hit among children (and adults as well). A list of ingredient substitutions is available.
Ingredients
16

paper straws

16

S'more marshmallows

1

bag

Chocomaker bright green candy melts

12 oz, or Wilton lime green

1

Wilton light cocoa candy melts

12 oz, brown

½ to ¾

cup

chocolate sprinkles

32

candy eyes

2

Rolo chocolates

5.3 oz, or 32 chocolates

1

tube black writing gel
Instructions
Start by preping all ingredients.

Stick one straw into each marshmalllow almost up to the top. Select the marshmallows with better shapes or simply reshape them gently with your hands and fingers. Melt about 1 cup of the green candy melts in a tall microwavable glass according to the package directions (about 1 minute total, in 30-second intervals, or until melted and smooth when stirred).

You may repeat the melting process with another 1 cup of green candy melts in a separate glass in order to finish covering all the marshmallows. Dip each marshmallow into the melted green chocolate (use a spoon to help coverage, if necessary); then remove excess by scraping gently and smoothing over with a small offset spatula, plastic stick, or the dull side of a table knife.

Stick them firmly, straw side down, in a bowl full of rice or pebbles in order to let chocolate dry.

Melt about ¾ cup of the brown candy melts according to the package directions. Dip the tops of the marshmallows into the brown candy melts and then sprinkle the chocolate sprinkles on top of the area of molten brown candy melts in order to form the "hair." Stick straw side down in the bowl again and let dry.

Use a toothpick to place a small amount of the molten brown candy melts on the back of the eyes and "glue" in place on the front of the dry marshmallows.

Place a little bit of the molten brown candy melts onto each Rolo chocolate and "glue" them onto the sides of the dry marshmallows. You may need to hold each one for about 10 seconds to make sure they stay in place.

Cut open the tube of black gel and draw a mouth and stitches on each marshmallow. Let set. Inactive time: About 15 minutes
Recipe Notes
STORAGE: Frankenstein marshmallow pops can be stored individually in clear plastic pop bags, tied with a bow, for about 2 days at room temp or in the refrigerator.
SUBSTITUTIONS: Melted white chocolate mixed with green coloring gel can replace green candy melts. Semisweet chocolate can replace the brown candy melts -- and can be used for the hair as well as for drawing the mouth and stitches on with a toothpick. Black sugar crystals or ground chocolate cookies can replace chocolate sprinkles for the hair. Rolo chocolate can be replaced by M&M's or pieces of pretzel sticks dipped in chocolate for the bolts. You can use red writing gel instead or simply use melted chocolate to draw mouth and stitches.
Nutrition
Calories:
200.94
kcal
|
Carbohydrates:
37.83
g
|
Protein:
0.51
g
|
Fat:
5.57
g
|
Saturated Fat:
5.04
g
|
Cholesterol:
0.09
mg
|
Sodium:
41.35
mg
|
Fiber:
0.03
g
|
Sugar:
31.48
g
|
Calcium:
1.87
mg
|
Iron:
0.06
mg
** Nutrition labels on easyanddelish.com are for educational purposes only. This info is provided as a courtesy and is only an estimate, since the nutrition content of recipes can vary based on ingredient brand or source, portion sizes, recipe changes/variations, and other factors. We suggest making your own calculations using your preferred calculator, based on which ingredients you use, or consulting with a registered dietitian to determine nutritional values more precisely.
Please note that health-focused and diet information provided on easyanddelish.com is for educational purposes and does not constitute medical advice, nor is it intended to diagnose, treat, cure, or prevent disease. Consult with your doctor or other qualified health professional prior to initiating any significant change in your diet or exercise regimen, or for any other issue necessitating medical advice.
DID YOU MAKE THIS RECIPE?
Comment and rate the recipe. Also follow us on Pinterest at @easyanddelish for more delish recipes.