It's pumpkin season and I intend to make the most out of it… starting with these flourless pumpkin coconut muffins (queijadinhas de abóbora com coco) which are naturally gluten-free, easy and quick to make, yet so yummy. If you're looking for alternatives for a breakfast or snack on the go, this is a fall treat well worth a try.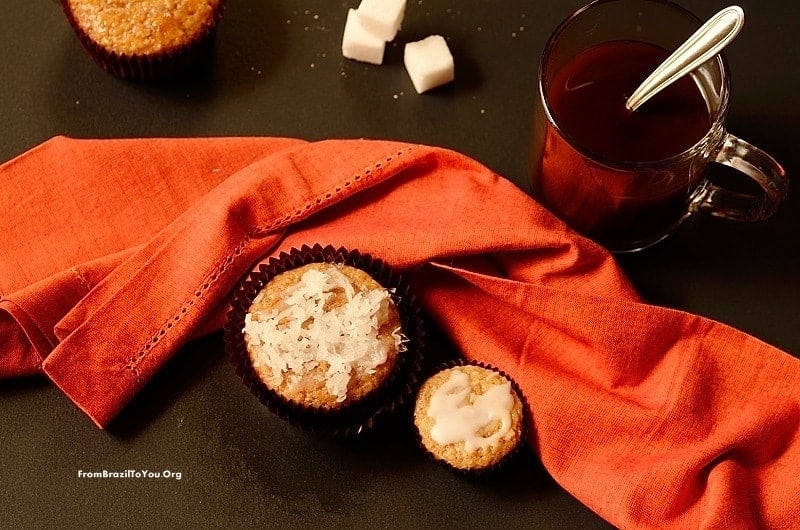 Our pumpkin coconut muffins are made from (canned) pureed pumpkin, ground cinnamon, coconut flakes, Parmesan cheese, sweetened condensed milk, cornstarch, baking powder, and eggs.  All you have to do is mix the ingredients together in a bowl by hand and bake for about 20 minutes.  Easy peasy!
Cornstarch substitutes for flour, giving structure to these muffins without making them dry. You may think strange the addition of Parmesan cheese to this mildly sweet baked goodie… but it adds complexity while balancing the sweetness. In fact, there is no traditional queijadinha without both cheese and coconut — a salty-sweet combo capable of balancing the flavors in baked goodies, with excellent results.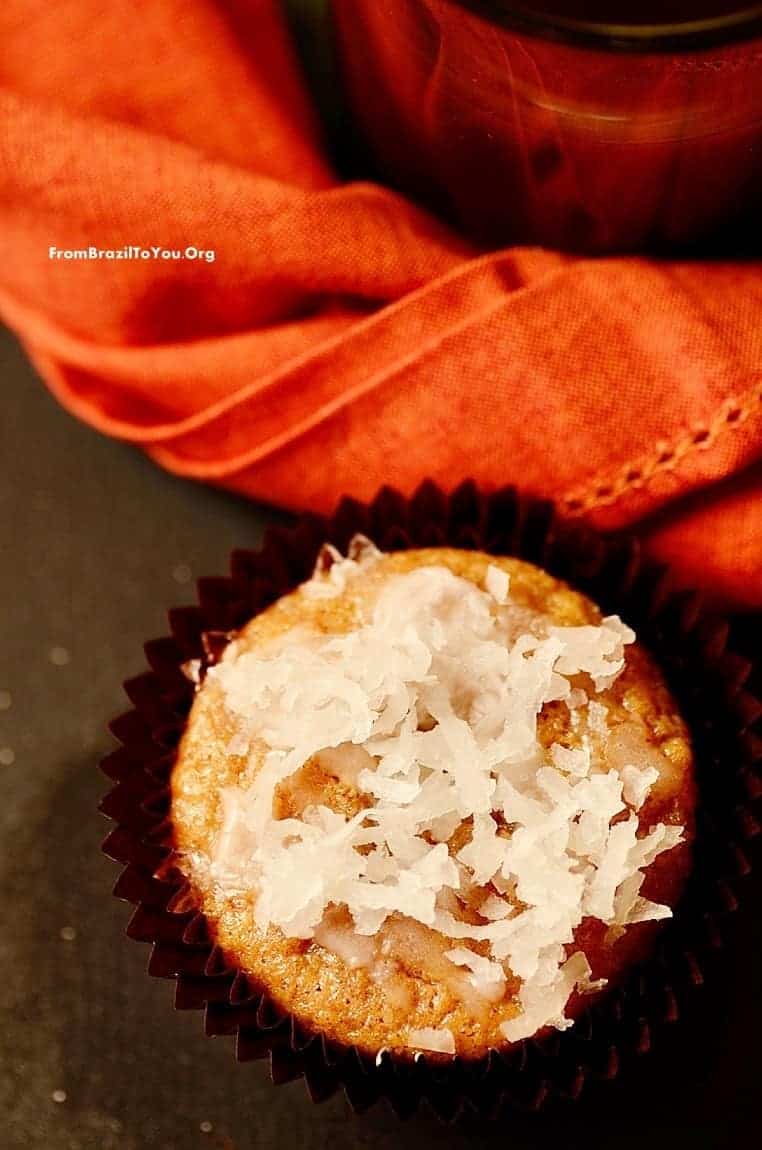 Queijadinha is a kind of baked goodie that originated in Portugal and is popular in Brazil, where there are many flavor varieties… one of them is pumpkin!  The coconut in queijadinha pairs perfectly with pumpkin, and is a well-known and highly esteemed combo in my home country.  In fact, it is as popular as the combinations of pumpkin-cream cheese or pumpkin-chocolate chip in the U.S.
I have also added an optional coconut glaze to these pumpkin coconut muffins which doesn't exist in any traditional queijadinha recipe. What can I say, I love to spice things up.  🙂
Give these pumpkin coconut muffins a try and you won't regret it.
Enjoy!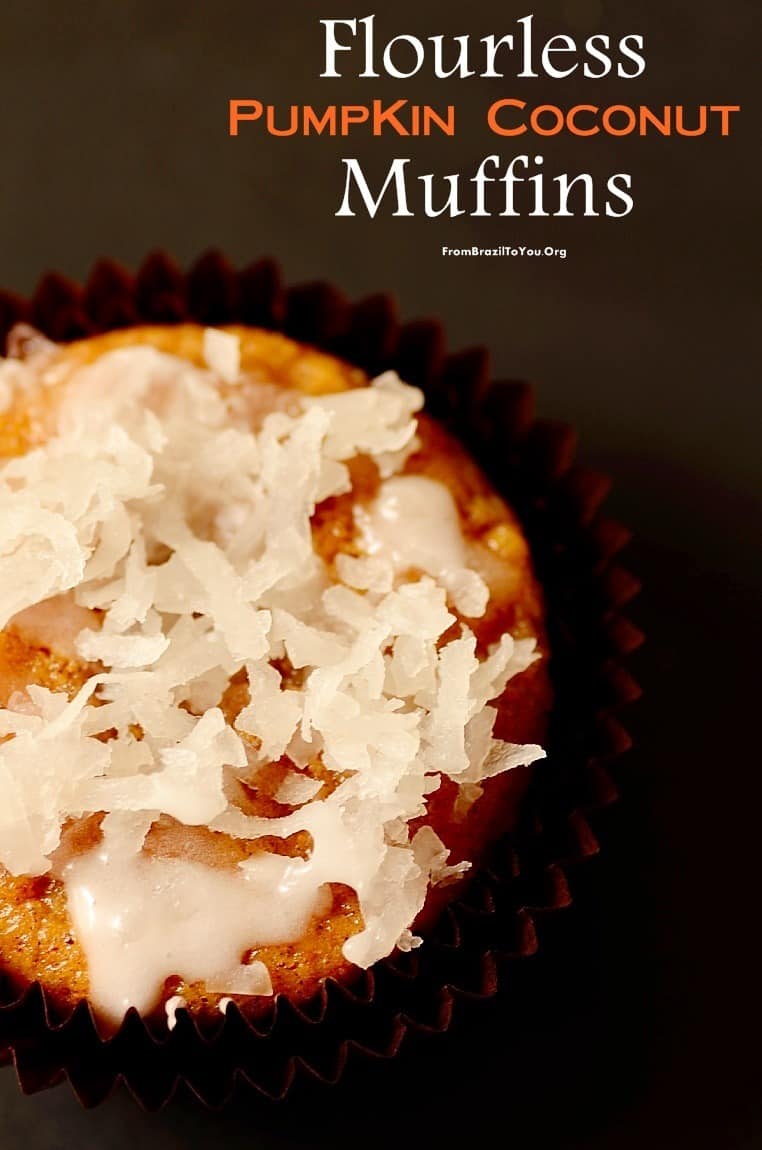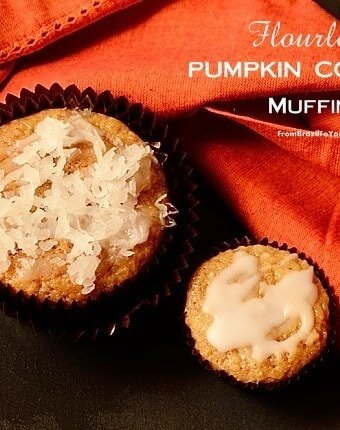 Flourless Pumpkin Coconut Muffins
Flourless Pumpkin Coconut Muffins -- a naturally gluten-free, easy and quick, delicious breakfast/snack on the go!
Ingredients
FOR THE PUMPKIN COCONUT MUFFINS:

3

large eggs

at room temperature

1

can

sweetened condensed milk

14 oz

1/3

cup

canned Libby's 100% Pure Pumpkin

or cooked and mashed pumpkin

1

teaspoon

ground cinnamon

2

tablespoons

grated Parmesan cheese

3

tablespoons

cornstarch

1

teaspoon

baking powder

1¾

cups

sweetened coconut flakes

FOR THE GLAZE :

optional

1

tablespoon

coconut milk or water

1/8

teaspoon

coconut extract

optional if using coconut milk

1/4 to 1/3

cup

powdered sugar
Instructions
To make the muffins:

Preheat oven to 350 degrees F (180 degrees C). Line 15 baking cups in

standard-size

muffin/cupcake baking pan and set aside.

In a medium to large bowl, whisk the eggs lightly by hand for about 20-30 seconds, stir in the condensed milk, pumpkin, cinnamon, cheese, cornstarch, and baking powder until obtaining a homogeneous mixture. Last, mix in the coconut flakes.

Using an ice cream scoop, pour 1 scoop into each lined baking cup, filling 3/4 full, and bake for about 18-21 minutes, or until a toothpick inserted in the center comes out clean. Let pan cool on a rack. Meanwhile, prepare glaze, if desired, to drizzle over the muffins while they are still warm.

To make the glaze (optional):

Place coconut milk/water, coconut extract (optional if using coconut milk), and sugar in a small bowl, whisking well until smooth. Add more sugar only if needed to thicken. Drizzle over the "muffins" while still warm and let set.
Recipe Notes
STORAGE: Store muffins in an airtight container or ziploc bag at room temperature. Consume within 2-3 days -- or freeze them in ziploc bags (without the glaze)!
FOR FLUFFIER MUFFINS: For extra fluffy muffins, separate the yolks from the whites. Stir in the yolks with the rest of the ingredients, and beat the whites separately until stiff. Add beaten whites to the batter after mixing in the coconut flakes to the batter. Beaten whites have to be incorporate little by little, gently. Because I found these pumpkin coconut muffins to be fluffy enough as they are, I didn't separate the whites from the yolks or beat the egg whites until stiff for mine.