Hummin' and hummin'... A famous traditional Brazilian New Year's song is definitely on my mind -- and on my lips. "Farewell Old Year, Happy New Year! May everything that is good come true in the new year..." What is also on my mind (and lips) is not a classic caipirinha... but a pomegranate caipirinha! I hope this cheers your spirit...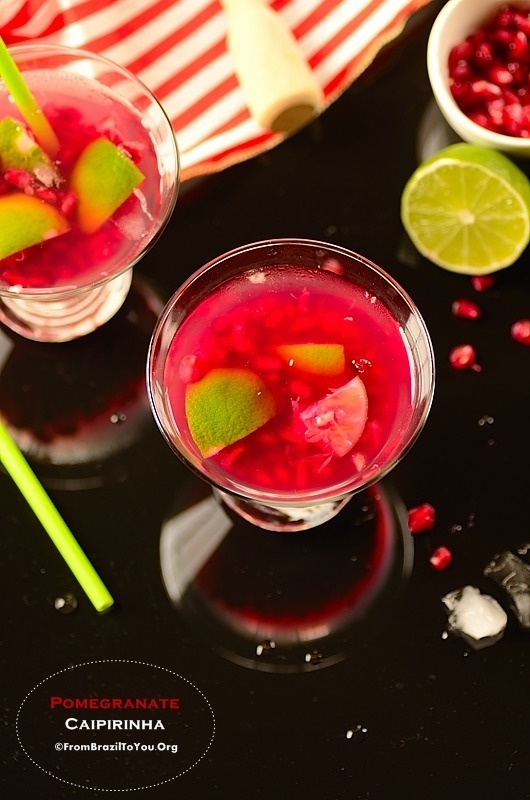 As I explained in both our New Year's Champagne Cocktail and Lentil and Beef Soup posts from last year, Brazilians are superstitious and love to incorporate good luck rituals into their New Year celebration (réveillon). Well, this time around, instead of champagne I have used caipirinha --  Brazil's national cocktail drink -- as the base for our current drink. And instead of lentils, I have chosen pomegranate. Why? 
Although pomegranate is an ancient fruit originating in the vicinity of Iran, it was introduced into Brazil by Portuguese settlers centuries ago. The state of São Paulo is its largest producer in Brazil. As the fruit has numerous seeds, tradition links it with prosperity.
In fact, there is a good luck ritual (simpatia) that calls for one to eat the pulp of seven pomegranate seeds and afterwards to store the  dry seeds in one's wallet in order to attract wealth. 🙂  If it doesn't work, you will at least have a delicious and refreshing pomegranate caipirinha to drink and share with friends-- in addition to all of pomegranate's associated health benefits such as reduction of LDL and a rich concentration of vitamins A and B, which protect vision and strengthen the immune system.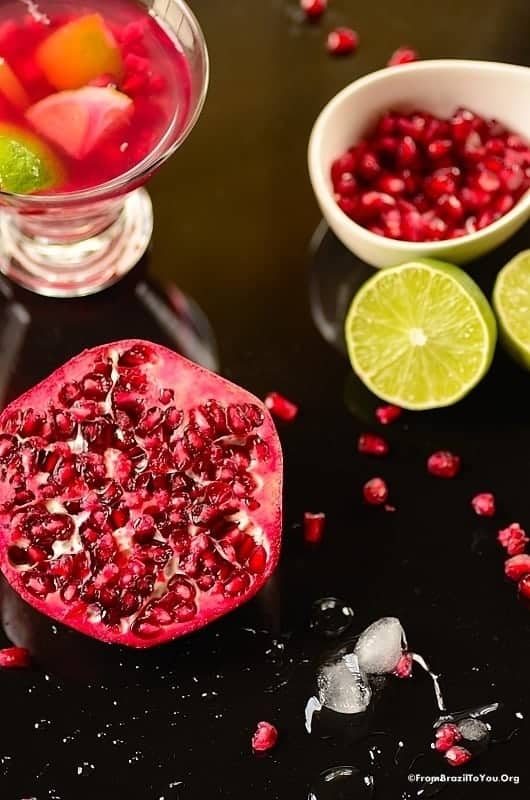 Well, pomegranate has also appeared in biblical texts where it is associated with passion and fertility. The Greeks considered it as a symbol of love and fertility... The pomegranate was considered sacred to the goddess Aphrodite, as much credence was placed in its aphrodisiac powers. For Jews, the pomegranate is a religious symbol with deep meaning in the ritual of the Jewish New Year (Rosh Hashanah) when it is always wished that the coming year will be better than the last.
As this year fades away, we welcome 2014 with a pomegranate caipirinha, wishing in a brand new year.... A time filled with many blessings such as prosperity, health, peace, and many, many others.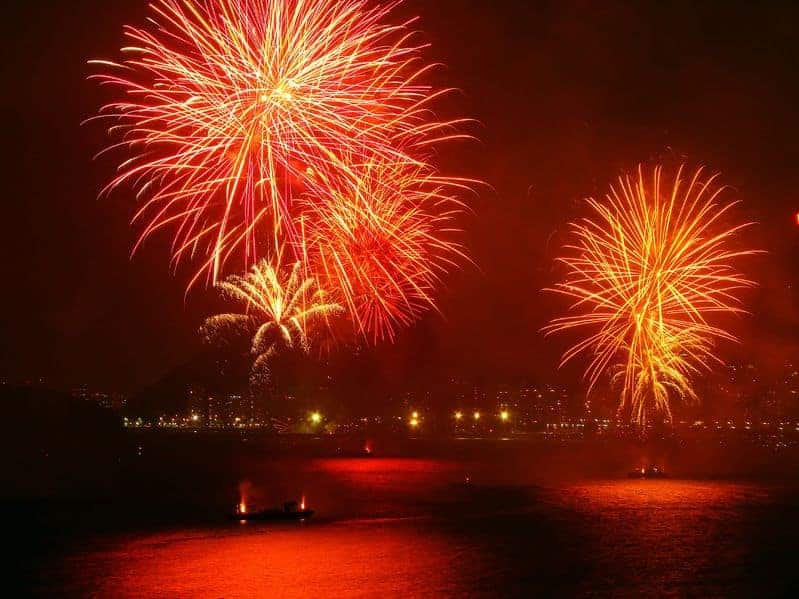 HAPPY NEW YEAR!!!!
Thank you for continuously blessing me with your readership... xx
Pomegranate Caipirinha
A refreshing Pomegranate Caipirinha to bring prosperity to the New Year!
Ingredients
½

lime

cut into 4 wedges

¼

cup

pomegranate seeds

1

tablespoon

sugar

crushed ice

3

tablespoons

cachaça

or club soda for a virgin caipirinha

Note: Cachaça is available at most local liquor stores. It can be substituted by white rum (or vodka, if desired).
Instructions
Place pomegranate seeds and lime wedges into a short, wide glass. Sprinkle sugar on top of the fruits. Mash the ingredients together using a muddler or the handle of a wooden spoon. Fill the glass with crushed ice and stir in the cachaça. Cheers!
Recipe Notes
To learn how to de-seed a pomegranate, please click here.
** Nutrition labels on easyanddelish.com are for educational purposes only. This info is provided as a courtesy and is only an estimate, since the nutrition content of recipes can vary based on ingredient brand or source, portion sizes, recipe changes/variations, and other factors. We suggest making your own calculations using your preferred calculator, based on which ingredients you use, or consulting with a registered dietitian to determine nutritional values more precisely.
Please note that health-focused and diet information provided on easyanddelish.com is for educational purposes and does not constitute medical advice, nor is it intended to diagnose, treat, cure, or prevent disease. Consult with your doctor or other qualified health professional prior to initiating any significant change in your diet or exercise regimen, or for any other issue necessitating medical advice.
DID YOU MAKE THIS RECIPE?
Comment and rate the recipe. Also follow us on Pinterest at @easyanddelish for more delish recipes.
Pomegranate caipirinha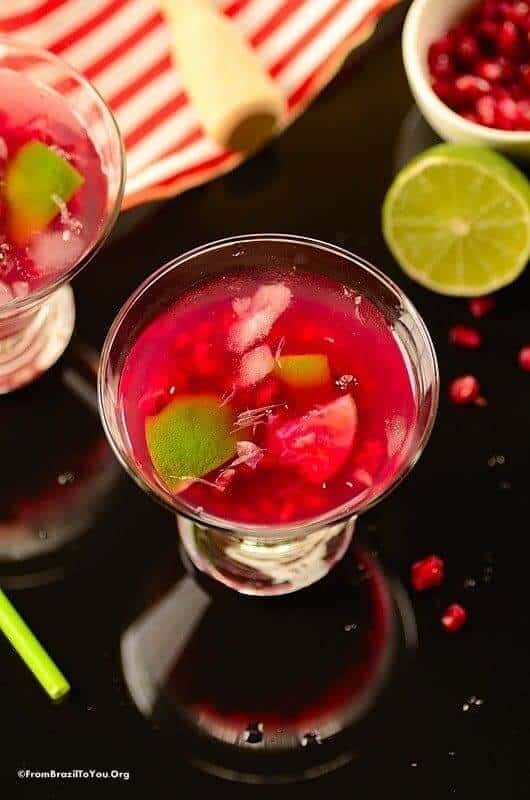 Fireworks Image Credit: fabiofersa / 123RF Stock Photo