Lemon pie made with an almond cookie crust, a creamy and luscious lemon pie filling, and topped with pipped whipped cream and lemon slices. This is the best lemon pie ever!
As you may know, we will be celebrating Father's Day — at least in United States– this Sunday (in Brazil, it is always celebrated on the second Sunday in August)… yes, with the best lemon pie ever!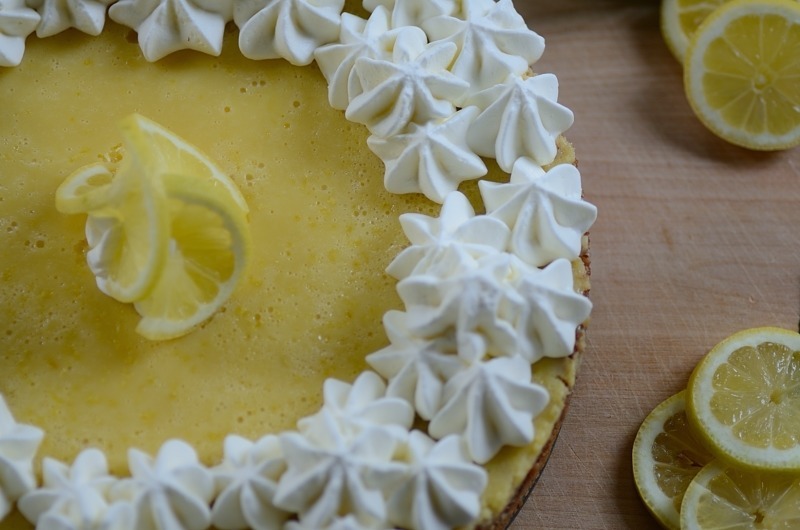 It is a day that brings back so many memories…
Memories of the first man in my life: my dear dad, who passed away 18 years ago…. A man who loved me very much and taught me so many important things…. A man of integrity…. A man with a sincere and friendly smile.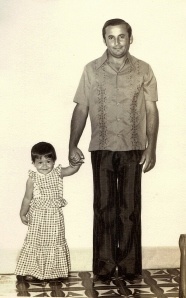 I love to remember all the moments that he held my hand tenderly, played horsey with me on his knee, even when he was ever so tired (my favorite little game), hugged me with affection, comforted me when I was sick, showed trust in me through words and actions…. How blessed I feel to have had such a great man as my father.
(pause)
He served as a model or reference so I could choose the second, and hopefully last, man in my life: my husband! Jared is his name — aka the apple chocolate of my eyes.
He is God's best gift, the blessing of my life, my best friend, and also the father of my two precious children…
A man after God's own heart, who has loved me and supported me  in all the seasons of my life for 10 consecutive years so far… I can truly say that through him, my children and I see God's immense love and smile.
It melts my heart to see how our children look at him… How they trust and love him — just like me with my dad.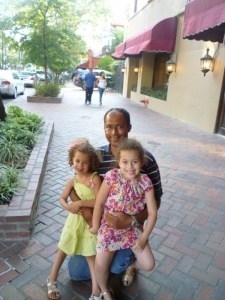 (pause)
It is interesting: Time has passed, material things have faded over the years, but the memories that they built have stayed alive in our hearts…
Thank you, Painho (Daddy)!
Thank you, Jared!
Most of all, thank you, Lord, for giving me and my children the best dads… And especially, thanks for being the greatest Father of all. We love You!
To celebrate the most important men in my life, of course I had to make the best lemon pie ever!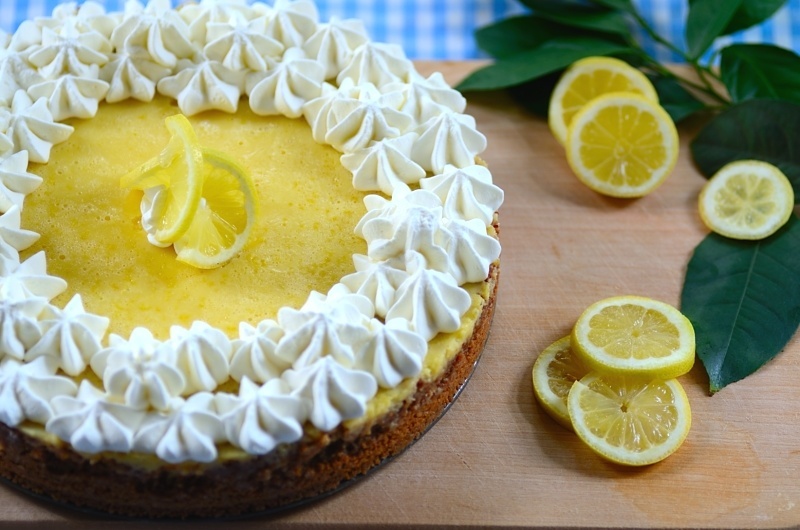 I can foresee your big smile, Jared! Hopefully yours too, dear reader…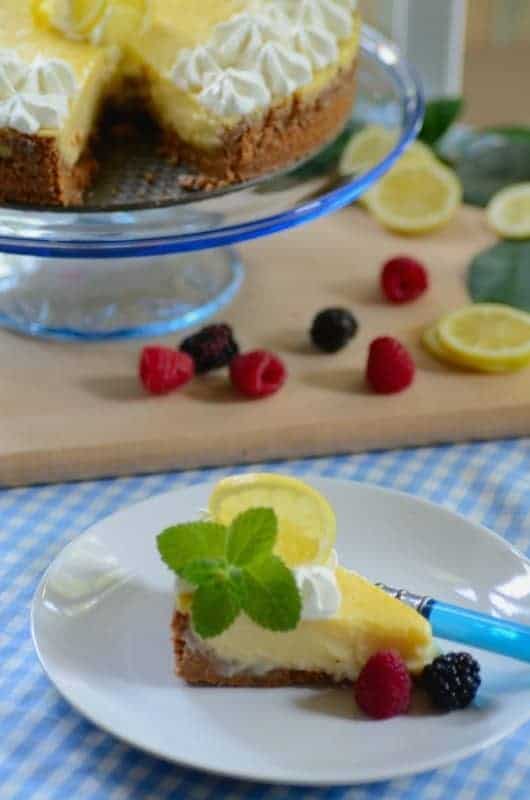 The Best Lemon Pie Ever
Lemon pie made with an almond cookie crust, a creamy and luscious lemon pie filling, and topped with pipped whipped cream and lemon slices. This is the best lemon pie ever!
Ingredients
For the crust

2-3/4

cups

of crumbs of Lazzaroni amaretti cookie snaps **

these cookies can be found at World Market and crumbed in the food processor

6

tablespoons

granulated sugar

1

dash

salt

1/2

cup

plus 3 tablespoons unsalted butter

melted

** For a Gluten-free version, please use gluten-free cookies for the crust.

For the filling

9

large egg yolks

at room temperature

3

cans

sweetened condensed milk

14 oz or 396 g

1-1/2

cups

fresh lemon juice

preferably Meyer lemons

1

tablespoon

fresh lemon zest

For the topping

1

cup

heavy whipped cream

chilled

2

tablespoons

confectionary sugar

1/2

teaspoon

pure vanilla extract

1

sliced lemon
Instructions
For the crust: Preheat the oven to 350º F (about 180º C). Grease a 10 inch (25.4 cm) non-stick springform pan with unsalted butter or lightly spray with a non-stick vegetable spray. Reserve.

In a separate bowl, mix together the cookie crumbs, sugar, salt, and melted butter. Press onto the bottom of the prepared pan, as well as up the sides (to a height of 1 inch or 2.5 cm).

Bake for approximately 10 minutes or until set. Remove from oven, place on wire rack and let cool down while the filling is being made.

For the filling: In an electric mixer with the whisk attachment, beat the egg yolks and the lemon zest at high speed until fluffy, about 5 minutes.

Then, add the condensed milk gradually, whipping until thick (4 minutes). Scrape down the sides of the bowl and then beat in the lime juice until fully incorporated.

Pour the filling over the crust and bake for about 15 minutes, or until the filling is set.

Remove from oven and place on a wire rack to cool. Once the baked pie has completely cooled, cover and refrigerate for at least 4 hours.

For the topping: In a deep electric mixing bowl, utilizing the whisk attachment, beat the heavy whipping cream, sugar, and vanilla until stiff peaks form** (the heavy cream, bowl, and whisk attachment must be very cold).

Either pipe or place mounds of whipping cream on top of the filling. Decorate the pie with sliced lemons and berries. Served chilled!

**Note: Stop the mixer and lift the beaters out of the cream. Firm peaks stand pertly.
DID YOU MAKE THIS RECIPE?
Comment and rate the recipe. Also follow us on Pinterest at @easyanddelish for more delish recipes.