Puffy Pastry Tartlets with Pickled Beets and Goat Cheese are a quick and elegant appetizer, perfect for the Holidays and other winter celebrations.
Disclosure: This is a compensated campaign in collaboration with Cavit and Honest Cooking Magazine. Thank you for supporting the brands that I work with and love.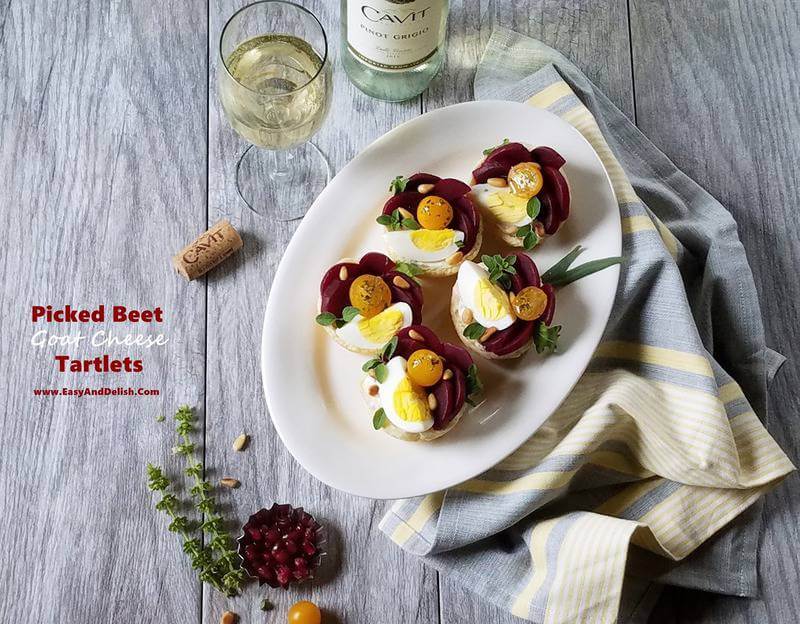 The holidays are almost here... and along with them a festive meal with family and friends.
Appetizers are a must! Especially the kind that can be prepared in almost no time, leaving us free to take care of the main and side dishes.
This time we whipped up some easy and delish Puff Pastry Tartlets. They are a feast for the eyes, don't you think?!
Ingredients
To make our savory tartlets you will need:
Store-bought puffy pastry
A mixture of goat cheese and cream chees
Jarred pickled beets
Golden tomatoes
Toasted pine nuts
Tarragon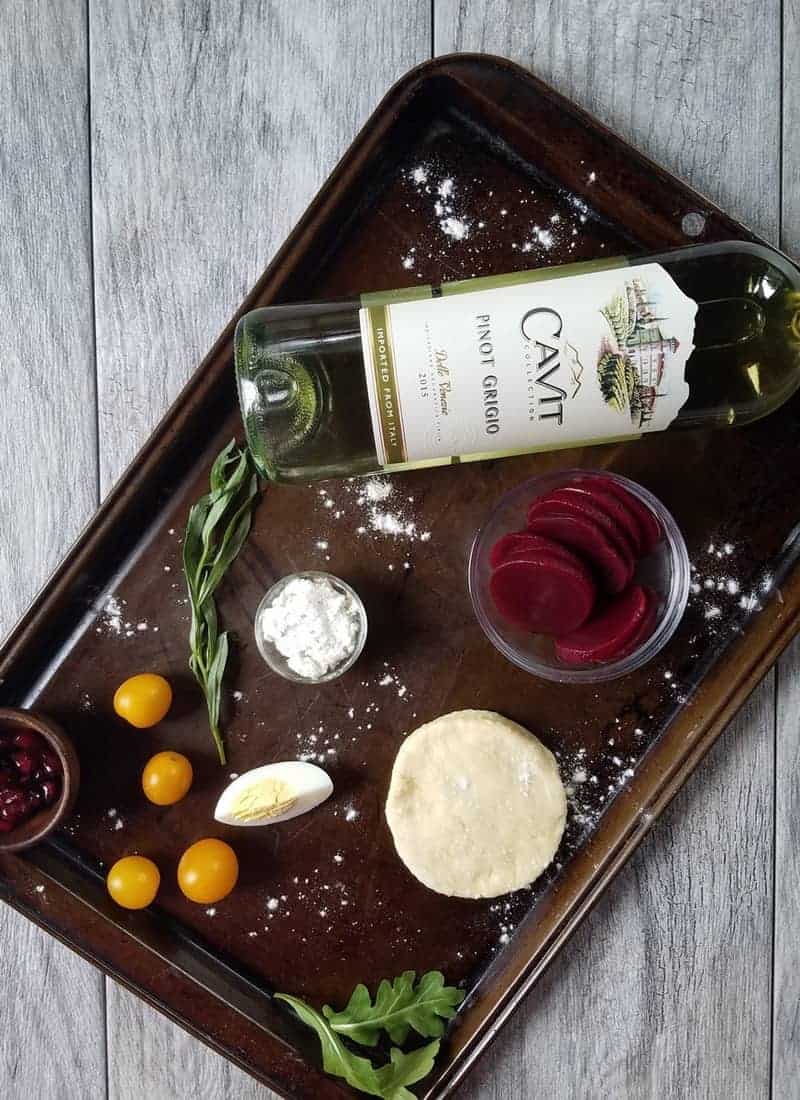 How to Make Puffy Pastry Tartlets
All one has to do is to cut the puff pastry into rounds using a cookie cutter, place them into a muffin tin, and bake for about 10-15 minutes or until lightly golden brown.
Let cool and fill with a mixture prepared with cream cheese, goat cheese, seasonings, heavy cream, and chopped tarragon.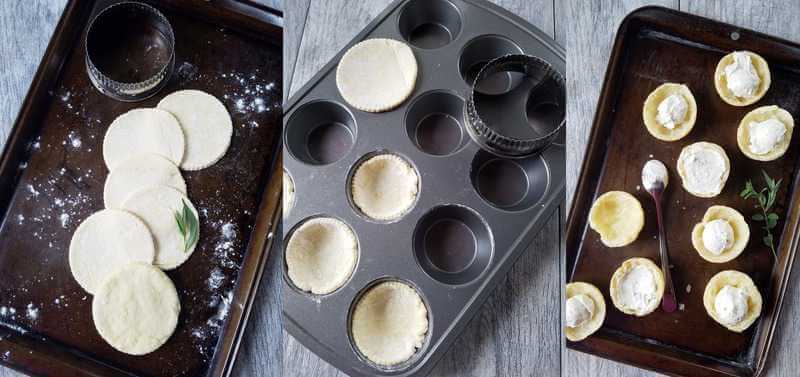 Then, garnish with jarred pickled beets, golden tomatoes, herbs, toasted pine nuts, and boiled eggs if desired. You see... easy peasy!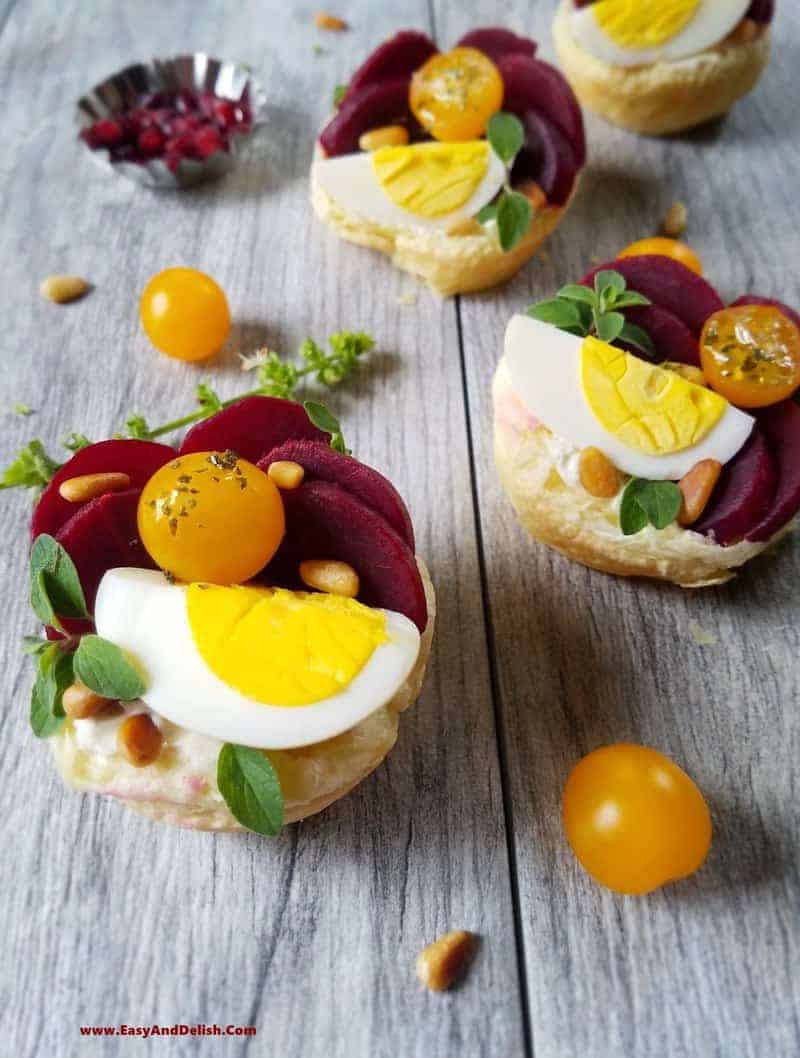 Are These Savory Tarts?
Yes! They are savory, featuring contrasting textures (flaky from the puffy pastry, creamy from the cheese mixture, and crunchy from the nuts)... as well as contrasting flavors.
You will be delighted by the sweetness and sourness of the pickled beets, nutty pine nuts, peppery flavor from the tarragon, and salty from the cream cheese mixture.
I am telling you, they are one unforgettable starter!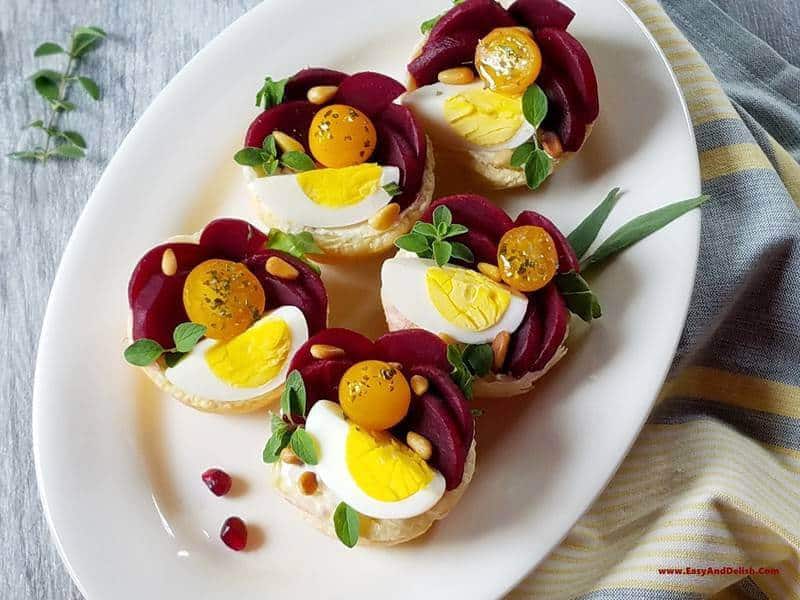 What to Serve with?
They make the perfect pair for Cavit Pinot Grigio, a white wine from northern Italy. Just like other Cavit Trentino wines, the Pinot Grigio featured today is crafted with quality, honoring its region.
And a bonus is that it is affordable. That's right! It costs about $8 a bottle.
With a balanced character, bright straw gold color, appealing aroma, and citrus flavors, this Pinot Grigio pair well with many of the ingredients present in our puffy pastry tartlets, especially the tarragon, pine nuts, and goat cheese.
Enjoy it well chilled, together with our gorgeous and delicious tartlets... and experience the magic of the giving season!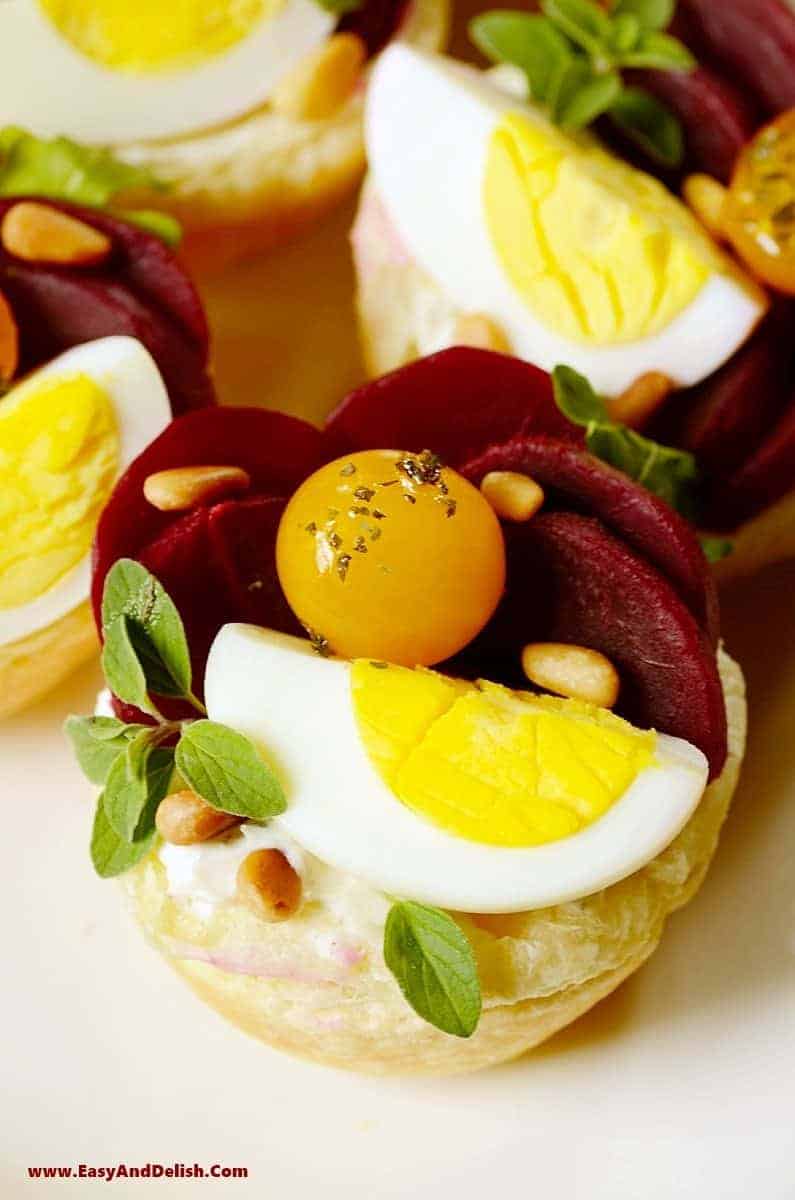 I can already envision a gorgeous table set up and many loved ones with warm smiles, all enjoying a feast, presents, and holiday cheer--everything that makes this season so special! And all of us raising a toast with our delicious Pinot Grigio.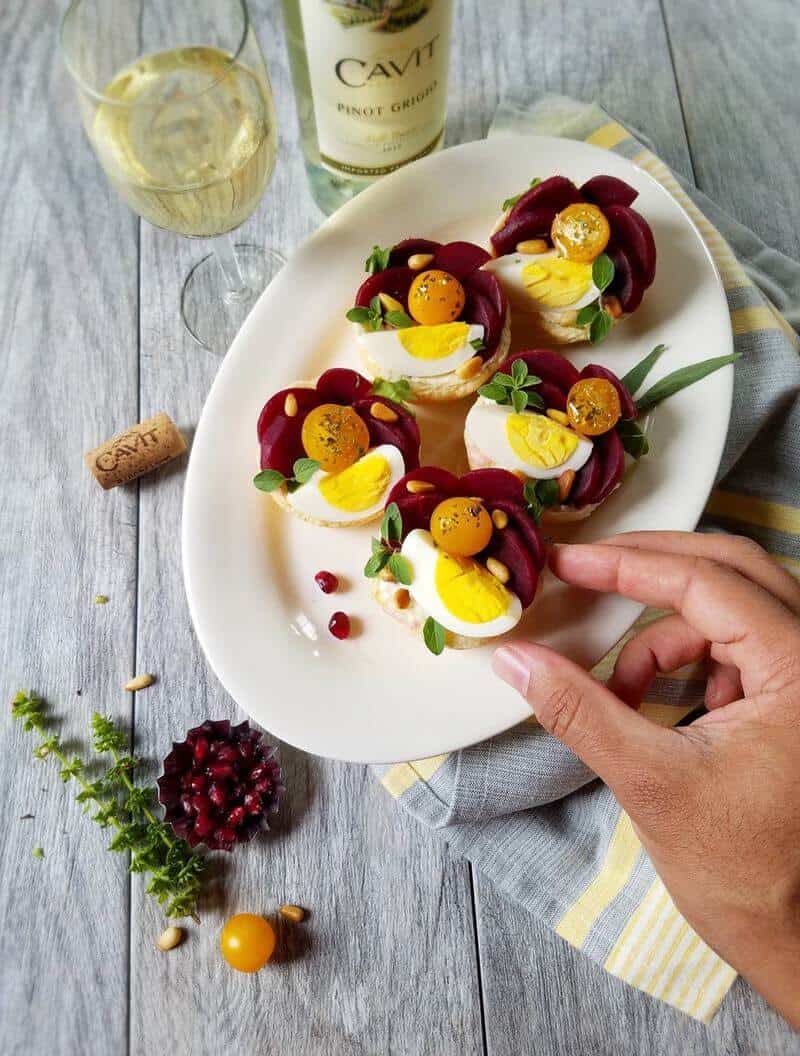 I can also see us all making use of these puffy pastry tartlets well beyond the holiday season. It will become one of those recipes that you can always count on it... an ace up your sleeve. Any party or celebration will be a perfect time!
From my family to yours,
Merry Christmas & a Blessed New Year!
Other Appetizer Recipes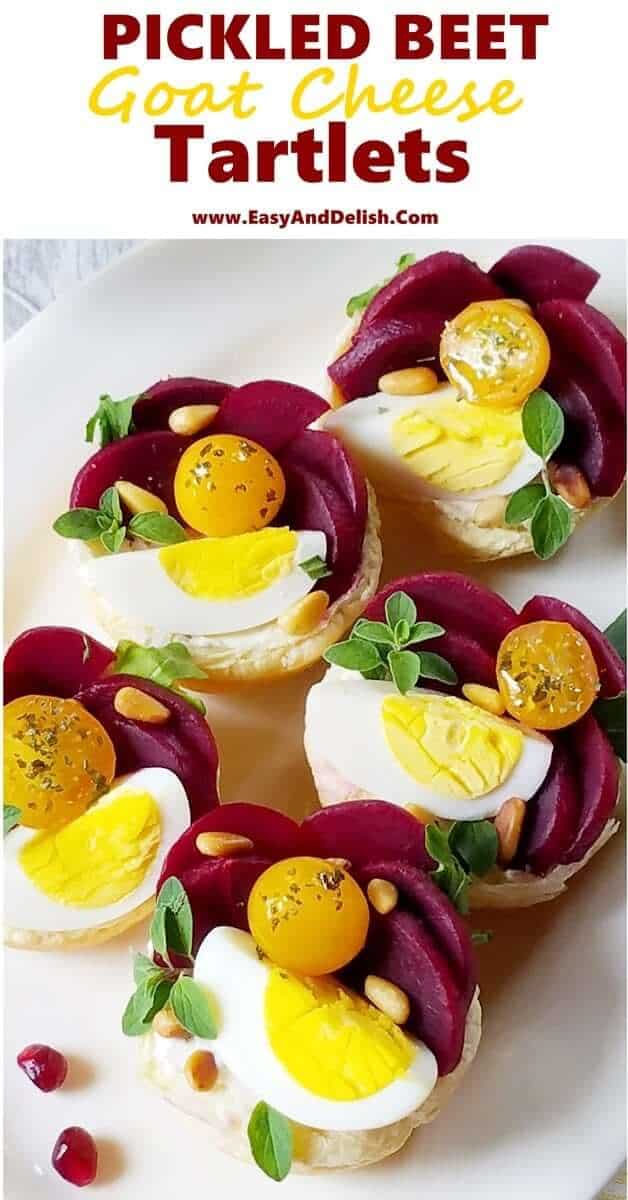 Puffy Pastry Tartlets with Pickled Beets and Goat Cheese
Puffy Pastry Tartlets with Pickled Beets and Goat Cheese are a quick and elegant appetizer, perfect for the Holidays and other winter celebrations.
Ingredients
17.3

oz

puffy pastry

thawed, 1 package with 2 sheets

8

oz

cream cheese

softened

4

oz

creamy goat cheese

softened

¾

cup

heavy whipping cream or plain yogurt

½

teaspoon

salt

½

teaspoon

ground black pepper

½

teaspoon

sugar

1

leaves

sprig fresh tarragon

finely chopped

18

oz

jar pickled beets

drained

12

mini golden tomatoes

3

boiled eggs

quartered (optional)

2-3

tablespoons

toasted pine nuts

Fresh tarragon or baby arugula to garnish
Instructions
Preheat oven to 375 degrees F.

On a lightly floured surface, cut puff pastry into rounds using a 3 ¼" cookie cutter. Place each round into a regular-size 12-muffin tin. Bake for about 10-15 minutes or until lightly golden. Let cool! They will look like bread rolls. Once cooled, twist off the top of each carefully to make them into cupped tart shells. You can invert the twisted off tops and use them as additional tart shells if desired.

Meanwhile, place cream cheese, goat cheese, heavy cream, salt, pepper, sugar, and tarragon into the bowl of a stand mixer with a paddle attachment. Beat all together until obtaining a creamy, homogeneous mixture. Spoon into the tartlets and smooth with the back of a spoon.

Place beets onto a cutting board and cut each slice in half. Garnish Pickled Goat Cheese Tartlets as seen in the pictures or as desired (use the pickled beets, golden tomatoes, quartered boiled eggs, toasted pine nuts, and tarragon leaves or baby arugula). Enjoy!
Recipe Notes
Storage:
These savory tarts keep well in an airtight container in the fridge for up to 24 hours. 
Do not freeze them! 
Nutrition
Calories:
414.7
kcal
|
Carbohydrates:
24.2
g
|
Protein:
8.7
g
|
Fat:
32
g
|
Saturated Fat:
13.1
g
|
Polyunsaturated Fat:
3.3
g
|
Monounsaturated Fat:
13.2
g
|
Cholesterol:
86.9
mg
|
Sodium:
395.7
mg
|
Potassium:
198
mg
|
Fiber:
1.7
g
|
Sugar:
4.7
g
|
Vitamin A:
790.4
IU
|
Vitamin C:
4
mg
|
Calcium:
61.1
mg
|
Iron:
2.3
mg
** Nutrition labels on easyanddelish.com are for educational purposes only. This info is provided as a courtesy and is only an estimate, since the nutrition content of recipes can vary based on ingredient brand or source, portion sizes, recipe changes/variations, and other factors. We suggest making your own calculations using your preferred calculator, based on which ingredients you use, or consulting with a registered dietitian to determine nutritional values more precisely.
Please note that health-focused and diet information provided on easyanddelish.com is for educational purposes and does not constitute medical advice, nor is it intended to diagnose, treat, cure, or prevent disease. Consult with your doctor or other qualified health professional prior to initiating any significant change in your diet or exercise regimen, or for any other issue necessitating medical advice.
DID YOU MAKE THIS RECIPE?
Comment and rate the recipe. Also follow us on Pinterest at @easyanddelish for more delish recipes.