Brazilians eat lentils in a variety of dishes all year round, especially on New Year's Eve (Reveillón) to start off the new year on the right foot. This is why we'll be making Lentil and Beef Soup (Sopa de Lentilhas) to celebrate the New Year!
This tradition was brought to Brazil by Italian immigrants, and as mentioned in our last post , is believed to bring good luck and abundance, most likely on account of their round, coin-like shape.
In light of this, I thought that it would be a great idea to feature a lentil and beef soup made from lentils and also beef as our first post of the year. Due to the cold winter weather, I preferred to incorporate lentils into a warm soup instead of a refreshing salad. Beef, the most popular type of meat in Brazil, was added to the dish, and of course vegetables to finish its composition.  The result was a hearty, delicious lentil and beef soup that you will crave the whole year long.
Before detailing the lentil and beef soup recipe though (both gluten and dairy-free), a few facts and cooking tips are worth reviewing and bearing in mind:
1. Lentils are legumes with high nutritional value (dietary fiber, iron,  B-vitamins, minerals, protein, and few calories) that generally have either a rich nutty or earthy flavor, depending upon their type. They cook much faster than dried beans and do not require soaking. Green and brown lentils, which hold their shape well after cooking, are the most commonly used types both United States and in Brazil.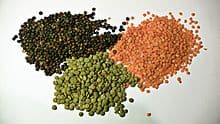 2. If making soups or stews:
Any type of lentil is suitable for use in soups, but particularly the yellow, red, and orange types, which tend not to hold their shape after cooking. Keep in mind that the red, yellow, and orange lentils also cook faster (20-30 minutes) than the green and brown ones (40-45 minutes).

Wash and rinse the lentils prior cooking.

As soups and stews are saucy dishes, be sure to use a substantially higher ratio of liquid to lentils than 2 : 1 (e.g. one could use a 4-10 cups of water/broth to 1 cup of lentils).

Lentils should be simmered uncovered rather than boiled (this way, they will plump up nicely without splitting their skins or becoming mushy).

Salt should be added at the end when the lentils are already fully cooked in order to avoid causing them to become tough, although some find this to be an old culinary fable.

If using acids (e.g. wine or tomato paste) in the recipe, add a pinch of baking soda to help avoid toughening the lentils.
3. If making salads:
Green and brown lentils are the best type for salads because they tend to hold their shape well after cooking;

Wash and rinse the lentils prior cooking (Remember: soaking is not required!!); Cook them using a 2 :1 ratio of water or broth to lentils (e.g. 2 cups water or broth to 1 cup lentils)

The lentils should be simmered uncovered rather than boiled (this way, they will plump up nicely without splitting their skins or becoming mushy). Cooking time varies between 40 – 45 minutes if using the green or brown lentils, and between 20-30 minutes if using the yellow, red, or orange ones.

Season lentils with salt after they are cooked but are still warm so they will absorb the salt just enough to taste fully seasoned, but without becoming tough;

Acidic components such as vinegar and lemon juice should be added after the lentils are cooked, both to avoid toughening them and in order to acentuate their flavor.

Finally, please note that lentils which are 6 months or older take more time to cook and tend to shed their outer skins as they cook. You may also see tiny white flecks where the lentils have begun to sprout– while these are still fully edible and tasty for sure, the white flecks may diminish the dish's visual appeal, so keep this fact in mind if the presentation of the dish is important.
With all that said, let us now present today's lentil and beef soup recipe, which was prepared observing the above guidelines.  Enjoy!
xx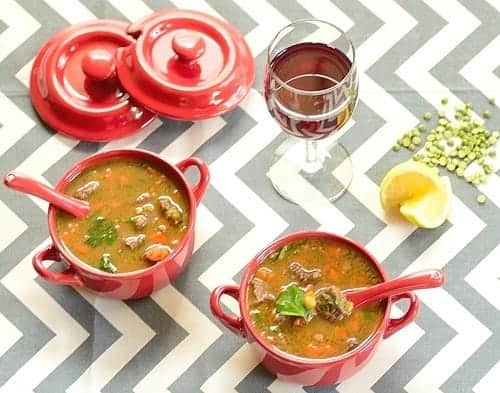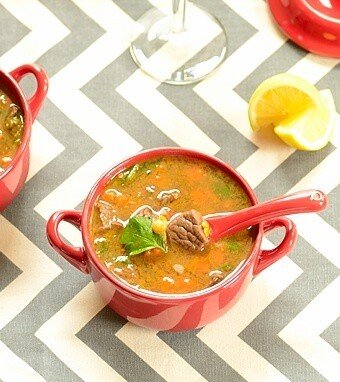 Lentil and Beef Soup (Sopa de Lentilha)
A hearty, nutritious, and delicious soup that it is believed to bring good luck.
Ingredients
2

tablespoons

olive oil

1

pound

boneless beef chuck

cut into 1-inch cubes, about 450g

Salt and freshly ground black pepper

1/2

teaspoon

ground cumin

1

large carrots

peeled and medium diced

1/2

large yellow onion

chopped

3

garlic cloves

chopped

2

cups

red wine

10

cups

beef broth

1/2

tablespoon

tomato paste

1

cup

rinsed green or brown lentils

which are the types most commonly used in Brazil

pinch

Aof baking soda

Juice of 1/2 lemon

1/4

cup

fresh Italian parsley

chopped
Instructions
In a medium bowl, season the beef with salt, pepper, and cumin. Cover and let rest for about 30 minutes in the refrigerator.

In a large stainless steel saucepan (not a aluminum pan)**, heat the oil over medium-high heat. Add the beef and cook until browned ( 6-8 minutes).

Using a slotted spoon, transfer the beef to a clean bowl. Add the carrots, onion, and garlic to the pot. Sauté until the onions are translucent, about 4 minutes. Return the beef and any accumulated juices from the bowl to the pan. Add the wine, broth, and tomato paste. Stir well.

Bring the lentil and beef soup to a boil; then, reduce the heat to medium-low, cover, and simmer until the meat is just tender, stirring occasionally (about 50 minutes). Add the lentils and the baking soda, and continue simmering but uncovered until the lentils are tender (usually about 40 minutes, although please check for doneness after about 20-30 minutes to avoid overcooking).

With salt and pepper, season the lentil and beef soup to taste. Remove pot from the stove and stir in the lemon juice (to bring out all the flavors) and parsley.

Ladle the lentil and beef soup into bowls and serve. Lentil and beef soup can be accompanied by a hard crust bread and a glass of red wine. Enjoy our lentil and beef soup!
Recipe Notes
Avoid cooking acids in aluminum cookwares because the acids react with the aluminum pitting in the cooking surface of the pan and affecting the taste of the food.
Lentil and Beef Soup… Recipe of a hearty lentil and beef soup, which is also nutritious…
* The Three Lentils image is a file from Wikimedia Commons.