Strawberry Brigadeiros are fudgy candies made from sweetened condensed milk, strawberry gelatin, unsalted butter, and granulated sugar. They are cute and make great party treats!
Valentine's Day is almost here….  Who is going to be your Valentine?  Mine enthusiastically devoured these gluten-free fudgy and delish Strawberry Brigadeiros, which are simply called moranguinho in Portuguese. Aren't these Brazilian candies cute?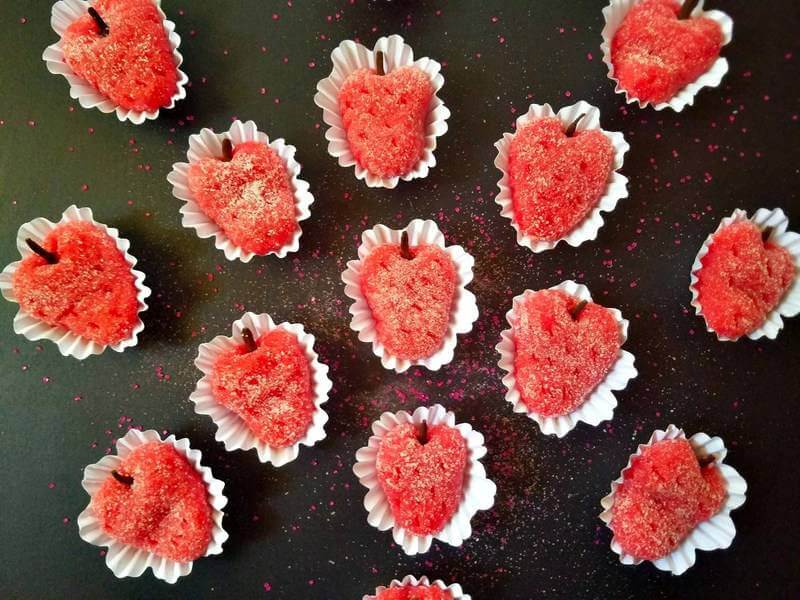 They are also quick and easy to make. That's right! All you need are 4 ingredients: sweetened condensed milk, strawberry gelatin, unsalted butter, and granulated sugar.
Combine the first 3 ingredients in a non-stick pan and cook over medium heat for about 5 minutes or until the bottom of the pan can be seen. Spread onto a greased plate and let cool. Then roll into balls, shape like strawberries, and sprinkle sugar on top. Garnish with a clove and place into bonbon cups. See? Easy peasy!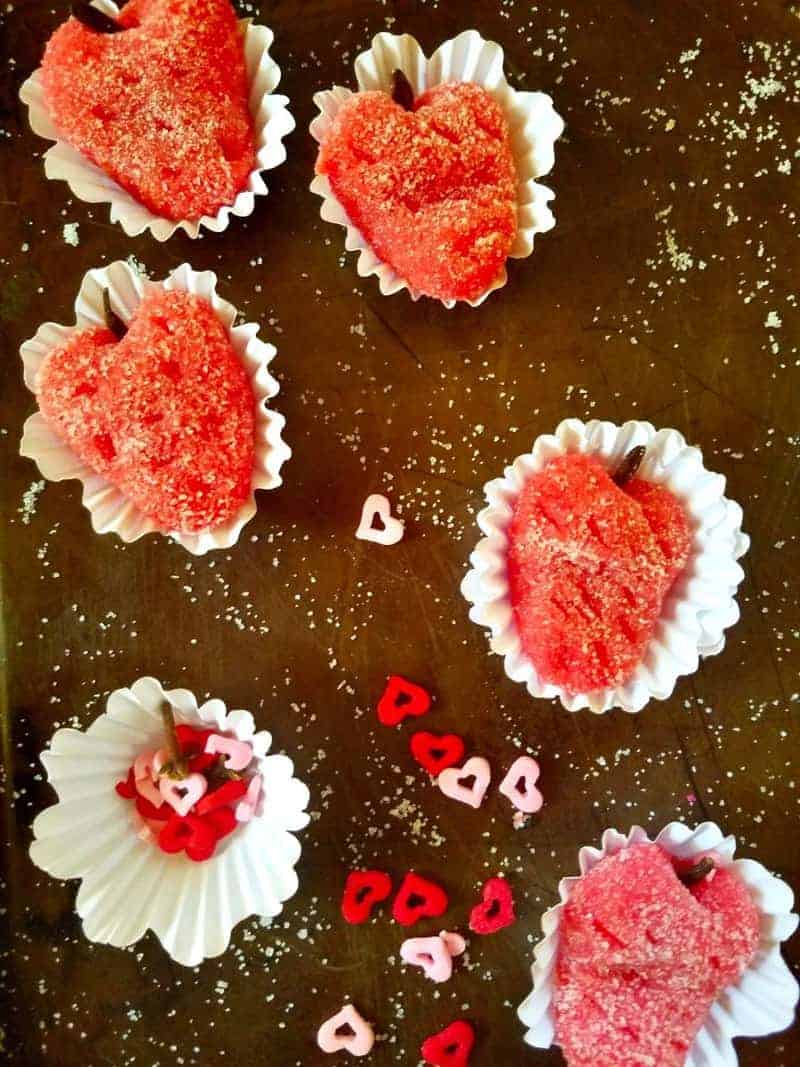 They are as easy to make as our beer brigadeiros , another fave of many male Valentines.
They can be served on a tray or placed into bonbon boxes to surprise your Valentine with something unique.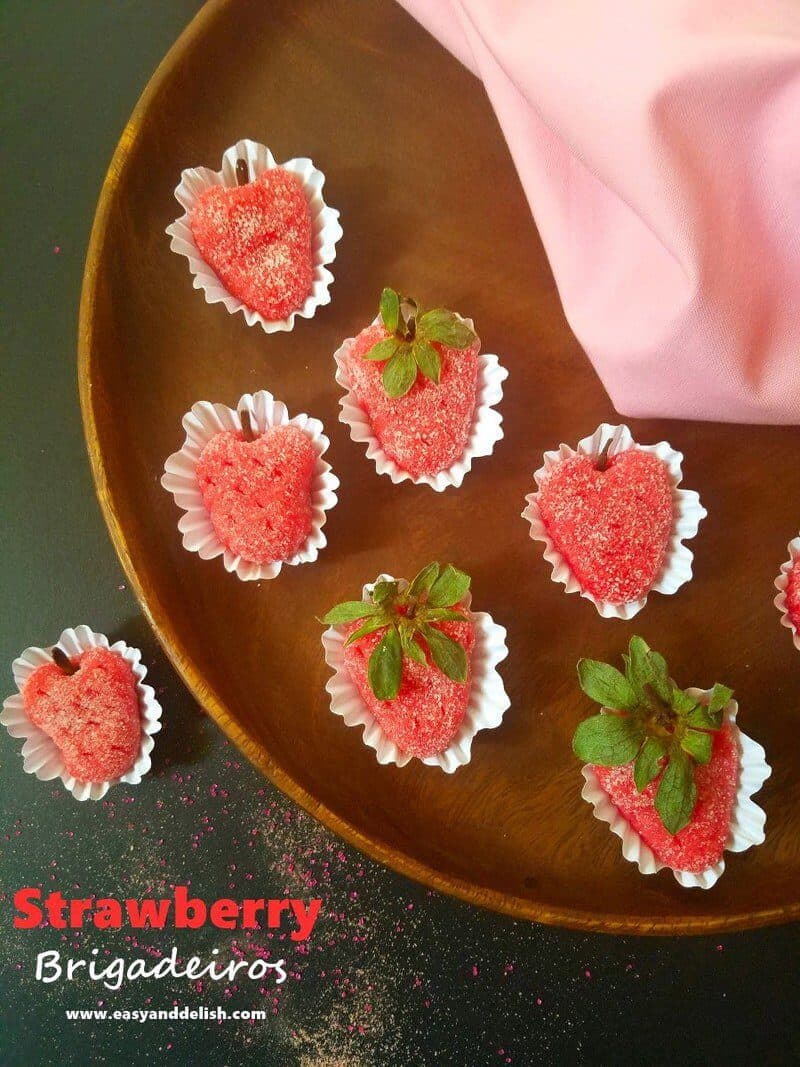 Their red color and luscious flavor are a real declaration of love…
But of course, they make more than just good Valentine treats. In Brazil, they are served at birthday parties and other occasions.  Sometimes I make them just because… 😉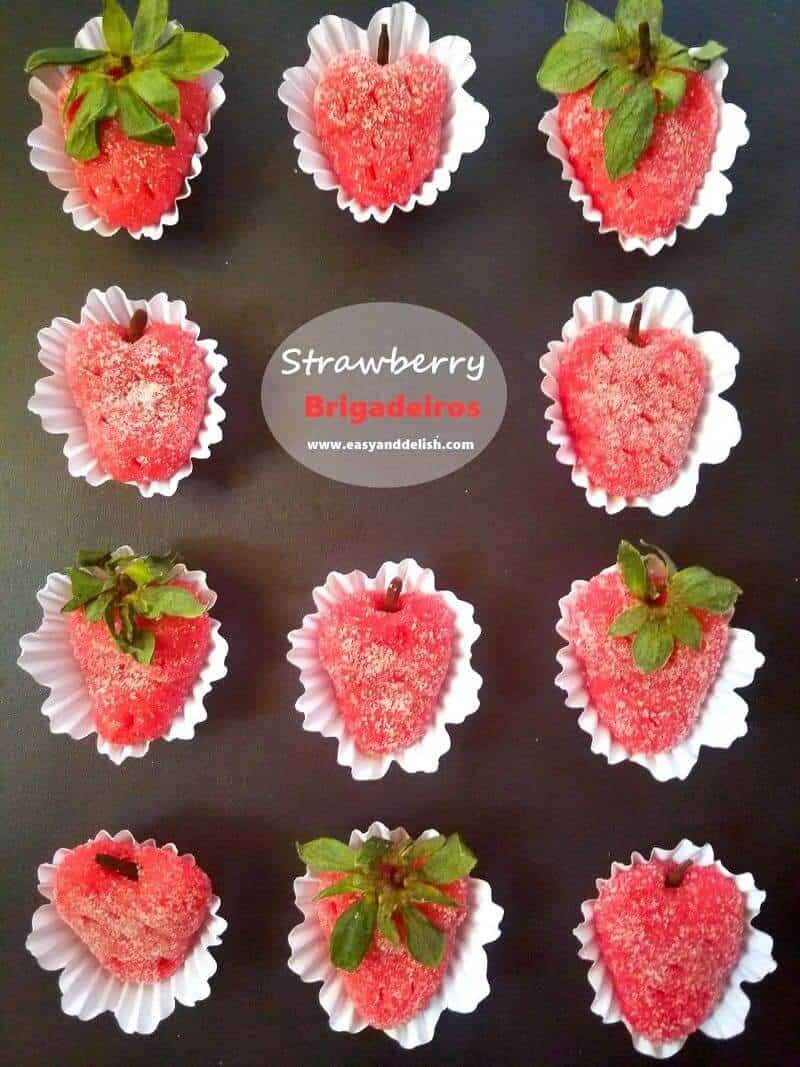 I hope you and your Valentine enjoy our strawberry brigadeiros!
HAPPY VALENTINE'S DAY!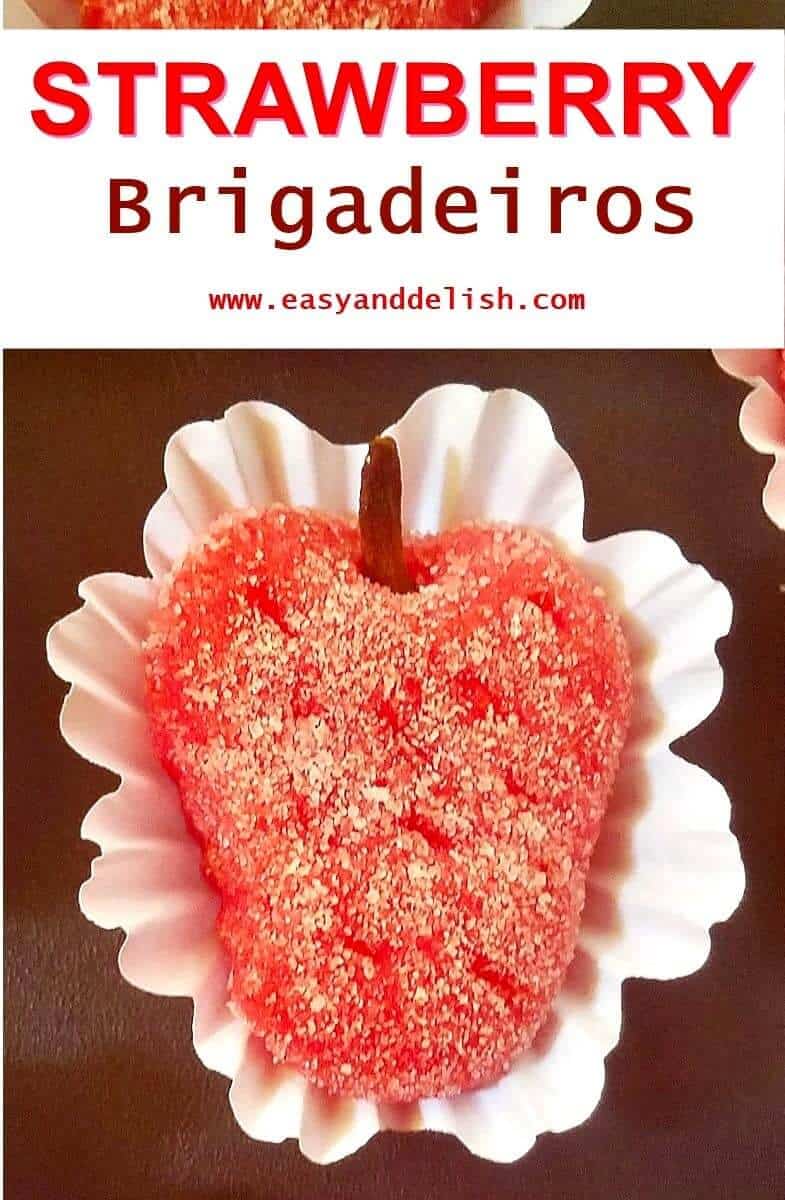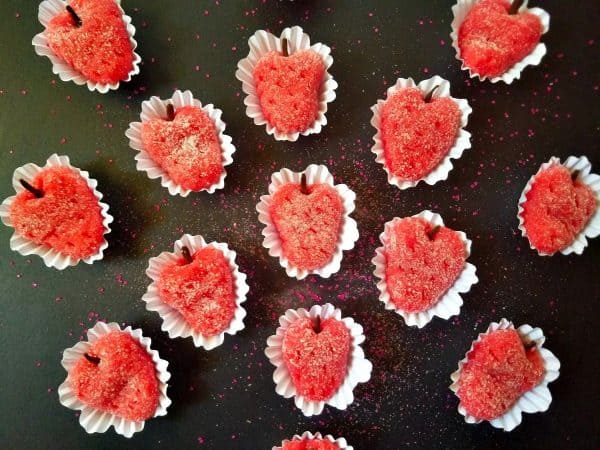 | | |
| --- | --- |
| | |
Whisk the condensed milk and strawberry gelatin powder together until obtaining a homogeneous mixture (without lumps). Then, stir in the butter.

Cook in a medium non-stick saucepan or skillet over medium-low to medium heat (large burner), stirring constantly, until the mixture thickens and starts to peel away or show the bottom of the pan when you scrape it with your wood spoon (about 5-8 minutes). The strawberry fudge mixture should be thick enough to reveal the bottom of the pan for a couple of seconds before the mixture levels out again.

When the strawberry fudge is ready, remove from the stove and spread mixture onto a plate greased with butter.

Let cool to room temperature before starting to roll them into balls with greased hands. Use a 1 teaspoon measuring spoon as measure. Then, shape them into strawberry shapes and dredge gently in sugar or sprinkle sugar all around until totally covered. Place into paper bonbon cups and garnish each with a clove as a "stem," as seen in the pictures. Enjoy!
Strawberry brigadeiros can be kept in an airtight container at room temperature for up to 2 days.