Ideas? My mind is just brimming with them. Check this one out... who doesn't love brigadeiros? Or beer? So, Beer Brigadeiros (Brigadeiro de Cerveja), is what this girl is super happy to be sharing with you today -- five-ingredient, quick-and-easy-to-make, beyond-scrumptious Brazilian fudge balls, great for any type of party!!! (wheww) I can already see your loved one's happy face when he/she opens a Valentine gift box filled with beer brigadeiros!! 🙂 As a plus, I'd also like to share with you a brief history of sweetened condensed milk -- a marvelous creation unfairly snubbed by one particular group of chefs. As you see, I am not one of them... Haters are not allowed here!!!!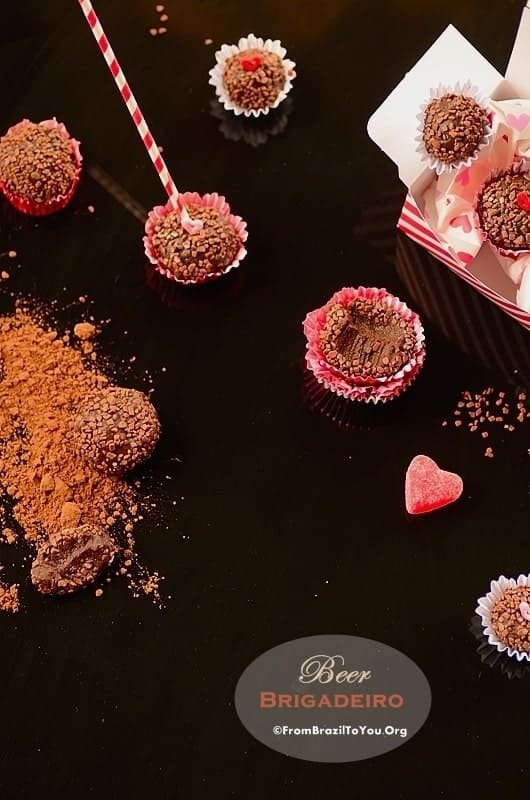 Not only beer brigadeiros, but many other Brazilian and South American treats are made from sweetened condensed milk -- a sweetened, canned cow's milk product that can last for years without refrigeration if unopened. I personally am a big fan of it!!!! In fact, most of the dessert recipes featured in this blog are proudly made from it (e.g. Camaféu de Nozes, Pineapple Delight Frozen Trifle, Eggless Avocado Mousse, Prestígio Cheesecake, Crazy Gal Cake or Bolo Nega Maluca, Gluten-Free Creamy Corn Cake or Pamonha de Forno, etc. etc.) Please, do NOT confuse sweetened condensed milk with evaporated milk, a related product that is not sweetened and undergoes a more complex manufacturing process.
Condensed milk was created in 1820 in France as a solution to difficulties in storing milk for more than a few hours. Before its invention, milk could be kept fresh for just a short while, and was only practically available in the immediate vicinity of a cow!!! Condensed milk only came to be produced on a large scale many years later, in the mid 19th century, by Gail Borden, Jr. in the United States. It became popular after soldiers returning home from the American Civil War spread the word. By the late 1860's, condensed milk was a widespread success! Factories for its manufacture opened in other countries, including Canada and Australia, as well as the world's largest, Swiss company Nestlé, which commercialized the product in cans.
Thanks to Nestlé, condensed milk became a staple in Brazil, replacing fresh milk in the preparation of desserts and cake frostings, tarts, and "mousses." It is also the main ingredient for caramel flan and brigadeiro, a unique treat that technically is neither a truffle nor a candy, but as beloved in Brazil as cupcakes are in America. In addition, I grew up eating a simple treat: condensed milk drizzled on top of bananas, my favorite afternoon snack as a child. Further, nowadays condensed milk is used to make one of my favorite drinks, Fruit Cocktail Drink (coquetel de frutas). Plus, condensed milk can be transformed into dulce de leche (doce de leite), another favorite, by boiling canned sweetened condensed milk.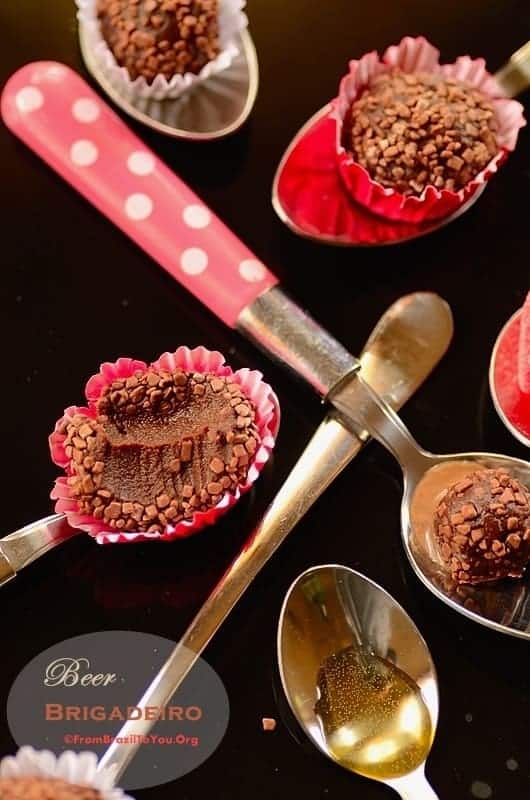 Sweetened condensed milk is also the preferred type of milk to add to coffee or tea in parts of Asia and Europe, among many other uses. In some Asian countries, it is spread on toast as a jam substitute. In the Caribbean, it is used to make Guinness punch. And in the US, it is a key ingredient in lemon ice box pie and in many key lime pie recipes.... And let's not forget that it is one of the milks in tres leches cake. Beyond its affordable cost, ease of transport, and preservability, it is also a great emulsifier that will not curdle in the presence of acid.
So how in the world did it come to be snubbed by a group of chefs from various countries? Well, let me tell you: it is simply because it is not a "luxury" ingredient... Also, it comes in a can! Shame on you, haters!!! I can still remember one of my French culinary instructors who turned up his nose at sweetened condensed milk, and got into a heated argument with me and some other students from South America and Mexico about its widespread use in our desserts. I think that these snobs forget (or maybe don't even know or care) how important condensed milk was to preventing children's deaths in the past, or to nourishing soldiers in time of war. Why are those chefs' taste buds "right" and those of everyone else in the world "wrong"?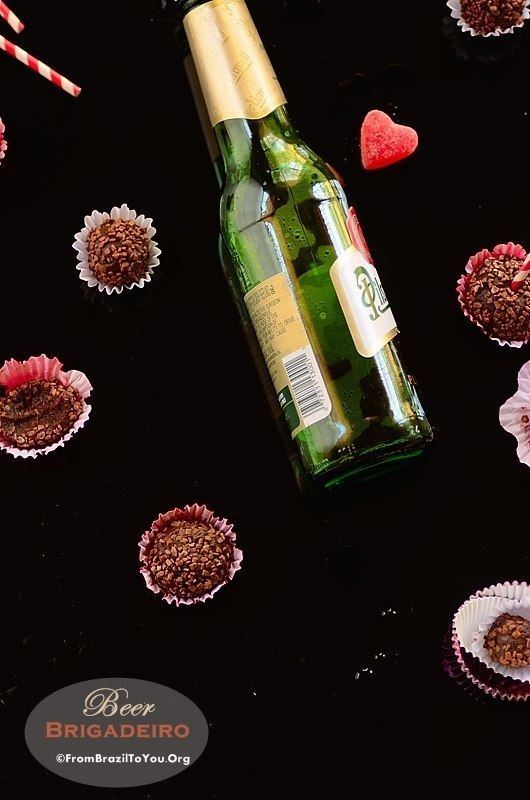 "A quem mente, cai-lhe um dente" goes the old proverb in Portuguese -- 'Whoever tells a lie loses a tooth.' Well these hypocritical chefs are in danger of losing a tooth whenever they diss condensed milk but then turn around and eat caviar and other luxury ingredients that come in cans! I tell you, I personally would rather consume sweetened condensed milk by the spoonful right out of the can than to eat frog legs from a ridiculously expensive restaurant. Both my taste buds and my wallet would be happier!
Cooking or enjoying inexpensive foods in no way diminishes a chef's skills... but hypocrisy does! If they would just have a few beer brigadeiros (or other sweetened condensed milk treats), I bet their facial expression would change from a frown to a smile. Great things don't have to be expensive... They just need to be made correctly and to taste delicious. In general, those are the things that bring us priceless memories and well-being. Arrogance is what prevents many people from trying new things and enjoying life (or even worse, leads them to try to humiliate others or to dictate what they should eat).
Viva sweetened condensed milk... Viva, (beer) brigadeiros!!!!
xx
Did you know that sweetened condensed milk can be made from scratch?
For this, mix one measure of evaporated milk with one and a quarter measures of sugar in a saucepan; then, heat the mixture, stirring until the sugar is completely dissolved. Let cool! It can also be made by simmering whole milk until it is reduced by 60%, then adding sugar.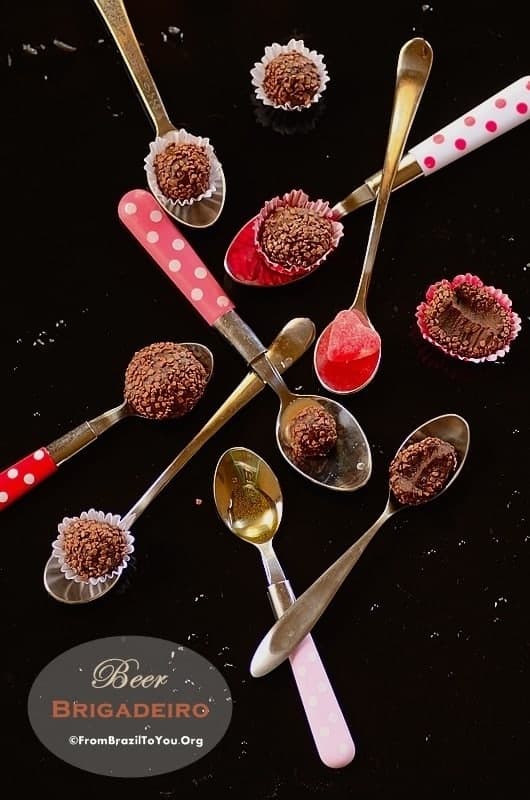 Disclaimer: I have not been compensated by Nestlé, Borden, or any other sweetened condensed milk manufacturer. All the opinions expressed here are mine and come from my honest point of view.
If you love beer brigadeiro, you might also enjoy: Brigadeiro Cookies.
Beer Brigadeiro (Brigadeiro de Cerveja)
Five-ingredient, quick-and-easy-to-make, beyond scrumptious Brazilian fudge balls (Great for any type of party)!!!
Ingredients
1

can

sweetened condensed milk

14-ounce or 396 g

⅓

cup

your favorite baking cocoa powder

½

teaspoon

unsalted butter

softened

¾

cup

any golden Ale beer

not counting the foam**, low yeast and 4.2% - 4.8% ABV or alcohol content

Chocolate sprinkles or milk chocolate flakes

full bodied, and fruity taste. For a gluten-free version of this recipe, use a gluten-free beer.
Instructions
In a nonstick, medium saucepan, stir together the sweetened condensed milk with the cocoa powder until obtaining a homogeneous mixture. Add both the butter and beer, and cook over medium heat (large burner),

stirring constantly

with a wooden spoon, for about 7-8 minutes. Then reduce the heat to medium-low and cook,

stirring constantly

, for an additional 10 minutes or until the bottom of the pan starts to show through the beer brigadeiro mixture. Transfer warm beer brigadeiro to a greased dish and let cool on a rack. If desired, it can be refrigerated for 15-20 minutes to make easier to roll into balls. Grease hands with butter, shape beer brigadeiro into balls (a tablespoon can be used as measurement), roll in the chocolate sprinkles, and place in bonbon cups.

Note: All the beer alcohol content evaporates in the cooking process, so children can also consume beer brigadeiro.
Recipe Notes
The beer brigadeiros (not consumed on the same day) should be stored in a clean, airtight container in a single layer for up to 2 days ( at room temperature) or up to 4 or 5 days ( in the refrigerator) . If stored in the refrigerator, cover the layer of beer brigadeiros as well with parchment paper to prevent water droplets condensed by the low temperature fall on them. Remember: It is important that the container is odorless or will pass to the beer brigadeiros.
** Nutrition labels on easyanddelish.com are for educational purposes only. This info is provided as a courtesy and is only an estimate, since the nutrition content of recipes can vary based on ingredient brand or source, portion sizes, recipe changes/variations, and other factors. We suggest making your own calculations using your preferred calculator, based on which ingredients you use, or consulting with a registered dietitian to determine nutritional values more precisely.
Please note that health-focused and diet information provided on easyanddelish.com is for educational purposes and does not constitute medical advice, nor is it intended to diagnose, treat, cure, or prevent disease. Consult with your doctor or other qualified health professional prior to initiating any significant change in your diet or exercise regimen, or for any other issue necessitating medical advice.
DID YOU MAKE THIS RECIPE?
Comment and rate the recipe. Also follow us on Pinterest at @easyanddelish for more delish recipes.