I love avocados!!!  I enjoy eating them both in savory dishes and in desserts. Yes, that's right — in desserts. Decades before people here in the US caught on to using avocados in desserts, Brazil was preparing wonderful sweet avocado treats such as Avocado Crème Brûlée.  I can remember drinking avocado smoothies for breakfast as a child, as well as devouring avocado ice cream and avocado "mousse" at snack time.  This was more than 30 years ago — and avocado desserts are older than I am.  🙂  All right, an Eggless Avocado Mousse is the exact recipe that I am sharing with y'all today.  Avocado mousse is a really intelligent way to entertain guests or to satisfy one's sweet tooth because it is delicious, elegant, economical, and effortless.  Need I say more?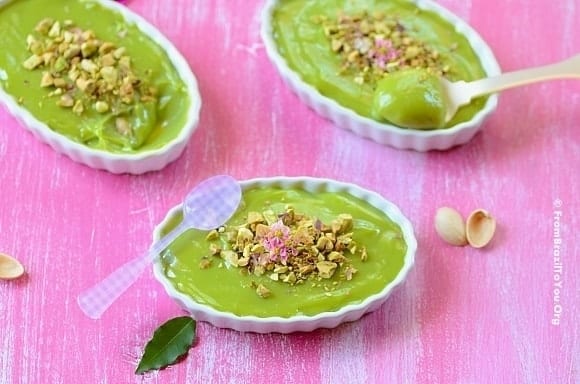 For those who may be thinking, 'how can a professional chef call this avocado treat a mousse,' I'd like to clarify that our avocado "mousse" is technically a cream because it doesn't incorporate any whipped egg whites (which produces a light and fluffy texture) or whipped cream (resulting in a creamy and thick texture).  But this is the Brazilian way to make avocado "mousse."  I am just being authentic!  May the French forgive us Brazilians.
Although it doesn't make use of either of the foamy ingredients above, our avocado mousse is as creamy and thick as any real mousse that incorporates whipped cream.  This avocado "mousse" is an ASAP treat that can be made in 5 minutes and refrigerated for at least 45 minutes prior to serving.
I am enjoying my avocado mousse right now… I hope that you make this avocado mousse and give me your feedback.
xx
And here is the video on how to prepare eggless avocado mousse: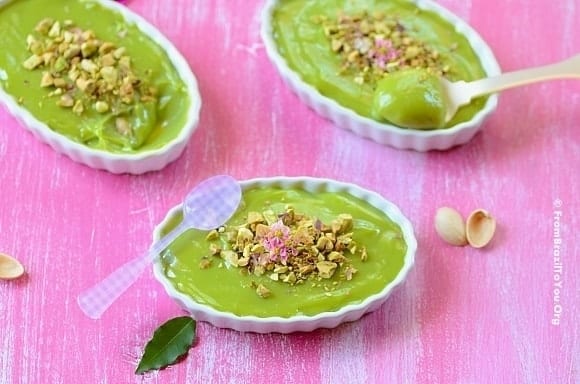 | | |
| --- | --- |
| | |
In a blender, blend all the ingredients together, except the pistachios, until obtaining a lump-free, homogeneous, creamy mixture. Spoon mixture into 4 ramekins, layering evenly. Place in the refrigerator for 45 minutes. Right before serving, sprinkle about 1 tablespoon of chopped pistachios on top of each avocado mousse and serve. Enjoy!