Brazilian fried chicken bites (frango a passarinho) are super crunchy small cuts of chicken deep fried in oil and topped with a mixture of toasted garlic, olive oil, and parsley.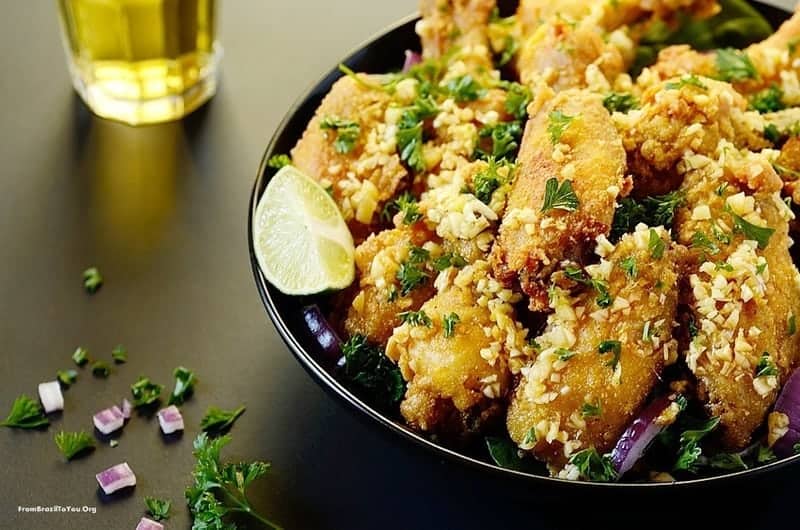 What is going to be celebrated in Brazil from the 5th to 10th of this month? Carnival!!! What are we all going to be watching in the U.S. soon? The Super Bowl! With two important events on the way, Brazilian fried chicken bites are the ideal appetizer for letting you eat well while having lots of fun.
WHAT'S FRANGO A PASSARINHO?
Translated literally as 'little birdie chicken', frango a passarinho is a typical Brazilian appetizer consisting of small cuts of chicken marinated with lime juice and seasonings, breaded with a mixture of flour and cornmeal, and deep fried in oil.
Later on, they are topped with a mixture of toasted garlic, olive oil, and chopped parsley and served accompanied by chilled beer. They are tender on the inside and crunchy on the outside.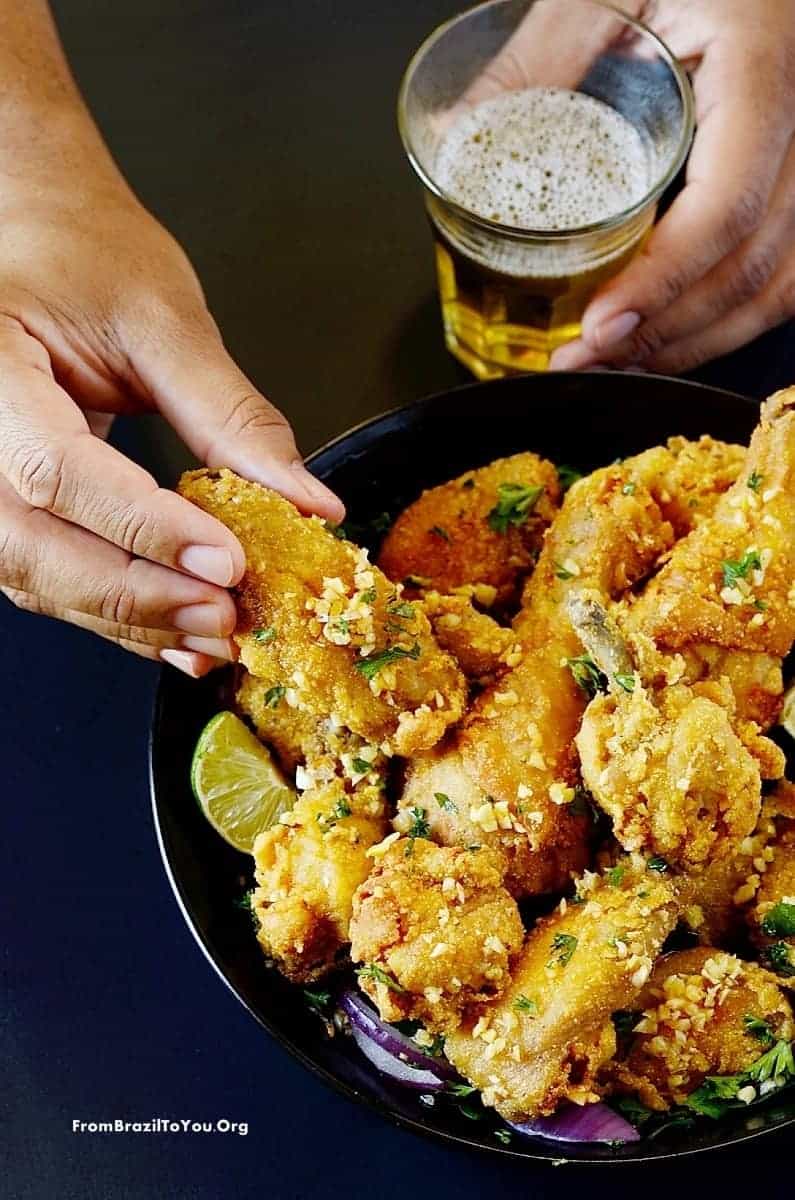 The funny name for the dish is due to the wide availability of a small breed of chicken at the birth of this dish many decades ago, whose small size produced cuts ideal for an appetizer.
The dish became so popular that small cuts of today's larger chickens can now be purchased uncooked in bags at local markets in Brazil, under the same name as the dish.
Frango a passarinho is a must all year round at every bar in São Paulo, as well as many places in the rest of the country-- where these chicken fried bites are served either by themselves, on a bed of salad leaves, or accompanied by French fries.
Calorie count? Forget about it!
This is a dish for pure enjoyment as these Chinese 5 Spice Wings and also these Keto Chicken Wings -- whether you have been dancing like wild on the streets for hours or not...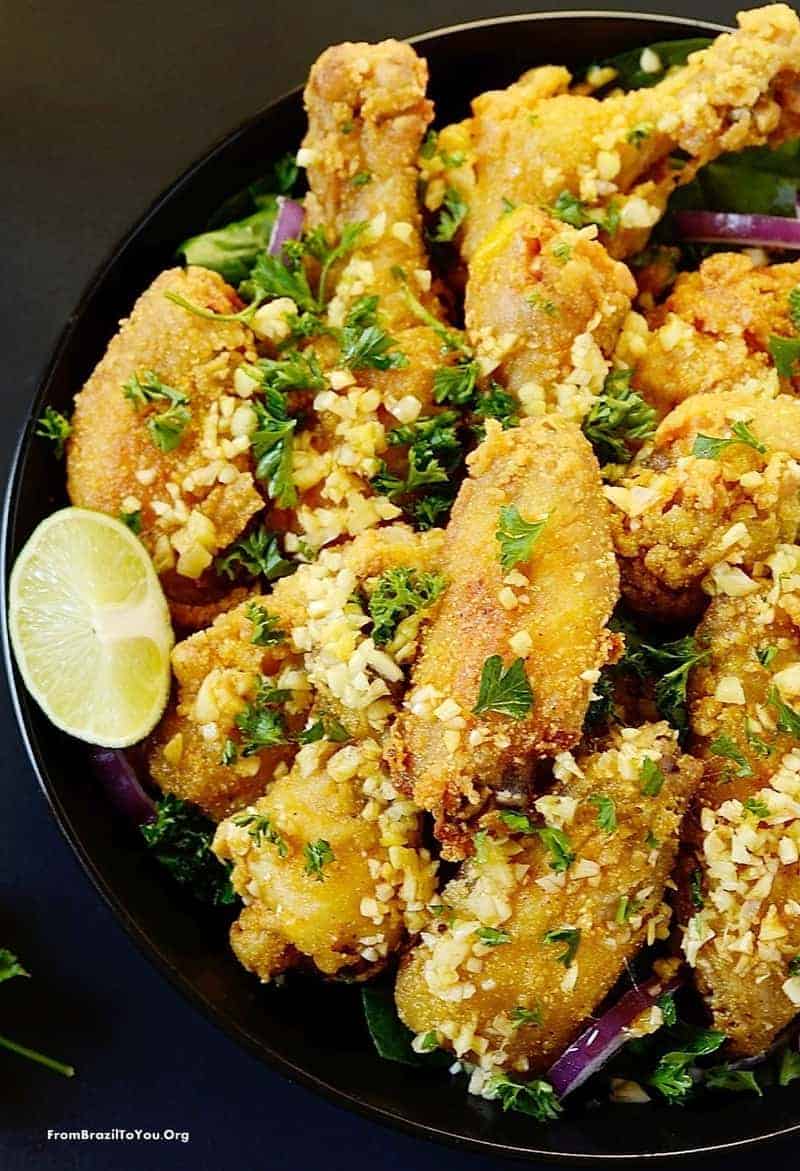 ... and you know what? Although samba may be the music that first comes to many people's mind during this fun time of the year, it is not the only one heard across Brazil.
FRANGO A PASSARINHO AND CARNIVAL
Frevo, axé, maracatu and many other rhythms take Carnival to a whole new level. In a large, diverse country like Brazil, rhythms and costumes vary from one region to another.
In the southeastern cities of Rio de Janeiro and São Paulo, for example, samba is a tradition at huge, organized parades led by samba schools...
On the other hand, in some Northeastern cities like Recife and Olinda, frevo and maracatu (influenced by local folklore and cultural manifestations), are the main rhythms at the largest street parades, with their festive giant dolls and colorful umbrellas. But that's not all!
In the centuries old Northeastern city of Salvador, the public dances to the beat of Afro-Brazilian axé rhythms played by trio elétricos (mobile soundstages that are driven through the streets).
But everywhere you go, Carnival is an event of mega proportions. Appetizers such as these fried chicken bites are widely consumed, all washed down with lots of beer, guaraná soda, and other cold energy drinks.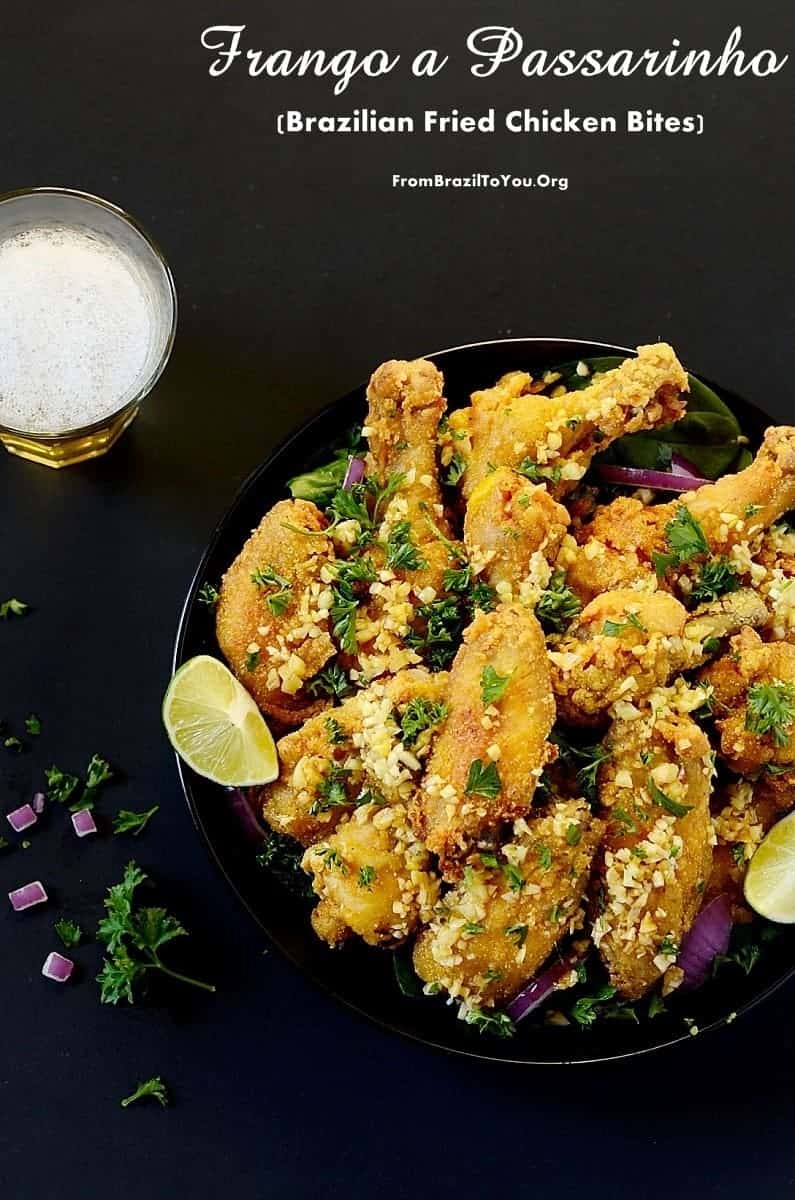 One thing is sure: whether you are celebrating Carnival, the Super Bowl, or even no event in particular, frango a passarinho is worth a try. They will score big points with your tongue, while bringing out the happiest of songs in your mind.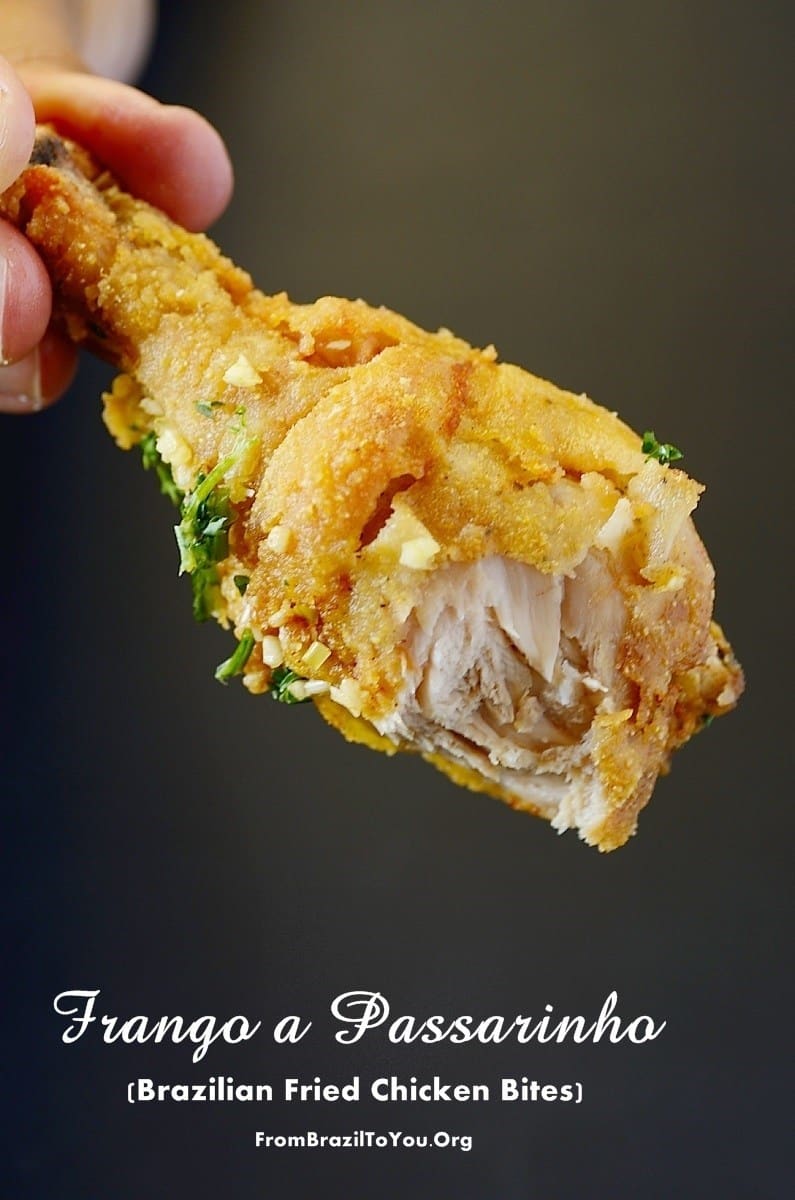 Fried Chicken Bites (Frango a Passarinho)
Brazilian fried chicken bites (frango a passarinho) are crunchy small cuts of chicken deep fried in oil and topped with a mixture of toasted garlic, olive oil, and parsley.
Ingredients
Fresh juice of 2 limes

1

tablespoon

Dijon mustard

or 2 tablespoon regular yellow mustard

1-½

tablespoons

plus 1 teaspoon of salt

3

teaspoons

ground black pepper

divided

5

lbs

chicken

skin on and cut into small pieces (or only wings, cut in the joints)

1

cup

all-purpose flour

If on a keto diet, replace for almond flour

1

cup

yellow cornmeal

If on a keto diet, replace for almond flour, or skip

1

teaspoon

sweet paprika

optional

Vegetable oil

enough to deep fry chicken pieces

8

large garlic cloves

minced

3-4

tablespoons

olive oil

2

tablespoons

chopped parsley

or more fresh
Instructions
In a large Ziploc bag, mix in lime juice, mustard, 1-½ Tablespoons salt, and 2 teaspoons pepper. Place small cuts of chicken inside, seal bag, and try to combine mixture with the chicken as much as possible. Let rest at room temperature for 30-60 minutes.

In another large Ziploc bag, mix flour, cornmeal, 1 teaspoon salt, 1 teaspoon pepper, and paprika if desired. Remove chicken pieces from the bag, shaking off excess marinade, and place into the flour mixture. Seal bag and shake well until all pieces are covered with flour mixture.

Heat the vegetable oil to 350 degrees F, shake off excess flour, and deep fry chicken in batches. Avoid overcrowding the pan. It will take about 8 minutes (wings and other small pieces) to 12 minutes (drumsticks and other alike pieces). Place fried chicken bites onto a large sheet pan lined with double paper towel to absorb excess oil.

Meanwhile, toast minced garlic with olive oil over medium heat in a small to medium skillet -- just until garlic starts getting lightly brown. Watch carefully! Remove pan from the heat, let cool a bit, and spoon on top of the fried chicken bites. Sprinkle chopped parsley on top and serve by themselves or accompanied by French fries and chilled beer or other drink of your choice.
Recipe Notes
INACTIVE TIME: 30-60 minutes (marinade). SERVES 4-6 people.
STORE leftovers in an airtight container in the fridge for up to 3 days. 
Nutrition
Calories:
585
kcal
|
Carbohydrates:
38
g
|
Protein:
39
g
|
Fat:
30
g
|
Saturated Fat:
8
g
|
Cholesterol:
136
mg
|
Sodium:
1965
mg
|
Potassium:
495
mg
|
Fiber:
4
g
|
Sugar:
1
g
|
Vitamin A:
545
IU
|
Vitamin C:
5.9
mg
|
Calcium:
39
mg
|
Iron:
3.7
mg
** Nutrition labels on easyanddelish.com are for educational purposes only. This info is provided as a courtesy and is only an estimate, since the nutrition content of recipes can vary based on ingredient brand or source, portion sizes, recipe changes/variations, and other factors. We suggest making your own calculations using your preferred calculator, based on which ingredients you use, or consulting with a registered dietitian to determine nutritional values more precisely.
Please note that health-focused and diet information provided on easyanddelish.com is for educational purposes and does not constitute medical advice, nor is it intended to diagnose, treat, cure, or prevent disease. Consult with your doctor or other qualified health professional prior to initiating any significant change in your diet or exercise regimen, or for any other issue necessitating medical advice.
DID YOU MAKE THIS RECIPE?
Comment and rate the recipe. Also follow us on Pinterest at @easyanddelish for more delish recipes.