Father's Day will be celebrated Sunday, the 16th,  in the USA, while it is always celebrated on the second Sunday of August in Brazil.  To commemorate such an important date, we have prepared a homey and delicious meal: Chicken Stroganoff served with white rice and shoestring potatoes, and the best Lemon Pie ever!!!
I confess that I have mixed feelings about this day… I feel sad because my father, the first man in my life, is no longer amongst us to celebrate the date.  Yet, I also feel happy for my children, who can enjoy their father and are building great memories– as I once did with my own father…  At any rate, I thank the Lord for both men, whose character and life memories will live in our hearts as long as we shall live.  I also thank God for being such a patient, merciful, and loving Father to me.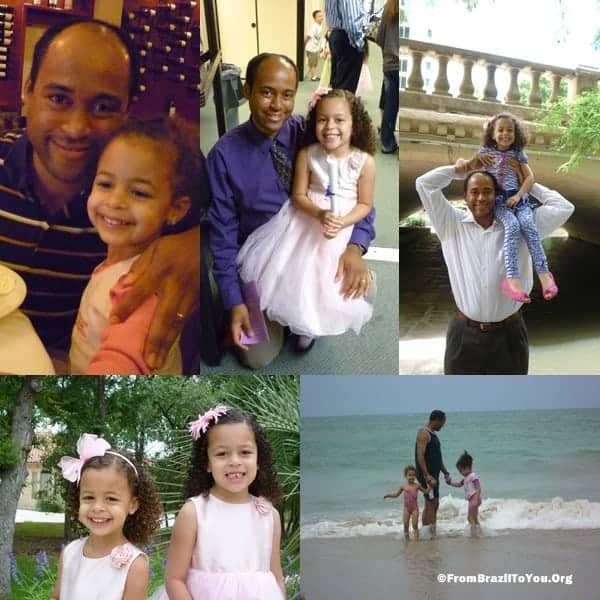 This Chicken Stroganoff is dedicated to my husband — whom I can talk with face to face.  I originally intended to make something else, but I thought it would be fair to ask him exactly what he would like to have on his special day.  He answered firmly and quickly– Estrogonofe de Frango (Chicken Stroganoff)…  something that I should have foreseen, since he has asked me so many times when I would be posting the recipe for this, one of his favorite Brazilian dishes.
Wait, I know, I know!!  Stroganoff was originally a 19th century Russian dish made from sautéed pieces of beef served in a sauce with sour cream!!!  But it has become popular around the world, including in Brazil.  There are variations on the original recipe– and the Brazilian version of Stroganoff is one of them.  Our Stroganoff version includes diced beef or chicken with onions, mushrooms, tomato sauce, and heavy cream, accompanied by white rice and shoestring potatoes.
I do hope your enjoy our Chicken Stroganoff and have a blessed day!!!
Para o meu pai ( To my Dad): Whether you are able to hear me or not from where you are, I will always love you forever and ever!!!!
To my husband, the father of my children, thank you for being an amazing role model and a loving father to our girls.
To all great fathers around the world, we wish you a very Happy Father's Day!!!! 
xx
Chicken Stroganoff
Serves 4
Segment: Brazilian cuisine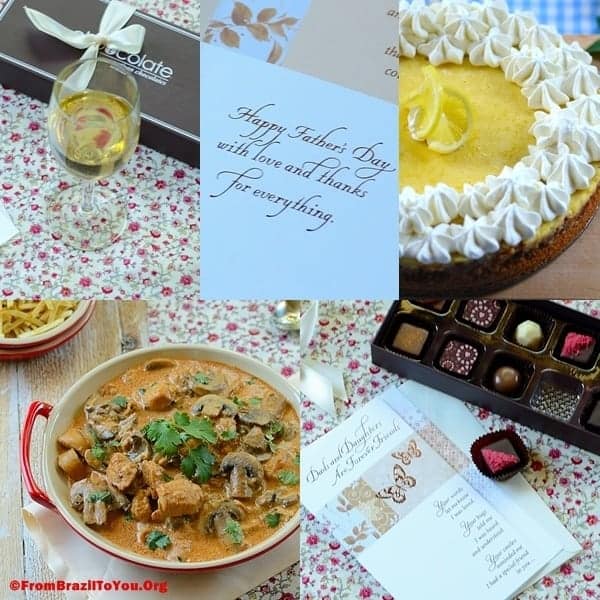 Ingredients:
2.2 pounds (1 kg)  boneless, skinless chicken breast
Salt and freshly ground black pepper to taste
6 tablespoons olive oil, divided
1 medium yellow onion, chopped
3 garlic cloves, minced
1/2 cup dry white wine
1/2 cup tomato sauce
2-1/2 cups chicken broth or stock
2 tablespoons unsalted butter
1 pound (about 450 g) fresh common white button mushrooms, cleaned and sliced
3/4 cup heavy cream (sour cream, plain or Greek yogurt, or coconut milk can be substituted for the heavy cream)
1 tablespoon Dijon mustard
1/4 cup fresh parsley or cilantro, chopped
Directions:
1. Pat the chicken breasts dry, cut into 2-inch cubes, and season with salt and pepper. In a large stainless steel pan, heat 3 tablespoons oil over medium-high heat.  Pan-fry the cubed chicken in batches so that it is browned on all sides, then let rest on a plate or bowl after pan-frying.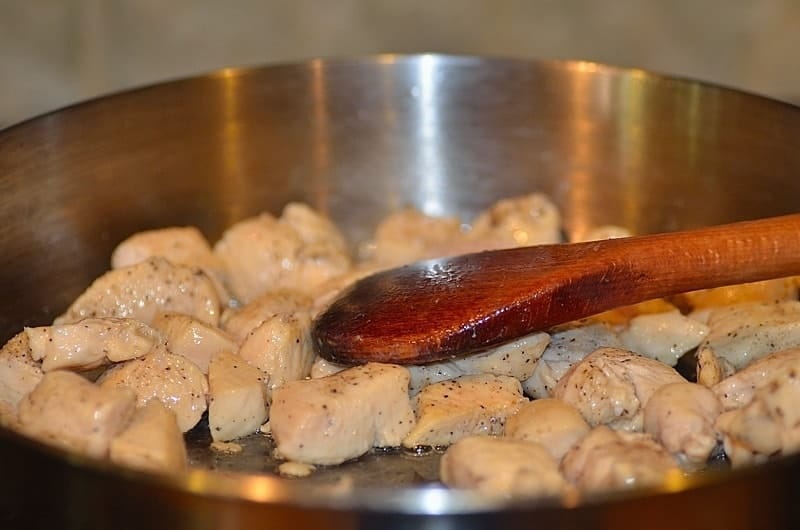 2. Lower the heat to medium and add 1 tablespoon of oil and the onions, cooking and stirring occasionally until they are soft (approximately 3 minutes).  Add the garlic and cook until soft and fragrant, about 1 minute.  Return chicken to the pan!!!  Pour in the wine and let cook until it has been almost completely absorbed. Stir in both the tomato sauce and the chicken stock/broth.  Cook, partially covered, over medium-low heat  for 40 – 45 minutes.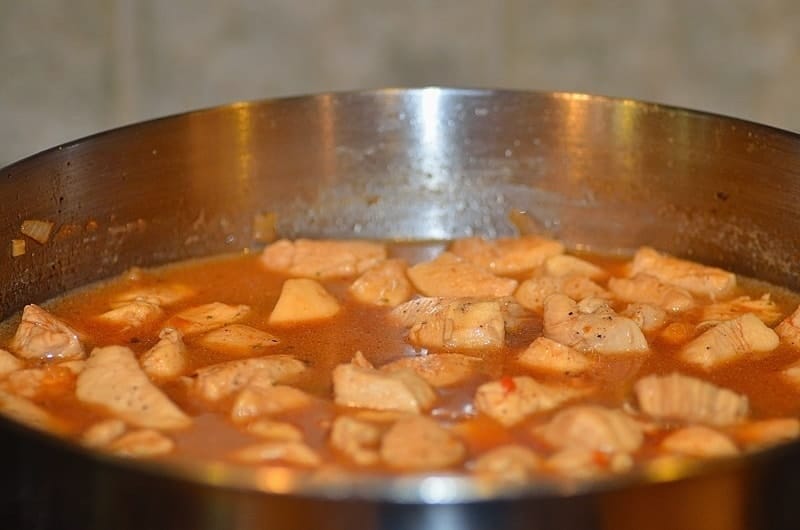 3. In a large skillet over medium heat, heat the remaining 2 tablespoons olive oil and melt 2 tablespoons butter.  Add the mushrooms and cook until the they are browned and cooked through.  Remove from heat and reserve.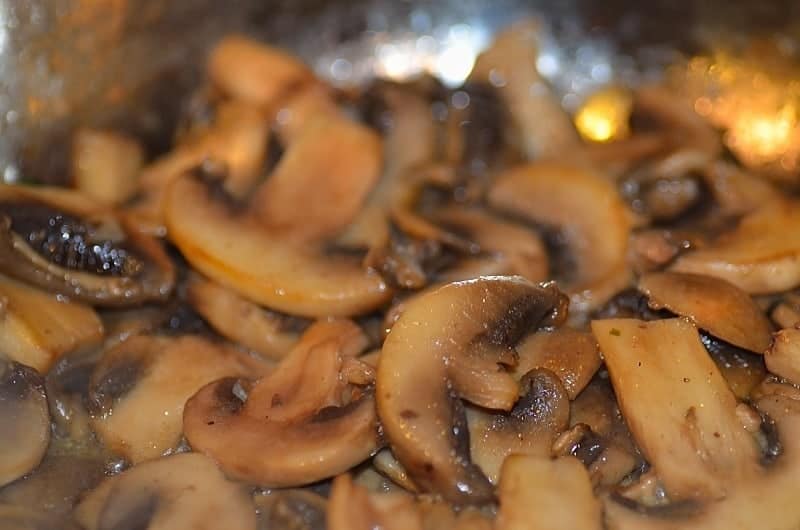 4. When the chicken is cooked, remove from the heat and fold in the mushrooms,  heavy cream, mustard, and parsley.  Taste and adjust the salt and pepper, if necessary.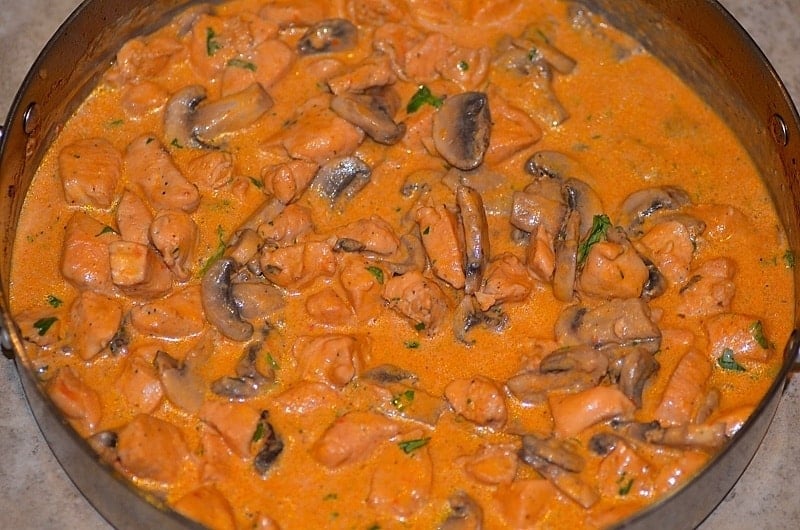 5. Serve the Chicken Stroganoff with white rice and shoestring potatoes.  Or, as a variation, serve with your favorite pasta.  And don't forget those shoestring potatoes!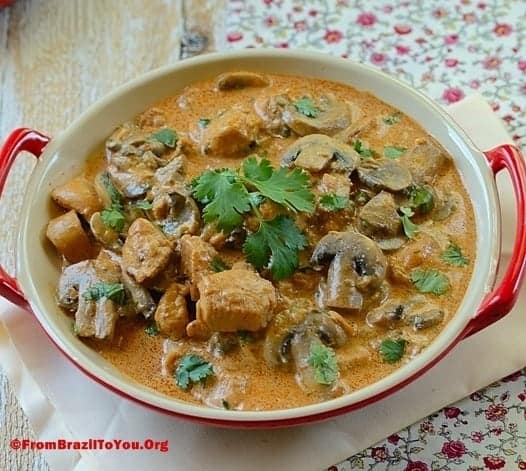 NEVER MISS A DELICIOUS RECIPE!!! SUBSCRIBE BY EMAIL: