My kitchen is a party right now! Aromas and smiles all over….It is picanha day!
What are we celebrating? You. That's right! Because of you, my dear reader, we are eating one of the most naughtylicious (if you permit me) cuts of meat: picanha or top sirloin cap for dinner. Although you are not physically present, you are in my mind….
First, let's talk picanha. 🙂

In Brazil, the top sirloin cap (culotte or coulotte) — called picanha (pronounced pee-KAHN-yah)– is served traditionally grilled over the open flames. It is one of the most popular cuts of meat served in the churrascarias or Brazilian Steakhouses. Alternatively, picanha can be cut into thick slices, seasoned with only coarse sea salt, and then grilled with the fat layer facing up until most of it melts away, and the remaining fat becomes crispy.
You can also roast the picanha in the oven — as I did (modern approach). But before we get there, I would just like to reinforce that when you go shopping for the meat, make clear that you are looking for the top sirloin cap (Culotte, Coulotte, or Picanha in Brazil), not the top sirloin. Those are two separate cuts from the sirloin, but referred to by a similar name.
Picanha is also commonly confused with tri-tip (a cut of beef from the bottom sirloin primal cut, known in Brazil as maminha). Outside of Brazil or Argentina, it may be a challenge to find picanha for separate purchase, as butchers might then encounter difficulty selling the remaining cut of meat that is left over. Picanha is often sold together with the whole top sirloin, and in this case it is the upper muscle layer, which is covered on top with a layer of fat. I would suggest first asking one's butcher for the right cut, but otherwise one may need to purchase the whole top sirloin and pay for the leftover, which can be separated from the picanha and used to make something else, if desired.
Now, let's cook together. Excited?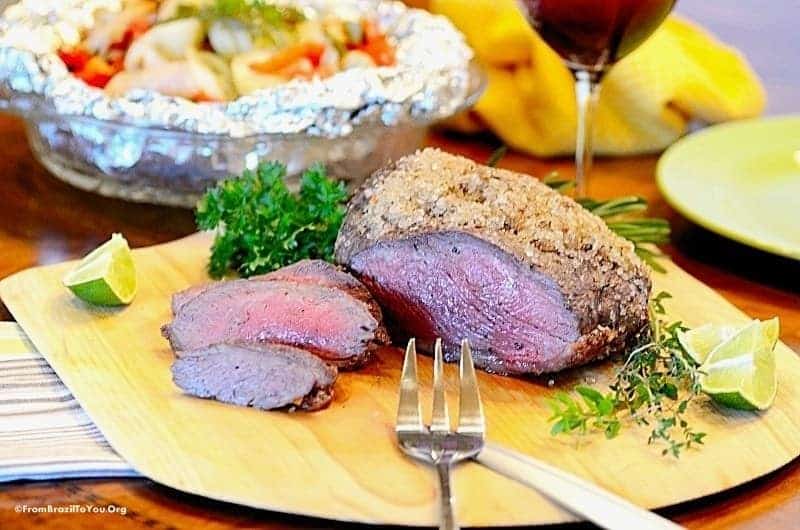 Roasted Picanha with Papillote Vegetables
Serves 4 – 5
Cuisine: Brazilian (Modern)
For the Roasted Picanha:
Ingredients:
2-1/2 pounds (about 1.15 Kg) top sirloin cap or picanha
2.2 pounds (about 1 kg) coarse salt
2 tablespoon garlic powder
1 tablespoon dried oregano
1 tablespoon dried thyme
1 tablespoon dried parsley
1 tablespoon dried cilantro
1 teaspoon red pepper flakes for spiciness (optional)
Directions:
Let refrigerated meat rest at room temperature for about one hour before cooking.
Preheat oven to 480 F (about 250º C).
Mix the garlic powder and all the dried herbs with the coarse salt (plus the red pepper flakes, if desired). Reserve.
Place double aluminum paper in a baking pan, lifting the sides. Make a layer with 1/2 of the salt and place the picanha on top of this with the fat facing down. Then, cover the picanha (top and sides) with the other half of the salt. In Brazil, it is common to eat the partially melted, crunchy fat of the picanha. If you don't intend to eat this portion, you can place the meat in the pan facing up.
Roast uncovered until a meat thermomether inserted in the thickest part of the meat (center) reads  120°F to 125°F, (49°C to 52°C) for rare, 130°F to 140°F (55°C to 60°C) for medium rare, 145°F to 150°F (63°C to 66°C) for medium, and 155°F to 165°F (68°C to 74°C) for well done (Note: 120° is a pretty rare roast). It may take at least 30 minutes for rare in the oven.
Before slicing, let cool down on a rack for at least 15 – 20 minutes and also remove all the salt crust. Serve with lime wedges on the side to squeeze over the picanha.
For the Papillote Vegetables:
Ingredients:
2 large yellow or all purpose potatoes (e.g. Yukon potatoes), washed and peeled
1 large yellow onion, peeled and sliced
1 large red bell pepper, deseeded and sliced
1 large green bell pepper, deseeded and sliced
3 large carrots, peeled and sliced
1/4 cup olive oil
1 tablespoon white wine
1/2 tablespoon dried oregano
Salt and pepper to taste
Directions:
Preheat the oven to 400 F (about 205º C).
In a large bowl, mix all the ingredients. Reserve.
Place a double layer of aluminum foil (large sheets) in a glass baking pan and pour in the mixed vegetables. Fold and crimp all the sides shut, forming a pouch. Bake for 60 – 70 minutes or until potatoes are fully cooked. Serve as a side for the picanha.
Image of Picanha on the skewer from Baker Street School.