Shrimp in creamy yuca sauce (Bobó de Camarão) is an easy seafood stew made with vegetables, coconut milk and mashed yuca. It can be served with white rice.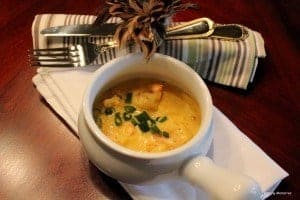 I am sharing with you today one of my favorite stews: the rich Bobó de Camarão or Shrimp in Creamy Yuca Sauce.
Just as any other dish from Afro-Brazilian cuisine, bobó has soul! It originates from Bahia, the state with the largest number of black African descendants.
Unique like its people, Bahia has the most exquisite cuisine in Brazil, which evolved when cooks improvised on both traditional African and Portuguese recipes by using locally available ingredients. Its differences from all of the other regional cuisines of Brazil set it apart completely.
Other typical Bahian dishes include moqueca (shrimp stew), vatapá (a savory stew made of dried shrimp-- a thickened version of which is often served as a filling for acarajé patties), acarajé (Brazilian falafel or fritters made with black-eyed peas and dried shrimp), caruru (okra stewed in coconut milk), abará (Brazilian tamale made with mashed black-eyed peas and wrapped in banana leaves), and even feijoada, which has been the national dish of Brazil for more than 300 years.
Like most dishes from Bahian cuisine, bobó is prepared with the three ingredients referred to as the "Holy Trinity of Bahian cuisine"-- coconut milk, malagueta pepper (its heat level is about the same as Tabasco peppers), and dendê oil (a heavy oil extracted from the fruits of an African palm tree, that adds flavor and also a bright orange coloring to foods).
Well, ladies and gentlemen, without further ado I present to you the best of the best: Its Excelency, Shrimp in Creamy Yuca Sauce or Bobó de Camarão.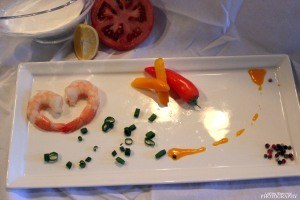 Shrimp in Creamy Yuca Sauce (Bobó de Camarão)
Shrimp in creamy yuca sauce is an easy seafood stew made with vegetables, coconut milk and mashed yuca. It can be served with white rice.
Ingredients
1

pound

large shrimp

peeled, deveined, and tail removed, about ½ kg

1

pound

yuca

peeled and boiled, about ½ kg, cassava

2

tablespoon

vegetable oil

½

large white or yellow onion

sliced

½

large red bell pepper

deseeded and sliced

½

large yellow bell pepper

deseeded and sliced

2

large tomatoes

blanched*, deseeded and sliced

2

garlic cloves

minced

½

cup

green onion or cilantro

chopped and divided

¾ - 1

cup

coconut milk

¼

cup

dendê or red palm oil*

½

tablespoon

minced Malagueta pepper

Tabasco, Habanero, or Jalapeno (optional)

Juice of 1 - ½ lime

divided

Salt and ground pepper to taste
Instructions
Blanching: To peel a tomato, first use your paring knife to cut out the stem. Then slice a shallow X in the bottom end. Using a slotted spoon, plunge the tomato into boiling water for about 20 seconds, then plunge it into a bowl of iced water. This will stop the tomato from cooking and further loosen the skin. Remove the cooled tomato and peel away the skin.

In a medium bowl, season the shrimp with salt and ground pepper. Drizzle with the juice of 1 lime. Reserve in the fridge.

In a large pot, pour enough water to cover the peeled yuca or cassava, and sprinkle 1 tablespoon salt. Boil for about 20 minutes or until tender. Drain.

Meanwhile, in a large pan over medium-high heat sautée the onion and bell peppers in oil for about 3 minutes, stirring now and then. Add the tomatoes and sautée for 2 minutes more. Then, add the garlic and ¼ cup green onions or cilantro. Sautée for about 30 seconds.

Blend the sautéed vegetables with the coconut milk and the boiled yuca in the blender until homogenous.

Let cook over medium heat for about 7 minutes, stirring every so often. Add the shrimp, peppers, and dendê or palm oil and let cook for approximately 3 minutes. Just before removing from stove, adjust the salt and add the juice of ½ lime and ¼ cup cilantro or green onions. Stir. Serve over white rice with farofa on the side (follow our next post to obtain the recipe for Farofa, which is a yuca couscous). Enjoy our shrimp in creamy yuca sauce!
** Nutrition labels on easyanddelish.com are for educational purposes only. This info is provided as a courtesy and is only an estimate, since the nutrition content of recipes can vary based on ingredient brand or source, portion sizes, recipe changes/variations, and other factors. We suggest making your own calculations using your preferred calculator, based on which ingredients you use, or consulting with a registered dietitian to determine nutritional values more precisely.
Please note that health-focused and diet information provided on easyanddelish.com is for educational purposes and does not constitute medical advice, nor is it intended to diagnose, treat, cure, or prevent disease. Consult with your doctor or other qualified health professional prior to initiating any significant change in your diet or exercise regimen, or for any other issue necessitating medical advice.
DID YOU MAKE THIS RECIPE?
Comment and rate the recipe. Also follow us on Pinterest at @easyanddelish for more delish recipes.