Who doesn't enjoy a juicy and meltingly tender steak? Filet Mignon with Madeira Sauce (Filé Mignon ao Molho Madeira) is a popular dish among Brazilians!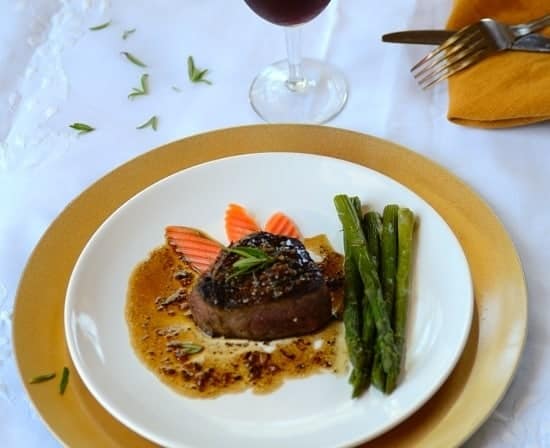 Well, the recipe filet mignon with madeira sauce that I am about to present here was a suggestion from a Brazilian friend, whose initial attempt to prepare filet mignon didn't quite turn out as well as she would have liked. She also asked me how to prepare from scratch one of her favorite sauces, Madeira.
This particular sauce is a "small sauce" (a culinary term for a secondary or variant sauce) that is ideal for accompanying steaks and roasts, and is prepared from modification of the mother-sauce, Espagnole. Its name derives from the Madeira wine with which it is made– this is a fortified wine  originating in the Madeira Islands of Portugal.
Instead of simply handing her the recipe, I decided I would share it with you, too, dear reader. But before describing the recipe for Filet Mignon with Madeira Sauce, I'd like to tell you a few important facts about this noble cut of meat. I promise: it's worth your reading time…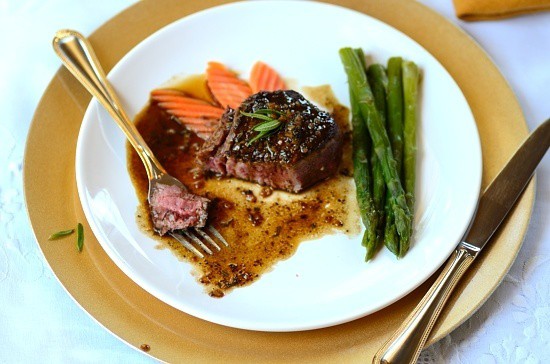 Filet mignon steaks are cut from the tenderloin, a section of the short loin. The meat from the short loin is lean but still tender because cows do not overexert these muscles.
According to The Cook's Thesaurus, naturally tender filet mignon does not require soaking in salty brines or acidic marinades prior to cooking because it is, well… naturally tender.
But I would not take this statement just at face value!!! Rather, I would say that although it does not need to be tenderized, it can indeed be marinated in order to enhance its flavor. However, please do NOT marinate the filet mignon for more than 10-15 minutes, as this may turn the texture of the steak unpleasantly mushy due to the tenderizing effect of the acidic marinade components. Remember: just like salt, acids break down the tissue fibers, tenderizing even more this already very tender cut of meat.
To prepare our filet mignon, we will use a dry heat method of cooking, known as pan-searing. This stovetop technique seals the meat in its own juices, while at the same time creating a mouth-watering browned exterior, and enough cooking residue to prepare a reduction sauce — in our case the Madeira Sauce. Grilling and Broiling are other dry heat cooking methods suitable for filet mignon.
Just keep in mind that no matter which of those dry cooking methods above you choose, filet mignon should never be cooked past the medium-rare stage (internal temperature of 130 to 135 degrees F) because this not only overcooks the meat but also produces a tasteless, grey-colored steak.
Ok, now it's time to prepare one of the best filet mignons ever…
Bon Appetit!
xx
Filet Mignon with Madeira Sauce (Filé Mignon ao Molho Madeira)
An easy, quick and tender filet mingon with madeira sauce... an elegant dish to dazzle the most demanding palates. It can be served with steamed asparagus.
Ingredients
1-1/2

cup

Madeira wine

1-1/2

cup

beef stock

4

filet mignon steaks **

6 oz, each about 1 inch thick

4

teaspoons

coarse salt

2

teaspoons

freshly ground black pepper

1-1/2

tablespoon

olive oil

not extra-virgin

3

tablespoon

unsalted butter

divided

1/4

cup

shallots

minced

1

tablespoon

garlic

1-1/2

tablespoon

fresh rosemary

chopped

** If you did buy a whole beef tenderloin, do not worry. Please, watch the video on how to butcher beef tenderloin into filet mignon steaks.
Instructions
Bring filet mignon steaks to room temperature for about 30 minutes to 1 hour prior cooking to ensure the steak cooks quickly and evenly.

In a saucepan over medium-high heat, bring both the Madeira wine and the beef broth to a boil. Reduce the heat to medium and let simmer until only about half of the mixture (1-1/2 cup) remains and has slightly thickened. Reserve.

Use paper towels to pat the filet mignons dry, and then season the steaks on both sides with coarse salt and freshly ground black pepper. Reserve.

Meanwhile, heat a heavy-bottom large stainless steel or cast-iron skillet and add 1-1/2 tablespoon olive oil and 1 tablespoon butter. Over medium-high heat, sauté steaks until medium-rare (about 4 minutes per side). Transfer the steaks to a heated platter and cover loosely with foil while preparing the Madeira sauce.

Saute shallots and garlic in the skillet for about 1 minute. Add the previously reduced wine-stock mixture and the rosemary. Allow the mixture to bubble for 2 minutes, scraping up any browned bits. Remove from the heat and whisk in 2 tablespoons butter. When the butter has melted, return the steaks to the pan, turning them in the sauce. Serve!
DID YOU MAKE THIS RECIPE?
Comment and rate the recipe. Also follow us on Pinterest at @easyanddelish for more delish recipes.