How to cook skirt steak in 4 quick steps, and have it come out tender. Perfect for tacos and other Latin dishes. So delicious!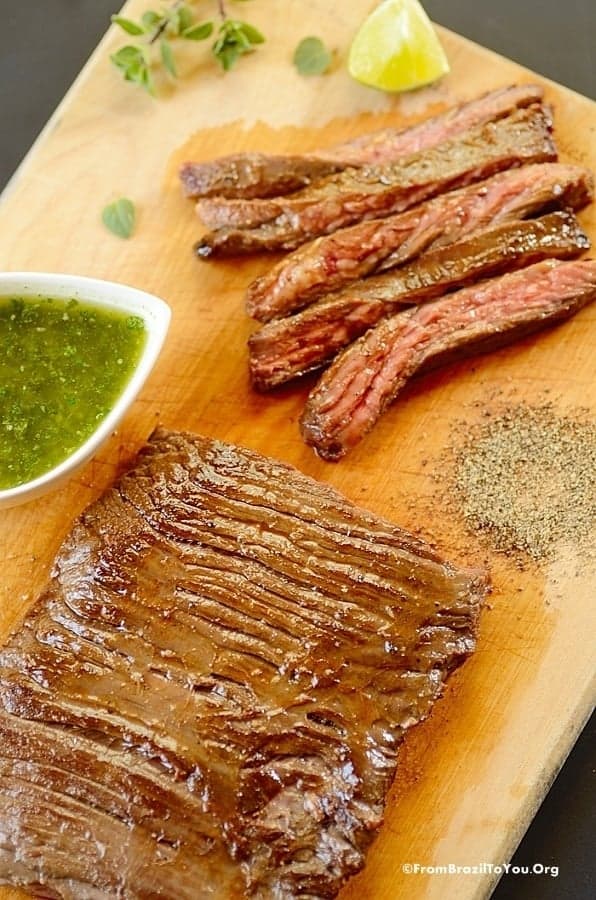 Skirt steak (fraldinha in Portuguese) is an inexpensive yet versatile cut of beef — perfect for fajitas, philly cheesesteak, pizzas and flatbreads, sandwiches, tacos, Chinese stir-fry, churrasco, and many more dishes.
Despite its wonders, this cut can be a fairly tough cut of meat since it comes from the plate beef cut, and represents a boneless portion of the diaphragm muscle.  Learn here how to cook skirt steak in just 4 quick, simple steps.
HOW TO COOK SKIRT STEAK (RECIPE VIDEO)
These 4 steps will assure the best results: Tender and juicy steak — prepared with 2 to 4 ingredients only.
Our method on how to cook skirt steak can be used all year round both indoors and out… Try out our method and simplify your life!
CHECK OUT THE RECIPE VIDEO: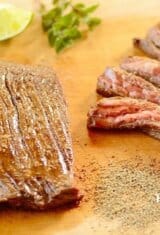 How to Cook Skirt Steak (4 Steps)
How to cook Skirt Steak in 4 quick steps and have it come out tender... Also watch recipe video!
Ingredients
coarse salt

1 1/2

lbs

skirt steak

trimmed of excess fat and cut into half crosswise

freshly ground black pepper

optional

1/2

lime

optional
Instructions
TENDERIZE THE MEAT: Since skirt steak can be a little tough, tenderize it to optimize its texture. You can either buy the skirt steak already tenderized, or tenderize it yourself. Here's how: Place steak on a cutting board, cover with plastic wrap (or place in a plastic bag), and pound VERY WELL with a hammer, frying pan or equivalent to about 1/2 inch thick. I mean, pound, pound, and pound... Don't be shy!!! This step can make a huge difference whether you end up with a tough or a tender steak. Let chilled meat sit for about 20-30 minutes at room temperature before cooking.

COOK SKIRT STEAK WITH COARSE SALT: Although a marinade or rub can be used to enhance the flavor and make the meat more tender, coarse salt is always the best option. Why? It dissolves while the steak cooks, and seasons it just right. It also serves to seal the meat, and prevents it from losing its juiciness and drying out. To cook skirt steak, place about 1/2 to 1 tablespoon of coarse salt on a large cast-iron griddle (flat side of the griddle without the grill marks), spreading it into a thin layer. Then, heat the griddle on medium-high heat over a large burner. When griddle is sizzling hot (don't worry when salt burns a bit), place one steak (LIGHTLY brushed on both sides with vegetable oil) at a time on top of the coarse salt. Let meat get a good sear for about 2-3 minutes on one side, and then flip over and let cook for about 1-2 minutes on the other side (for rare to medium-rare). Using a metal spatula, gently scrub off from the top of the steak any excess salt which has not melted. Use more salt to cook the other steak (also brushed with oil) if necessary.

LET STEAK REST: Place cooked steak on a cutting board and let rest for at least 5 minutes before slicing. This prevents the juices from leaking out and leaving the meat tougher. If desired, sprinkle liberally with black pepper and squeeze lime on top of the steaks (although optional, these make meat taste even more delicious).

SLICE STEAK AGAINST THE GRAIN:

First, identify which direction the fibers are running through the steak. Then, using a sharp knife, cut the meat against the grain (crosswise to the fibers) into bite-sized strips. Serve skirt steak strips by themselves or accompanied by

CHIMICHURRI SAUCE

.
Recipe Video
Recipe Notes
Follow all these 4 easy steps and will get a tender meat out of a tough cut. 
Skirt Steak leftovers can be used to prepare tacos, burritos, fajitas, philly cheesesteak, pizzas, flatbreads, sandwiches, and more. 
Love steak? Try also our Quick & Easy Filet Mignon with Madeira Sauce!
Nutrition Facts
How to Cook Skirt Steak (4 Steps)
Amount Per Serving
Calories 175
Calories from Fat 72
% Daily Value*
Total Fat 8g 12%
Cholesterol 71mg 24%
Sodium 74mg 3%
Potassium 331mg 9%
Protein 24g 48%
* Percent Daily Values are based on a 2000 calorie diet.