Mother's Day is almost here! And we will celebrate it with a magnificent recipe: Romeo and Juliet en Croute or Baked Brie with Guava Paste.
Yes, Romeo and Juliet!!! If you are a reader of mine, you will know that the wonderful combination of cheese and guava paste is called Romeo e Julieta in Brazil because, like the characters in the play "Romeo and Juliet," cheese and guava were just made for each other... they pair together so well. To spice up the recipe, I added to it toasted cashew nuts, which are native to Brazil. If I were in Brazil, I would have used a typical cheese from Southern Brazil called Queijo de Colônia (Colony Cheese), which is similar in texture to brie, the cheese that we are using in our recipe for today. This ended up becoming a French-Brazilian fusion dish, since I am using two Brazilian ingredients (guava paste and cashew nuts), and both a French cheese and French technique (en croute) in its preparation.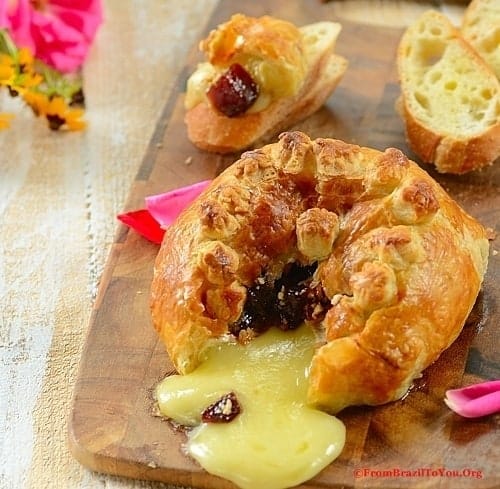 Well, our Romeo and Juliet en Croute is a starter that can be served both for Valentine's Day and for Mother's Day-- or any day that you feel like it! When I think of the characters of Romeo and Juliet, I think about people that were madly in love. That is the way that I feel about my precious children as a mother. I have been madly in love with them since the minute I found out that I was expecting... and this great love became even more intense when I first held them in my arms. At that moment, I knew that I would love them forever, because there is no greater love on Earth than that -- except God's love for His children. Being their mother is a real privilege. They are the hugest blessings in my life, and I thank God for that.
If you have children (natural or adopted), you know exactly the depths of a Mother's love... and if not, you may have experienced that love through your mother. I am fortunate to have been able to experience that kind of love both as a child and now as a mother... I hope you have, too!!!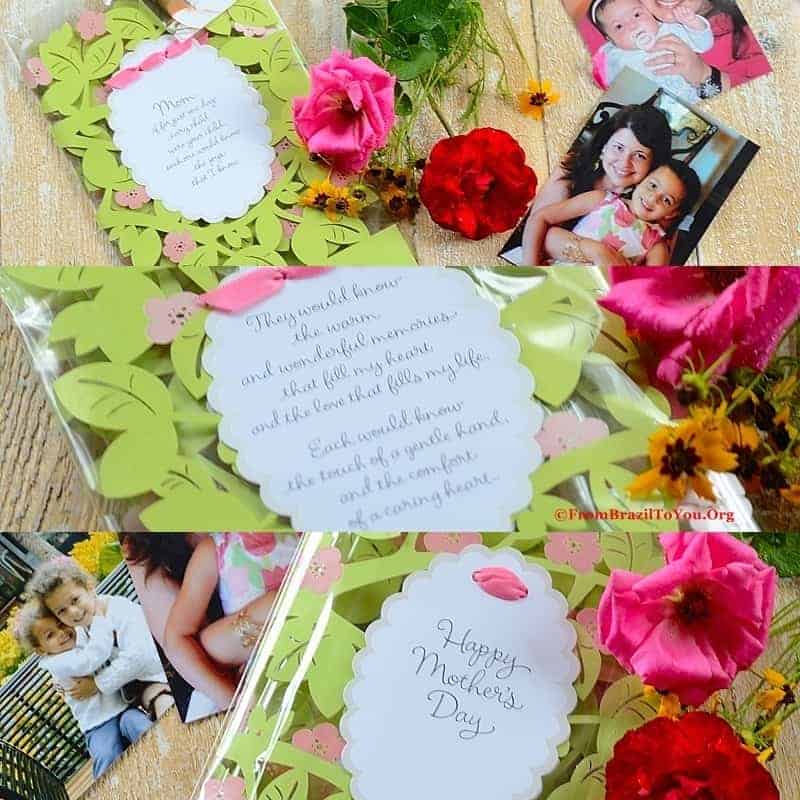 To my Mother, obrigada por me amar incondicionalmente...Te amo!!! (Thank you for loving me unconditionally...I love you!!!)
To my children, Mommy loves both of you to pieces!!!!!!!
To all the mothers in the globe, I wish you a very Happy Mother's Day! -- because you deserve what you give every day: Happiness, respect, and love.
xx
Romeo and Juliet en Croute
(Recipe inspired by and adapted from Pepperidge Farm Puff Pastry)
Serves 6-8
Segment: Fusions (France-Brazil)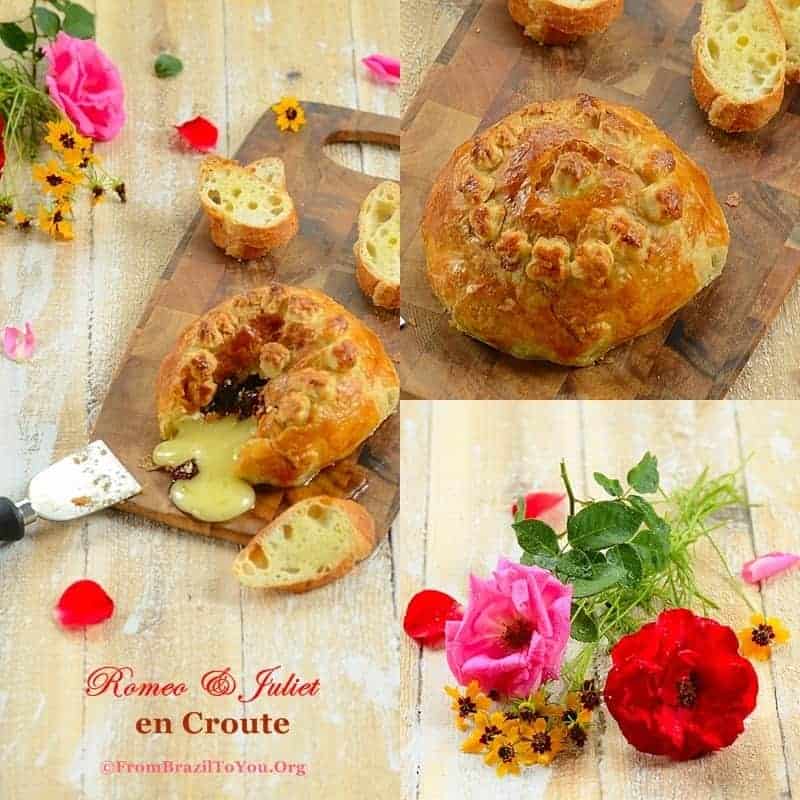 Ingredients:
½ standard package (17.3 ounces or 490 g) frozen puff pastry, thawed (I used Pepperidge Farm)
1 medium egg
1 tablespoon heavy cream or water
All-purpose flour, for dusting
⅓ cup guava paste, small cubed**
2 tablespoons chopped toasted cashew nuts
1 ( 8 ounces or 226 g) mini wheel of Brie (I used Président)
French bread or baguette toasts, or crackers as an accompaniment
** Guava paste is available online, and also in Latin Markets and American supermarkets (Latin aisle).
Directions:
1. Unpack one sheet of the pastry and leave to thaw at room temperature for about 30-40 minutes.
2. Heat the oven to 400°F (204° C). Line a baking sheet with parchment paper or a silpat (French non-stick baking mat). In a small bowl, beat the egg and heavy cream or water with a fork or whisk.
3. Unfold one (1) pastry sheet on a lightly floured surface. Roll the pastry sheet into a 15-inch (38 cm) square. Spoon the cubed guava paste into the center of the circle and sprinkle the chopped nuts on top of the guava paste. Top with the wheel of cheese.
4. Brush the edge of the square with the egg mixture. Fold the two opposite sides of the pastry up over the cheese to cover (overlap), trimming the excess of pastry on both the left and right sides (leave about 2-inch or 5 cm remaining of the pastry from the edges) and press the ends over the cheese to seal. Brush the seam with the egg mixture. Place seam-side down onto a baking sheet. Decorate the top with the pastry scraps (I used mini flower-shaped cookie cutters). Brush both the top and sides of the pastry-wrapped cheese with the egg mixture.
5. Bake for 22 minutes or until the pastry is golden brown. Let stand for 20-30 minutes. Serve with toasts or crackers.
Note: For visual instructions on how to fold the pastry over the cheese, click here to watch a video.
Disclosure: I have not received any type of compensation from either Pepperidge Farm or Président Brie for using their products.
** Other dish suggestions to celebrate Mom on her special day:
For Mother's Day Gift Coupons and Deals:
** For flowers, chocolates, and other products, click here for assorted coupons.
** For Kindle Fire HD at Amazon.com ($ 20 off. Promo code: FIRE4MOM)
** For deals in watches, electronics, and other accessories at Amazon.com.
** For Nook tablets by Barnes & Nobles ($ 50 off plus free shipping)
**For Bakerware from Casa.com (15 % off on 1 order of $ 35 or more. Promo Code: MOMDAY15 )