The World Cup Brazil has already started… and we have the perfect savory bites, drinks, and small sweet treats to snack on while watching this grand event. Although the list could go on and on, we are suggesting 32 to snack on… For the 32 days of the World Cup (June 12 – July 13), 32 things to snack on, right? 😉
There is something here for everyone.  Most of them are quick to make and individual-portioned.  You could either try one per day, since the World Cup will last a bit more than a month, or have a get together with friends and enjoy them all, potluck-style. 😉
If you are headed to Brazil or know someone who will be going, check out this guide with useful tips and advice for all visitors and of course, share it with those who will be going there!  It could make all the difference!
Wishing all the teams good luck, and all the visitors to Brazil a warm welcome!  For those who cannot attend in person, you can snack on these delicious treats while watching the games.  What's your favorite from this list?  
HAPPY WORLD CUP AND SUMMER!!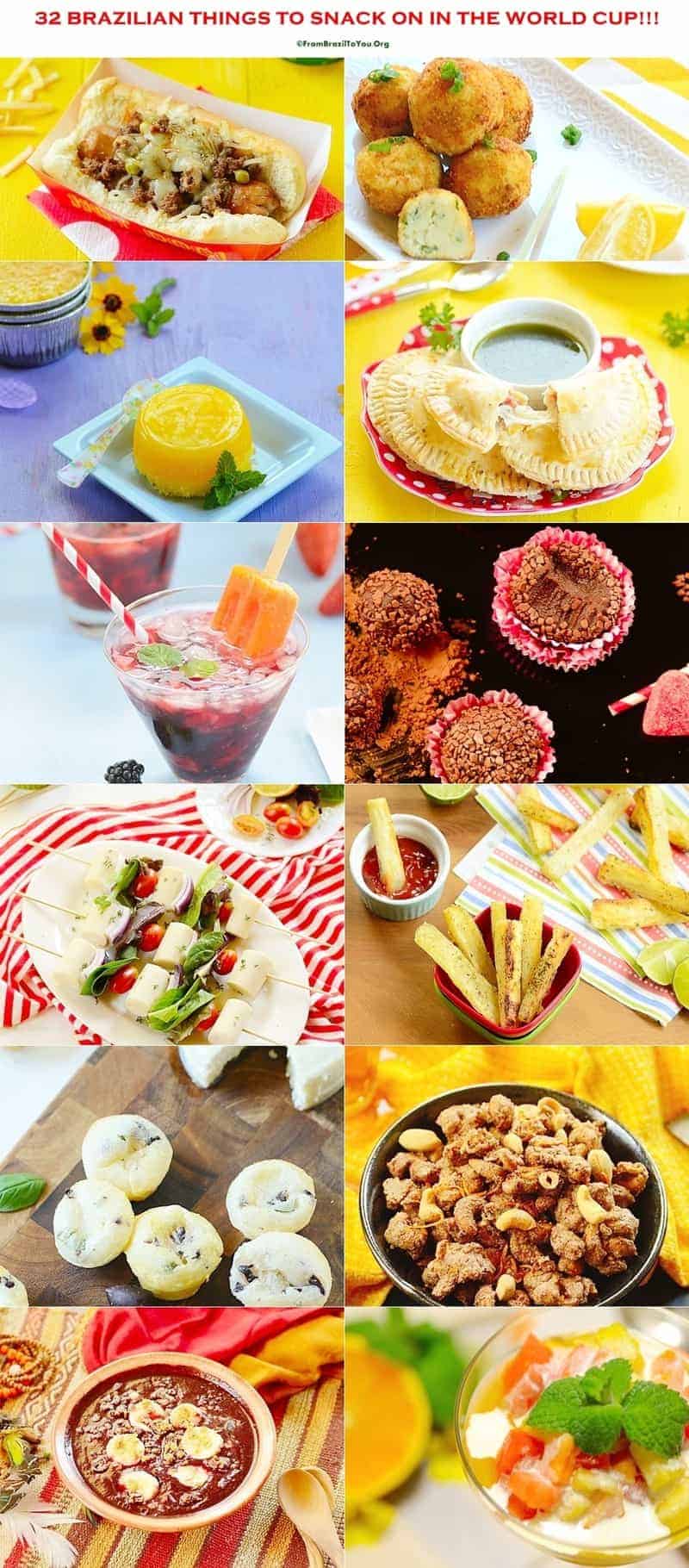 Savory Bites:
1. Brazilian Cheese Rolls — Traditional & Quick (Pão de Queijo Tradicional e Rápido)
2. Brazilian Cheese Rolls with Kalamata, Basil, and Feta (Pão de Queijo com Azeitona, Manjericão e Queijo Feta)
3. Cod Cakes (Bolinho de Bacalhau)
4. Pizza Empanadas (Pastel com Recheio de Pizza)
5. Healthy Yucca Fries ( Aipim 'Frito')
6. Brazilian Hot Dogs (Cachorro Quente)
7. Fried Polenta (Polenta Frita)
8. Pan-Fried Potato Patties with Rosé Sauce (Bolinho de Batata com Molho Rosé)
9.  Tapioca Crepes with Cheese (Tapioca com Queijo)
10. Glazed Cashew Nuts (Castanha de Caju Glaceada)
12. Shrimp Pizza (Pizza de Camarão com Dendê)
13. Açaí Bowl (Açaí na Tigela)
14. Quick Feijoada Salad (Salada Rápida de Feijoada)
15. Heart of Palm Salad Skewers (Salada de Palmito no Espeto)
Drinks:
17. Berry Caipilé (Caipilé de Frutas Vermelhas)
18. Fruit Cocktail Drink (Coquetel de Frutas)
19. Watermelon Caipisake Shots (Caipisakê de Melancia)
20. Pineapple-Mint Iced Tea (Chá Gelado de Abacaxi com Hortelã)
Small Sweet Treats:
21. Traditional Brigadeiros (Brigadeiros Tradicionais)
22. Beer Brigadeiros (Brigadeiros de Cerveja)
23. Quindim 
24. Gluten-Free Mini Coconut Muffins (Queijadinhas)
25. Papaya Cream with Cassis (Creme de Papaya com Cassis)
26. Eggless Avocado Mousse (Mousse de Abacate)
27. Brazilian Fruit Salad (Salada de Frutas)
28. Apple Crumb Cake with Dulce de Leche (Cuca de Maçã com Doce de Leite)
29. Brazilian Lemon Meringue Cupcakes (Cupcakes Tortinha de Limão) 
30. Brazilian Coconut Bars (Cocada de Leite Condensado)
31. Corn Muffins with Guava Paste (Bolinhos de Milho com Goiabada)
32. Spiced Chocolate-Honey Mini Cakes (Pão de Mel)